At one point or another, all of us have encountered accidental deletion on our Android phones. Some of the deleted data can be your important text messages, having such a text message thread deleted can be disastrous. While it is easy to think that all is lost, you can recover deleted text messages from Android even after they've completely disappeared. Here we are going to introduce three effective options to save your problem.
Option 1: Recover Deleted Text Messages from Android via Cellphone Carriers
One of the easiest ways you can recover deleted Android text messages is to simply call the cellphone carrier that you are with and explain the situation to them. A lot of cellphone carriers will retain sensitive data information like text message threads, your internet protocol address sessions, your call logs, and even keep digital copies of your cellphone bill, as a way to collect evidence during situations where crime or terrorism is present. This type of information is sometimes used in court to prove that conversations existed or that agreements were made.
If you have deleted sensitive text messages that you absolutely need to recover and they fall into any of the above categories, you can ask your carrier to help you restore the data. Keep in mind though, if you cannot prove that you have a legitimate reason as to why the text messages need to be restored, you may not be successful in getting them back.
Rating:   
If you do get your messages restored via your cellphone carrier, it requires no technical skill on your part, and it is a secure and safe method with regards to privacy.
Cons
However, proving a legitimate reason to have them restored is quite a limitation. Especially, if you have no other backup of the data that can prove that the content of the text messages was critical to a specific situation such as a court case.
Option 2: Recover Your Lost Text Messages from Android with Message Recovery Applications
If you wish to recover deleted text messages from Android without needing to call into your phone carrier, you can achieve this by using message recovery apps. But the problem is that you have to regularly backup your phone data to get them back. Check below three messages recovery apps:
2.1 SMS Backup & Restore
This is one of the most popular options available in terms of applications because it both backs up your text messages and restores them on all types of Android phones. The interface is incredibly simple to understand and use. You simply install the application, launch it, and choose whether you want to back up, restore, view, or search for text messages.
So long as you remember to back up your text messages, restoring them is super easy to do. You can even set up password functionality, schedule backups, and set up a folder for where your backups go.
Rating:    
Cons
You have to remember to backup all your text messages threads as a preventative measure so that if you do delete them by mistake, you can restore them easily. In other words, you can't find you deleted text messages back without beforehand backup.
2.2 SMS Backup+
Here is another great android application that will automatically backup all SMS, MMS, and call logs from your Android phone to your Google or Gmail calendar. This type of Android SMS recovery works well if you consistently use Google services and can remember to back up your data.
Rating:    
Cons
You have to remember to tell it to backup your text messages to your Gmail or Google account first. This can be a limitation for those who forget to initialize the backup or cannot be used by those who do not have a Gmail or Google account.
2.3 GT SMS Recovery
This is a fantastic Android application for cellphone users who hate backing up their data or are very forgetful in doing so. It allows you to recover deleted Android text messages without needing to backup your threads as it will retrieve them from your internal phone database.
Rating:     
Cons
This type of Android SMS recovery tool does not appear to be readily available on the Google Play store and would have to be downloaded onto rooted phones. This is a major limitation for those who are not tech-savvy.
Option 3: Recover Deleted Text Messages from Android via D-Back Data Recovery
If using above Android applications doesn't appeal to you since they all have limitations, and you are more comfortable using your own computer, then recovering your deleted text messages through D-Back for Android would work well. This is one of the easiest ways to recover lost or deleted Android data as you only need to simply download the program, connect your phone, and follow the steps to recover your data. Plus, it works for numerous data loss scenarios.
Key Features:
Recover your deleted text messages without backup.
Features preview function, allows you selectively or completely recover your deleted text messages.
Regardless of whether you have a rooted or unrooted Android device, D-Back works.
Also supports to recover many other data types such as contacts, call history, etc.
Suit for anyone with its easy-to-use interface, and 100% safe.
How to Recover Deleted Text Messages from Android Using D-Back?
Step 1.Download the program to your personal computer. Once downloaded, launch the program and choose the Android Data Recovery Mode. Hit start.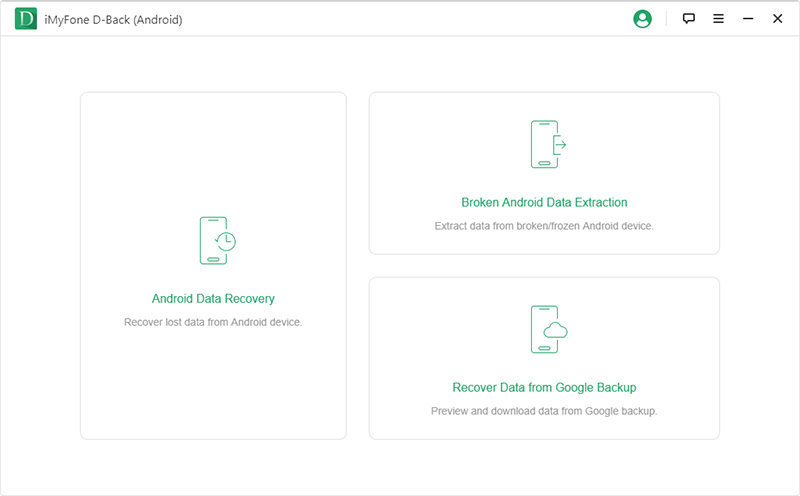 Step 2.You will be asked to confirm what type of Android phone you have and what model it is. Choose your device name and device model from the drop-down menus and hit the next button. D-Back will then download the corresponding data package.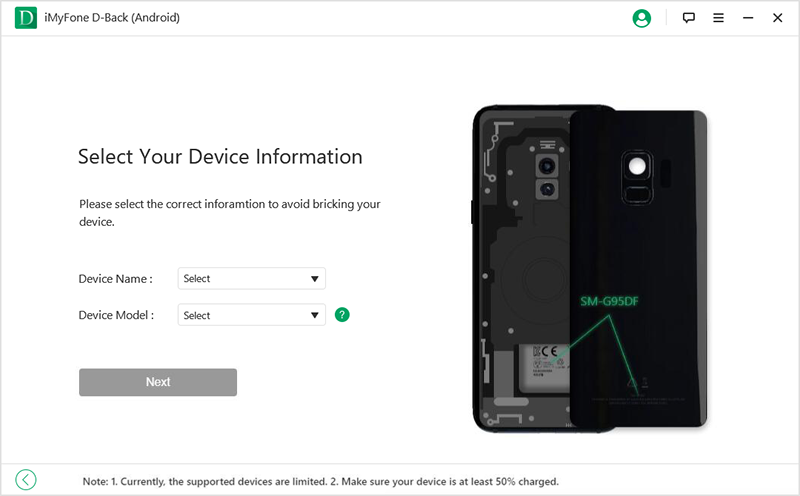 Step 3.After D-Back has finished downloading the data package, you will need to connect your Android device to your personal computer with a USB cable. Once this is done, the program will put your device into a downloading mode.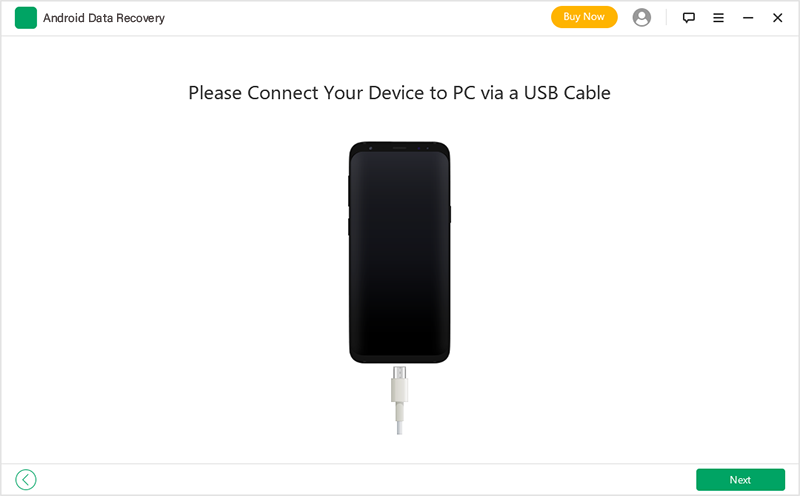 Step 4.You will be brought to the recovery interface which will have you choose which file types you want to recover. In this case, choose Messages and hit the next button. D-Back will then scan your device.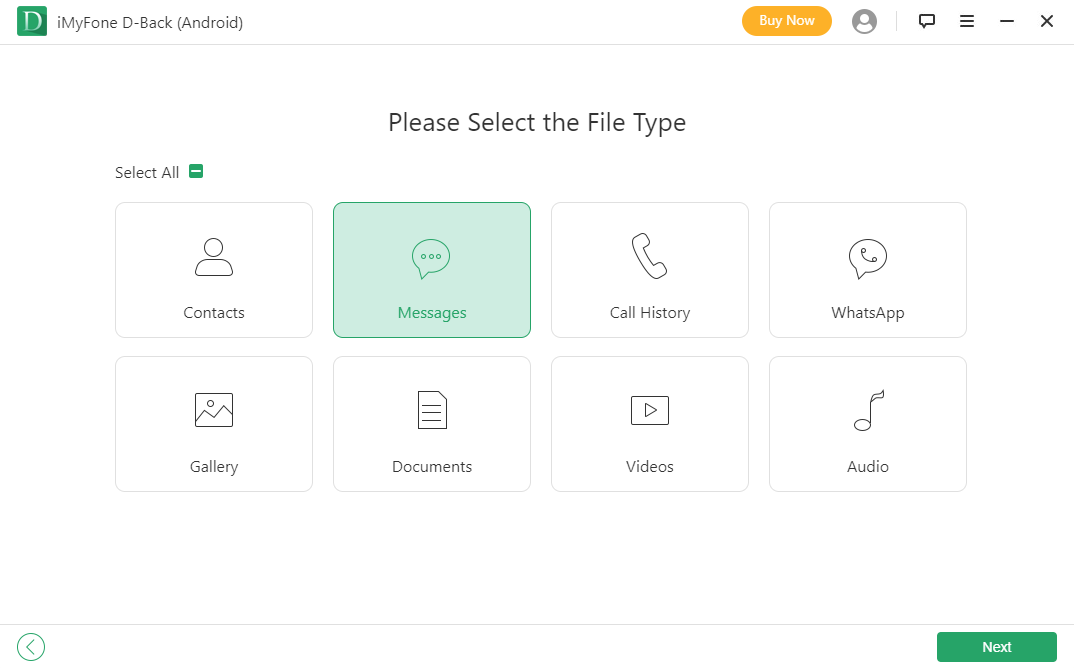 Step 5. Once the scan is finished, all lost/deleted files will be listed. Preview them and choose the ones you need/want from the list. Once you have them selected, hit the recover button to retrieve them. They will automatically get saved to your computer.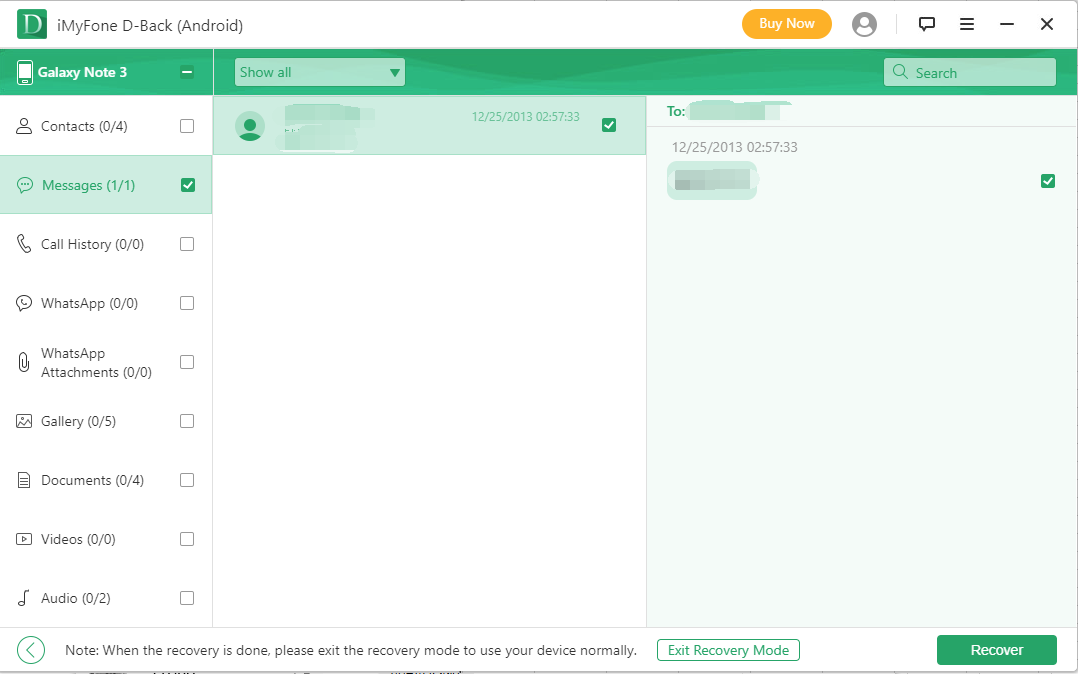 Rating:      
This is a workable solution for recovering deleted/lost text messages from Android phones or tablets. And it requires no calling in to phone carriers. While D-Back Android boosts its high-speed data recovery, having your text messages or other types of data recovered with it will only take you a short time, no matter with or without backup.