Are you struggling to recover lost Snapchat on your iPhone/Android phone?
Snapchat is one of the most popular video-sharing platforms right now. In addition to posting images, videos, and applying filters, Snapchat also allows the users to chat with their friends like any other online messaging platform. However, it has one drawback, i.e., the "self-destruction" feature. Any videos or photos that you share on Snapchat get automatically deleted after 10 seconds after the recipient has watched them.
This annoys so many people that every Snapchat user wants to know how to retrieve deleted Snapchat messages on iPhone/Android. If you're one of them, continue reading, the following guide will help understand different methods to restore deleted Snapchat messages.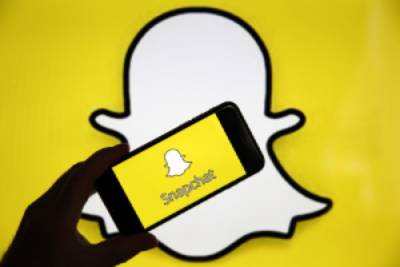 Part 1: Can I Recover Deleted Snapchat Messages on iPhone/Android
First things first, is it even possible to retrieve deleted Snapchat messages at all? The answer is definitely yes! As the built-in function owned by the snapchat, it will delete everything within a specific timeframe automatically. However, we can help you avert this disaster swiftly. To help you understand more precisely, we'll first discuss the two official ways of recovering a deleted chat on Snapchat. And, in case these methods don't work, we'll also discuss how to recover the messages using a data recovery software.
So, without any further ado, let's help you get back your deleted Snapchat messages.
Part 2: How Can I Recover Permanently Deleted Snapchat in Android Phone
2.1 How Long Do Snapchat Messages Last
As we mentioned earlier, a Snapchat message will be automatically deleted 10 seconds after the recipient has seen it. However, in the case of unopened snaps, this timespan varies. An unopened snap sent to an individual will be deleted after 30 days, whereas a snap sent to a group will be deleted after 24-hours only.
Now that we've cleared the timespan, after which Snapchat messages are deleted in different situations, let's discuss the different methods to extract Snapchat messages on Android.
Method 1: Recover Deleted Messages from Snapchat without Computer Using. nomeida Extension [Hard]
The first method to recover deleted Snapchat messages is to use the .nomedia extension. It's a directory that keeps all the Snapchat messages after they're removed from Snapchat's server.
It means that messages deleted after 10 seconds or 24 hours still can be restored from the .nomedia folder. However, this method will require you to go through a bit of inconvenience and might not work all the time.
Anyhow, here's how to restore deleted Snapchat messages using .nomedia extension.
Step 1 - Open "File Manager" on your Android and go to data/data/. Search for snapchat.android folder and open it.
Step 2 - Here, you'll see different directories and subdirectories. Look for the "nomedia" folder and open it.
Step 3 - This folder will contain all the deleted Snapchat messages. To recover these messages, all you have to do is rename the files and remove the ".nomedia" extension. This will allow you to access all the Snapchat messages.
Cons
This method is quite challenging as the majority of File Explorers don't display files with the ".nomedia" extension.
It can prove to be time-consuming for you as you might have to try different File Managers and stick to the one that works.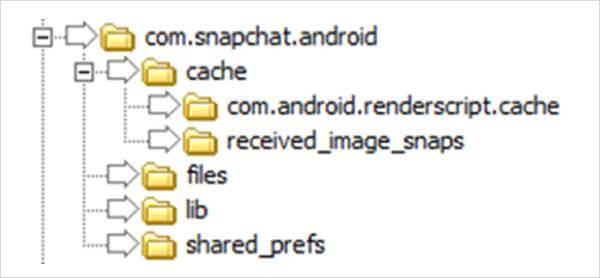 Method 2: Recover Lost Snapchat Messages without Computer from Snapchat Cache (Not available to everyone)
Another way to get back Snapchat messages on Android is to use Snapchat's cache files. Let's take you through the step-by-step process of restoring deleted WhatsApp messages from the Snapchat cache.
Step 1: First of all, connect your smartphone to the PC using a USB cable.
Step 2: On your PC, open the internal storage drive of the phone and go to Android>data>snapchat.android.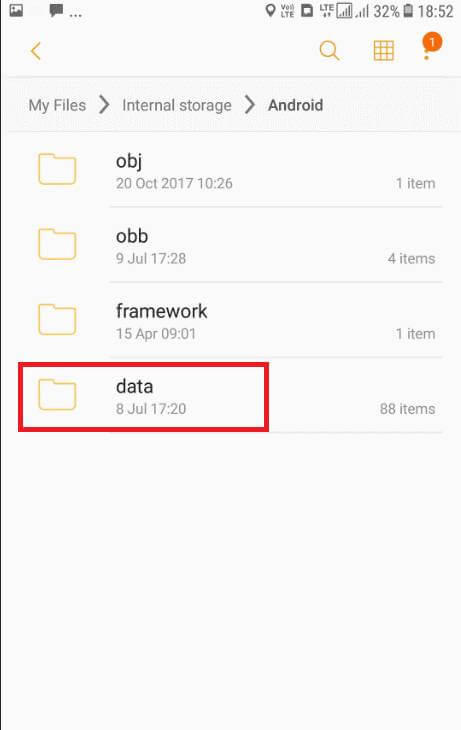 Step 3: Locate the cache folder and open it. Here all you have to do is rename every file by removing its extension, and you'll be able to recover Snapchat history without any hassle.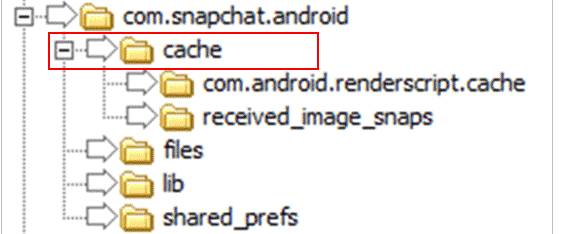 Cons
This method will only work if you haven't recently cleaned your device using a cleaner app as that would have removed all the cache files.
It's quite a lengthy process as you're required to dig in for long to rescue the data.
Might not work for all data loss scenarios.

Part 3: Recover Old Snapchat Messages on Android without Backup (Recommended)
If you're unable to recover the deleted Snapchat messages using either of the previous two methods, your best option is to use a third-party data recovery tool. As compared to the other recovery methods, using a dedicated data recovery tool will make it convenient to get back the deleted snapchat. Moreover, a data recovery software will even work even if you have deleted all the cache files or the ".nomedia" extension files aren't showing up on your device. It's a hassle-free way of recovering Snapchat messages on Android.
Now, when it comes to choosing the right data-recovery tool, various factors come into play. The objective should be to look for a software that scans the entire storage for all the deleted files. From our experience, we recommend using D-Back Android. It's a specifically tailored recovery tool for Android that'll help you scan and recover different types of deleted files, including Snapchat messages.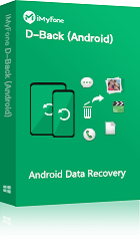 1,000,000 Downloads
Features of D-Back Android
Capable of recovering deleted Snapchat messages on Android with or without backup.

Retrieve all the deleted files from an Android smartphone, even if it has been damaged severely.

Restore different file types, including contacts, images, videos, Whatsapp messages, etc.

Directly export the deleted files to your PC, which will make it more convenient to access them in the future.

D-Back for Android works for both rooted as well as non-rooted Android devices.

Compatible with Android OS 2.0 to 10.0.
Follow these steps to retrieve Snapchat messages on Android using D-Back for Android.
Step 1 - Install and launch D-Back on your PC.
Step 2 - Connect your smartphone to the PC via USB and select the "Android Data Recovery" option.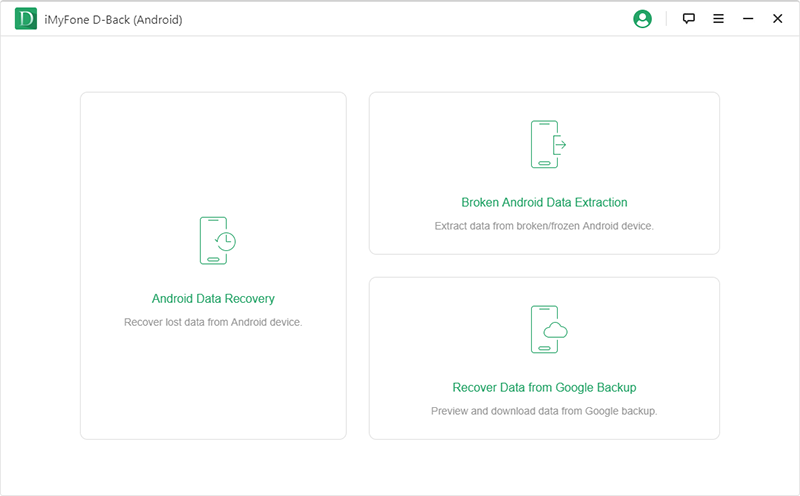 Step 3 - In the next window, use the drop-down menu to select the accurate device information.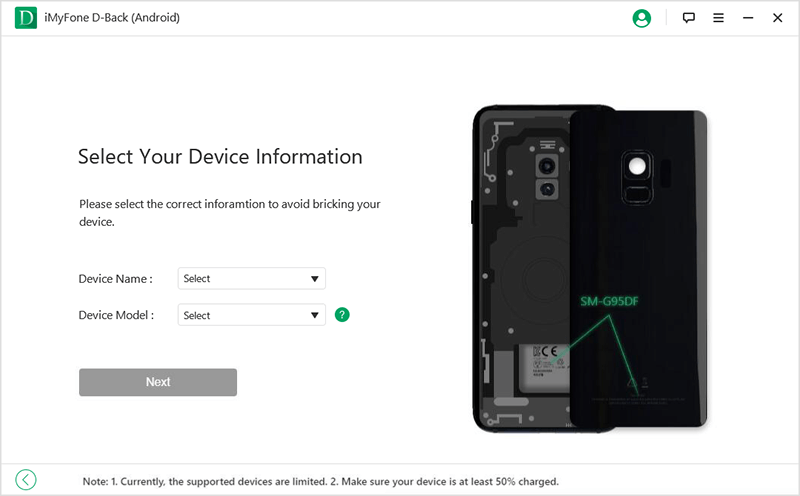 Step 4 - Tap "Next," and D-Back will start downloading the appropriate data package as per your device model.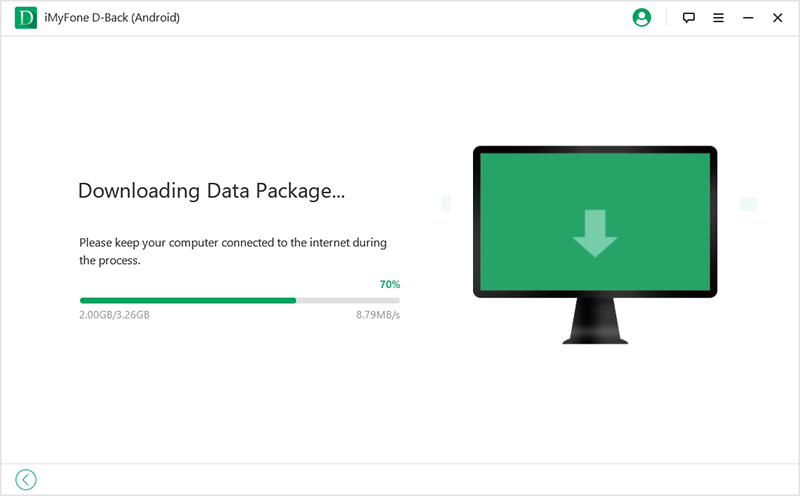 Step 5 - Once the package is downloaded, tap "Next" and follow the on-screen instructions to put your device in the "download mode."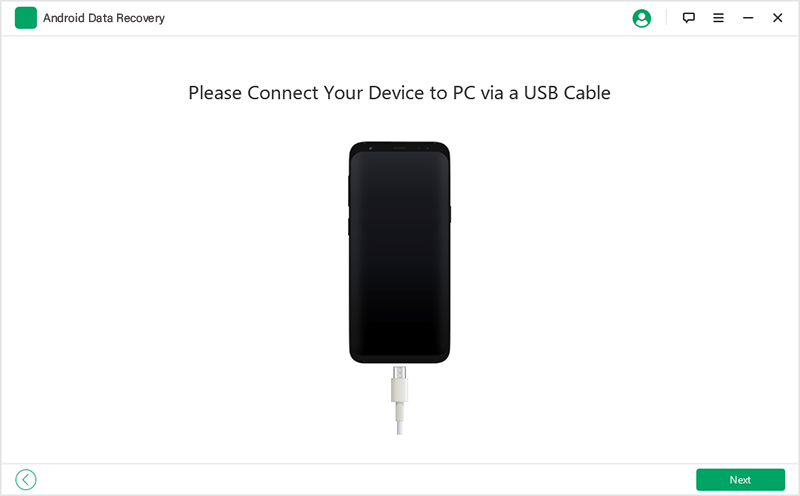 Step 6 - You'll see different file types in the next window. Here select the right file type, and the tool will start scanning the device for deleted files.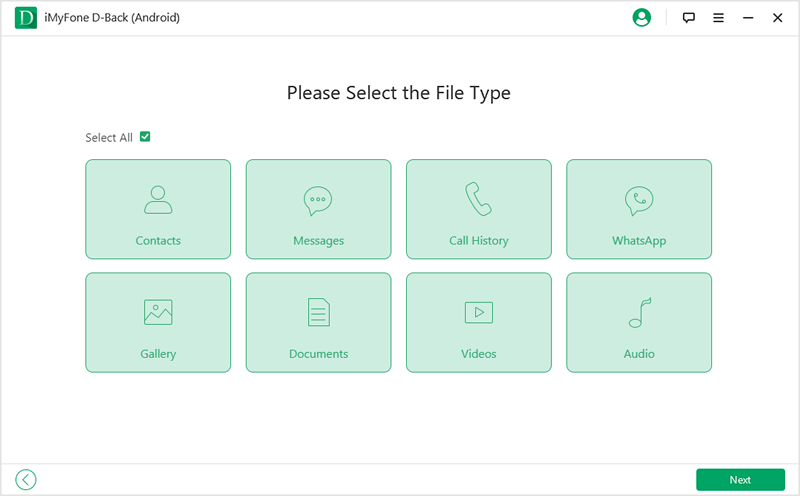 Step 7 - After the scanning process completes, you'll see a list of all the files. Select files that you want to recover and tap "Recover".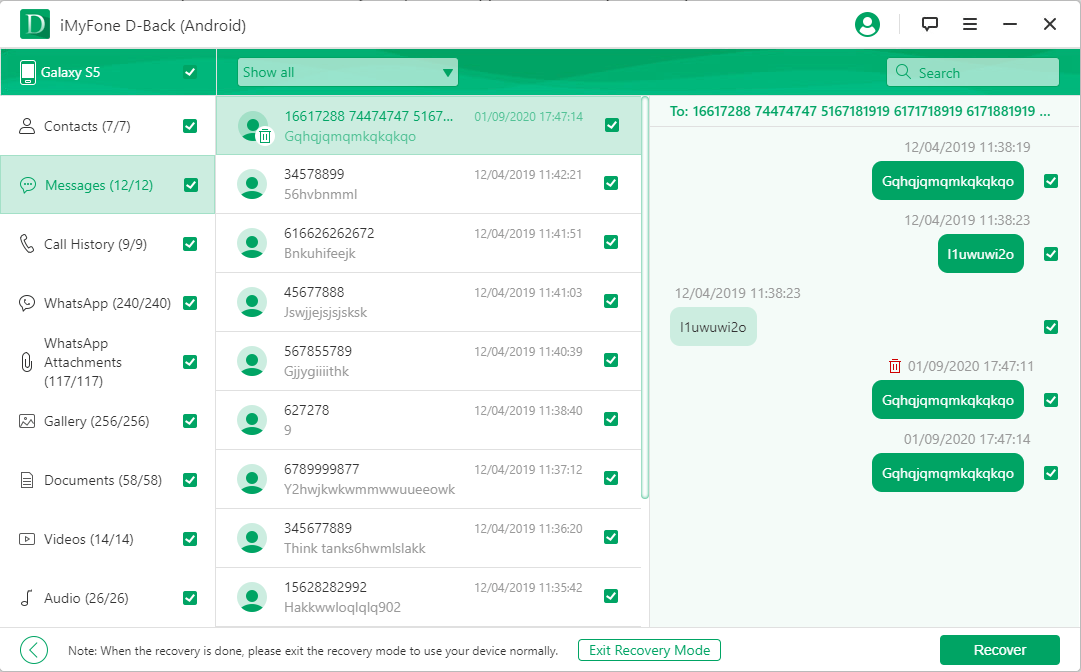 This will restore the deleted Snapchat photos and videos on your PC. So, if you're looking for a quick and easy recovery method, make sure to use D-Back for Android, and you'll get all the Snapchat messages instantly.
Part 4. Recover Snapchat Messages on iPhone without Backup
Actually, if you are a iPhone user and want to recover Snapchat messages without backup. You may also choose the third-party tool- IMyFone D-Back for iOS. It is a very professional tool to help you recover your all kinds of Snapchat messages in various situations, such as factory reset, iOS error, iPhone lost,etc. Before starting, let's download the program first:
Step 1. Choose the Smart Recovery> I lost or delete data accidentally. Then connect your iPhone to your PC.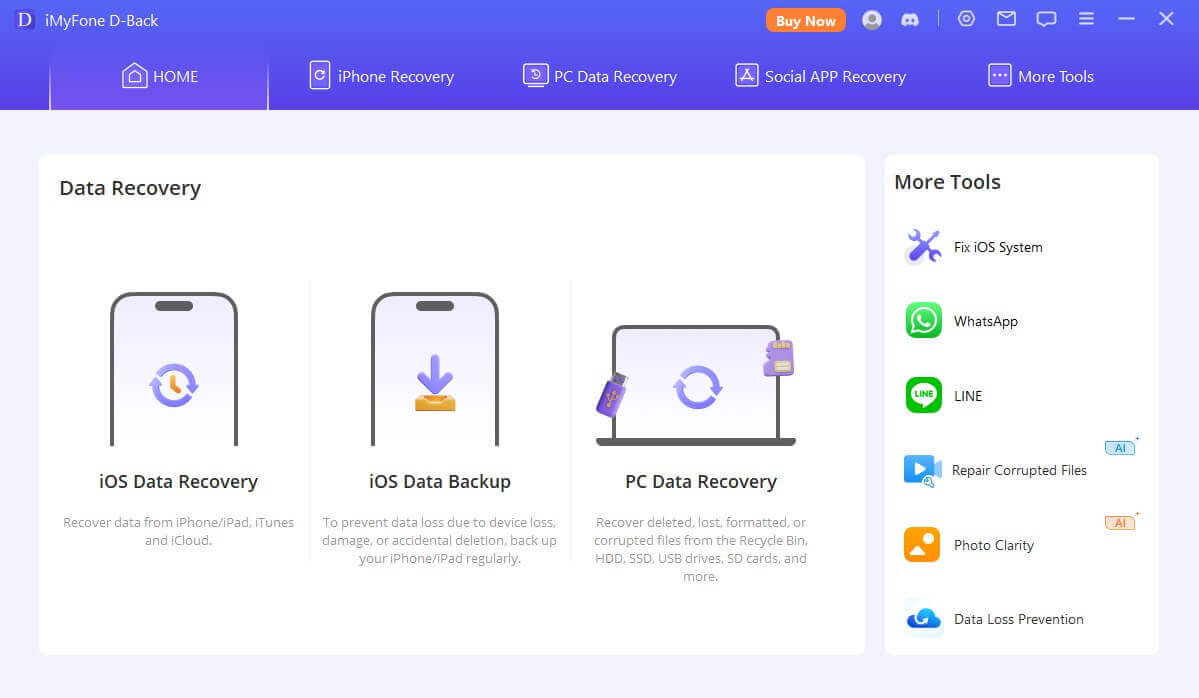 Step 2. Select the data type you want to recover and tap scan. The scanning process will start.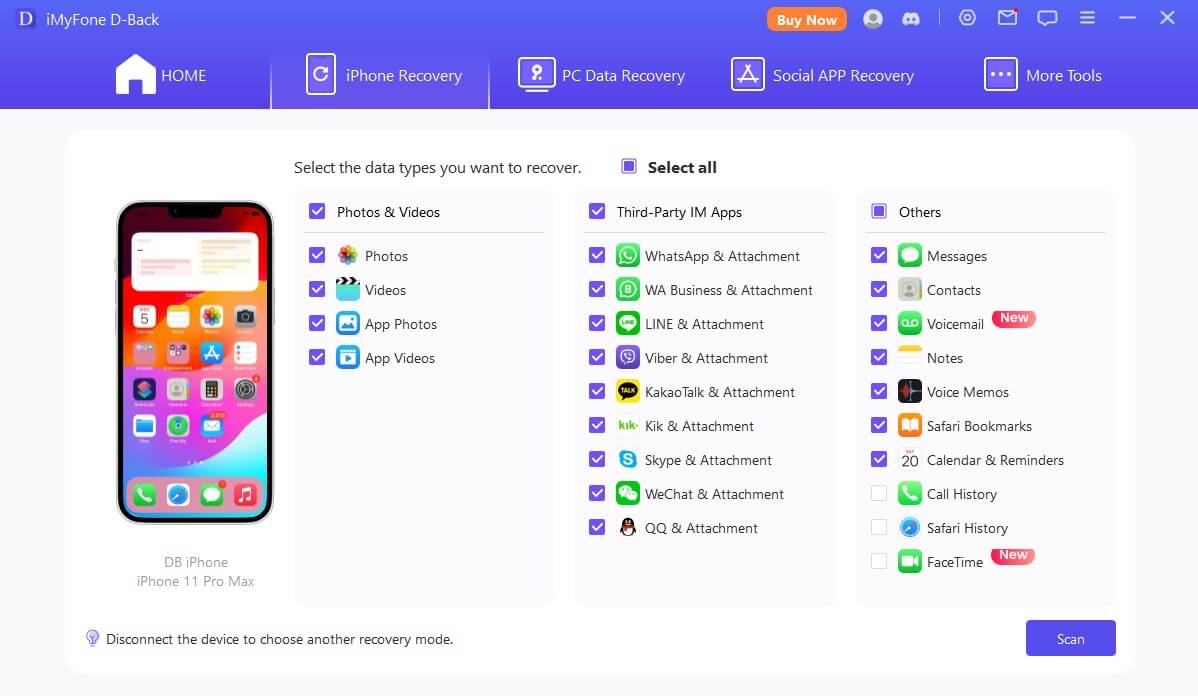 Step 3. After scanning, you may have a free preview on the screen, select Snapchat messages that you need. Finally, click recover.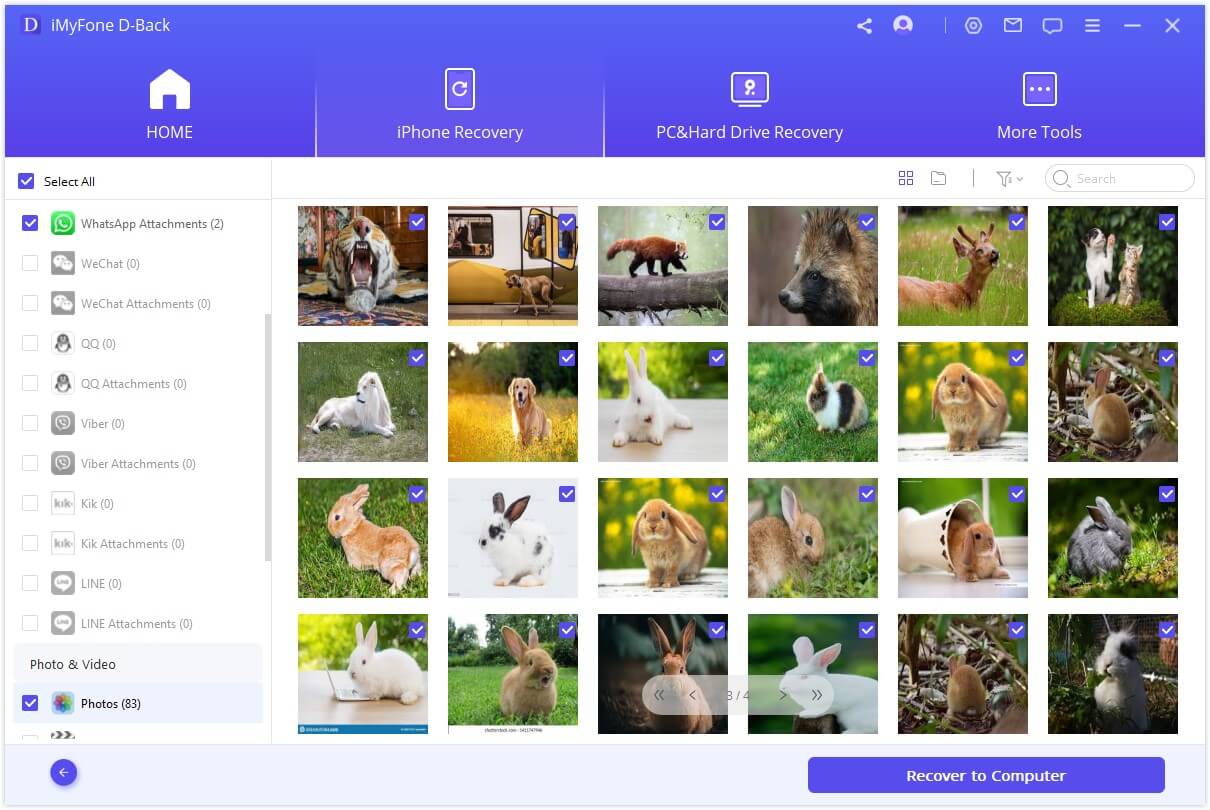 Bonus Tips: How to Save Snapchat Messages Forever after The 24-Hour Limit
While recovering Snapchat messages is a great way to get back the important chat, many people want to know if it's possible to save Snapchat messages forever. The truth is there is a trick that'll help you save a Snapchat message forever and protect it from the "self-destruct" feature.
To do so, follow this step-by-step procedure, and you'll be able to save a Snapchat message forever.
Step 1 - Open Snapchat on your smartphone and tap the "Chat" icon.
Step 2 - Select a friend from the list whose conversation you want to save.
Step 3 - Now, tap the message that you want to save, and it'll turn bold & gray. This is the indication that your message has been saved permanently, and it won't be deleted even after 10 seconds or 24 hours.
That's how you can save Snapchat messages from getting automatically deleted. This way, you won't have to go through the hectic task of recovering the messages later on.
Conclusion
Moving towards the end of the topic, we now hope you can retrieve Snapchat messages on Android immediately. Having automatic deletion feature in some apps can be unsatisfactory to many people. And Snapchat is one of those apps. Hence, we've made every possible efforts in helping you to get the job done in different ways. If you enjoyed reading this, please share your views with us. We hope we could help you. Stay tunes for more such topics.