For some reason, your Apple smartwatch gets locked, and you don't know how to unlock it. You may wonder how to complete Apple Watch iCloud Removal Free; you can stay easy as in this article we will talk about how to remove apple watch iCloud for free.
Part 1: Things About Apple Watch iCloud Removal You Should Know About
1.1 Does free Apple Watch iCloud removal work?
If you search on Google about the free Apple watch removal, then you will see the search results are fully packed with a number of suppliers who are offering iWatch iCloud removal for free. Their sites look convincing and seem to offer quality services. But in reality, they are just not more than scams. They don't work.
1.2 Pros and cons of Paid iWatch iCloud removal
Pros:
You can restore all the features and functions of your device and use the device normally.
The fix is permanent, that you only need to do it once.
It's quite easy, and no special and technical skills are required.
Works on all Apple device models that run iOS like iPad & iPhone.
Professional and highly skilled people take care of everything for you, and no risk and accidental damage is involved.
Using a paid service will permanently remove the iCloud lock
Depending on your Apple Watch device network carrier, it can take only 24/7 hours to get unlocked.
It's very easier to pay a highly skilled professional as compared to attempt and possibly damage your Apple Watch iCloud unlock free.
---
Cons:
It is not free.
There are a number of scammers offering this type of service.
It takes a few days to do.
Some paid sites may be designed to scam you.
You will have to pay a fee for the iOS device to be unlocked.
1.3 What should you do before iWatch iCloud removal?
Tips
The most important thing that you should check before iWatch iCloud removal is whether the iCloud status is clean.
Part 2: How to Remove Apple Watch iCloud?
Here are the steps that you could use very easily in order to remove Apple Watch iCloud:
Step 1: In the first step, you will have to open your browser and go to Unlock iCloud Unlock page.
Step 2: You will have to enter your Apple Watch's Serial number/ IMEI number in the next step.
Step 3: It will automatically detect the iPhone model based on the IMEI you submitted.
Step 4: Next, hit on the "Remove Activation Lock" and enter your payment information. Your iCloud locked Apple Watch iCloud activation lock will be removed under 24 hours through FastTrack, and you will be able to easily and freely access it.
With a minor fee, you could have your Apple Watch's iCloud activation lock be removed.
Part 3: How to Remove iPhone iCloud? [BONUS TIP]
1. How to unlock iPhone iCloud lock? [For Unactivated Devices]
a. general introduction: using iMyFone iBypasser - Apple iPhone iCloud lock removal tool
It Immediately removes your screen lock without any activation restrictions.
It can easily bypass the iCloud activation lock screen without having any password or Apple ID.
It instantly turns off Find My [device] without a password.
b. how to unlock iPhone activation lock [FREE DOWNLOAD]
IF your device gets stuck on the screen showing "Unable to Activate" or "Unable to Activate" or "Could Not Activate iPhone," then you should go for selecting the "Bypass iCloud Activation Lock Screen" Mode.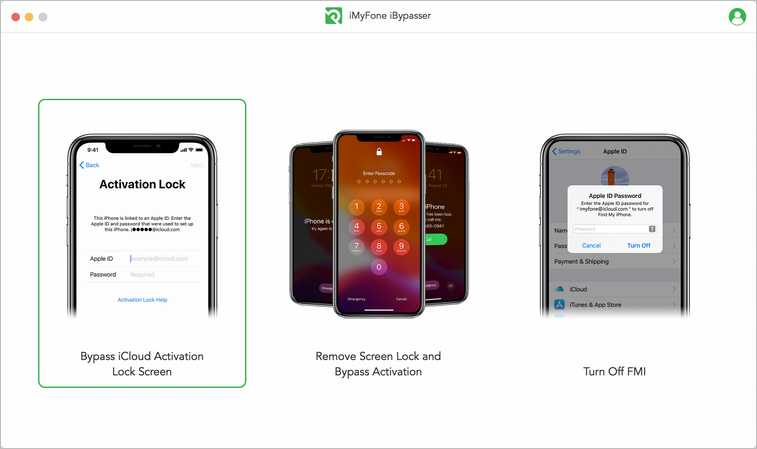 Step # 1: Launch iMyFone iBypasser
Install and then launch iMyFone iBypasser on Apple device and hit the "Start" button in the first step.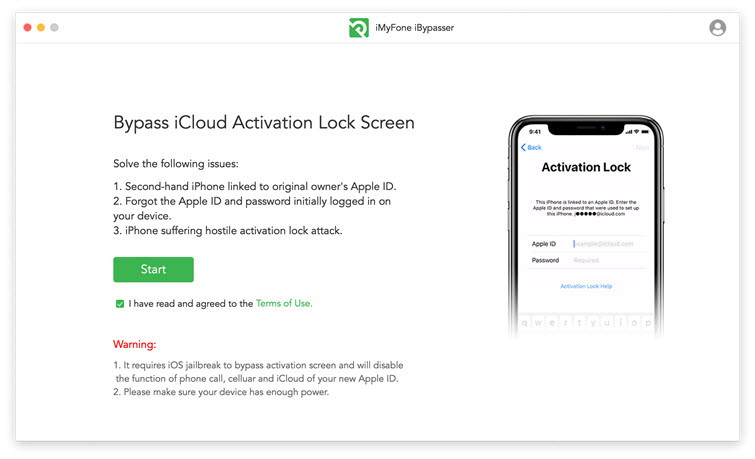 Connect iOS device to your PC using a USB cable.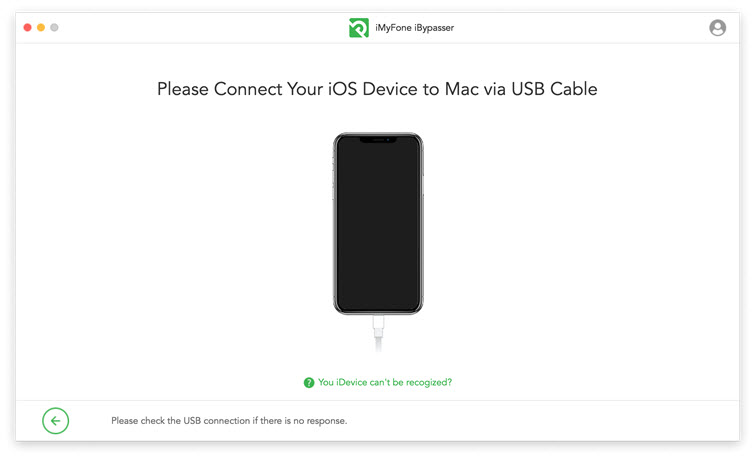 Step # 2: Jailbreak Your iOS Device
iBypasser needs jailbreak for bypassing the iCloud activation lock on your iOS device. The jailbreaking solutions for the Windows version and Mac version are different from each other.
Case 1: Jailbreak iOS Device - Mac Version
iBypasser will starts to download the right jailbreak package for iOS devices. Press on the button "Start Jailbreak" once the jailbreak package downloading process gets completed. Do follow the instructions that are appearing onscreen in order to put your device into a DFU mode. After that, wait until the program completes jailbreaking your device. Then hit on the "Next" button to proceed.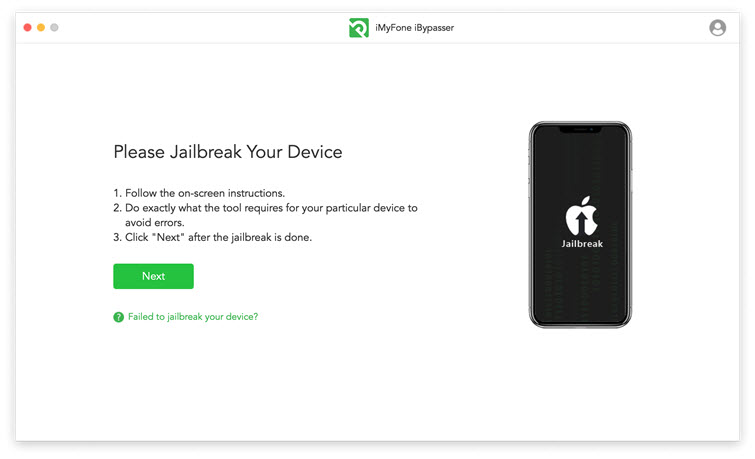 Case 2: Jailbreak iOS Device - Windows Version
As there is no specific jailbreak tool for the Windows PC version. So, once the jailbreak process is done, press on the button "Finished Jailbreak" button to go on.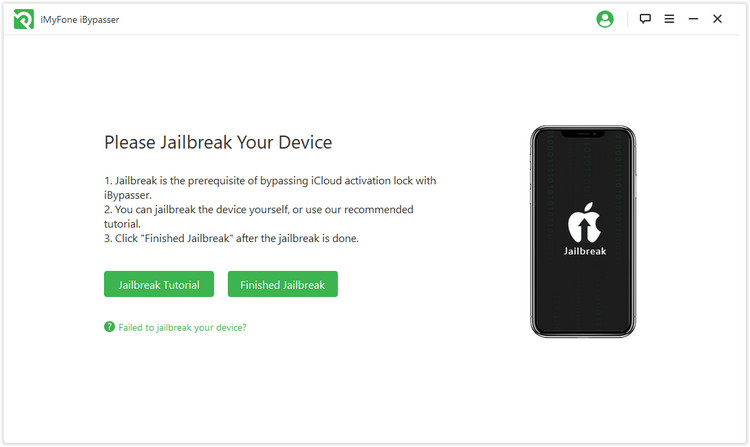 Step # 3: Bypass Activation Lock Screen
Confirm your device information with the iOS version, device model, IMEI, etc. Then press on the "Start Bypass" in order to continue. It takes only some seconds to complete the procedure of bypassing. After then you can use your new Apple ID and customize settings according to your requirements.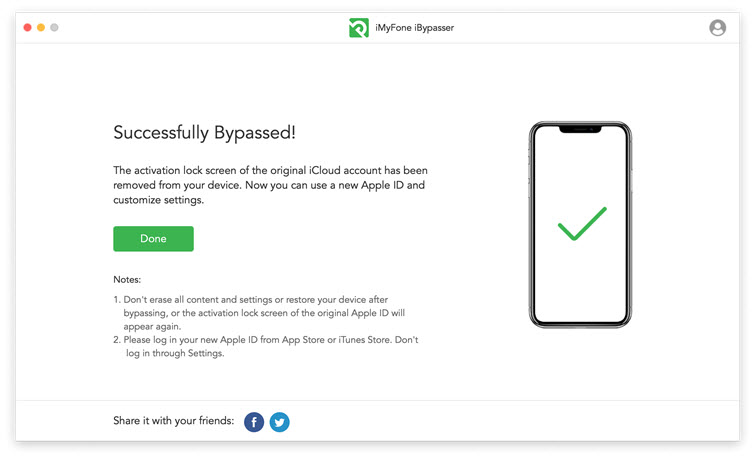 2. How to remove iPhone Apple ID? [For Activated Devices]
a. general introduction: using iMyFone LockWiper - Apple iPhone iCloud/apple id removal tool
iMyFone LockWiper could help you in bypassing the issues of iCloud account/ Apple ID, Screen Time passcode, screen passcode, and MDM lock as it has four perfect modes.
b. features of the product: a list of four or five about removing Apple ID
Remove iPhone Passcode from Broken and Locked Screen
Unlock iCloud Account/ Apple ID without having any Password
Bypass Restrictions Passcode or Screen Time
Bypass MDM Activation Screen
c. how to Unlock Apple ID [FREE DOWNLOAD]
Step # 1: Launch iMyFone LockWiper
First, you will have to launch iMyFone LockWiper on your PC and then opt for the "Unlock Apple ID" mode.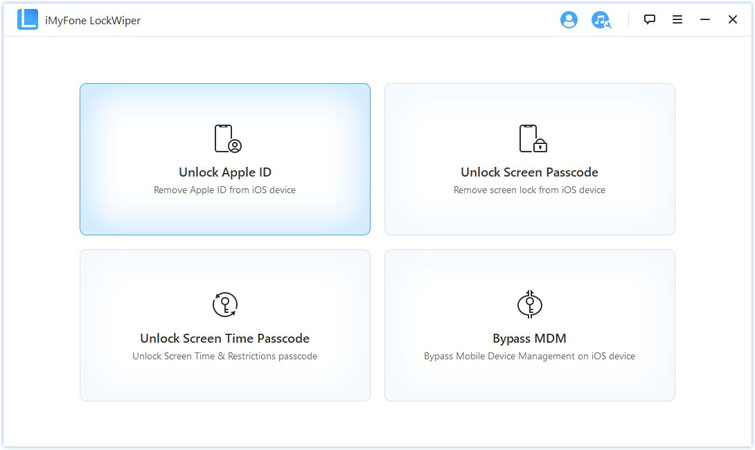 Connect iOS device to your laptop and unlock the screen of your iOS device, and choose "Trust" from the iPhone screen if you haven't trusted the device in the past.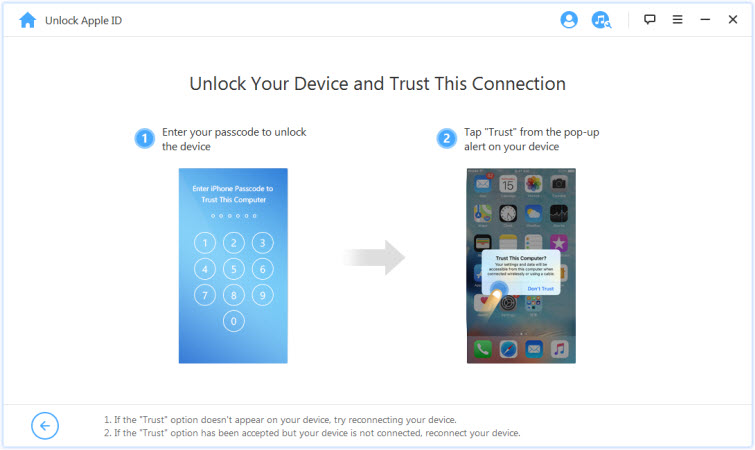 Step # 2: Unlock Apple ID
Hit the "Start to Unlock" tab in order to remove the iCloud account or Apple ID presently linked to your iPad, iPod touch, or iPhone.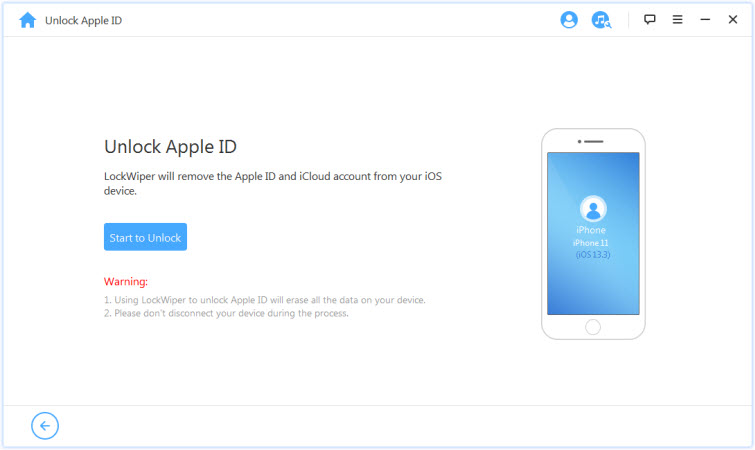 Case # 1: If Find My iPhone is Disabled
If Find My iPhone is disabled on the iOS device, LockWiper will instantly start to unlock your device. It will take some time, so wait for LockWiper to unlock the device.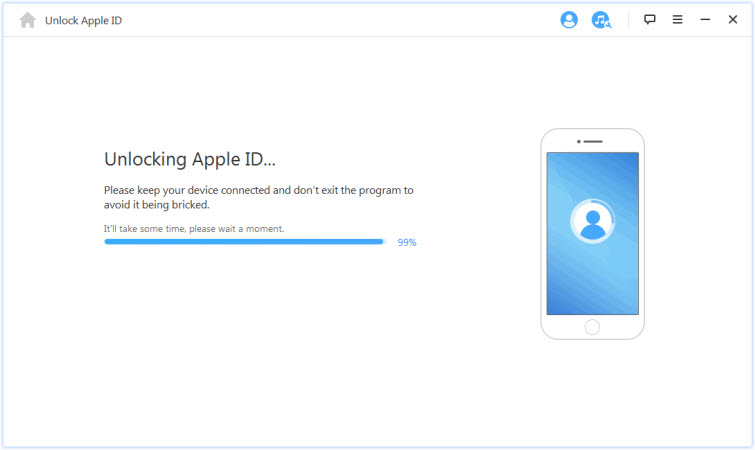 2nd Case: If Find My iPhone is Permitted
If Find My iPhone is permitted on your phone, you'll have to reset all your iOS device settings. To reset all settings, go to "Settings > General > Reset All Settings." Instantly you confirm to reset all settings, your iOS device will restart, and at last, LockWiper will start unlocking your iCloud account or Apple ID. When the process is being completed, the iCloud account and Apple ID will no longer be registered on your device. Now you could set up the device using a different Apple ID or create a new one.