You are resetting your Apple Watch, and suddenly you need to insert your password. You cannot delete the data until the Apple watch testifies that you are the real owner. If you forgot the AppleWatch ID, there are a few methods that can help you unlock apple watch without iCloud.
Part 1: Can You Unlock Apple Watch without iCloud?
Have you forgotten your Apple ID or iCloud Account? Or you are not aware of your iCloud locking you out because it does not authenticate as you have not put the right password. All these situations may become a hassle if you need to access your Apple watch or wants to delete the data present on the device. But, yes, there are a few alternate ways to unlock apple watch without iCloud. These ways will help you to access your Apple Watch no matter you forgot your passcode or cannot recall at the moment.
Part 2: How to Unlock Apple Watch Without iCloud?
1. Use Your Passcode
The iCloud ID and the Apple Watch passcode are two different things. If you forget your Apple ID passcode, use your Apple Watch passcode to reset your device. This method will not let you use your iPhone. There is an in-built option in your Apple Watch in which you can enter the watch's passcode and reset your device as usual. If you cannot recall your Apple Watch passcode, you can use a reset option.
In this method, you will be erasing your Apple Watch by deleting all the contents and settings. You will have to enter the passcode and continue the task as stated. Here are the steps:
Step 1: Launch 'Settings app' on your Apple Watch
Step 2: Tap 'general option'
Step 3: Select 'reset option' and click on 'erase all content and settings.' It will reset your Apple Watch.
Step 4: Now, input your Apple watch passcode and continue
Step 5: Click on the 'erase all option,' and Apple Watch will reset.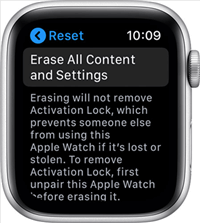 2. Use Your iPhone [Official]
You can use your iPhone to unlock apple watch without iCloud, as you can use the iOS app's feature to reset your Apple Watch. The Apple Watch app will help you perform versatile actions on your watch with the iPhone's help, including the reset. You must be aware that resetting your Apple Watch will delete the settings and data stored on your watch. Let us now see the steps on how to do it:
Step 1: Keep your Apple Watch and iPhone close to each other
Step 2: Launch the Apple Watch app on your iPhone
Step 3: Click on the 'watch' option, and now select the 'general' option
Step 4: Click on 'reset option' now
Step 5: Now, select 'Erase Apple Watch Content and Settings'
Wait for it to get reset, and then set-up your Apple watch from scratch.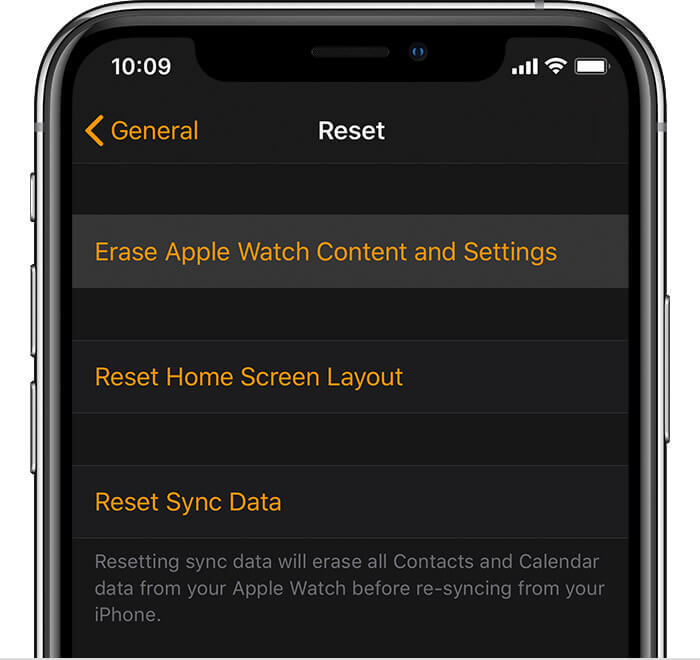 3. Reset Option
If you do not remember the Apple watch passcode and Apple ID, use the physical buttons on your Apple Watch to reset it. This method is used if you cannot reset the Apple Watch through your iPhone too. Here, you can use the same reset option you will find in the Settings App and use certain keys to reset your watch.
Step 1: Plug your Apple watch into charging
Step 2: Press and hold the side buttons, and do not turn off your Apple Watch.
Step 3: Press the Power Off option
Step 4: Now, you will see an option 'Erase All Content and Settings'. Tap on it to reset your Apple watch. This is how you will unlock apple watch without iCloud.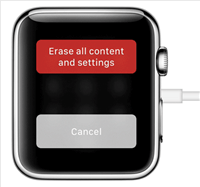 Only the Apple Watches with a cellular plan has to do the following:
Open the Apple Watch app on your iPhone
Click on 'My Watch', then Cellular, and after that on the 'cellular plan'
Remove the carrier plan, and press confirm
You have to contact your carrier to remove your Apple Watch from your cellular plan too.
Part 3: How To Unlock iPhone Without iCloud?
If you have forgotten your iPhone passcode or screen time passcode, use iMyFone LockWiper to bypass this issue. iMyFone LockWiper will help you unlock the Apple ID/iCloud account, screen passcode, and MDM lock. Some of the features of iMyFone LockWiper are:
Bypass Mobile device management or MDM activation screen
Unlock Apple ID or iCloud account without password
Bypass restrictions passcode or screen time
Remove the iPhone passcode from the disabled, locked, or broken screen
How to Unlock Apple ID using iMyFone LockWiper?
Step 1: Launch iMyFone LockWiper, and select 'unlock Apple ID'.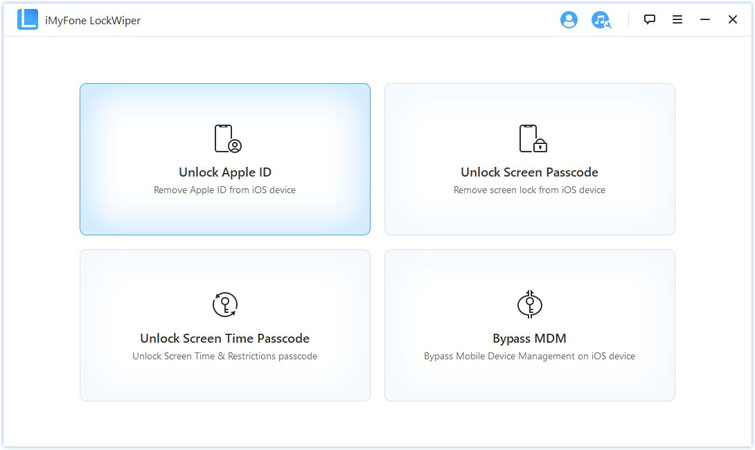 Step 2: Follow the guide below.
CASE 1: Unlock Apple ID for all the IOS versions when iPhone is Disabled
iMyFone LockWiper will unlock your device
Within few seconds, your LockWiper will unlock your device
CASE 2: Unlock Apple ID supporting iOS version below 11.4 and iPhone is Enabled
Go to settings, general, and reset all the settings
Your iOS device will restart, and LockWiper will unlock your Apple ID.
CASE 3: Unlocking when Two-Factor Authentication is Enabled and supports IOS 11.4 and above
Go to Settings, click on Apple ID, then password and security
Click 'Yes' to continue
Step 3: These steps will help unlock the Apple ID by keeping your device in the Recovery Mode. Set up your device by clicking on 'unlock with password' and use your iPhone with a new Apple ID.
---
Conclusion
To reset an Apple Watch or iPhone without the passcode or iCloud is easier than you think. Only follow the above steps and use the iMyFone LockWiper in extreme cases to get reset your device. Now, with this guide, you have full-fledged access to unlock apple watch without iCloud or unlock the iPhone.