Not many iPhone users are comfortable with the feel of iCloud in managing their files. The apple's service can back up and store your data in cloud but it is troublesome to use and sometimes it just doesn't work if care is not taken. In this article, we will discuss three methods to back up your iPhone notes without iCloud so you will get other ways to safely keep your notes.
Two methods to back up your iPhone notes for free and an additional method to back up iPhone with more flexibility will be discussed below. Go find what will help.
Tip 1. Back Up Notes by Backing Up iPhone to iTunes
Without iCloud, many iPhone users will find iTunes, which is not a stranger when it comes to back up iPhone data. iTunes allows iOS users to back up all their data including notes using the following steps.
Open iTunes and connect your iPhone with it.
After iTunes identifies your iPhone device, click on it to locate the Summary tab.
Click the "Back Up now" button if you are a Windows user; MAC users to choose File > Devices > Back Up.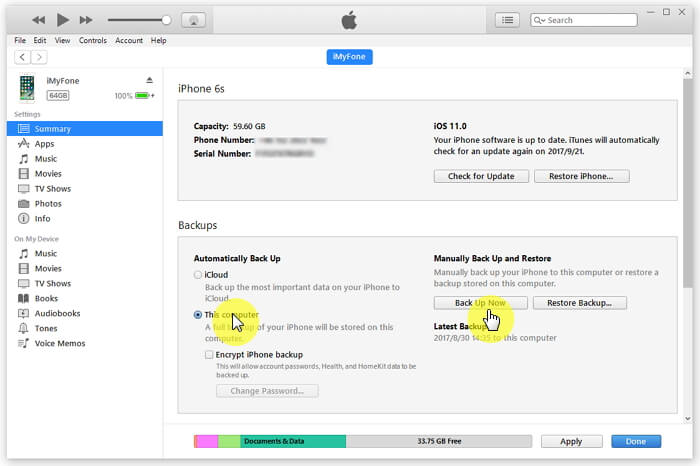 But you cannot view the content in iTunes backup unless you restore the backup to one iOS device.
Tip 2. Back Up iPhone Notes Completely or Selectively
This method uses the iMyFone iTransor Lite iPhone data exporter tool to back up iPhone notes without iCloud. The app offers flexible data exporting from iOS devices and makes iOS data available on computer. You can know more about the program from the following features.
Key Features:
Export notes and other 18+ types of data from iPhone, iTunes backup and iCloud backup.
Previews the notes specifically before exporting so that you can export the ones you need.
Can separately back up and restore WhatsApp, WeChat, messages on your iPhone.
Supports all iOS versions and all iPhone, iPad, and iPod touch, including the latest iPhone 8 and iOS 11.
How to Back Up iPhone Notes with iMyFone iTransor Lite
With iMyFone iTransor Lite, you can easily back up notes on iPhone without iCloud. Follow the steps below.
1. Choose File Type(s) You Want to Export
First, download iMyFone iTransor Lite and launch it. Choose the tab of Back Up & Export from Device and locate Export Data. Select types of files, here you can choose Note or all the file types. And click Next to connect your iPhone as prompted by the iPhone data exporter.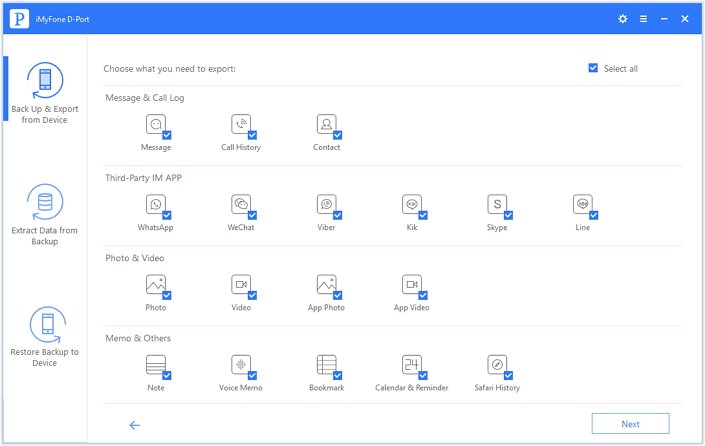 2. Scan iPhone to Find Notes and Other Data
After connecting your iPhone, click the Scan button to find notes and other data on your iPhone. It will last a while according to your device storage.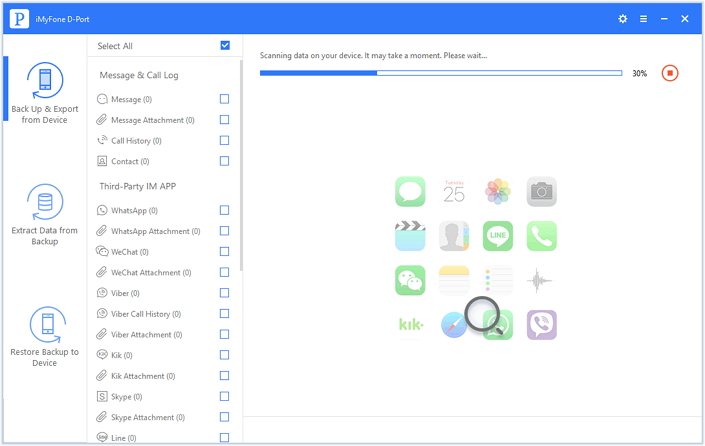 3. Preview and Export Notes You Need
After the scan is through, you can take time to look through the list of data and pick the notes you want to export. Click the "Export" button on the interface to choose a prefer destination for storing the notes.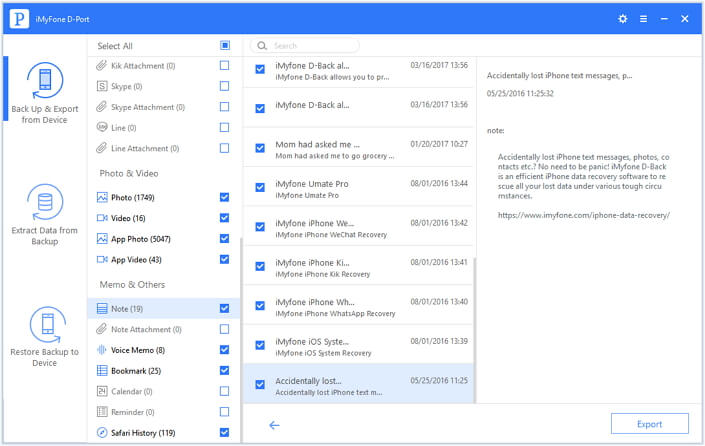 Tip 3. Back Up iPhone Notes with Gmail
The last way to back up iPhone notes without iCloud is using your regular Gmail account. Using this method to back up your notes ensures you can have access to your notes on any device where you can access your Gmail account. Just follow these steps below.
Go to the Settings app on iPhone and open it. Scroll down the list and select Mail > Accounts > Add Account.
To access your Gmail account, enter your login detail including your email address and your password.
Once logged into your Gmail, you need to select the information to sync. Among the options offered, turn on Notes so that your iPhone notes will be synced with your Gmail account.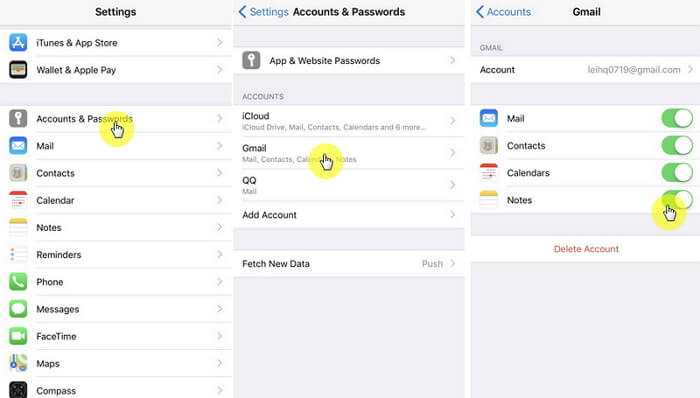 Among the three ways to back up your iPhone data discussed above, you can confidently use anyone without the fear of ever going o lose your precious notes again. Without using iCloud, you can backup using iTunes, iMyFone iTransor Lite or syncing with Gmail. It is important to note that the iMyFone iTransor Lite iPhone Data Exporter comes with a free trial version to get you try the app before investing your money. It is available for Windows as well as Mac. Try it now.