Many iPhone users have found that they must have a Wi-Fi connection when they need to restore iPhone devices from iCloud backup. You may need to restore iCloud backup due to following reasons: 
After buying a new iPhone or an iPad, you will need your old data including photos and videos in your new device. To make it possible, you may need restore the data from iCloud.
Factory reset is a common method that rectifies some errors in iOS devices. After performing a factory reset, you will have to restore your iCloud backup to get the old data back. 
Regardless of the causes, it is true that a massive amount of data will be required to restore an iPhone through iCloud. That is exactly why restoration is done through a Wi-Fi connection (Apple doesn't necessarily allow you to restore your iCloud backup through cellular data). So, what if you still need to restore the iCloud backup and you don't have a Wi-Fi connection? Can you restore iphone from icloud backup without wifi? Let's find out.
Part 1: Can I Restore My iCloud Backup without WiFi?
You may have noticed that Apple doesn't allow iCloud backup restoration through cellular data. In other words, as per the restrictions implemented by Apple, if you intend to restore your iCloud backup, it is mandatory to have a Wi-Fi connection. However, we have some fascinating news for you: here we introduce a reliable and effective tool that can restore iPhone from iCloud without WiFi!
Part 2: Alternative Ways to Restore iPhone from iCloud Backup without WiFi
Due to various reasons, some iPhone and iPad users don't want to use iCloud backup. Instead of iCloud, however, there are several alternatives for users to consider. First let's see why some users don't want to restore iPhone via iCloud.
Why Some Users Don't Want to Restore iPhone though iCloud?
Generally, iCloud comes with default storage of 5GB only. After exceeding the limit of 5GB, the users will have to pay and get more storage. In addition to that, iCloud must need an internet connection to create its backup. In addition to that, some users may not want to use iCloud due to security concerns.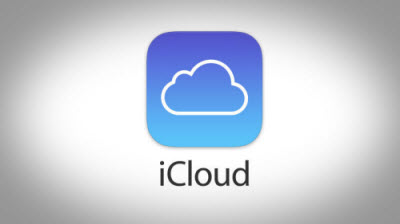 Pros of iCloud
It is a really user-friendly way. You can do the configuration with a couple of simple clicks.
You don't need to use extra devices to do this.
It comes with 5GB of free storage capacity.
Cons of iCloud
Internet connection is a must to backup your iPhone using iCloud.
Your personal data is stored to cloud.
iCloud backup doesn't backup all the file types (eg. Media files).
Free data storage is limited to 5GB only. If you need more than that, you need to pay.
Using iTunes to Restore iPhone instead of via iCloud Backup without WiFi
Launch iTunes on PC or Mac to which you will backup your iOS device.
Connect your device to computer via the original USB cable. Enter the passcode if prompted.
Select the iOS device which will appear in iTunes and then choose "Restore Backup".
Select the latest backup and tap "Restore".
If prompted, provide the password of the encrypted backup.
Don't disconnect the device until the synchronization is finished, and that's it!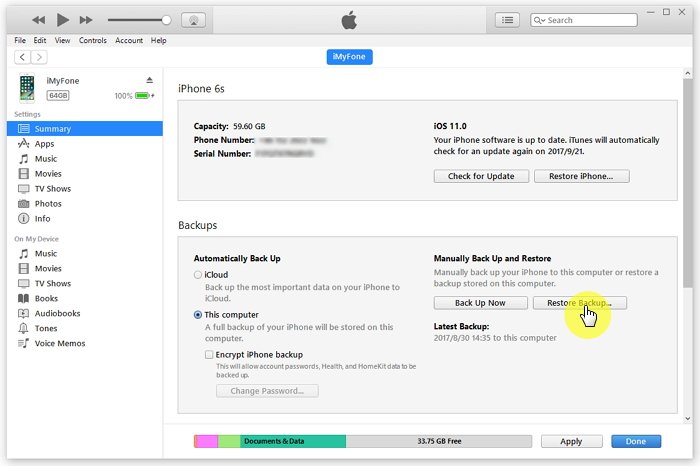 Using iPhone Backup & Restore Tool to Restore iCloud Backup without WiFi
Now, let's get to the main point of this article: how to restore from icloud without wifi. In this case, we will use iMyFone D-Port Pro, the best backup & restore software for iOS devices.
Main Features of iMyFone D-Port Pro
It can create individual backups of different file types like WhatsApp, messages and WeChat.
It can create backups of iOS devices without overwriting existing backups.
It can restore iTunes and iCloud backups as well as iMyFone backup.
It extracts more than 20 data types from the backups you have created or from iOS devices.
How to Download and Restore iCloud Backup to iPhone
To restore an existing iCloud backup, you should go to "Restore Backup to Device" option and pick the backup you need. However, if the iCloud backup doesn't exist, you should go to "Download iCloud Backup". Then, follow the steps mentioned below.
Log into iCloud.

Choose the backup you need to restore from the list and click next to start downloading.

Data will be previewed  after scanning and then select "Restore" option to complete.
More Tips about D-Port Pro except Restoring from iCloud Backup without WiFi:
You can consider iMyFone D-Port Pro as a superb alternative to default iCloud backup. In fact, it is a much better option as it allows backing up your device in different modes as mentioned below.
Make a Full Backup of Your iOS Device
Select "Back Up & Export from Device" and go to "Make a Full Backup".

Select "Back Up" option.

After the backup process finishes, you can view and extract data. You are also allowed to restore your device with this backup. 
Conclusion
Select "Back Up & Export from Device" and go to "Backup WeChat/Messages/WhatsApp" accordingly.

Select "Back Up" option.

At the completion of the backup, you will be able to see the extracted data.
Conclusion
Now that you know how to restore iPhone from iCloud backup without WiFi, we'd like to see you giving it a try. After you restore iPhone from iCloud without WiFi using the above methods, we kindly expect you to leave us a comment to share your experience.