Help! I just purchased a second-hand iPhone 6 and it is really cheap. But I just found that I cannot restore backup iPhone 6! I'm frustrated because I don't want to build up all the data manually! I want to restore my old backup to the iPhone 6! Can anyone help?
Melissa
You just got a new or second-hand iPhone, started the restore process of iCloud backup, and the iCloud restore failed. You tried it again, and it failed again. All your iPhone says is "Cannot Restore Backup". Then you turned to iTunes, but for some unknown reasons, you cannot restore the iTunes backup also and you don't know how to do. In this article, we will explain why your iPhone says "Cannot Restore Backup", and how to fix the issue that cannot restore backup iPhone.
The Reasons Why You Cannot Restore iPhone Backup
The moment that iPhone cannot restore backup maybe caused by the following reasons:
1. Sometimes you cannot restore backup iPhone because the current iOS on iPhone is not compatible. You need to have a later version of iOS on your iPhone.
2. You cannot restore backup iCloud to your iPhone could be a problem in making a complete iCloud backup. Or maybe you are not connected to a stable internet connection during restoring.
3. If you are restoring the backup using iTunes there is a chance that you can get a message that you cannot restore the backup. This can happen due to the reason that you are using an older version of iTunes or the short disk space or it can be the reason that your backup is incompatible with corrupt.
If you are here for the same dilemma with Melissa, that cannot restore backup iPhone 6 or any other iOS device, then we suggest reading this entire article to get some basic tips (regarding the reasons discussed above) on how to fix the issue that iPhone cannot restore backup, no matter it is an iCloud backup or iTunes backup.
Set Up, Update, and Erase Your iOS Device to Restore Backup
If you are facing this issue to the first reason we have discussed here we will discuss the step-by-step procedure to get that fixed.
In iTunes, or from the Apps & Data screen on your iPhone, tap Set Up as New instead of Restore from Backup.
Once you are done with setting up your device update your device to the latest version of iOS.
Once the update process complete your device will restart.
Now to erase your iOS device: Tap Settings > General > Reset > Erase All Content and Settings. After your device is erased, it restarts and you'll see the Hello screen in the Setup Assistant.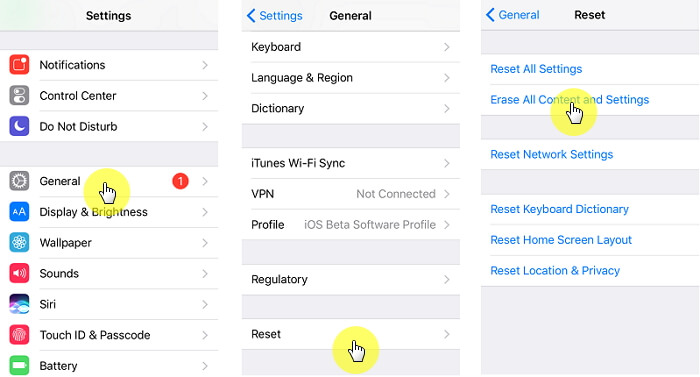 Now as your device is done with erasing and updating. Simply select a backup to restore from and you will succeed.
Make Complete Backup to Fix iPhone Cannot Restore Backup
If you are restoring your device using iCloud back and it fails due to the second reason we have discussed, just make a complete iCloud backup and here is how you will proceed.
The first thing you will do is to connect your device to a Wi-Fi network.
Go to Settings > [your name], and tap iCloud. If you're using iOS 10.2 or earlier, go to Settings, then scroll down and tap iCloud.
Tap iCloud Backup. Of course, you need to turn on iCloud Backup.
Then tap Back Up Now and let the process be finished.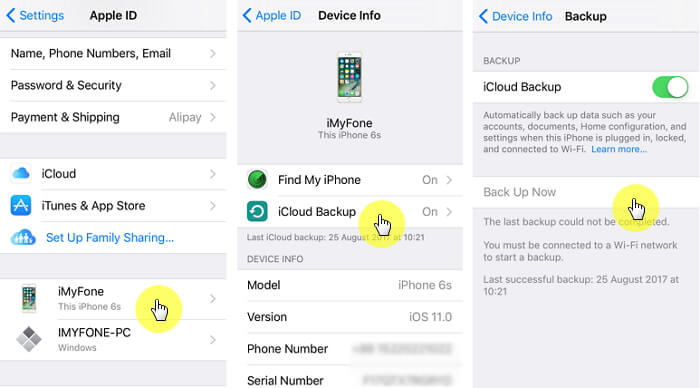 Now you can access this backup by going to Settings > iCloud > Storage > Manage Storage, then select your device.
Now here you will find your backup with the time and backup size information.
Final Solution to Solve Issue of "Cannot Restore iPhone Backup"
Now if you cannot restore iPhone from backup due to the third reason we discussed, here is what we suggest to do - look for a third party file manager tool instead of iTunes. Here the one that caught our attention is iMyFone iTransor, previously named D-Port Pro. See what this iPhone backup and restore tool can do for you as below:
Key Features:
Backing up iOS devices selectively or completely.
Previewing and retoring backups to either merge backup with iPhone data or replace iPhone data with backup.
Restoring backups as a whole or selectively (Contacts, Messages, WhatsApp and WeChat), it's all up to you.
Previewing and exporting your data from backups or directly from iOS devices.
How to Restore iPhone from Backup by iMyFone iTransor
In order to restore your device using iMyFone iTransor instead of iTunes, simply follow the steps below and you will be amazed by the way it will fix your problem that cannot restore iPhone backup.
Here is how you can restore your iPhone 8 or iPhone X to its last backup with iTransor. The whole process is pretty straightforward and easy to follow:
Step 1. Run the iTransor software, click the Restore Backup to Device tab on the bottom left of the screen, select a backup file you want to restore from the backup list that follows, and click Next.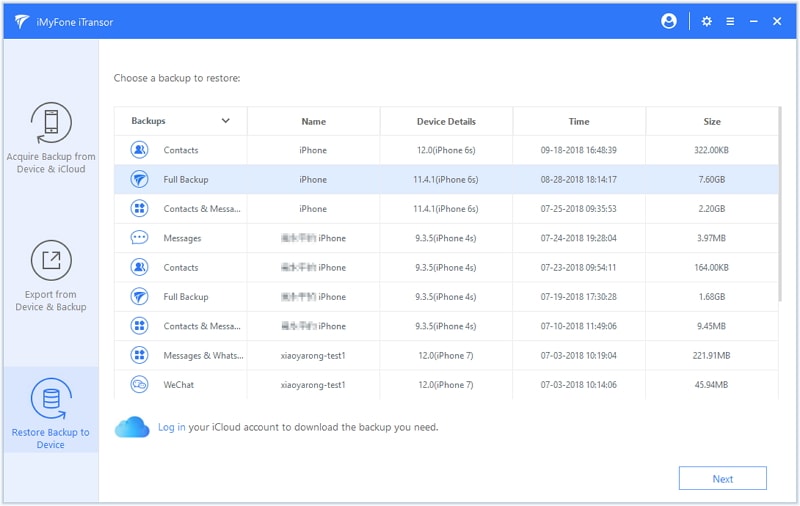 Step 2. Choose how you want to restore the selected backup file on the next screen: Restore Full Backup.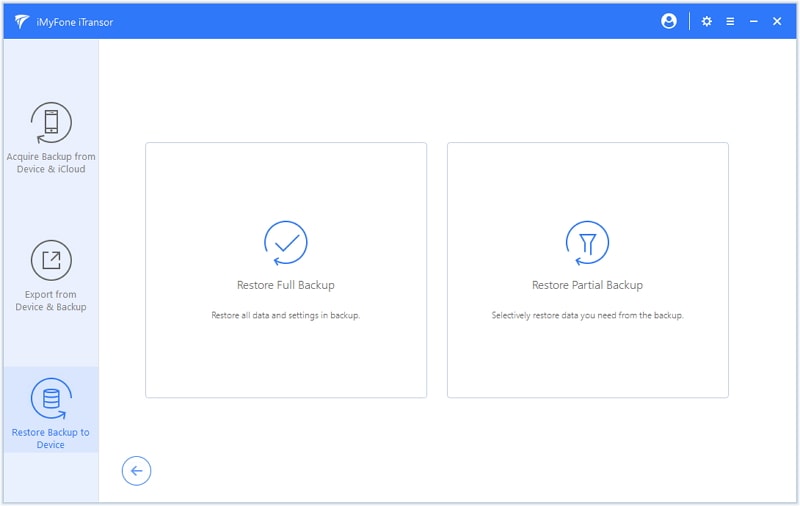 Step 3. Connect your device to the computer, click Preview & Restore on the next screen to contiue, and you will come to the data scanning page.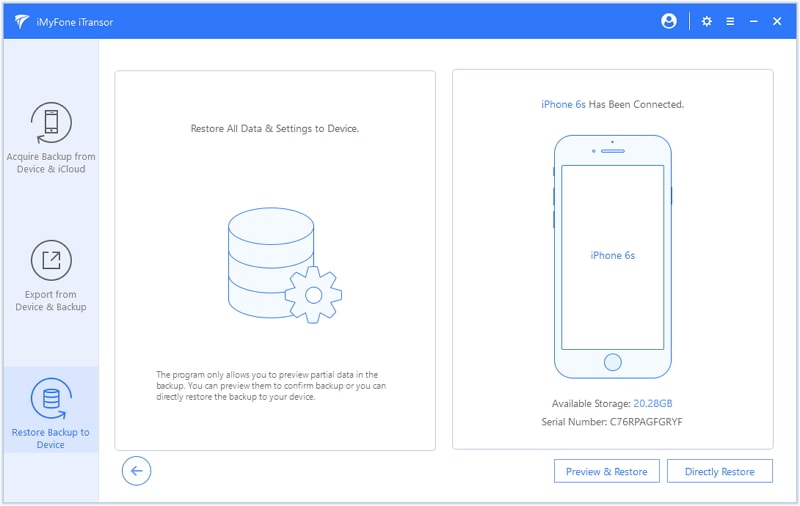 Step 4. After waiting a while for the scanning to complete, you will preview all the contents in your backup. Click Restore, and you will see a pop-up window that notifies you to choose how you want to deal with the data in the backup and the device. Make sure you read the notes down below before you make a choice.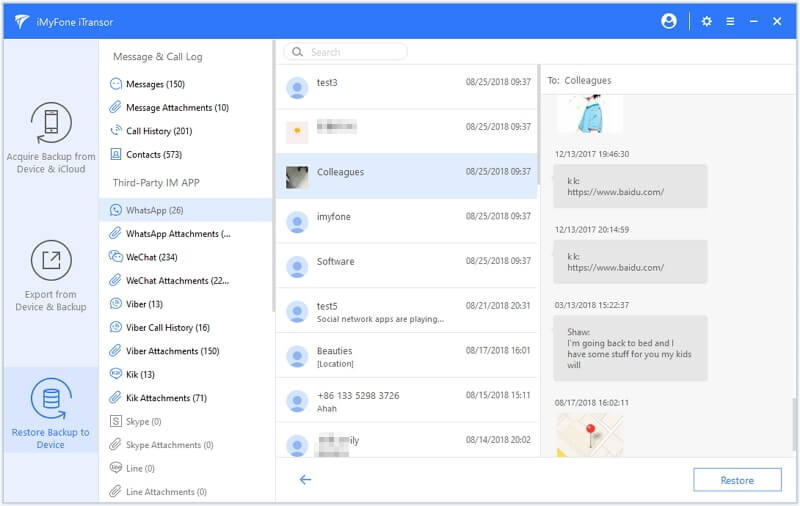 Step 5. After the restoring process, you can view the restored data on your device.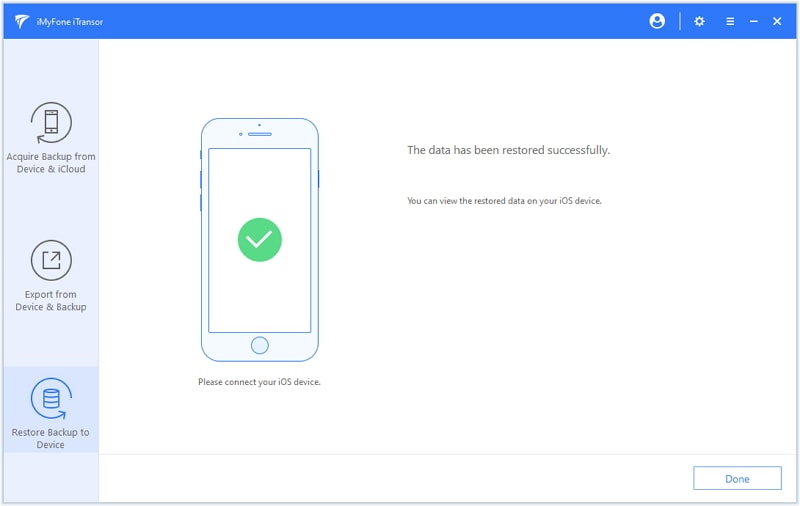 We are sure that you, like us, are looking forward to diving in and trying out all the new features. But trapped by iPhone cannot restore backup and similar problems? Don't you worry anymore! With iMyFone iTransor, you can easily restore your old iTunes or iCloud backups to your device, even you are using iOS 15! And iPhone should work the way it should — no more "Cannot Restore Backup" message for you!