Have you ever wondered what it would be like if you lose all your iPhone WhatsApp conversations without having backed them up? Believe it or not, you may probably have a hard time to get over it. In most cases, you may have very important and personal messages to keep. To prevent you from having to start all over again after losing your WhatsApp data including messages and other attachemnts, we will compile a comprehensive guide on how to restore WhatsApp backup from iCloud to iPhone. After reading this guide, there is no need for you to fear losing your iPhone WhatsApp conversations again.
1. Only Restore WhatsApp Chats from iCloud to iPhone
You can recover your WhatsApp chat history from iCloud backup with the built-in function from WhatsApp (if you have made a previous backup in chat settings) by following the steps outlined below.
Open WhatsApp on your iPhone and go to Settings, then select Chat Settings. Tap on Chat Backup and check to see if an iCloud backup for your WhatsApp chat history is available.
Once you have verified that there's an available WhatsApp backup, go to your Apps and uninstall WhatsApp, then reinstall it again in order to transfer whatsApp chats from iCloud backup to iPhone.
After you've reinstalled WhatsApp, verify your phone number to start WhatsApp and the next screen will ask you to restore your previous WhatsApp chat backup. Simply follow the on-screen instructions to complete the restore.
Note: Please make sure that the WhatsApp phone number of the backup history and the account to be restored must be same.
2. Restore All Data including WhatsApp from iCloud to iPhone
Some users didn't back up the WhatsApp data within the app. If you think you have no choice but to restore all data once you have made an iPhone backup with iCloud, you may choose to restore your whole iCloud backup (rather than just WhatsApp). You can make it easily, but there is also a disadvantage you need to know - all your current iPhone data will be overwritten by the restored backup.
Switch on your iPhone. For those who've already set up their device, you need to wipe all your iPhone data before you are allowed to use this method.
After you've wiped your iPhone, boot it up and follow the on-screen instructions till you get to Apps & Data, then select Restore from iCloud Backup. You'll be asked to sign in to iCloud.
Having successfully signed into iCloud, you can now select a most relevant backup. After you select a backup, the restore process will begin.
Wait for the restore process to complete and do not disconnect from the network. This might take a while, depending on backup size and network strength.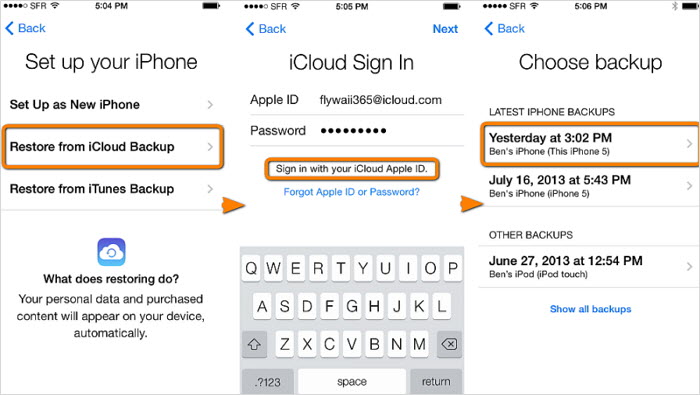 Note: There might be possibilities WhatsApp couldn't restore the chat history with iCloud. Always stay connected and ensure your device is charged for a faster restore process.
3. Only Backup & Restore WhatsApp Data from/to iPhone
For most users, you do not need a whole backup from iCloud. We can't risk big things for the sake of small ones, even they are also important. Instead of going through the long and tedious process of restoring your backups from iCloud, is there any simple way to perform this? Here you can try an all-in-one tool that makes the backup and restore quite easy.
iMyFone iTransor for WhatsApp is one recommended alternative to iCloud, allowing you to backup and restore your iPhone WhatsApp data (including WhatsApp Messenger & WhatsApp Business) without reinstalling your iPhone system. It is also a tranfer tool that enables you to transfer WhatsApp from iPhone to iPhone/Android, Android to iPhone/Android.
Fully compatible with iOS 14 and most devices like iPhone 12, iPhone 11, iPhone X, iPhone 8/8 Plus, iPhone 7/7 Plus, iPhone 6 and etc, both WhatsApp Business and WhatsApp Messenger are available on iTransor for WhatsApp.
How to Back Up iPhone WhatsApp Data with iTransor for WhatsApp (FREE)
To back up WhatsApp data only with iTransor for WhatsApp, follow the steps below:
1. Open iTransor for WhatsApp and select Back Up WhatsApp on Devices from the left navigation panel. Connect your iPhone to PC using a USB cable and then click Back Up to proceed on the next screen.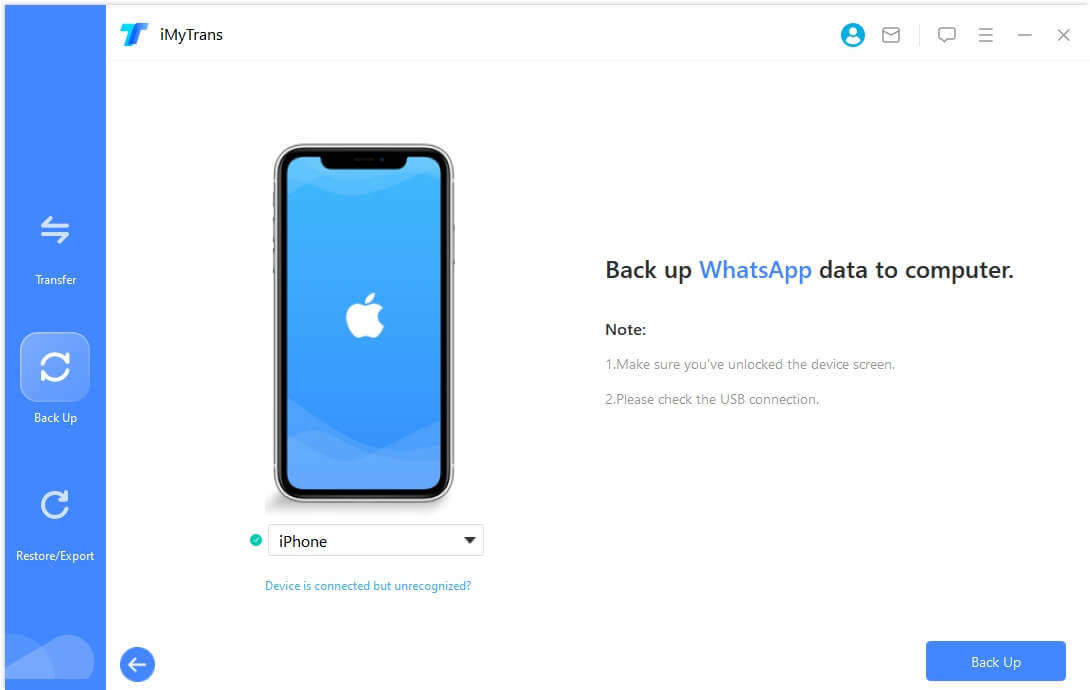 2. The program will start the backup process. You must ensure that your device is connected throughout the backup process.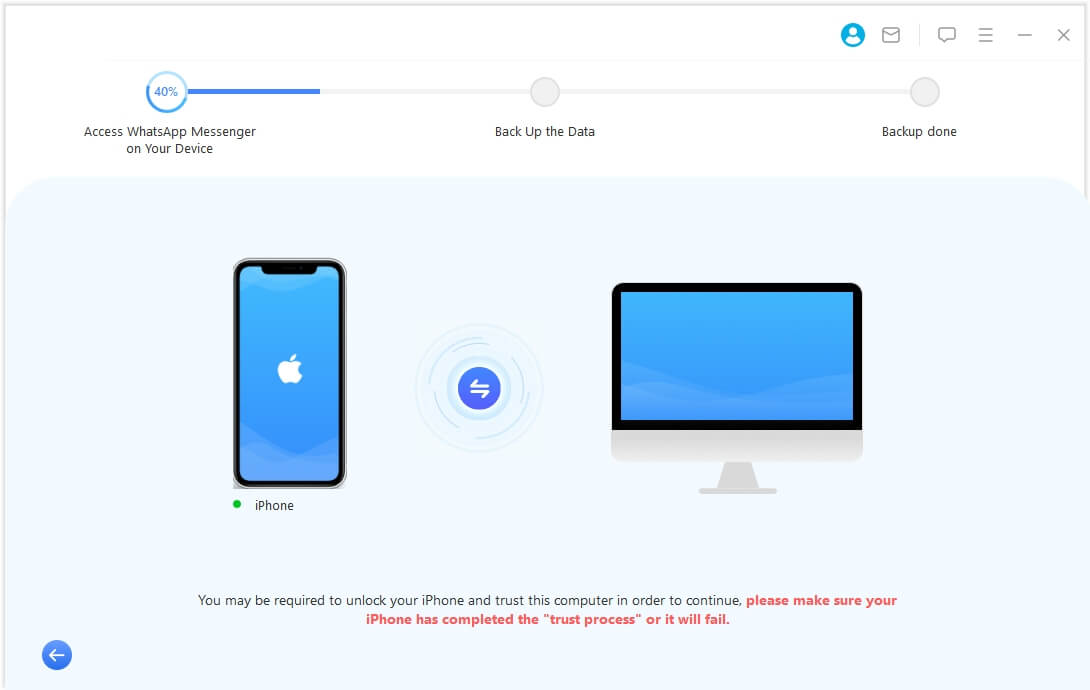 3. You will get a notification that your iPhone WhatsApp data has been backed up successfully, once the process completes. Then, you can restore the backup later when you need it.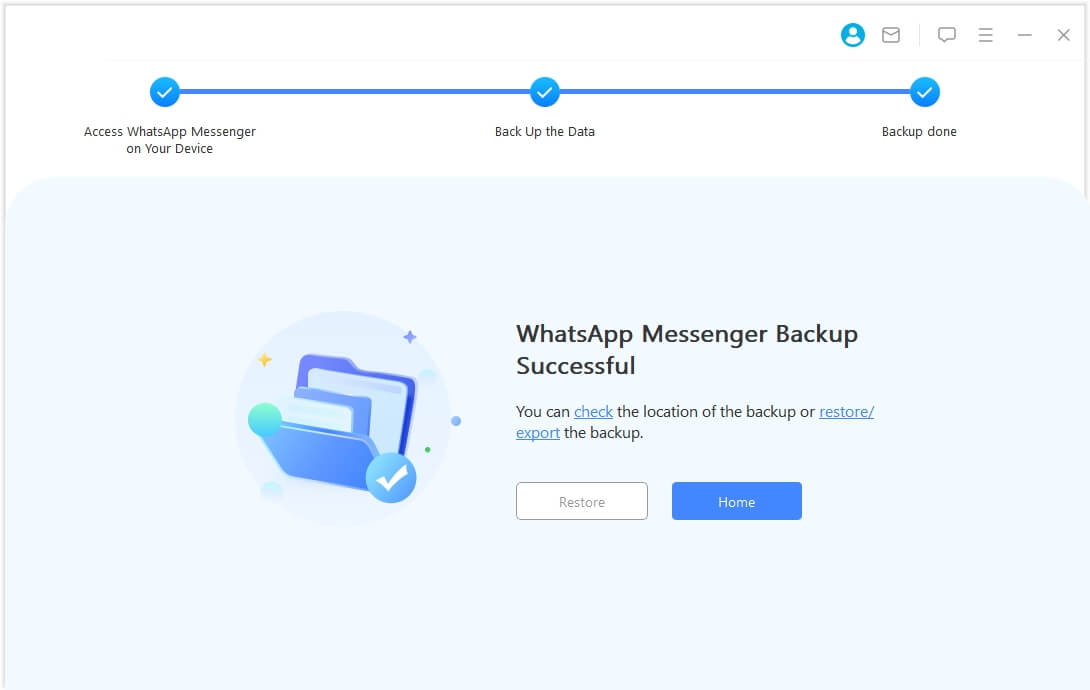 How to Restore WhatsApp Backup to iPhone with iTransor for WhatsApp
If you have created a WhatsApp backup with iTransor for WhatsApp but you still have no idea how to restore it when you want? Don't worry. We'll guide you how to restore your WhatsApp data back to your iPhone.
1. Open iTransor for WhatsApp and select Restore WhatsApp to Devices. This will display a list of all the WhatsApp backups on your computer. Choose a WhatsApp backup and click Next.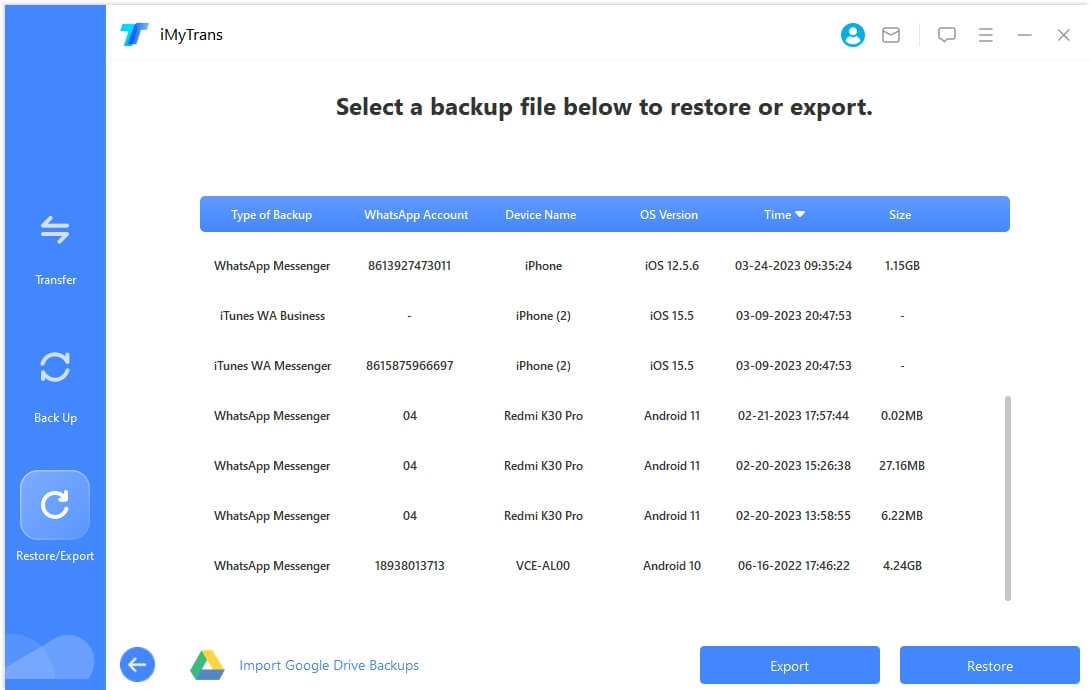 2. Connect the iPhone to comptuer and click 'Restore' to continue.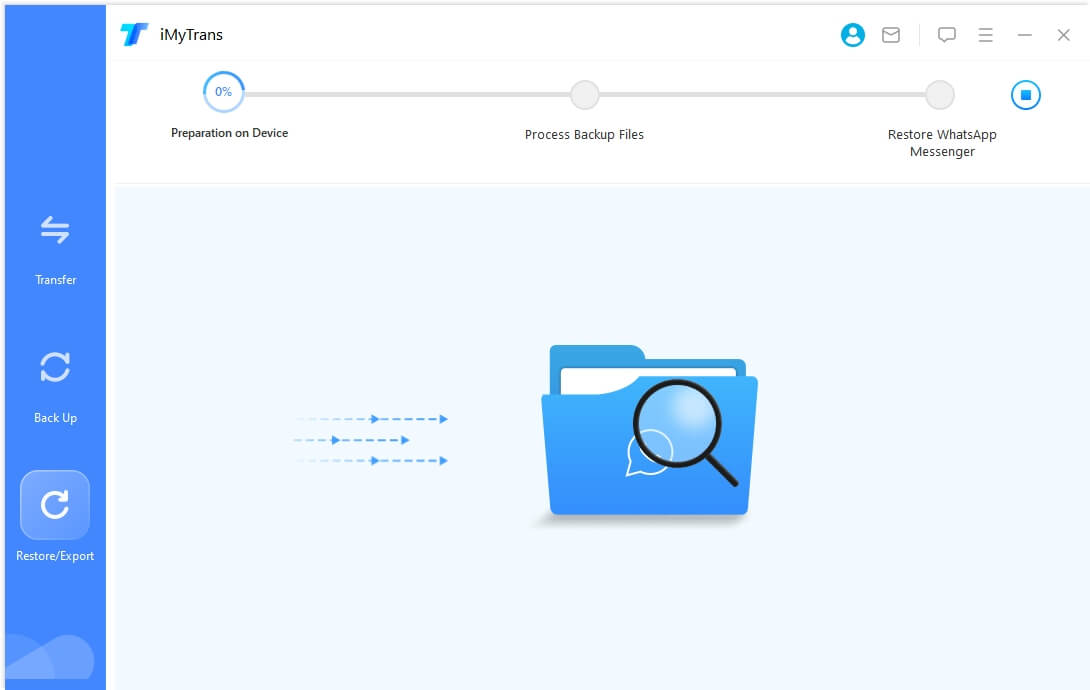 3. iTransor for WhatsApp will restore the WhatsApp data to your iOS device. After restoring the backup, the other data on your device will be safe. Open WhatsApp on your iPhone and the restored data will appear.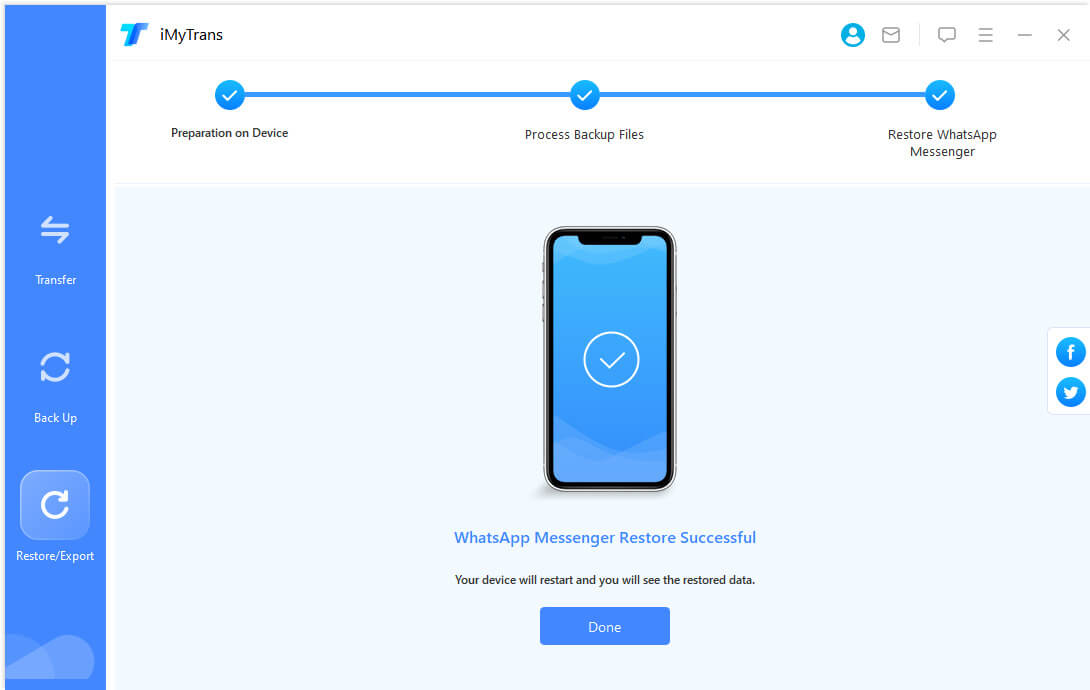 For the above three methods, you can definitely find a proper one for yourself. However, we have to inform you again about the pros and cons. If you need restore a complete iCloud backup, remember that all your current iPhone data will be replaced by the old backup. If you need restore WhatsApp chat backup from the application itself, remember to enable this function. If you want to keep your WhatsApp data safe, it is also a good choice to try a third-party software like iTransor. If you want to recover WhatsApp messages from iPhone with no backup, you can check a highly recommended review of top free iPhone recovery software for you.