Want to know how to find Aerodactyl in Pokemon Go? Have you heard about the possibility of using aerodactyl coordinates to identify potential nesting locations?
Today's article deals with using these coordinates to find these rare Pokémon. Let's get started.
Why Is It So Hard to Catch Aerodactyl in Pokemon Go?
Before delving into why it's so difficult to catch an aerodactyl, let's first explain what it is, and the significance of catching one.
1

What Is An Aerodactyl in Pokemon Go?
It's essentially a rock and flying type Pokemon. You can catch normal and shiny aerodactly. The shiny aerodactyl is the rarest of its kind as there is only one shiny one in 60 normal aerodactyl. Its best move combination is the rock throw and rock slide with high damage rates.
It originally appeared in the Kanto grassland from Generation 1 and was evolved from the amber fossil. Its other stats include 190 stamina, 159 defense, and 220 attack. With the chance to increase dominance over the skies, players highly pursue it.
2

Where Can I Find Aerodactyl in Pokemon Go?
You can find the aerodactyl by completing the 8th CHALLENGE in the Meltan Special Research Let's Go series.
Can you find it in the wild? Yes, it's possible to find it in the wild but it tends to be VERY RARE to come across it.
The third possible way to find the aerodactyl is to hatch 10km EGGS, but it's not an assured way. Some players have reported getting only Trapinches from 10km eggs.
What's more, if you are a new player, it's increasingly difficult to find an aerodactyl. There's even a bigger problem in that hatching an aerodactyl does not contribute to the Meltan Research 8/9.
Tips for Updated Aerodactyl Coordinates in Pokemon Go
Clearly it's better to catch an aerodactyl than hatching one from an egg. And fortunately, players who have found aerodactyl nests can share some of their coordinates with you.
The aerodactyl pokemon go coordinates are mostly shared for free. You only need to know where to find them. Once you have nest coordinates, you can be assured of a high probability of finding an aerodactyl in specified spawn points.
1

Which Are The Best Sources for Aerodactyl Coordinates?
1) Online Communities
You can find these communities on your favorite social media platforms, for instance, Facebook groups, discord communities, or various subreddits. You can also follow popular Twitter pages that share all things Pokemon Go, including tricks, tips, and more.
One of the most popular subreddit that you can start checking out is The Silph Road (r/TheSilphRoad) - billed as the most popular Pokemon grassroots network. You can also venture into other online forums, so don't just limit yourself to the popular platforms.
2) Popular Pokémon Websites and Apps
There are map tools you can use to find aerodactyl coordinates. Get started by checking out the Silph Road Map. Download the WeCatch App, as it promises immediate access to rare Pokemon locations with the ability to easily share Pokemons with friends.
Another map that's highly recommended is the PogoMap. You can also find other alternatives to these popular options, and some of them include, PokeMap, PokeVision, PokeRadar, etc. The challenge is finding a map that's constantly updated.
How to Catch An Aerodactyl in Pokemon with An Easy Way
Let's assume you find working aerodactyl nesting coordinates, but you are confined indoors and can't physically travel to the location. Well, there is a workaround on this issue. It may also help rural players who don't have as much access to PokeSpots, Gyms, etc.
Because Pokemon utilizes your phone's GPS in its virtual map, changing your GPS location can affect your location on the map. But you will need specialized software to do this.
Best App for Changing Location - iMyFone AnyTo
iMyFone AnyTo is specially developed for iPhone users, and it works on Windows and Mac OS. It will allow you to change your iPhone's GPS location to any spot around the world in an instant.
Once you discover any rare Pokemon coordinates, you can explore around the region without investing the time and resources to venture outside your home. It does not only work with Pokémon Go, but with other games and mobile apps that require GPS.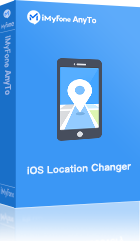 1,000,000+ Downloads
Main Features of iMyFone AnyTo
Creating a virtual route: You can stimulate the on-screen movement as if you're walking around in real life. The app lets you configure routes.
Define your speed: Mimic the walking pace you adopt when moving around the real world for a more realistic game feel.
Access historical records: You can get all your historical information and easily share coordinates at points you discovered rare Pokémon.
All versions supported: iOS versions from 7 to 14 on iPhone and iPad are all supported by AnyTo.
How to Fake Location to Catch Aerodactyl Pokemon
Getting started with the iMyFone AnyTo is quite easy. Once you teleport to specific coordinates that you have obtained from a third-party, you can begin faking location in Pokemon Go and simulating movements to catch rare Pokemon. Here are the steps to start using the app.
Step 1.Download and install the program on your Mac or Windows computer. Tap Get Started. After the install, connect your iPhone using a USB cable.
Step 2.After linking the phone with the computer program, it will load the map and ask you to find specific areas. Select Teleport Mode at the right corner.
Step 3.You can teleport to locations by entering aerodactyl coordinates in numerical form. Or zoom in or out the map to find the coordinates. Next click Move.
Step 4.When the location changes on the map, it also changes on your iPhone as well. The map in Pokemon will also update.
You can then select specific spots around the original co-ordinate. After planning your route just as you do in Google Maps. Here is a more detailed guide about simulating movements to catch more Pokemon.
How to Catch An Aerodactyl in Pokemon Go with Normal Ways
Do you relish the challenge of actually catching an Aerodactyl and don't mind spending countless days and hours exploring? Let's expound on the conventional ways we mentioned earlier.
1) Field Research
The field research task entails completing 5 raids. It's a guaranteed way to go after rare Pokemons. But there is one big impediment. It's not straight forward to come across the Raid task. That's why some players spend many weeks stopping at PokeStops, before encountering the Raid Task.
And even after clinching the task, raids are only executed at specific gyms. You must also pair up with multiple players to take down Bosses at the various gyms.
2) Spawning Locations
Which are the best spawning locations for an aerodactyl? You just have to look at its type. Since it's a rock type Pokemon, some of the best locations include farmlands, nature preserves, hiking trails, quarries, and even cities. Players have also found aerodactyl in factories, parking lots, and commercial buildings.
3) Adventure Weeks
You can also wait for an adventure week in Pokemon Go. It comes with an increased probability of encountering rock types. All you have to do is complete adventure week research tasks that increase the chances for Wild Encounters. Niantic also dishes out special incentives such as a chance to earn candy four times faster, extra experience points, and more.
To Conclude
If you were searching for an easy way to catch an aerodactyl, this article has explained where to find coordinates. You have also seen that it's not necessary to leave your home. If you're highly motivated and a big fan of the game but can't for some reason venture out into the wild, you can use iMyFone AnyTo for location teleports. Take a free trial to try right now!