Samsung users often pose many queries about fake GPS for their phones, especially while playing games AR games like Pokemon.Gamers usually want such software to fake their actual location while playing a game online. The good news is that this is, in fact, possible if you have an Android device like Samsung.
Since Samsung phones have several security restrictions, users will still need to be cautious about using such software to fake their GPS location. Read on to know more about fake GPS Samsung in detail. This article will also talk about the best software to fake GPS on Samsung phones while playing popular AR games.
Part 1: What is a Fake GPS Software?
1.1: Are there reliable fake GPS Software?
A fake GPS app makes use of the location provided by the app rather than using the GPS location recorded by your phone's GPS receiver. In other words, fake GPS software allows the user to select and display their own choice of location while playing online AR games, which acts as the active location of the user and not their real location. Some examples of Samsung fake GPS software are given below.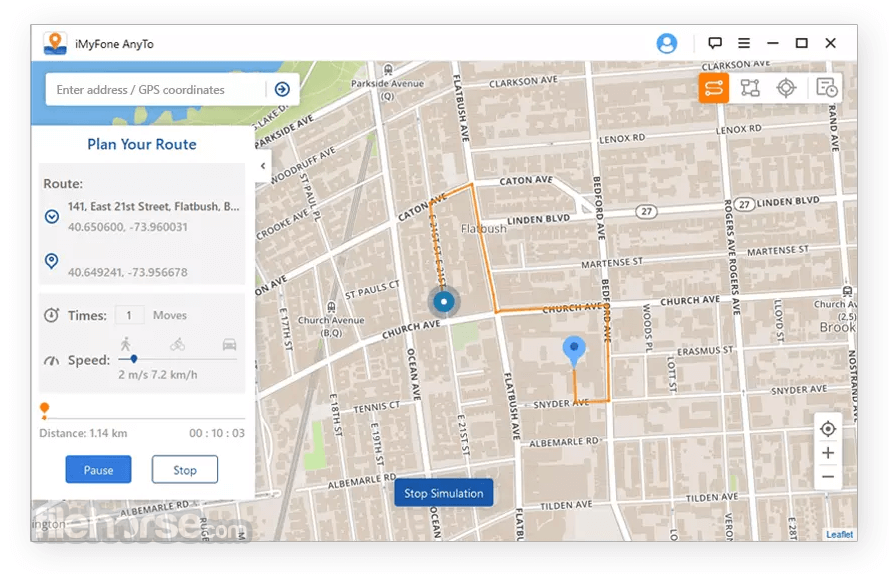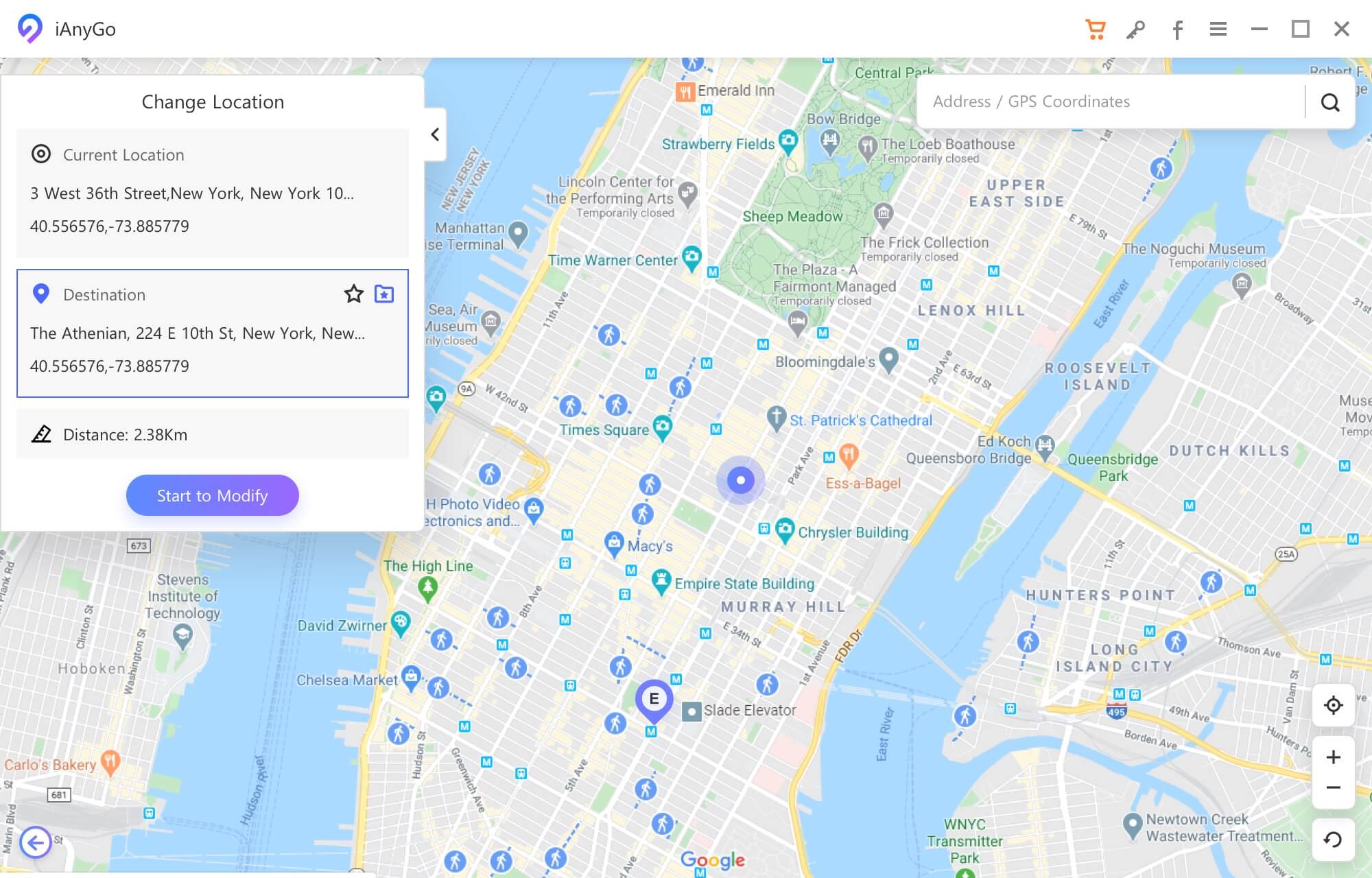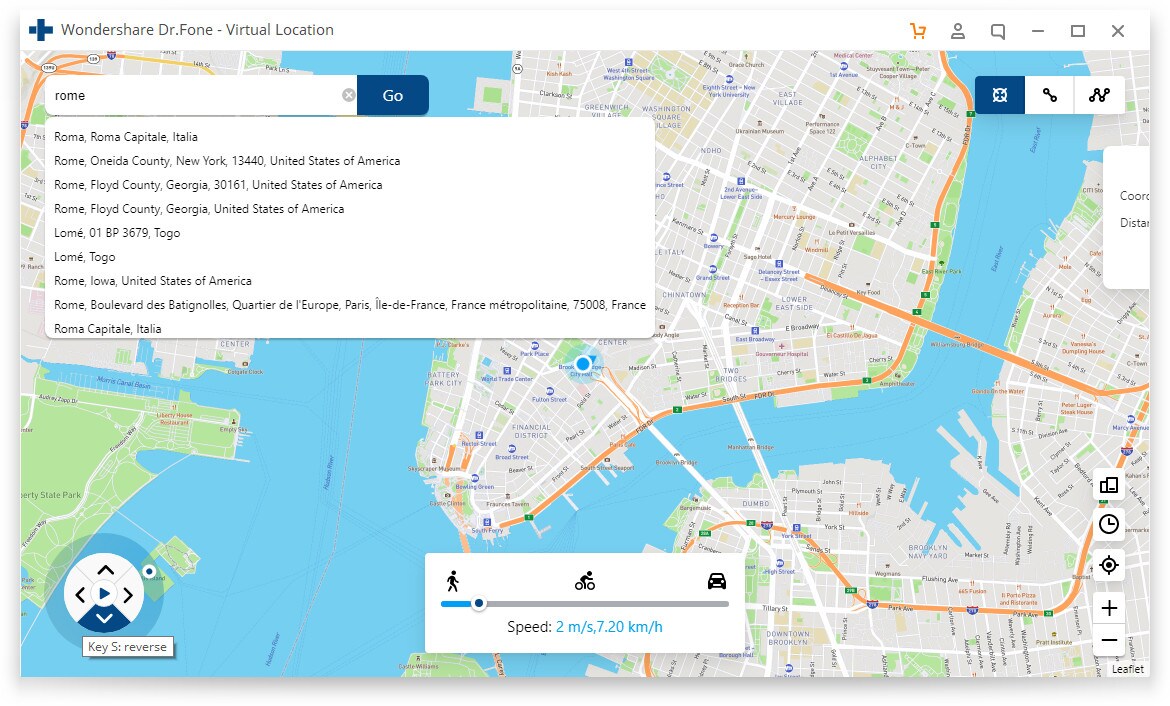 As you can see, only one out of these popular fake GPS location software supports Android devices. However, the one that supports Android devices is a noteworthy fake GPS software that can help you out in changing your real location or faking your real location on several apps online like on Netflix to view restricted content, on Tinder, or while AR playing games when you do not wish to reveal your actual location.
| | iMyFone AnyTo | Tenorshare iAnyGo | Dr.Fone Virtual Location |
| --- | --- | --- | --- |
| iOS | | | |
| Android | | | |
1.2: The Best Fake GPS Software for Samsung Phones
iMyFone AnyTo is one of the very few fake location Samsung software that can be used to fake your GPS location on Samsung. Some of the striking features of this app are as follows.
1. You can change your Samsung phone's GPS location to any place in the world.
2. You can carefully plan your location route on a map through which you would be moving at a customized speed.
3. This software works very well with apps based on location like Tinder, AR game apps, etc.
4. You can use this software to change the location on any iOS device and most Android devices.
Part 2: Steps to operate iMyFone AnyTo
If you want to use the fake GPS by iMyFone AnyTo, follow the steps given below.
1. Download Software
Install the program on your computer, launch it, and click on "Get Started" from the main interface.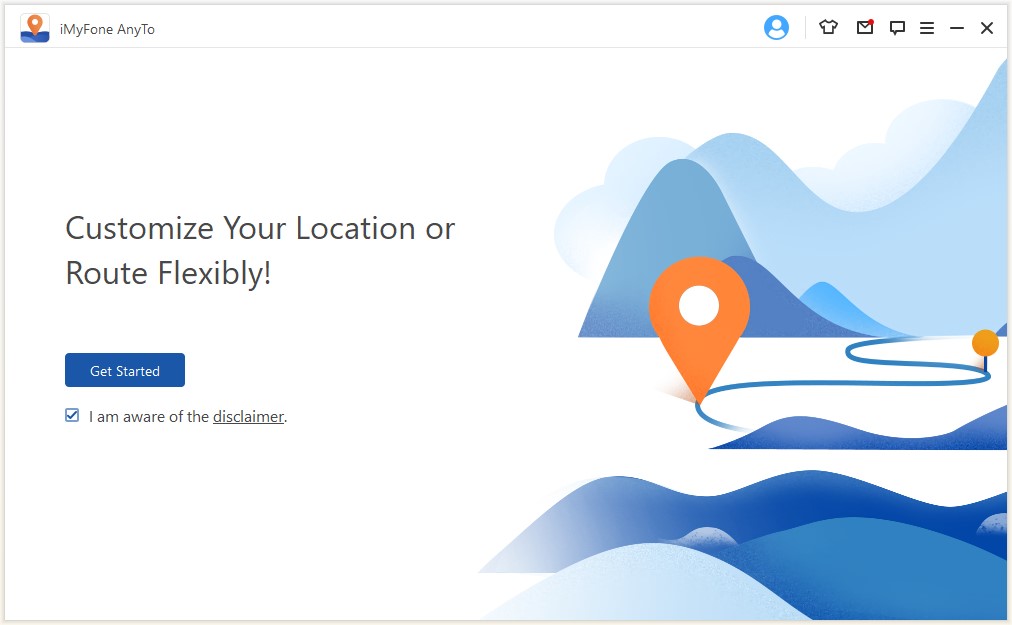 2. Connecting Device
Connect your Samsung device to the computer.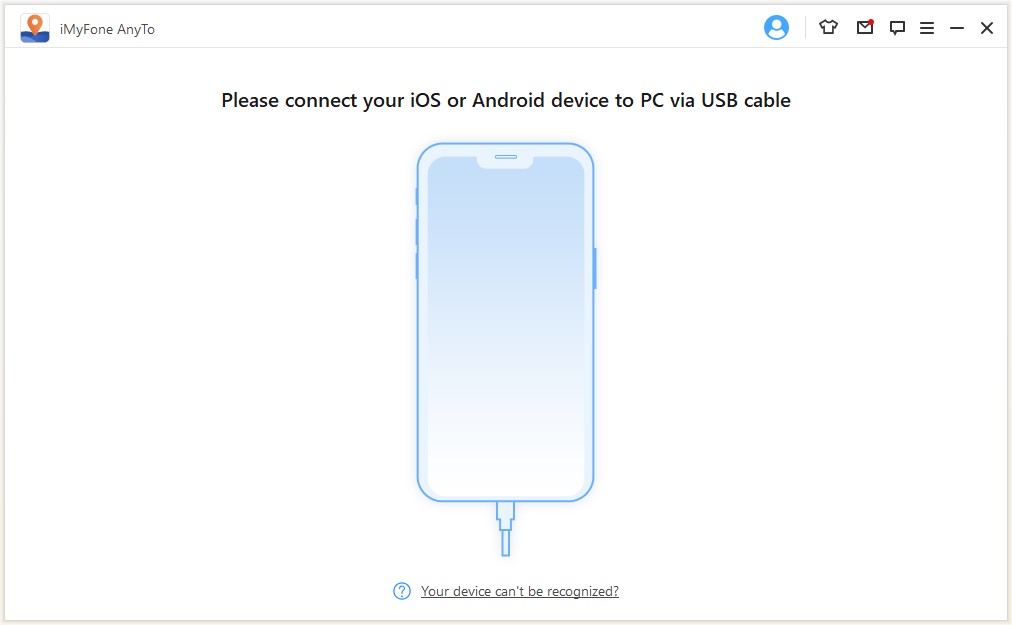 Identify your device and then enable USB debugging on your phone by following the on-screen instructions.
3. Select Mode
Select a mode based on your preference.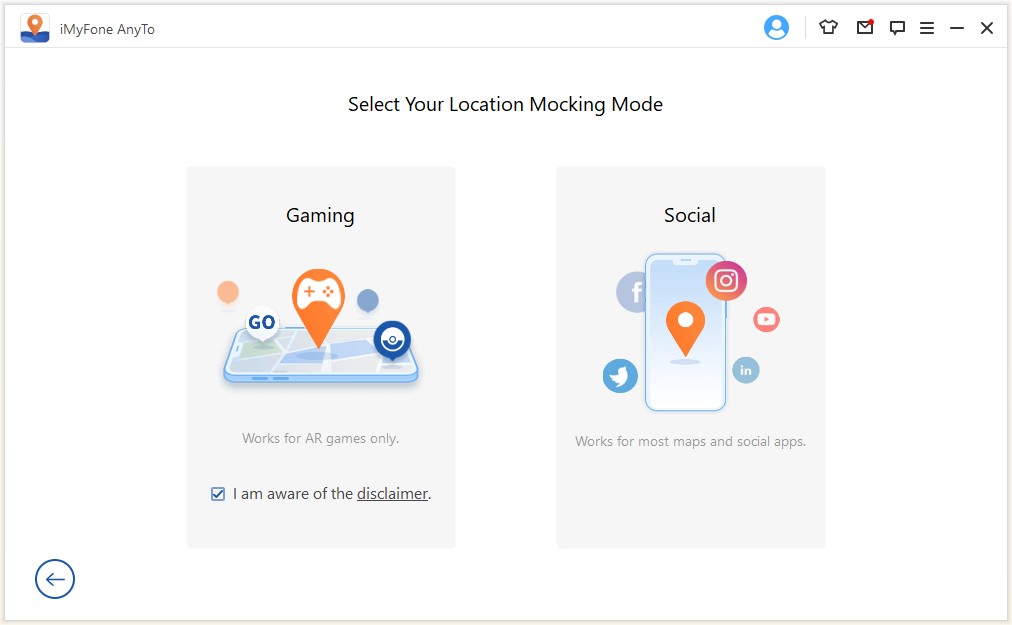 3.1 Gaming Mode
This mode works only for Pokemon Go gaming accessories. Once you get the popup window saying you are all set, you can log?in to your game.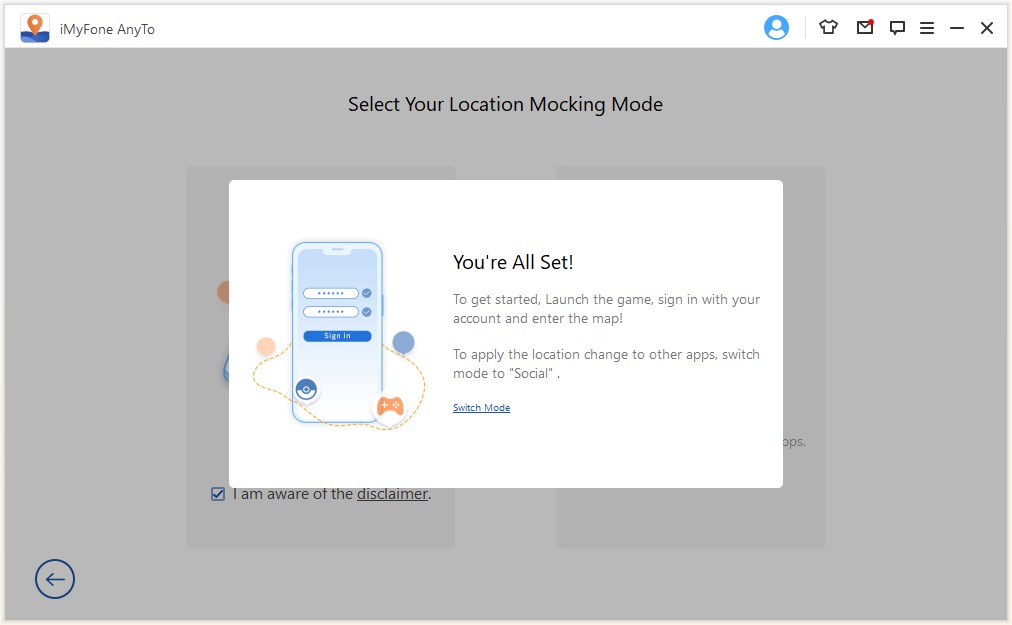 3.2 Social Mode
This mode will work on almost all the popular location-based apps like Facebook, Google Map, WhatsApp, etc. You will need to install the assistant on this.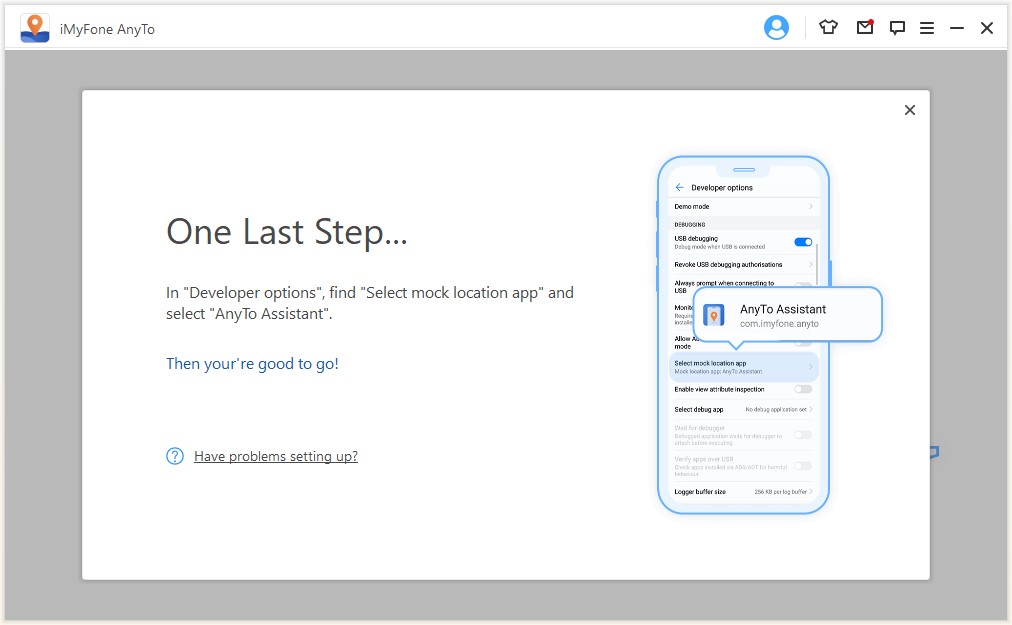 4. Change Location
You can now change the location on any app or game according to your convenience.
Part 3: Special Features of iMyFone AnyTo
Some special features that set apart iMyFone AnyTo from other fake GPS location Samsung software are given below.
Feature 1: Circle Route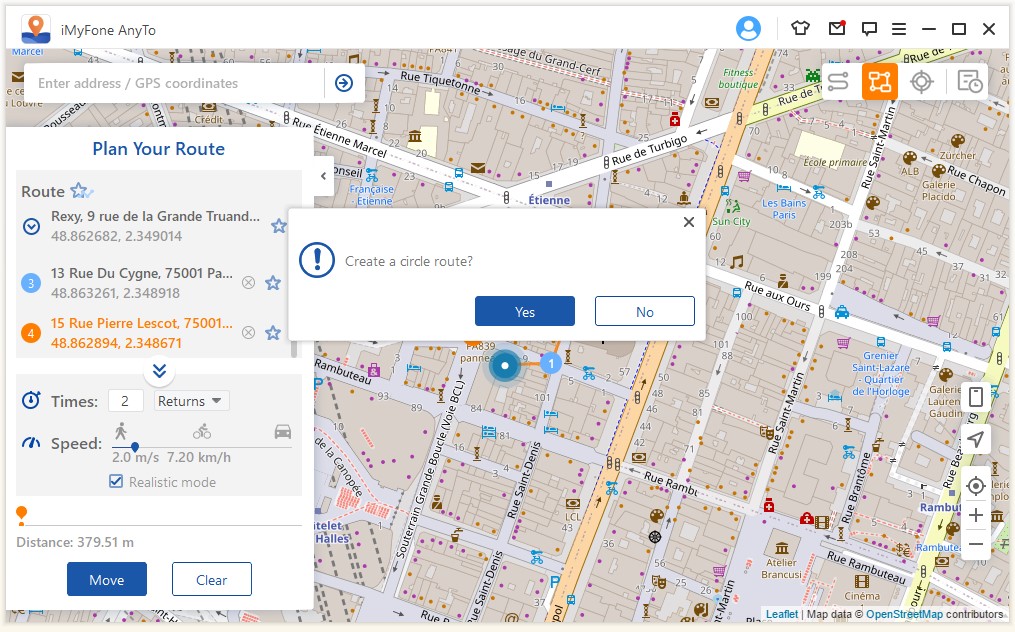 While using this software under the Multi-spot mode, the program automatically asks permission to set a circle route when the starting point and ending point are nearby. If you select "Yes", the starting and endpoint will get aligned, and if you select "No", the exact coordinates will be retained by the endpoint.
Feature 2: Realistic Mode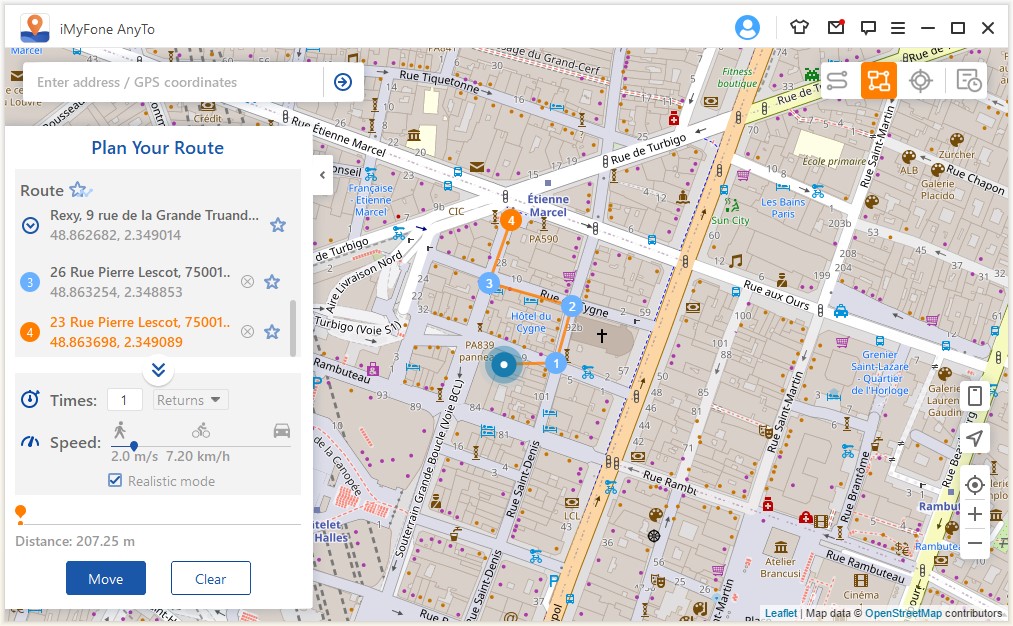 In this mode, the moving speed gets randomly varied in the lower or upper 30% of the speed range selected by you. This speed variation can be seen every 5 seconds.
Feature 3: Returns or Loops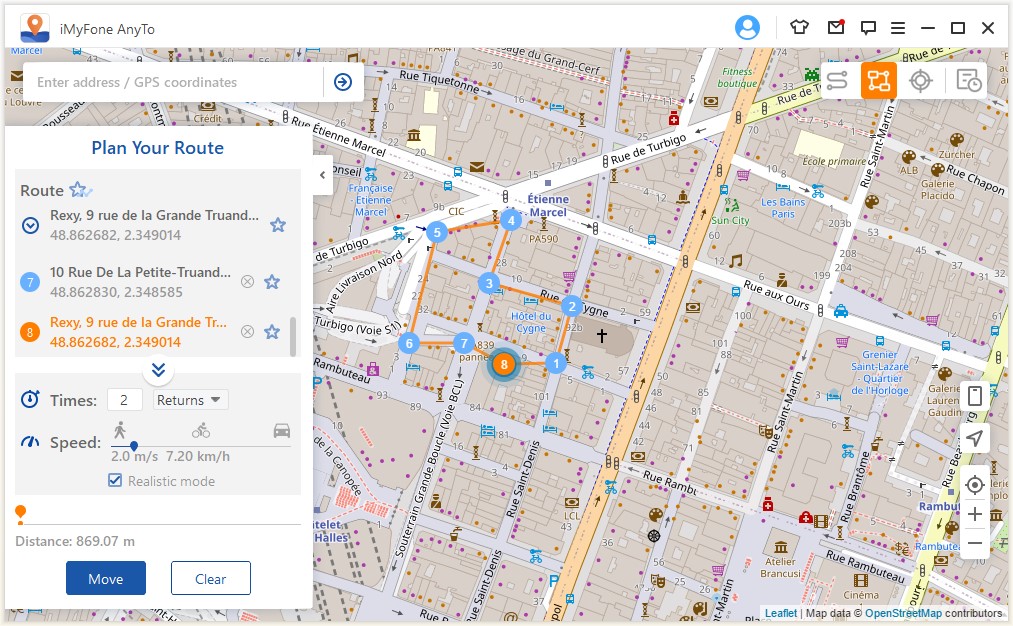 If "Times" is more than "1", you can choose to return or loop on the route to repeat it.
Feature 4: Collect Route
If you wish to collect the route, select the Star icon while creating the multi-spot route. You can view the collected routes under "Saved Routes".
Part 4: Tips to Use iMyFone AnyTo
Although this is a great software to fake the GPS location, you need to be mindful about a few things.
Avoid using this software frequently on Pokemon Go if you do not wish to be blocked from this game permanently.
Do not rely on any other such fake GPS software permanently as they can be collecting personal data of yours for malicious activities.
Part 5: FAQs about Fake GPS Location
1. Does fake GPS really work?
Yes, fake GPS software does work to help you in faking your location on several location-based apps. They give out fake location information on the app in which it is being used instead of the real active location given by your phone GPS.
2. Can the fake gps location function be used in airplane mode?
Yes, AnyTo?supports the use of fake gps location?in airplane?mode.
3. Do I need to jailbreak to use this software?
The best part about iMyFone AnyTo is that you do not have to jailbreak your Android device to use it.
4. Is this also available on other Android devices?
Yes, iMyFone AnyTo can be used on almost all Android devices running on Android 5.0 and later.
Conclusion
There may be many reasons as to why you may want to fake your location on social media apps or other online locations. The fake GPS software can help you in doing so with ease. Although there are many fake GPS software available in the market, only a few of them support Android devices. One of the best fake GPS software for Android devices which is highly recommended for AR games and location-based apps is iMyFone AnyTo.