Online dating and the socializing scene moves quite fast. New apps, such as Skout, are developed or upgraded with each passing year. Yet, despite all that progress, the human need to preserve certain elements of privacy remains relatively constant. One such element is a person's true geographical location. This article provides guidance on how to fake a Skout location while using the app's services.
What Is Skout?
In the world of dating apps, Skout has definitely left an indelible mark – having been in the industry for more than a decade. It offers more than just a platform to connect with different people. It is among the first pioneers of dating apps that incorporated user location without being too intrusive. How so? Skout uses GPS to depict a general area rather than the specific location of a user.
Why Would You Want to Fake Your Location on Skout?
To Meet More People
Changing your location on a dating app such as Skout offers you access to many romantic prospects. It gives your profile a lot more visibility in areas that may have been restricted due to your geographical location.
If You Travel a Lot
It is not practical for someone who travels a lot to have their Skout profile set to a single geographical location. Whether you are traveling for business or leisure, using a fake location app can help you reflect your true location, or at the very least, the location of where you are going to be in a few days.
If You Are Privacy-Conscious
Privacy issues are increasingly becoming a real concern – especially when looking for a romantic partner. Before you want to let a potential prospect know your exact geographical location, you may want to make sure that they are who they say and that you are comfortable enough to share such private details.
Fake Skout Location for iOS Devices
Whether you are using an Android or iOS device, you can fake your Skout location using third-party software. In this section, we are going to look at how you can do just that.
iMyFone AnyTo is an authentic software developed by iMyFone that is used by iOS device owners to fake locations through GPS manipulation. It is particularly effective in sharing mock locations on dating sites such as Skout, Bumble and other social media platforms, or to access geo-restricted content, thus resolving a number of access issues a lot of people face.
It is perfect for people who want to broaden their social circles as well as those who do not like the idea of being tracked. The procedure of faking location using AnyTo is quite easy, but before we break it down for you, these are the top features of this software.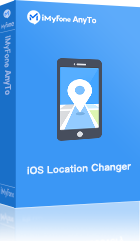 1,000,000+ Downloads
How Can AnyTo Fake Location on Skout
Use fake Skout location while meeting new people.
Share fake location on Skout on your social media or with your family or friends.
Allow you to fake Skout location by 1-Click.
Spoof location in Skout without jailbreaking your iOS devices.
Available to other location-based applications.
Steps for Faking Location on Skout
Step 1.Download AnyTo from the iMyFone website and install it on your computer. Launch it, and when the app window comes up, click on "Get Started".
Step 2.Next, connect your iOS device to the computer through a lightning cable. If asked to "Trust", provide the confirmation. You may be required to input your screen's passcode.
Step 3.A map should load on the screen. Now, click on "Teleport Mode" and choose (or input) your preferred destination. You can also use the mouse to zoom in or out the map to select the address.
Step 4.You will again be prompted for confirmation. Provide it by clicking on "Move". All location-based apps on your phone will change their location,including the Skout.
AnyTo's popularity is growing by the day. This is attributed to its efficiency, versatility, and compatibility in regard to other social media and dating apps besides Skout. There are low issues of the software bugging out, and in the rare event that bugs are discovered, iMyFone's team of developers strives to fix them fast.

---
2

LocationFaker
LocationFaker is a pretty good iOS app that can manipulate a wide array of location-based services and apps that are on your iPhone. It allows users to pick a random location from a map or set a precise location by typing longitude and latitude values. Like most other location spoofing apps, location fakers can be turned on and off on demand. But there are some requirements for LocationFaker.
Requirements
Jailbroken iPhone of iOS 13; (A special firmware is needed for iOS 5 to iOS 9)
Install Cydia on your iPhone
Steps for Using LocationFaker
Step 1. Search for "LocationFaker" app in Cydia. And download and install in your iPhone.
Step 2. Launch it, and the app window will appear.
Step 3. Tap anywhere on the map and toggle the default "Off" to "On".
Step 4. Your fake location has been set. Skout will pick up this fake location and display it as a reallocation.
Note
Some social apps may detect that you are using a location faking app, and as a result, your account may get banned or suspended.
If your device has not been jailbroken, LocationFaker is not suitable to you. You can use iMyFone AnyTo to fake Skout location without jailbreaking.
Fake Skout Location by FakeGPS Go for Android Devices
A lot has been said about how iOS device owners can fake their GPS location while using dating sites. What about the Android OS? Well, if you happen to be an Android user, there is hope. You can fake Skout location by using a number of app options available in Google Play Store – some of them free. A good example is the Fake GPS Go Location Spoofer app. If your Android OS is version 6 or higher, you will not have to root the device.
Requirements
Android OS version 6 or later
Rooted Android OS version 5 and older
Steps for FakeGPS Go
Step 1. Enable developer options on your Android device by navigating the following path:
Settings > About Phone > Software Info > (Tap "Build Number" 7 times)
Step 2. Navigate to the Google Play Store and search for the FakeGPS Go Location Spoofer app. Install and launch it.
Step 3. In the app window, tap on "Enable" at the bottom right of the screen.
Step 4. A new page called "Developer Options" will open up. Navigate the following path: Select mock location app > FakeGPS Free.
Step 5. Switch windows back to the FakeGPS app and search for your desired fake location. This will instantly change the location displayed on your Skout profile.
Note
Faking location too frequently may cast your Skout profile under suspicion by the company.
What Parents Should Know When Their Children Use Skout
Anyone can register with a fake name and fake information. So, make sure both you and your child are aware of this. Not everyone online is who they say they are.
Encourage your child to make use of self-policing features in Skout's community to maintain appropriate behavior.
In 2012, Skout suspended their services to minors as a result of incidences involving alleged gross inappropriate behavior.
Skout says it has implemented constant monitoring and zero-tolerance for inappropriate behavior policy. Even so, it's important to remain averse with your child's activities on Skout.
Conclusion
Whether you are dating or just socializing online, the need to fake one's location cannot be overstated. Given the recent concerns regarding privacy and risk of inappropriate behavior, using a location faking software provides an extra layer of security. Consider iMyFone's AnyTo software for faking location on Skout and other social platforms for iOS devices when socializing online. You won't be disappointed. Try the free version right now!