Do you think it is safe to show your location when you are on vacation? Is changing your location the only way to prank friends on social media?
The answer is yes. You can easily change your device location if there is a need. If you want to prank your friends on social media, want to surprise your family, or you want access to geo-restricted online games, then altering the device location is a good choice.
In this article, we will discuss FoneGeek iOS Location Changer and its perfect alternative to you.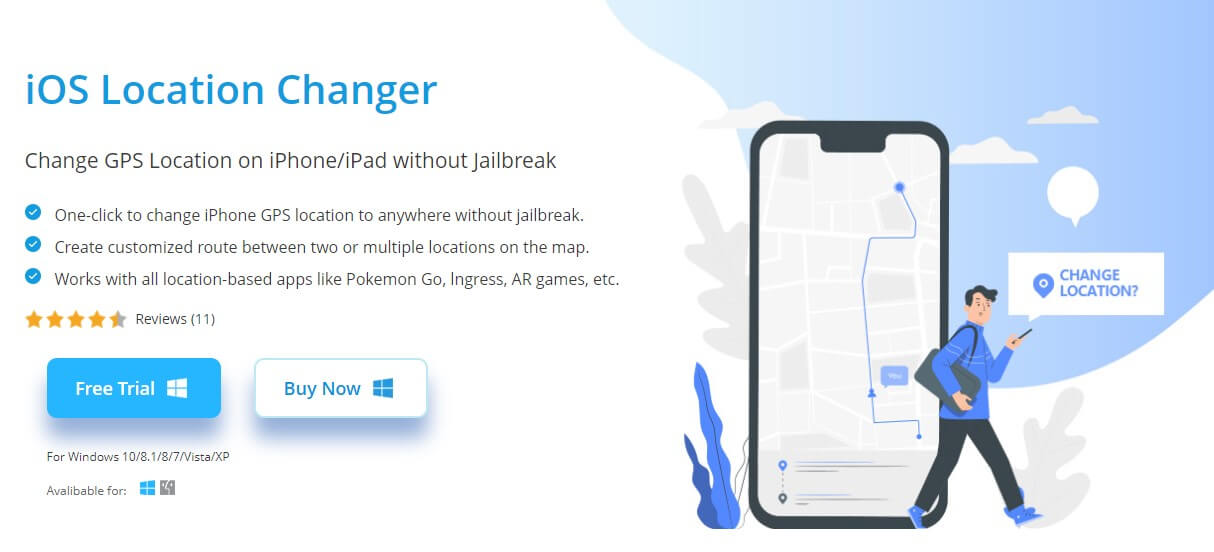 Part 1. Know Everything about FoneGeek iOS Location Changer
1.1 What is FoneGeek iOS Location Changer
Tracking the location of the phone or device is one of the easiest things to do. The advent of technology has given us the option of keeping the location open with the other mode of changing the place to another destination. These customized route planning methods are the ultimate alternatives for remote access to AR games, dating apps, or using social media in a restricted manner.
The FoneGeek iOS Location Changer comes with customized speed for a natural movement. All other apps may give you extra options, but fonegeek is safe, effective, and perfect for location-based activities. Give it a try, and we assure you will not be disappointed.
1.2 Features of FoneGeek iOS Location Changer
You do not have to jailbreak your phone for spoofing.
It is exceptionally compatible with all IOS devices and versions. Generally, it works best on the latest models.
The customized speed has two options. One spot mode and the second as the multi spot mode.
You can avail yourself of the option of pause and start to minimize lag. It will create an impact on the natural movement of the device.
1.3 How to Change Location via FoneGeek
The traditional method involved jailbreaking your device to change the location. But, the fonegeek has changed the whole perspective. Here are step-by-step instructions on how to change the device location no matter the version you are using.
Step 1. First, you need to prompt download and install the FoneGeek on your computer. Click on the Launch when the process is done. Next, select the Get Started icon on the screen.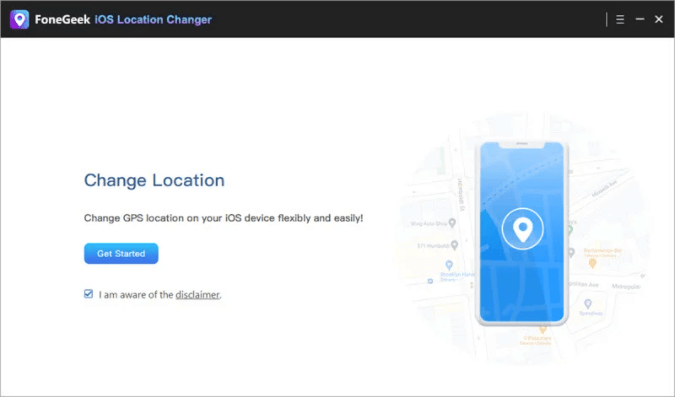 Step 2. Here you need to unlock your iPhone or device. Then connect it to the computer via the USB cable. Select that option if you see a message to trust this computer to attach.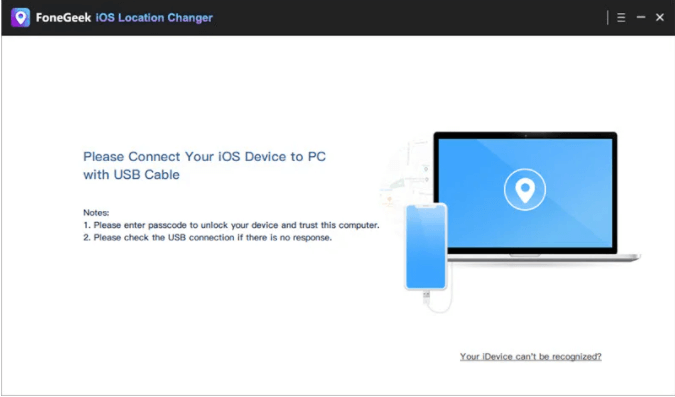 Step 3. You will see a map on your computer. Locate the coordinates or GPS you want to teleport. Finally, Tap on Move.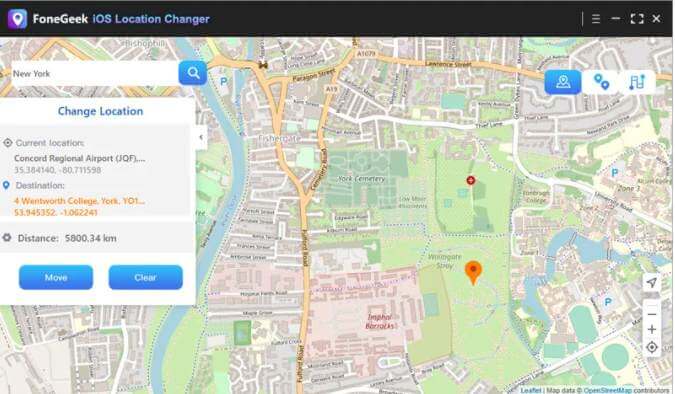 1.4 The Reviews about FoneGeek Location Changer
The FoneGeek iOS Location Changer is compatible with all iOS devices. It has enhanced features and functions that meet international standards, so you can use this app to change location no matter where you are.
Many apps have premium offers for people who live in feasible locations only. The FoneGeek offers all premium facilities to people around the world. So, no matter where you reside, you can use this app.
Pros
Anywhere on the map may be selected as the current location with a single click.
It works with all location-based apps.
You can sync google maps and Waze with FoneGeek for a better result.
There is no need for an iOS jailbreak.
Cons
Not support any Android devices.
It is limited to a desktop or a laptop only.
Do not overuse it for any online game; otherwise, you will get a warning from FoneGeek.
1.5 FAQs about FoneGeek
1

Will it change other settings on my iPhone if I change the location?
The settings on your iPhone will remain as it is. Except the location changer will alter things such as time, latitude, longitude, weather, etc., that are related to location. It is done to get in sync with the place that is shown with FoneGeek. You can get your original settings back by restarting your iPhone.
2

What is the price of FoneGeek iOS Location Changer?
The FoneGeek iOS Location Changer has three plans for you. The first is a one-month plan that will cost you $9.99. The second is a one-quarter plan that is $19.95. The last is the one-year plan which you can get for $39.95.Play through Paypal and watch the premium features as the deal ends shortly.
Part 2. The Best FoneGeek Location Changer Alternative to Fake GPS
2.1 Best Location Changer iMyFone AnyTo
Are you looking for software that can protect your online location? Do you want to change your location while playing AR online games? There are many software's, but none can beat the iMyFone AnyTo software. It is in line with the FoneGeek, and both offer some unique features that are standard and work for both iOS & Android devices.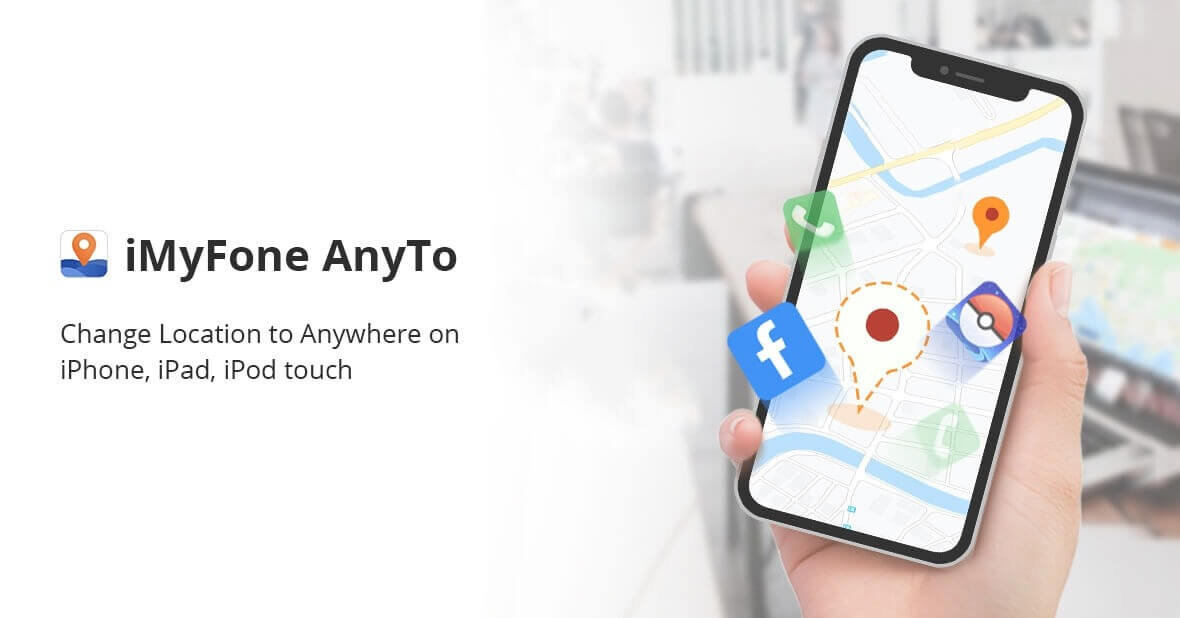 Let us compare iMyFoneAnyTo with FoneGeek for a better understanding.
| Tool | User Ratings | Support | Ease of Use | Stability |
| --- | --- | --- | --- | --- |
| FoneGeek | 4.3/5 | Only iOS | Easy to Use | Unstable |
| AnyTo | 4.8/5 | iOS and Android | Super Easy | Very Stable |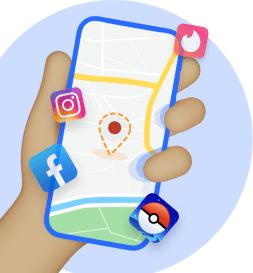 Features of AnyTo
Compatible with both iOS and Android smartphones.
The simulation of the movement is interchangeable. You can stop, pause or resume the move to make it more natural.
There is an in-built app where you can find all famous landmarks to set the exact coordinates.
Work in coordination with other location-based apps, like Instagram, WhatsApp, and games like Pokémon Go.
2.2 How to Use iMyFone AnyTo
Watch Video Tutorial to Fake GPS Location on Your Phone
Step 1.To begin, download iMyFone AnyTo from the official website and launch it on your PC. Hit Get Started on its main interface to continue.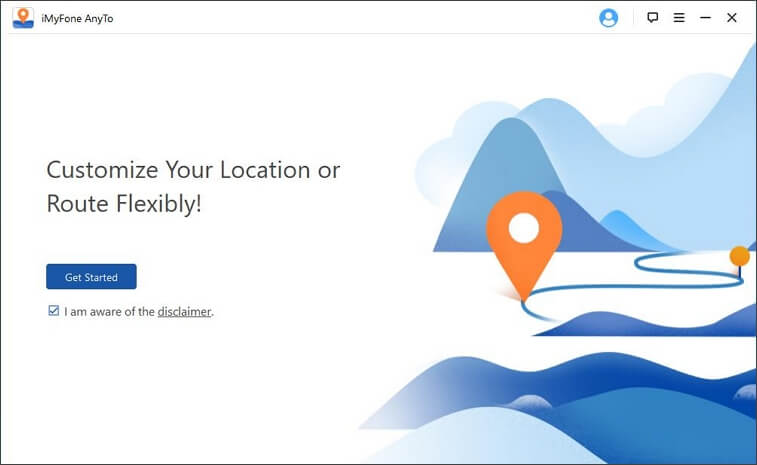 Step 2.Plug your phone into the computer and hit Trust on the pop-up tab for successful connection.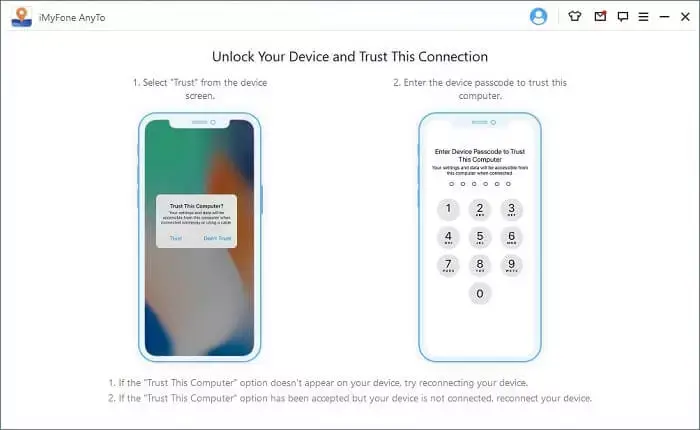 Step 3.The program will now load the world map. Click on the Teleport icon and select any location on the map.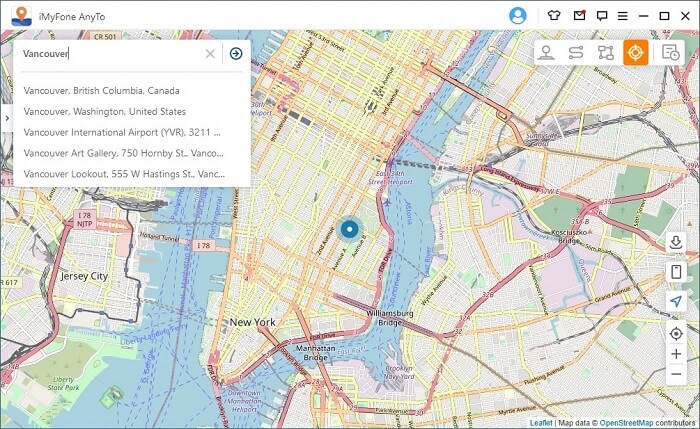 Step 4.Just hit Move to teleport to that location. All the location-based games and apps on your smartphone will also show this new location.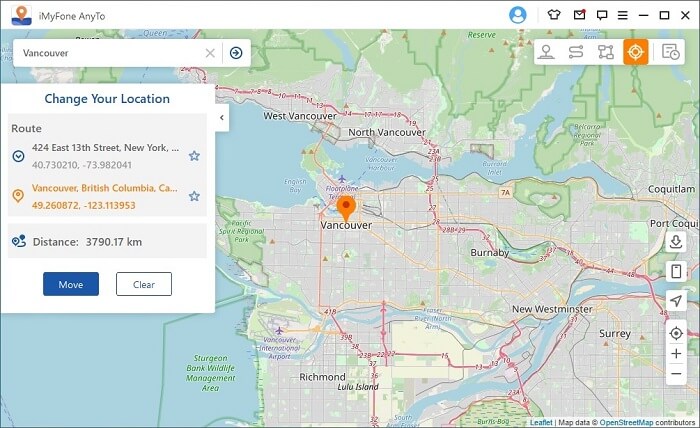 Reviews
AnyTo is the best software if you are searching for a location change. It is highly compatible with all versions of iOS and android devices, making it quite popular with the masses. It is safe and simple to use hence it is famous in all age groups. You can easily switch locations and plan the future spot keeping in mind the saved history.
To Conclude
Changing your designated location to a completely different one is now at your fingertips. It is like a game for many as it comes in handy while playing online games, posting on social media, and pranking your colleagues.
Although both the tools are very good, we highly recommend you iMyFone AnyTo because it contains all the features required in any location changer tool, and the best part is it supports both iOS and Android devices.