Such leaks created a nuisance in the air as people felt more cautious about using social sites. The demand for using 'Location' permission on installing an application was relaxed, and an additional option ", Use location only while using the app", was introduced. Yet, developers came up with location-changer applications to turn the tables. So, is iMyFone AnyTo safe become the biggest question for many usres.
iMyFone AnyTo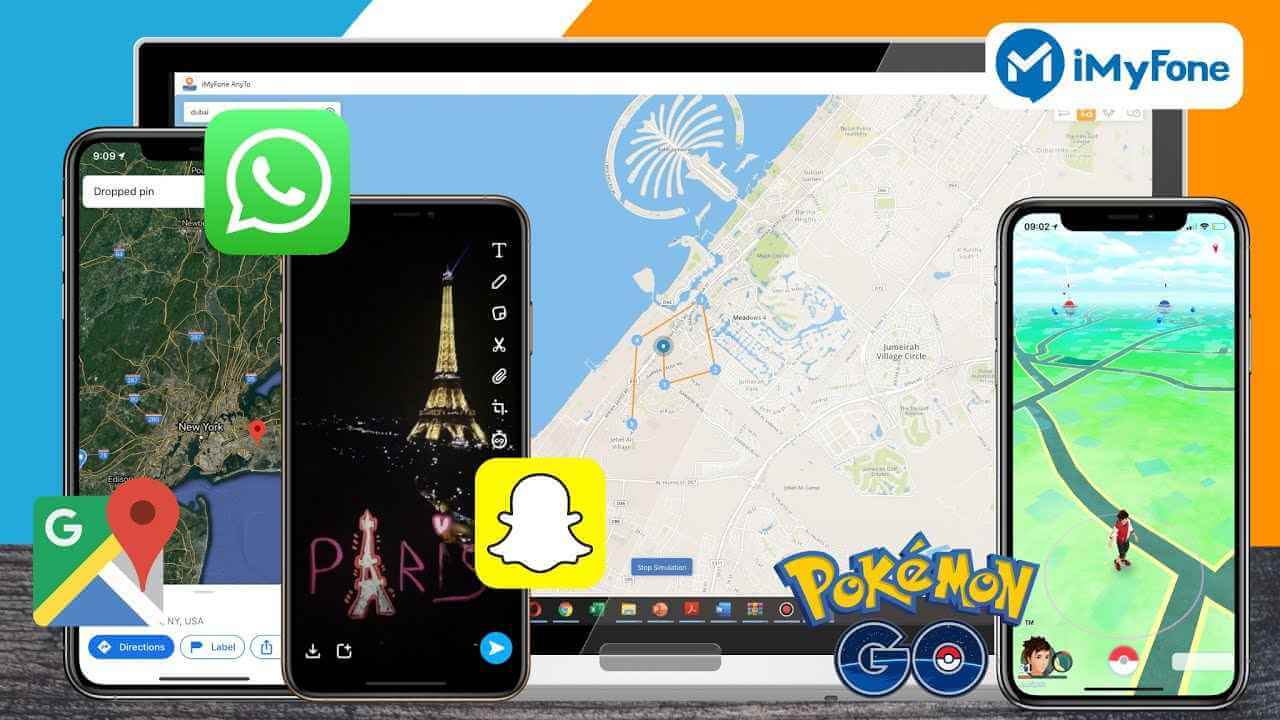 This allowed more privacy to the users than permitting certain apps to use locations all the time with no credibility. It's pretty straightforward to do such a thing in androids where unsupervised applications can be run, but iOS has strict restrictions. In this article, we will talk about one such specific application named as iMyFone Anyto that can be used to fool your friends to make them think you are somewhere else.
Part 1: What is iMyFone AnyTo?
iPhone Anyto is a location spoofer that can assist the user in hiding and faking his current location in a matter of seconds to avoid getting tracked. Primarily, you can change your geographical locations with it. However, users can stimulate GPS movements and customize the routes.
Users can select between two-spot and multi-spot modes as per their preference. Another striking feature of this application is the customization of route speed. Additionally, specific destinations that are of great value in AR games can be searched. Users can share virtual locations on social networks, disguise locations on several applications, and access restricted materials.
Part 2: iMyFone AnyTo Features & Functions
01

GPS LOCATION CHANGER
This feature enables users to hide their positions in no time. You can make a virtual place on a map for Find my(friends), and your friends will never be able to trace you anymore.
02

MOVEMENT SIMULATION
The unique feature of real-time movement simulation makes it the best of the rest. Users can create real-time routes on a map and cruise along them. It is a jackpot for AR games requiring much movement on lazy days.
03

CUSTOMIZE SPEEDS
There are multiple applications for real-time simulations. Anya goes on a step forward and offers features that improve the overall experience very well. Users can adjust the speed to immaculate the actual activity, i.e. walking, running, sprinting, etc.
04

ACCURACY AND HISTORICAL RECORDS
Users can input the exact coordinates of the location to reach the destination. Additionally, users can save their historical records and access them whenever required. This allows the user to preferentially selects his desired coordinates whenever needed.
05

MULTIPLE MODES
Users can choose between two-spot mode or multi-spot mode. These infer the number of stops to be made in the simulated pathway. Two-spot is the simple mode. All you have to do is to select the starting and ending route point, and boom, the journey flow will be created.
Part 3: Is iMyFone AnyTo Safe in iOS 16?
iMyFone AnyTo is a top-notch location changer for iOS/Android. It's safe and clean with no ads, viruses, or other plugins. It's a trusted application and is used by more and more people. There is no difficulty in using the software, and it does not require any unusual permissions to run.
Many tools on the market require a jailbreak, such as the GPS spoofing app downloaded from Cydia. But with iMyFone AnyTo, you can change your iPhone location without jailbreaking. iMyFone AnyTo has been rated the best GPS converter for iOS and Android devices. It can change the GPS location on your phone to any site. With it, you have the flexibility to fake GPS on Pokemon Go.
iMyFone collects users' personal information only for strictly specified reasons. So, this also shows how safe iMyFone is. They do not sell, distribute or give away any user personal information unless necessary or to provide an appropriate service to the user.
Part 4: External Ratings for iMyFone AnyTo
All these reviews are based on the data collected from the online discussion form. Users have tested this application and given out their impressions.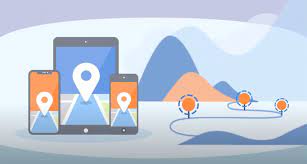 Anya is refreshingly easy to use and delivers what it promises.
The user interface of this software, navigation through the features and the free version were easy.
A user claimed that he could easily access geo-restricted websites and access those contents from different world regions.
Another user played Pokemon Go in the streets of Las Vegas while sitting in his cosy, warm bed. Along the way, some of the good spots were saved in historical records to make revisits.
Another AnyTo iPhone user complained of automatic restoration of GPS location after 3-6 hours of usage. He didn't seem to be impressed by this feature and believed that this duration of action would be prolonged.
Despite having a few bad reviews, its splendid skills to change GPS location, bypassing Geo-restricted content or spoofing location in no time makes it one of the best software to be used.
Part 5:How to Use iMyFone AnyTo to Spoof Location?
iMyFone AnyTo is a professional software for modifying location functions, with built-in security features that allow you to spoof without the risk of house arrest.
Now we invite you to watch the video to explore this AMAZING Pokémon Go Spoofer:
So how do you think about it? Cool, isn't it? To get iMyFone AnyTo to fake GPS on Pokémon Go, you can click the Try It Free button below to free download it.
iMyFone AnyTo is voted to be the best GPS changer for iOS and Android device. It can change GPS location on the phone to anywhere you want. So with it, you can fake GPS on Pokémon Go flexibly.
What can iMyFone AnyTo do? Here are some main features of it:
Change GPS location on iPhone and Android device to every corner of the world.
Work perfectly with location-based apps, such as Life360, Tinder, Grindr, Pokémon Go and other AR games.
It has 3 modes to fake GPS in Pokémon Go. You can directly choose a specific destination, or create a virtual route to move along in the game.
Support all of the iPhone or iPad models, and most Android devices.
100% clean and safe, no jailbreak or root needed.
Support 5 iOS devices at the same time.
View the step-by-step guide on how to fake GPS on Pokémon Go with iMyFone AnyTo. It's pretty simple so we hope everyone try it out.
There is a Cooldown Timer function in the teleport mode of iMyfone AnyTo.
When you want to use the Teleport Mode to modify the position with one key, you can turn on the Cooling button in the lower right corner of the product interface, and the Cooling Timer will appear at this time.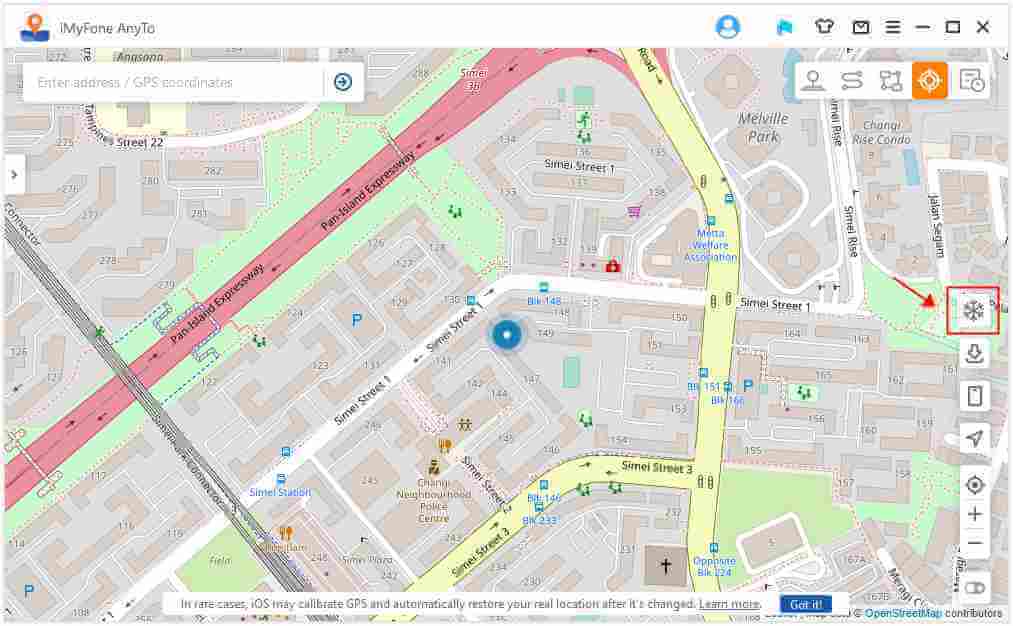 When you select the desired location and click to move, the timer will calculate the corresponding cooling time according to the distance. It is recommended that you do not do the above 1-9 actions before the countdown is over. Other actions to avoid being under house arrest by the game.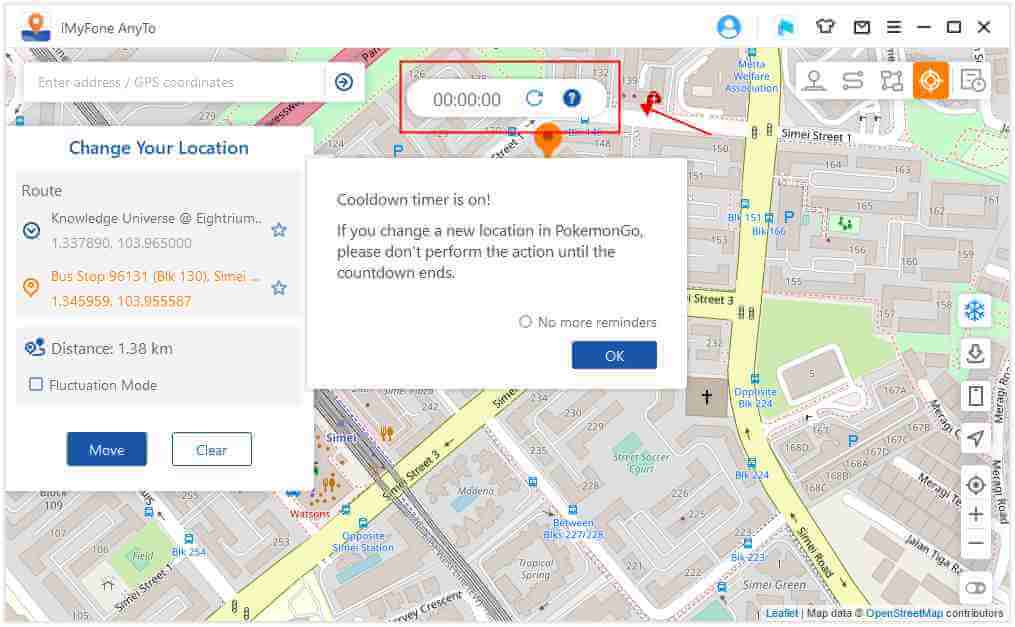 Click Reset, the countdown will be cleared, and the countdown will recalculate the time when you modify the positioning next time.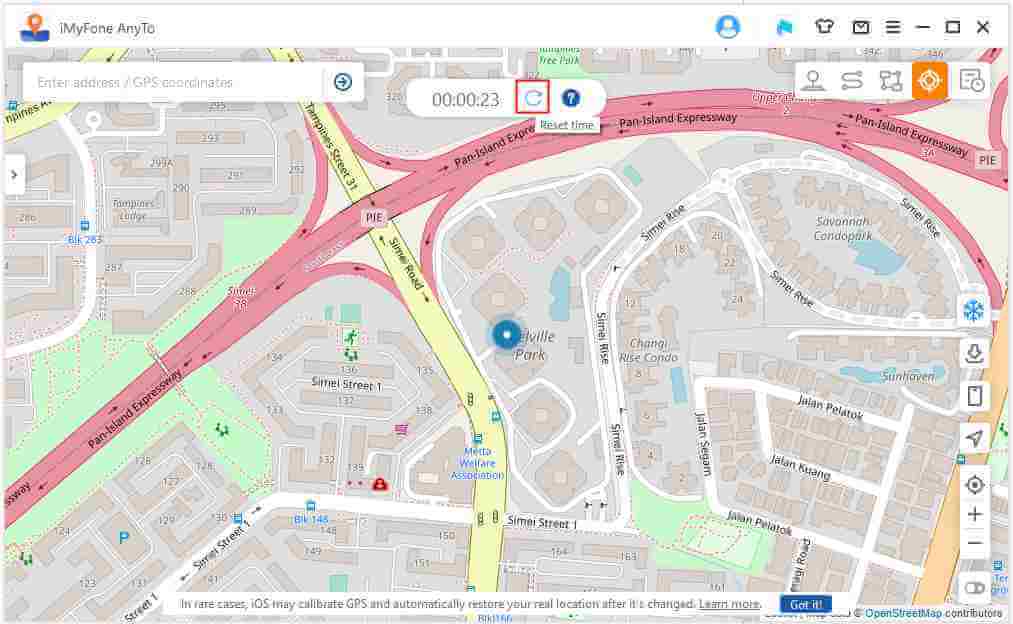 When you don't want to use the cooldown timer, tap the cooldown button again to turn it off.
So how do you think about it? Cool, isn't it? To get iMyFone AnyTo to fake GPS on Pokémon Go, you can click the Try It Free button below to free download it.
---
Part 6: Hot FAQs That is iMyfone AnyTo Safe?
1 Is iMyFone AnyTo Trustworthy?
It is safe to use on any Mac or Windows computer. It is safe and clean, without any ads, viruses, or other plugins.
---
2 Is iMyFone safe for Pokemon Go?
Yes, iMyFone is one of the go-to software for altering GPS locations to simulate real-time Pokemon Go.
---
3 Can I use it to change the location of an app on my iOS/Android?
This can be used to change the location of an application ranging from social sites to transport cabs.
---
Conclusion
we've looked over all the details and features of the iMyFone AnyTo software today for you. It's a fantastic piece of software with all the strength, effectiveness, and simplicity, but it also shows that everything excellent has a cost. Numerous people who have purchased the software have left reviews stating that it is easy to install and navigate its features. And we all know iMyFone AnyTo is a safe sofeware.
iMyFone AnyTo iOS Location Changer is a perfect tool with a wide range of services. You can use it on both Android and iOS devices at affordable prices. It offers you to customize your moving speed, fake GPS locations, send favorite spots to friends, or play several AR games at home. Finally, we firmly advise using the tool.