In the year 2016, The Pokémon Company, in collaboration with Niantic developed and published an augmented reality mobile game for iOS and Android devices. Launched in July 2016, Pokémon GO emerged as one of the most downloaded mobile applications.
Through the years, the contents modified itself to provide its users the utmost mobile gaming experience through its introduction of special research tasks. A Thousand-Year Slumber Pokémon GO is the seventh of the series of such Special Research tasks. Its final aim is to obtain JIRACHI, the mythical Pokémon from the Hoenn region, through A Thousand-Year Slumber Pokémon GO tasks.
Part 1: What Is A Thousand-Year Slumber and How It Works in Pokémon GO?
Pokémon GO's Ultra Bonuses have come and gone through the years and they still are bringing in a ton of exciting rewards to make the game a hit. Niantic introduced its first wave of Gen 5 Pokémon to the title and numbers of Rare and epic Pokémon s have already been debuted. Starting from fall October, last year, the mythical Pokémon, JIRACHI made its debut and can only be collected through a series of special research Pokémon GO quests called "A Thousand-Year Slumber". Pokémon GO Thousand Year Slumber Quests, includes a series of Pokémon GO Thousand Year Slumber research tasks.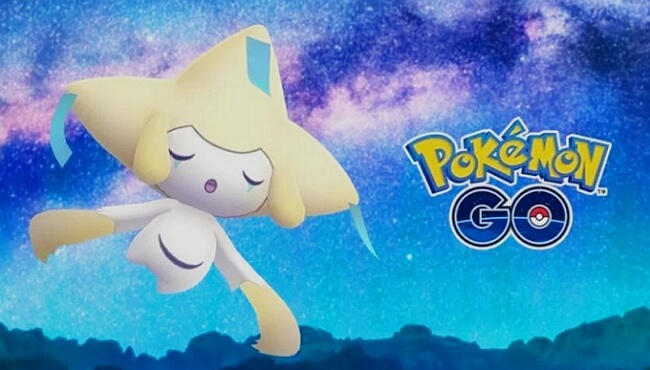 There are seven sets of tasks in every special research quests and Thousand Year Slumber Pokémon GO is no different from its predecessors. One has to complete a series of tasks in each set, to gain the required XP for levelling up. However, a few of the Pokémon GO Slumber Quests, requires some hard tasks like battling and socializing to gain points. And once a player has completed all the slumber research tasks, he will earn a chance to capture JIRACHI.The entire questline was previously available at this year's Pokémon GO Fests. And if a player has already procured the Mythical Pokémon, he still stands a chance to earn extra candies for Jirachi. Also, they'll stand a chance to win special Jirachi t-shirts for their Avatar.
Each of the individual Thousand Year Slumber Pokémon GO tasks need to be completed individually with the required format to gain the specific XP's to reach the next step. And alike, each individual steps will be rewarded in stardust, star pieces, berries and some Pokémon s too.
And the last step, the ultimate step will be rewarded a chance to catch Jirachi.
Part 2: How to Complete A Thousand-Year Slumber Quest?
A Thousand-Year Slumber Step 1
Catch 25 Pokémon - First and foremost, one has to catch 25 Pokémon s, new and old to procure a thousand XP points.
Spin 10 PokéStops or Gyms- In order to keep the bag full, one has to have access to unlimited resources. And how to get resources without a PokéStop? The second quest in the first step asks for a player to visit 10 PokéStops or Gyms and spin the wheel 10 times. And not only will the player get the desired amount of pokéballs and berries or incense, there will be a chance to meet the fluffy Jigglypuff, and catch it in the collection.
As the Pokémon Thousand Year Slumber Quest is a long way to go, it's always, the more the merrier! Log in to your social networking site, and bind it to your Pokémon GO account in order to make new friends. And when one is successful in gaining three friends, they can always play together to complete the tasks quickly. And bonus! A Feebas encounter.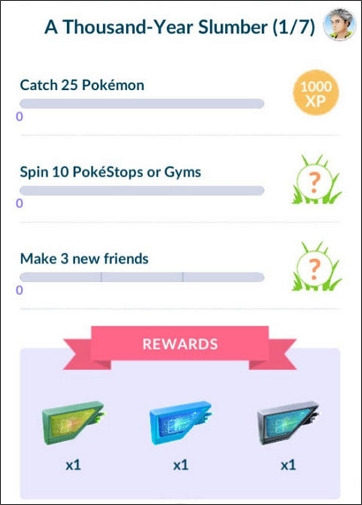 Rewards: Once someone completes the step 1 successfully, he will be awarded three types of Lure- the Glacial, Mossy and the Magnetic Lure.
---
A Thousand-Year Slumber Step 2
Catch 3 Whismur - The first step of the second level is the task of catching three Whismurs. The normal Pokémon, introduced in level III. After completion of this quest, the player will be rewarded 10 whismur candies, for its evolution.
Evolve a Feebas - The Feebas , which was caught at the last step of step 1, just go forth, enter the Poké gym, and take it through evolution. Gaining 1500 XP's for free!
Catch 90 Pokémon in the HoennPokédex- The last step of the second level, is a challenging one indeed. Your Pokédex has to be enriched with 90 of the third core series Pokémon hailing from Hoenn. Lotad, Slakoth, Nincada, etc are the common ones to be found and if one's lucky, he can find The Shiny Skitty!. Awards? 1500XP points.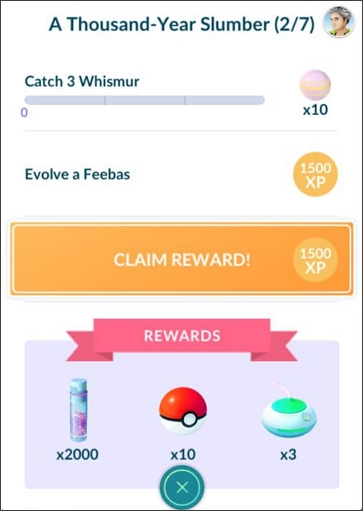 Rewards: After completion of the second level, the player will be rewarded with 2000 stardust (used for evolution), 10 free Pokéballs and 3 Incense.
---
A Thousand-Year Slumber Step 3
Take a snapshot of Loudred- The first quest of step 3, asks a player to take a snapshot of the generation III normal Pokémon,Loudred, the air monster. And win a chance to meet with the chubby Snorlax
Make 3 great throws in a row - Another hard quest to gain some experience points. Make three consecutive great Pokéball throws to catch a Pokémon. And bag yourself the prize.
Earn 3 candies walking with your buddy - Remember your best friend? Who is always excited to walk with you? Well, he is also important in the Thousand Year Slumber Quest. Take your pet Pokémon to walk, and earn 3 candies for him. Bonus! Gain 2000XP.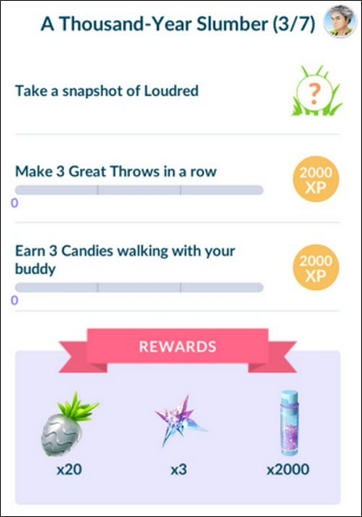 Rewards: 20 silver Pinap Berries, alongwith 30 star pieces and 2000 stardust for evolution.
---
A Thousand-Year Slumber Step 4
Catch 50 Psychic or steel type Pokémon - Do you love showcasing your love for psychic Pokémons? Well. This is the chance. Catch 50 or more psychic or steel type Pokémon like klink, meltan, psyduck and win 2500 experience points.
Power up Pokémon 10 times - Evolve up your favouritePokémon upto 10 times and gain another 2500 XP
Lastly, send gifts to 10 friends and increase the chances of winning, and also earn 2500 XP.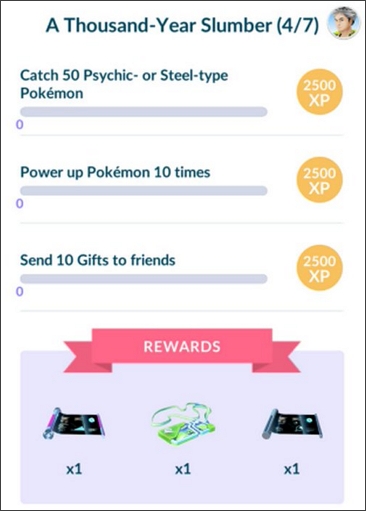 Rewards: After completion of the fourth quarter, get a Premium Raid Pass, Charge ™ and a fast ™ to add to the inventory
---
A Thousand-Year Slumber Step 5
Battle a team leader 3 times - As the quest gets denser, so does its tasks. In this quest, one has to fight against a team leader three times to win a chance to encounter Kricketune.
Win against another trainer 7 times - the second level demands of the player to fight against another worthy Poké trainer and beat him in battles 7 times before gaining 3000free experience points.
Win 5 Raids - Raid battles occur when a Boss Pokémon takes over a Gym. The last quest of step 5 asks a player to defeat 5 such Boss Pokémon and win 3000XP.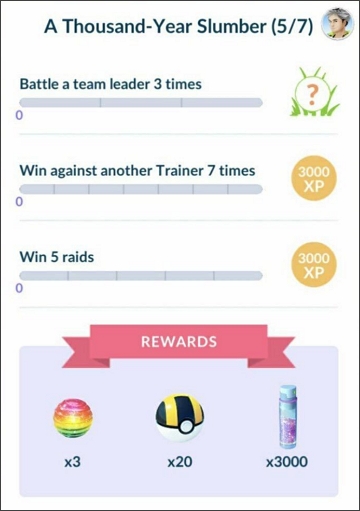 Rewards: The player gets 3 rare candies, 20 Ultra Pokéballs and 3000 stardust after successfully completing the step.
---
A Thousand-Year Slumber Step 6
Take 5 photos of steel or psychic Pokémon - Just click the snap button when a steel or psychic Pokémon comes in front. And win a chance to win a Chimecho.
Make 3 excellent curveball throws - master the art of throwing Pokéballs, and make such three excellent throws and win a Bronzong encounter.
Spin a Pokéstop 7 days in a row - Have afavouritePokéstop to spend time in? Well. Get it to use now. Visit a particular Pokéstop 7 consecutivedays alone or with friends, and spin the Pokéspin everytime it is visited. This gives the player 4000 experience points instantly.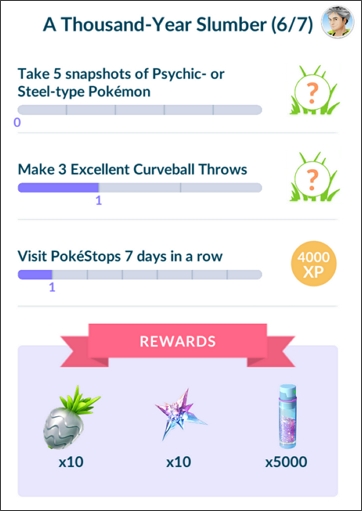 Reward: After the successful completion, this step rewards 10 silver Pinap Berries along with 10 star pieces and 5000 stardust.
---
A Thousand-Year Slumber Step 7
This is a bonus step before the jackpot reward. When a player completes all the quests in all the previous 6 steps, the tasks of step 7 will be automatically completed. Just go ahead and reap the sweet rewards.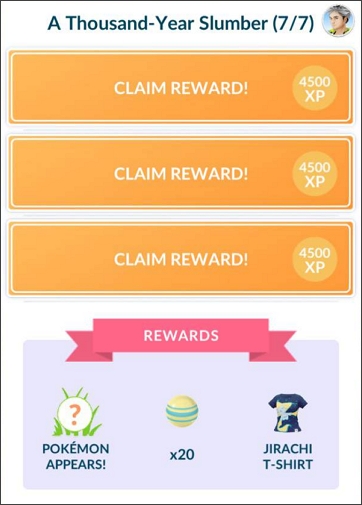 Rewards: JIRACHI Encounter, 20 Jirachi candies and a free Jirachi t-shirt from the style shop
Part 3: Things You Should Know about Jirachi Pokémon GO
For the event, you need to do some Pokémon GO Thousand Year Slumber Research, to get more involved at what you are fighting for. Pokémon GO Jirachi is a dual steel and psychic type mythical Pokémon. Known as the "wish making" mythical Pokémon, which can't be traded, it comes with a CP of 3090, making it the second highest of all steel types in the game.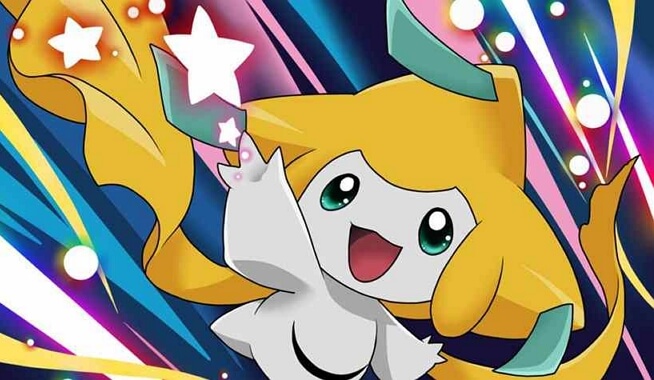 Jirachi Stats:
Having the highest hit points among all the Steel types, Jirachi does a fair amount of damage output to its opponents. It also is a challenging Rock and Ice counter. As a combination of steel and psychic type, Jirachi often has an interesting move pool. It can also be built in two ways - Double psychic moves and Hybrid Psychic and steel moves.
Type: Steel, Psychic
Attack points (ATK): 210
Defence (DEF): 210
Hit Points (HP): 200
(Notably the HP is Highest among all the Steel Type Pokémons)
---
All Jirachi Moves and Moveset in Pokémon GO
For Psychic moves, choosing a psychic is beneficial. Dazzling Gleam though powerful, is not beneficiary from STAB. Thus, while choosing Jirachi, the moves should be properly accessed. It also has the following moves -
Confusion (Psychic)
Charge Beam (electric)
Doom Desire (steel)
Psychic (psychic)
Dazzling Gleam (Fairy)
---
Jirachi Best Moveset – CONFUSION / DOOM DESIRE
The best quick move is Confusion. It deals with the most DPS and is benefitted from STAB.
And the best charge move is Doom Desire. It deals the most DPS and is considered as the most powerful move in Pokémon GO with 2 bar power.
---
What Counters Jirachi
Jirachi itself is a steel/psychic Pokémon. It is strong against Fighting, Poison, ice, rock, and fairy types. But, it is somewhat weak against Fire, Ground, Bug, Flying, Ghost and Dark moves.
Part 4: Tips to Catch More Jirachi in Pokémon GO without Effort
Though Pokémon GO is a popular game around the globe. Yet the only disadvantage is, it demands a lot of hard work. Like in order to catch Pokémon, one has to walk around with the phone in hand, which reportedly can often lead to accidents. So, what can be a way out? Like, is there any way, which could allow a player to roam around in his Pokémon GO map, without doing the 'actual' roaming?
The answer is YES!
If a trainer has an iPhone or an iPad, he can use a tiny little hack, or spoof tool, which will enable him to catch more Pokémons, including rare ones, just sitting on his couch. Even it is a workaround, it can make the Pokémon GO Thousand Year Slumber Quests more fun too. All he/she needs to do is, download an application called "iMyFone AnyTo" from the software's official website. This application let's its users change the location 'real time' to anywhere and anytime as per their convenience.
Now, let me invite you to watch the video tutorial to explore this AMAZING Pokémon GO Spoofer:
[Video Transcription]
How to Change the Real Time Location in Pokémon GO
Step 1: Download iMyFone AnyTo
Install and launch iMyFone AnyTo. Then, connect the iOS device to the computer via lightning cable, and then unlock the iOS to grant all the necessary permissions.
After the setup is done, the computer will start loading a map. Upon completion, the exact time location can be found in the map.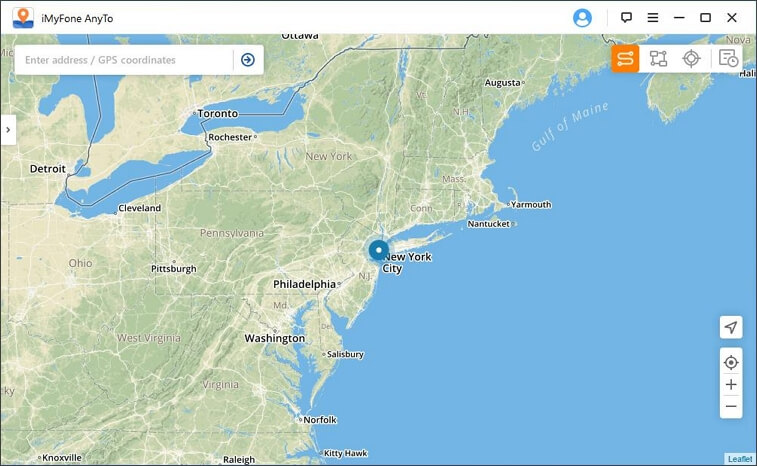 Step 2: Select the Destination on the Map
Choose the Teleport Mode at the upper right corner. And you can scroll through the entire map, and select a destination. Or, you can also select the desired location by simply inputting the coordinates/address of the location.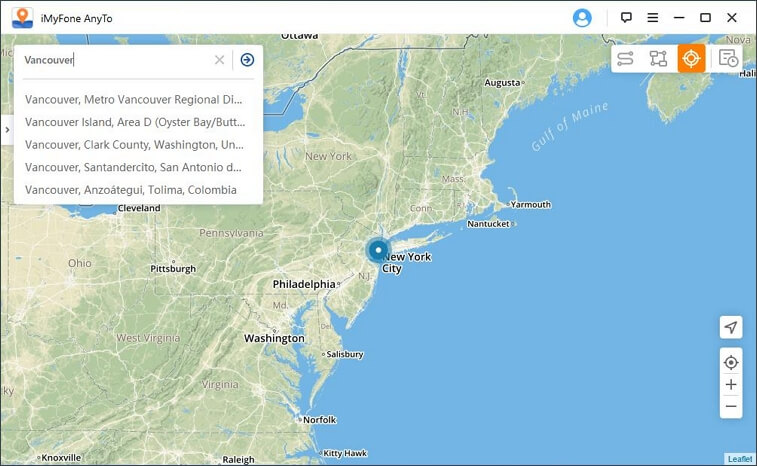 Step 3: Change the GPS Location with a Single Click
Lastly, your searched location will appear in results, click the one your require and then from the left pop up window you need to hit on "Move" button to change the GPS location. When the GPS is changed, it'll be reflected in the iOS device as well. And thus the Real time location can be changed.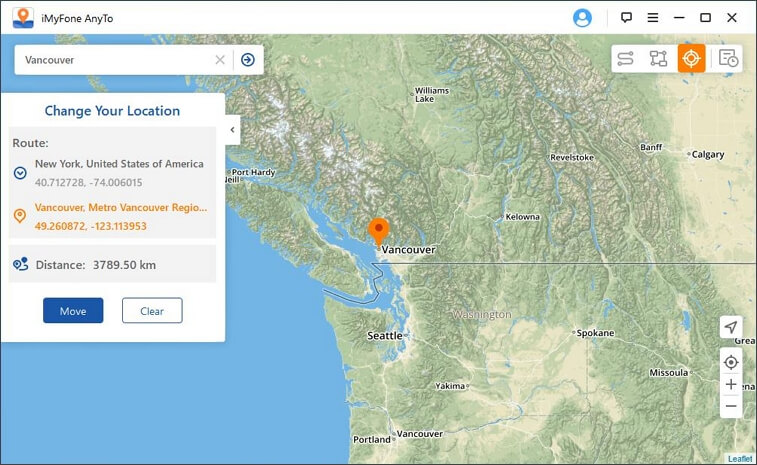 Following these simple steps, you can easily roam through the streets of Italy or anywhere in the world, sitting in your house in Canada or wherever you put up. You will still be exposed to all the Pokémons, Pokéstops and Gyms like any other real time Player, who is standing at that point at the same time. I am pretty sure this small hack will help Pokémon GO trainer to experience and explore the best out of the Game.
Also Read:
How to Battle with Team Rocket in Pokémon GO >>>
How to Get A Shadow Pokemon >>>
---
In A Nutshell
To conclude with, if you're a Pokémon GO Mobile player, and looking for any chance to fill in your Pokédex, the process is really simple. Take part in the Pokémon GO Quests everytime one rolls out and gets chances to collect the rarest of the rare Pokémons. Also, don't forget to use the Spoof, in case you need somewhere to wander to.