The daily advancements in technology catch our attention quickly. Most of us only focus on the advantage it offers and forgets about the drawback come with it. Some software can track your phone continuously using various methods, especially GPS. When you permit to access contact or location to some software, then that allows them to track you. This can be troublesome, so be careful. Tech companies use your location info to sell things and show you relevant ads. The manufacturer of your phone might be selling your location data to other companies. Therefore, we have gathered every possible method of how to stop your phone from being tracked by partners, housemates or parents in this content.
Part 1: Why You Need to Block Your Smartphone from Being Tracked?

There are endless reasons behind blocking your phone from being tracked. Your partners, housemates, parents or someone else could easily have access to your device and sell that data to others. This is illegal, but you can't do anything except not letting them access your smartphone data. No matter what browsers you use, it can track your location easily. Even turning off the location won't help.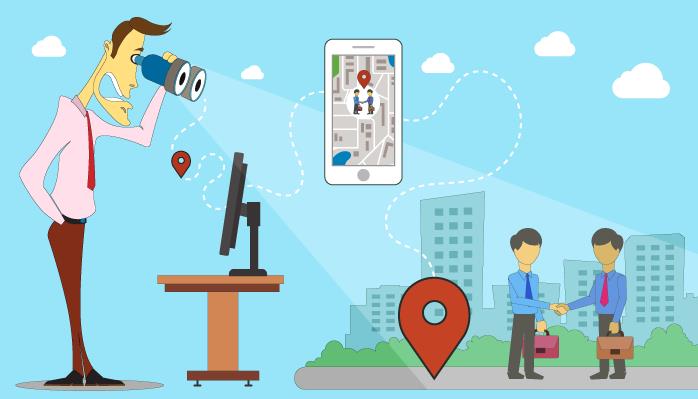 Earlier, Google has used the mobile phone towers' location to track Android users even when their location if off. Besides, you must have to avoid being tracked by partners, housemates or parents, or else your ads keep popping up too often. Apart from this, some spywares are capable of spying every activity on your phone. Let us see how to stop your phone from being tracked now.
Part 2: Why Do Apps Tracking Your Location on Phone?

If you are serious about preserving your secrecy and personal data, ensure that you are not sharing your location access with any software. The data collected by spying software are sold to the advertising companies. They form a better way to target their consumers and show them the ads to convince you to make a purchase. So, let us see in detail what happens when apps track location on the phone. Keep in mind that what they do with your location history is dependent on what kind of software it is.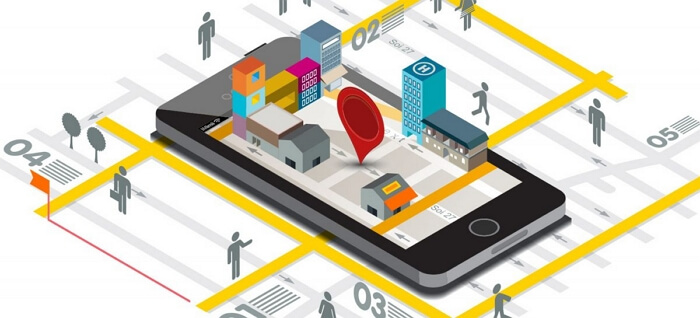 1 Recommends Nearby Hotels and Restaurants
Providing location access to the software like Google Maps, Uber, Zomato, Swiggy, OYO, helps in finding the near to your home restaurants and hotels. Each one of us knows how Google Maps use the location, isn't it? It shows the direction to make travelling easier for you.
2 Targeted Advertising
Do you know that the locations used by some software are meant for target advertising? They share your location data with marketing firms and research companies. This is why you receive ads related to various products on your phone.
3 Weather Forecast
Weather forecasting software uses your location to provide data about weather.
4 Browsers
If you have observed, then you can find that your location is always mentioned at the bottom whenever you make any search on Google. It is done to provide a better search experience and showing results according to your location.
Part 3: 6 Ways to Stop/Block Your Phone from Being Tracked

Way 1: Turn Off Location Service to Stop Your Phone from Being Tracked

Does turning off location service stop your phone from tracking by parents? If this question is coming in your mind, we can understand your concern. PinME is a unique technique that allows the users to track the location even after the data and Wi-Fi is turned off on your phone. It utilizes the sensor for exploitation. Turning off location service might not be the most appropriate way of dealing with spying or tracking, but it helps to reduce the risk.
How to Turn Off Location on the iPhone?
To turn off the location service on the iPhone, you need to open "Settings" > "Privacy" > "Location Service". Now, move the slider to turn off the location.
How to Turn Off Location on Android?
Open "Settings" > "Security and Location" and tap or move the slider for turning off the location.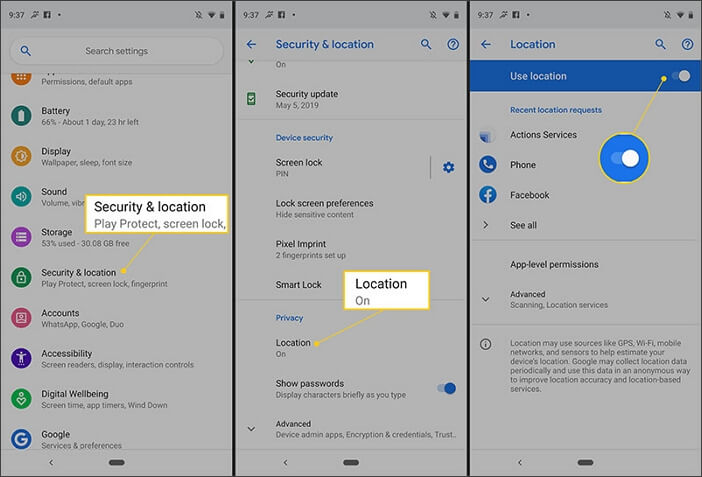 ---
Way 2: Spoof Location on iPhone to Stop Being Tracked Using iMyFone AnyTo (Highly Recommended)

Spoofing your location is another alternative. You can deceive others by spoofing your location. This way, they can't access your exact location. iMyFone AnyTo helps you to choose a virtual location on an iOS device. It provides a fully secure method of spoofing the location even for iOS 14 devices. The customer support crew is always accessible to assist customers. Besides, the app is widespread to more than 200+ countries. You can follow the steps to learn how to disable tracking on the iPhone.
Step 1: Install iMyFone AnyTo to Your Computer/Mac
Click the "Try It Free" button below and install iMyFone AnyTo on your computer/Mac. Run the tool after installed and click on "Get Started".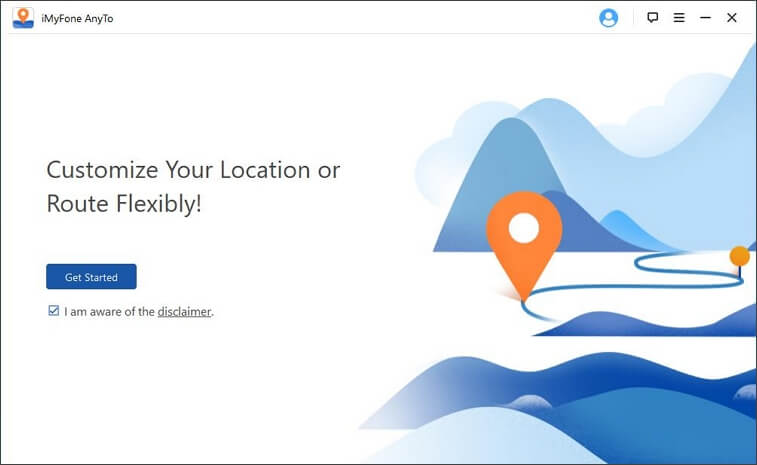 Step 2: Connect the iPhone to Your Computer/Mac
Connect your iPhone with the computer/Mac using a USB cable. You have to unlock your iPhone and hit "Trust" when prompt. Type the passcode and finish this process.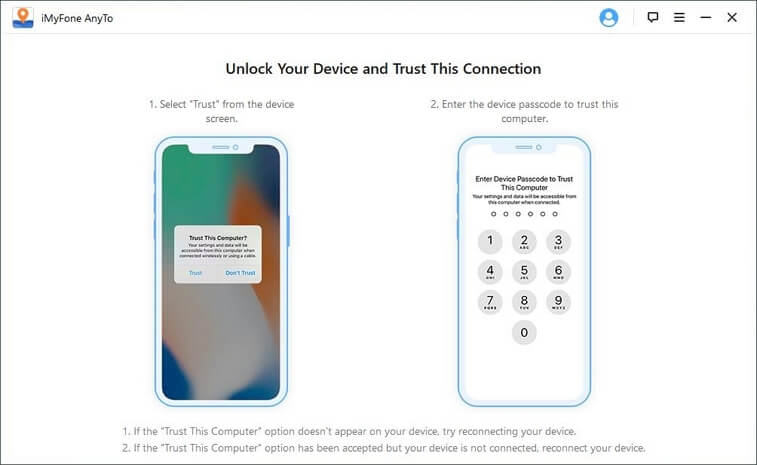 It will start loading the entire map so that you can know your exact location.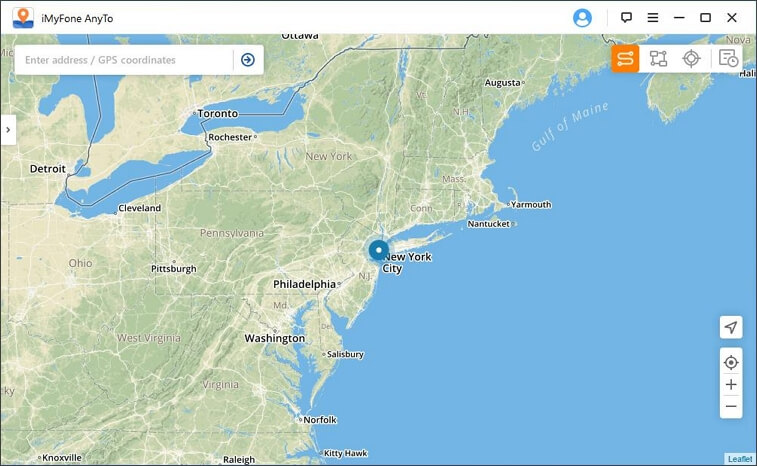 Step 3: Select a Destination on the Map
Select the "Teleport Mode" using the third icon at the upper right corner. Zoom in and zoom out to choose a destination. You can also select the destination by typing the address at the given search box.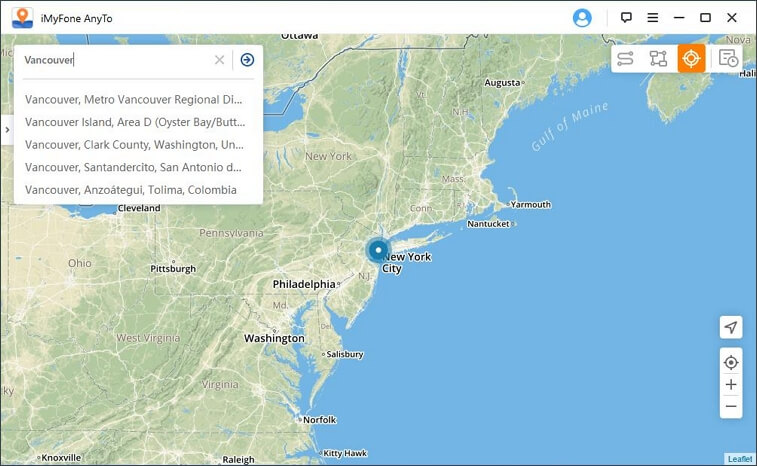 Step 4: Change GPS Location on the Map and Your iPhone
After entering and selecting your location, a sidebar shows up that gives all the info about the destination, like the name of the place, coordinates, etc. Check and click on "Move".
This automatically changes your location to the selected one. As you can see, we have chosen Vancouver. All the apps that ask location permission work according to this location. To set the real location, restart your iOS device.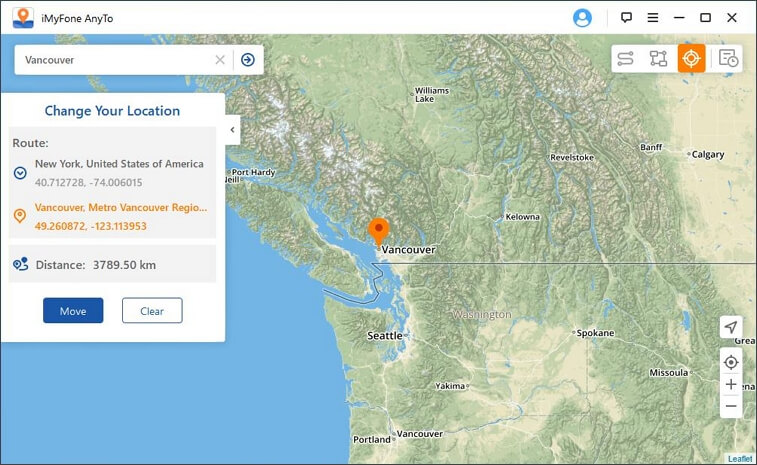 That's it! Now, you have already disabled tracking on your iPhone by using iMyFone AnyTo. It's really easy right? Come and click on the Try It Free button below and try iMyFone AnyTo for Free!
---
Way 3: Use VPN to Block Your Phone from Being Tracked

Install any good quality VPN on your iPhone or Android device. It is recommended when you want to access a blocked site in your country. VPN is known as a Virtual Private Network. They connect your device to another network and protect your browsing activity, especially when you are using public Wi-Fi. You can use a VPN to hide from ISP. One of the best VPN we know is ExpressVPN. It is compatible with Android and iOS devices. Install it in your device, run it, and tap on the "Power" icon to connect.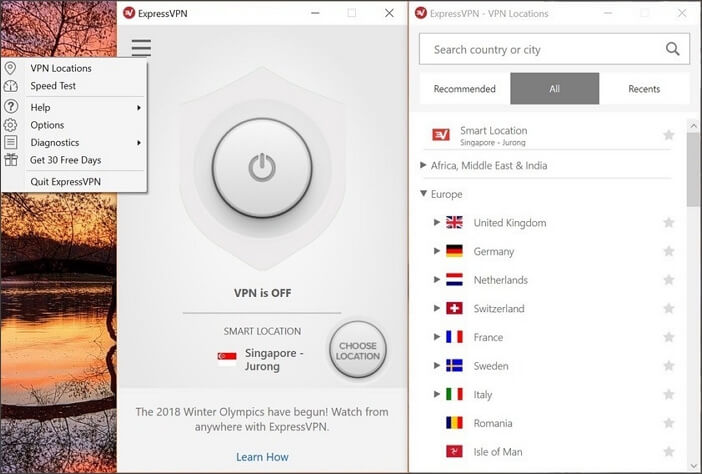 ---
Way 4: Turn Off Bluetooth to Block Your Phone from Being Tracked

Bluetooth serves a way to track your phone. It's possible to track you if the Bluetooth is active. Some devices make this thing impossible to possible.
Turn Off Bluetooth on iPhone
Turn the Bluetooth off in an iPhone from the control center. Swipe from the top to bottom to open the control center. The iPhone X users have to slide their fingers in the downward slide from the upper left corner. Tap on the "Bluetooth" icon to turn it off. You can use the "Settings" option too. All you have to open it on your phone and tap on "Bluetooth". Move the slider to, and this will turn it off.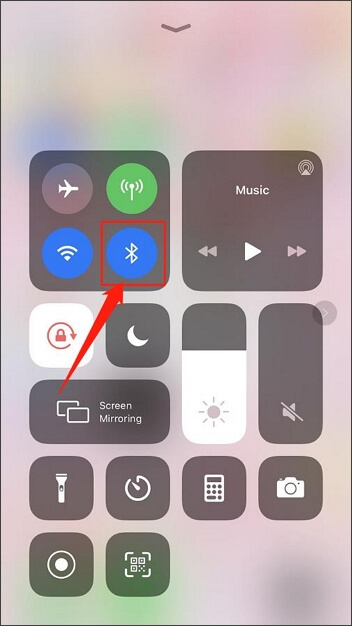 Turn Off Bluetooth on Android
Android users can perform the same steps as iPhone users can do. Just find the "Bluetooth" icon in the notification panel and tap on it or go to "Settings" > "Bluetooth" for disabling it.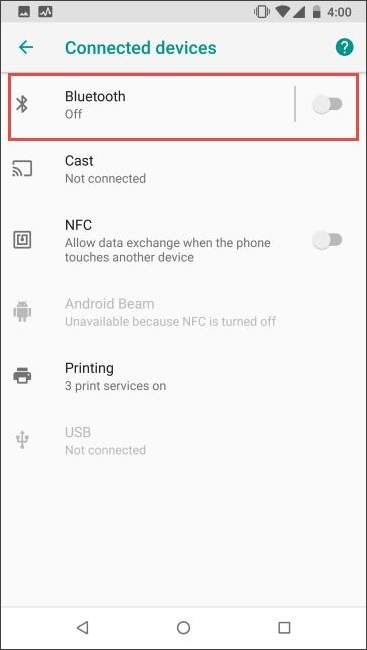 ---
Way 5: Control Permissions on Your Apps to Prevent Your Phone from Being Tracked

Agreements are the privileges that you give to the software. You can't trust blindly to any software nowadays. If you want to know "how do I stop housemates or parents from tracking my phone" by controlling the permission on your apps, do the following.
Control Permissions in an iPhone
Step 1: Go to the "Settings" and then open "Privacy".
Step 2: Tap the app to check what permissions are allowed. Simply toggle off the switch to manage the permissions.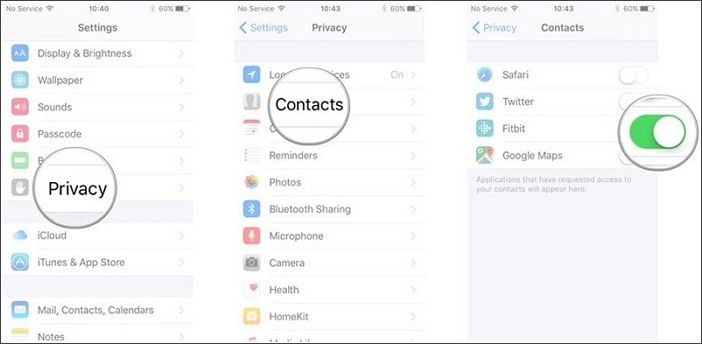 Control Permissions in an Android Device
Step 1: In Android phone, tap on the "Settings" icon.
Step 2: Scroll and find the "Apps and Notification" menu.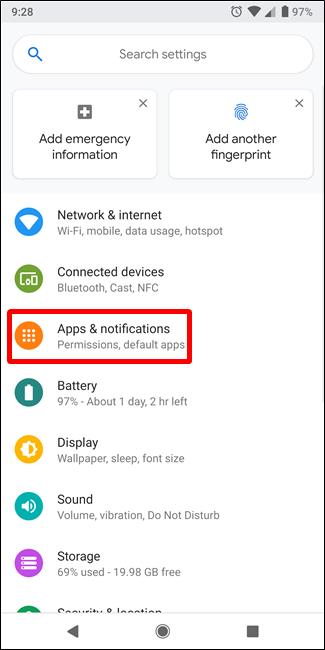 Step 3: Now, go to "App Permissions" option. Look for the app you have doubts on. Open it and check what permissions it has access to. Turn off unnecessary permission.
Note
The options name may vary according to your device. Don't panic just dig into the "Settings" and you'll find them.
---
Way 6: Use a Faraday Bag to Stop Your Phone from Being Tracked

Faraday bag is simply a pouch to keep your phone when you are not using it. It is also called as RF shielding bag that blocks electromagnetic fields. Your phone can't send or receive RF signals when kept in a Faraday bag. It means nobody would be able to call you. If people call you often, then avoid using a Faraday bag to keep your phone. However, it's ideal to use it when you don't want to be tracked. It can prevent the leakage of location data and much other confidential info. Government agencies and law enforcement use Faraday bags to keep data secretive. Some use this pouch to prevent malicious attacks from hackers. This is one of the best methods to prevent your phone from being tracked.
You may also like:
How to Stop Tracking Your iPhone with Spyware like Cocospy in 4 Ways >>
---
Conclusion
It's a matter of controversy to grant a location service access to the software or not. Some software is excellent and reliable that uses location only for serving what you want to see. However, few are not trustworthy in any manner. Always install software from the official market like Google Play Store and the Apple App Store. Trusting and the application from the third-party sites can be dangerous for your device and it will put your data at risk.