Lots of smartphones can know your exact location through its location services. Location service is a feature that provides a mobile device's physical location anywhere around the globe. Thanks to location sharing function like Share My Location on iPhone, your location can be watched by your parents and friend. However, for some reasons, the need might come up to have your own privacy. So here we will show you how to turn off Share My Location on your device.
Part 1: Reasons to Turn off Share My Location on My Phone
1 GPS allows users to share their location with friends and family, but sadly such information might also be shared with stalkers. This might be terrible as some apps give almost anybody access to track their users. This can be dangerous for kids; parents should always create restrictions that keep their location safe and block applications that don't have these features.
2 Some marketing companies also exploit the use of location sharing. They build up a database of your habits and movements by getting information about all your locations at different times and then building up a pattern. This is used to send targeted ads to you.
3 There have been some reports recently that mobile phone carriers were divulging customer locations to data brokers. The data brokers sold it to law enforcement agencies, thereby manipulating the proper procedure of getting a court order. You could feel less concerned if you are not a criminal, but you do not know who else the data brokers are selling to, right?
4 The habit of "checking in" into locations on social media could be all the information a potential thief needs to get full knowledge of your daily schedule.
Part 2: How Do I Turn off Share My Location on My Phone
In order to solve those protential issues we might face, many you guys now might ask how do I turn off my location on my phone? So, it's time to figure out how to turn off share my location on our phones to secure our privacy. In this part, we will tell you the ways to disable location services on those location sharing apps on your phone.
How to Turn off Share My Location on Find My
Find My is a security feature of the iPhone, which is a compilation of the Find My iPhone and Find My Friends into one app on the iOS13. You can share your location to your parents and friends so that they can locate you through the location you shared on this app. It also helps to track and manage those iDevices if they were missed or stolen, all that has to be done is to input device details into the Find My app, and the exact location of the app will be displayed. This feature can be taken advantage of to always track phone user's exact location, and so if you don't want your whereabouts to be known, it is best, you have it turned off, and have your location private.
Here is the step-by-step guide of how to turn off Share My Location on Find My:
Step 1: Open the Find My app on the iPhone.
Step 2: Select the "Me" tab (the last one) at the bottom.
Step 3: Toggle "Share My Location" off/grey to disable Share My Location on your iPhone.
---
How to Stop Sharing Live Location on WhatsApp
Live location is a feature on the WhatsApp application that allows you to share your real-time location with another user (be it a group chat or individual chat) for a stipulated period. Absolute control of the extent of sharing lies with the sharer of the location, and it can be withdrawn at any time. Once the location sharing expires or it is stopped, then the location will immediately not be shared. The individual (s) you that location was shared with before it's halt will be able to see the last updated location as a static thumbnail image. This is a bit secure as the sharing of location is encrypted end-to-end, which means only the people you shared your live location can view.
How to Stop Sharing Live Location in A Specific Chat or Group
Step 1: Open the individual or group chat.
Step 2: Click "Stop Sharing" and a pop-up window will show up, tap "Stop" to disable sharing live location on WhatsApp.
How to Stop Sharing Your Live Location in All Group Chats and All Contacts
Step 1: Go to "Settings" > "Account".
Step 2: Click on "Privacy".
Step 3: Click on "Live location".
Step 4: Tap "STOP SHARING" > "STOP" to turn off sharing live location in all chats and contacts on WhatsApp.
---
How to Turn off Location Sharing on Instagram
Instagram location sharing is a bit different as it asks it's users if they want to "Add location" to the post. The location is shown at the top of the post below the username. The Location service gives Instagram the option to Check-in at a specific location. Users will be provided with a list of nearby locations based on the location GPS location, and they can type another location into the "Find my location" box. Instagram's default location settings only allow it to use your location when you are using the app. If you want to turn off location on Instagram compeletly, follow the guide below for both Android and iPhone users.
How to Turn off Location Sharing for Instagram on iPhone
Step 1: Go to "Settings" on the iPhone.
Step 2: Scroll down towards the bottom of the list and tap the "Instagram" icon.
Step 3: Click on "Location".
Step 4: Click on "Never". That way, Instagram never accesses your location.
How to Turn off Location Sharing for Instagram on Android
Step 1: Go to "Settings" on Android phone.
Step 2: Scroll down and click on "App Management".
Step 3: Click on "Device & Privacy".
Step 4: Click on "Location". Toggle the "Location" off; this will disable location for instagram on your phone.
---
How to Turn off Sharing Location on Facebook
There are certain features on Facebook that require location services to work, such as Find Wi-Fi and Nearby Friends, and they receive needed data from location services to be operational. Once location data is turned on, Facebook will use it to track your specific physical location. You can quickly check to know if the Facebook app is using your location service when you attempt to write a new post. When you want to post a new status update, you will notice a field above the box that would show your current location. It is reasonable that being tracked by your social media is not comfortable. I know most of you are wondering, how do you turn off share my location? Cheers, there is a way to disable it, and I will walk you through the process of turning off your location on your phone.
How to Turn off Location Services on iPhone Facebook
Step 1: Go to "Settings" on your iPhone.
Step 2: Click on "Facebook".
Step 3: Tap "Location".
Step 4: Select "Never" options to turn off Facebook location services on iPhone.
Here is a detailed process of how to turn off your location service on an Android device:
Step 1: Go to "Settings" > "Applications management" on your phone.
Step 2: Click on "Facebook".
Step 3: Tap "Location". Toggle off the location bar to turn location service off on Facebook.
---
How to Turn off Location Service on Twitter
Twitter uses your phone 's location services to collect, store, and use your precise location, such as GPS location. This helps them to provide, improve, and develop a variety of services offered. Your location is used to deliver to your contents, including an advertisement, and tweets that are related to your location. It is used to make some location-based trends available to you and also shows the location of pictures you were retweeting.
To turn off location service on Twitter for iPhone is secure, and this is a detailed process to do that:
Step 1: Go to "Settings" > "Twitter" on your iPhone.
Step 2: Click on "Location".
Step 3: Click on "Never" to turn off location service on your iPhone completely.
Here is the process to turn off location service for Twitter on an Android:
Step 1: Open your Android phone "Settings".
Step 2: Click on "Applications management".
Step 3: Click on "Twitter".
Step 4: Select "Permissions".
Step 5: Toggle "Location" switch off to turn off location services on Twitter.
Part 3: Trick All Apps by Spoofing Location to Stop Tracking on Your Phone via iMyFone AnyTo
iMyFone AnyTo is a virtual GPS locator that allows you to fake your location anywhere in the world to make sure no one gets your real location. You can also use it to change your location on an iPhone or iPad when you want to share some locations on social media with friends. With the help of iMyFone AnyTo, you can stop tracking on your iPhone easily and instantly.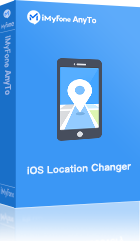 1,000,000+ Downloads
Coolest Features of iMyFone AnyTo:
Spoof any location to anywhere in the world in one click.
Create virtual routes on the map to move along in AR games like Pokemon Go.
Define your route by customizing your speed to simulate any pace, be it walking, cycling, or running.
The pause feature makes simulation more realistic as you can pause for a while and continue moving anytime.
It saves the historical spots you have been to, allowing you to reselect those spots as your destination again quickly.
Work on any iOS devices running iOS 7.0 and later, including iOS 14.
Steps to Use the "Teleport Mode" to Spoof Location on Your iPhone
Step 1: Download iMyFone AnyTo on your PC/Mac, install and launch it. Then, click "Get Started".
Step 2: Connect your iPhone to the PC/Mac by using a USB cable. Click "Trust" when you see the "Trust this Computer" pop up on your iPhone to establish connection between your iPhone and your computer.
Step 3: After the map has completely loaded, choose "Teleport Mode" (the third one) at the upper right corner. Then select your desired location on the map.
Step 4: A side bar will show up when you selected your desired location with all location information. Click "Move" and you can change your location instantly.
That's it! The iPhone's location will be changed already. You do not need to worry about your true location on your iPhone is being tracked by someone anymore!
Tip: To get back your correct device's location you can restart your iPhone.

---
Conclusion:
Those methods mentioned above can help you turn off share location on your phone. But, to enjoy full functionalities of the social media applications, you need to have your location service turned on. Still, if you are afraid of your privacy or want to pull a prank, iMyFone AnyTo is the best option. It will simulate another location correctly, thereby giving you your utmost privacy while enjoying all social media features.