The Eevee family remains one of the most popular characters in Pokémon GO. Every player looks forward to evolving one of the seven Eeveelutions (members of the Eevee family) to enhance their gameplay and win more battles. Among all the Eevee characters, Umbreon Pokémon GO is considered to be the most powerful. With a unique skill set of Snarl and Foul Play, Umbreon will make it much easier to raid different spots in Pokémon GO.
But, evolving Umbreon is not an easy task, especially if you stick to the traditional way of evolving Eevee. So, in this article, we're going to share a couple of special tricks to evolve Eevee into Umbreon Pokémon GO. If you've been struggling to get Umbreon, continuing reading the following tricks will help.
Part 1: Every Things about Umbreon Pokémon GO (#197)
Before moving further, let's first talk about the significance of Umbreon in Pokémon GO. As we mentioned earlier, it's one of the seven Pokémon of Eevee's Eeveelutions. It's basically a "Dark" type Pokémon with a maximum CP of 2137. Thanks to its unique move set, Umbreon is extremely useful if you're participating in PvP battles.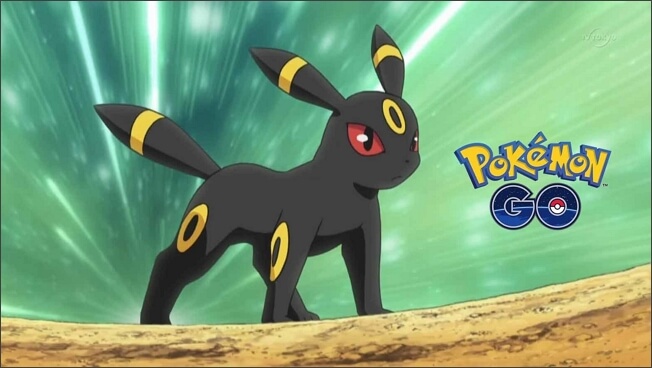 1 Umbreon Stats
Umbreon's CP will vary for everyone as it depends on the Player's current level. For instance, if you're at Level 15, you'll only be able to get a CP up to 916. But, if you're fighting at a Level 40, you can even get the maximum CP, i.e., 2137.
Umbreon gets a power boost by Fog weather and you can even reach a CP of 1526, even at Level 25. In addition to this, Umbreon has 126 attack, 240 defense, and 216 stamina, making it a perfect companion for almost every PvP battle.
---
2 Best Movesets for Umbreon
As far as the best move set is concerned, Snarl and Foul Play are the two most effective moves for Umbreon. You can use this move set in Gyms. Umbreon will stay put against every Pokémon that's vulnerable to "Dark" characters.
---
3 Umbreon All Moves
Of course, Snarl and Foul Play aren't the only two supported powers of Umbreon. If you get Umbreon, you can also use different types of powers. These powers include:
Feint Attack
Dark Pulse
Last Resort (Only Available for Elite)
---
4 Umbreon Weakness in Pokémon GO
Like every other Pokémon GO character, even Umbreon is vulnerable to certain powers and move sets. So, if you want to defeat Umbreon Pokémon GO, you should use Fairy, Fighting, and Bug moves. Like any other "Dark" type Pokémon GO character, these three moves will defeat Umbreon and you'll be able to win the battle.
---
5 Top 10 Umbreon Counters in Pokémon GO
One of the most common questions users have regarding Umbreon is which Pokémon should be used to defeat it. No doubt, you can use any of the Pokémon with the above-mentioned three moves, but if you want to leave higher damage, you should use these three Pokémon characters.
| Name | TTW | Death | Damage |
| --- | --- | --- | --- |
| Lucario | 166.8s | 4 | 100% |
| Conkeldurr | 183.3s | 3 | 99.6% |
| Machamp | 190.7s | 8 | 99.4% |
| Heracross | 197.9s | 3 | 99.2% |
| Pirouette Meloetta | 203.8s | 3 | 99.1% |
| Ordinary Keldeo | 205.1s | 3 | 99% |
| Resolute Keldeo | 205.4s | 3 | 99% |
| Hariyama | 204.3s | 4 | 99% |
| Breloom | 190.5s | 5 | 98.9% |
| Blaziken | 198s | 4 | 98.9% |
---
6 Trainer Comments on Umbreon
Want to know what trainers have to say about Umbreon? Here we've put together two comments from Pokémon GO trainers who have used Umbreon in the game.
"Have a perfect IV umbreon at cp 2000 (I'm lvl 35.5) and this thing really does shred in gyms/raids against the right type of Pokémon."
"Great League: Umbreon is a very strong Pokémon in the Great League, as its low ATK stat distribution gives it extraordinary bulk."
Part 2: How to Get Umbreon in Pokémon GO
So, let's talk about the real reason why you're here, i.e., how to evolve an Eevee into an Umbreon Pokémon? Well, there are different ways to evolve Eevee into Umbreon. First you can use the traditional method of feeding 25 candies to Eevee and expecting it to evolve Umbreon randomly. But, since this method has a probability of 1/7, it's quite challenging to get the desired Pokémon.
The second method to evolve Eevee into Umbreon is to use the "nickname trick". In this case, you'll have to rename Eevee as "Tamao" and it'll automatically evolve into dark-type Umbreon. But, there is a limitation to this method as well.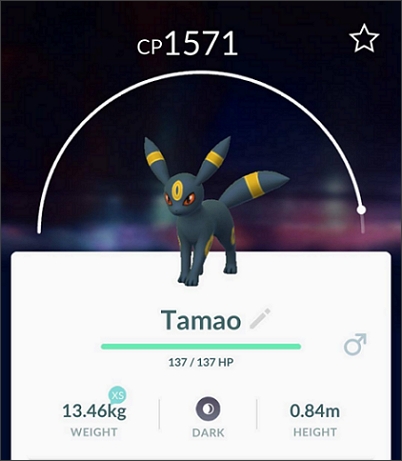 You can only use the nickname trick only once for a particular member of the Eevee family. This means that if you've already used this trick to evolve Eevee into Umbreon Pokémon GO, you won't be able to get Umbreon second time.
Part 3: How to Evolve Eevee into More Umbreon in Pokémon GO
Since the rename trick only works once, many players want to know if there is another way to evolve Eevee into more Umbreon. The answer is Yes! You can use a different method to get more Umbreon without spending 25 candies or using the rename trick.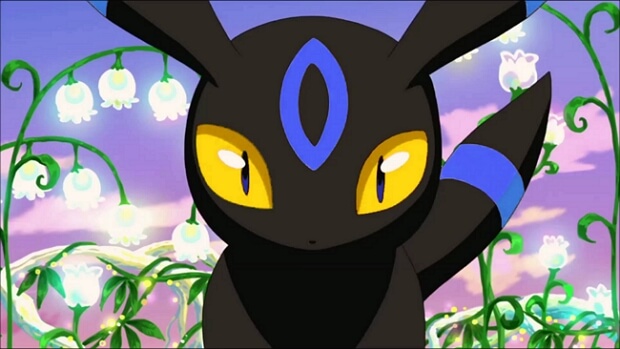 In this case, you'll have to make Eevee your friend and earn at least 2 Eevee candies. So, once you have checked these two points from the checklist, follow these steps to evolve Umbreon Pokémon GO.
Step 1: Walk with the buddy Eevee for at least 10km.
Step 2: While Eevee is still your buddy, hit evolve at night and you'll get another Umbreon.
Keep in mind that it's important to hit Evolve during night otherwise you'll get Espeon instead of Umbreon. Since it's a "Dark" Pokémon GO character, you can only get Umbreon during the night.
Pro Trick: Get More Eevee and Gain More Distances in Pokémon GO
As we mentioned above, nickname trick can be used only once to evolve Eevee into Umbreon, in order to get more Umbreon, you have to use the method we told in Part 4. To get more Umbreon, you have to get more Eevee at first.
Now, some of you might ask, how can I catch more Eevee in Pokémon GO? Is there any way to catch them effortlessly?
Here I want to introduce a trick that I have used for a long time - spoofing Pokémon GO with iMyFone AnyTo. It is a location spoofer for both iOS and Android device. And now it can support the latest iOS 15. With the help of this tool, you can spoof Pokémon GO easily you can catch Eevee easily in different places without moving outside.
The best part I want to recommend is that you can create a customized route to make your iPhone move along, that means, you can gain more distances in Pokémon GO, which is really helpful in raising your Buddy Eevee's Friendship level.
Watch the Tutorial Video to spoof Pokemon GO and Gain More Distances:
---
Conclusion
Umbreon is definitely one of the best characters you can add to your collection in Pokémon GO. Even though it's quite challenging to get it at first, the above guide will help you evolve Eevee into Umbreon Pokémon GO more easily. It doesn't matter if you're a beginner or have been playing since the beginning, adding a character like Umbreon will only enhance your gameplay and help you win more battles.
We hope we made you well-versed with Umbreon Pokémon GO. If you enjoyed reading this and want more such topics, stay tuned with us. We promise to bring up more interesting topics in future!