Nowadays, many people choose to use location tracking APPs as one of the ways to protect their personal safety for the safety of themselves and their family and friends.
For example, Zenly positioning or popsicle positioning, which is recommended by many people with high positioning accuracy, is installed and used in children, family members who need to go home late at night, or friends who often move alone, so that you can care about their real-time location, remote Guard them home safely.
Here, we will introduce Zenly positioning, that is, the popsicle positioning of your nickname: Zenly function, popsicle positioning crack, Zenly plug-in and so on.
1. Detailed introduction of Zenly
1

What is Zenly?

Zenly is a location tracking app that lets you instantly know where your family and friends are, see where you are, how long you've been in various locations, how fast you're driving, and your phone's battery status, whether iOS or Android It can be used, it can be said to be a very full-featured tracking artifact.
2

What are the features of Zenly?
Map

The most different from other maps is that Zenly map can check the current location and dynamics of your friends; you can also see how long you have stayed at that location and the battery status of your phone. It is more convenient to directly calculate the distance from your current location to your friend's location and Time of arrival.

Message

Real-time interaction will also be the focus of Zenly's "Posicle Positioning". You can directly click on a friend on the map to send a message, or you can click on the message icon in the lower left corner to send and read the message. In addition to text, the message can also send photos, etc.

Settings

In addition to the excellent positioning of Popsicle, it is also because it provides multiple settings to meet the needs of everyone. The personal data settings can provide the ability to change the user name at any time, which can be changed according to the trend or the nickname among friends. In addition to the basic personal data settings, in the privacy You have also chosen a more private way to join in the settings of your right, allowing only the contacts in your address book to add friends or not showing your information in the recommended list of others.
There are also multiple choices for map settings, such as zenly's own and standard modes (iOS will be Apple Maps, Android will be Google Maps), and a special and practical function is the filter, which can directly display various information on the map Such as weather, attractions, traffic conditions, etc.
2. Zenly Location Teaching
1

Zenly location settings
When registering to use Zenly popsicle positioning at the beginning, you need to select the "Always" option to enable positioning. If you don't want to be tracked at any time, you can change the location settings of your phone.
The following are the steps to set Zenly location permission for iOS devices:
Select "Settings" → "Privacy" → "Location Services" → click "Zenly" → select an option that suits you (never, next time, during the use of the app, forever), here it is recommended to click "during the use of the app" or "forever".
For Android users to use Zenly:
Go to "Settings" → "App Management" → click "Zenly" → click "Permissions" → "Location Information" → select the option that suits you, including all permission, only when using the app allow and deny. We also recommend to set the location that allows Zenly to access the Android device in order to use the popsicle Zenly smoothly.
2

Zenly location off
Similar to setting positioning, both iOS and Android devices can turn off Zenly positioning under the same path.
Steps for iOS users to turn off Zenly positioning:
Open "Settings" → "Privacy" → "Location Services" → click "Zenly" → select "Never".
Android users turn off Zenly positioning steps:
Open "Settings" → "App Management" → click "Zenly" → click "Permissions" → "Location Information" → select "Deny".
3. How can Zenly's location not be discovered?
Sometimes using Zenly can not close the positioning but there are some personal needs, and do not want to let friends know the correct location. Maybe you want to prepare surprises for family and friends, or you want to have your own me time without being disturbed.
How can I make Zenly locate undetected? At this time, you can use the following two tricks to modify Zenly positioning.
1

Zenly puff mode "blur position" or "freeze position"
Knowing that there are times when you don't want people to know where you are, Zenly also provides a setting for positioning and cracking, which is the puff puff ghost mode.
If you want to set this function, first click on the little ghost icon at the top of the profile, and the description of each location setting will be displayed.
Precise Position: Literally your actual zero error position.
Blurred location: Only approximate location is shown, friends will also see your real-time location updates.
Freeze Location: Let your friends who choose this setting temporarily or never see your location.
The setting steps are as follows:
Step 1: Click the "Character Icon" at the bottom right of the map to enter the homepage and then click the "Ghost Icon" at the top.
Step 2: Tap the friend whose location you want to stop sharing.
Step 3: Choose a mode from "Blur" or "Freeze" mode, take the blur mode as an example.
Step 4: After setting, the friend will be moved to the "Blurred Location" section.
Step 5: When re-selecting the "Freeze" mode, directly select "Set Duration" to complete the setting.
Even though using frozen location can keep your friends from finding your correct location, it's a bit like the concept of blocking, where your display stays at the last information before freezing. Therefore, alert friends can quickly guess that they are frozen, which may cause unnecessary misunderstandings. At this point, the next method is more practical, allowing you to continue to interact with friends on the popsicle location, but without letting people discover your true exact location.
2

Change Popsicle Positioning Using Zenly Aids
iMyFone AnyTo Location Simulator is an application that can modify Zenly location. Many people will use AnyTo to simulate the positioning of social media (such as WhatsApp , Instagram , etc.) or AR game Pokémon .
AnyTo Features:
Supports iPhone (including the latest iOS 16) and Android devices.
Set Zenly virtual location with one click.
The multi-point mode can customize the movement route and speed, so that Zenly positioning is not detected.
Provides history and favorite places for easy query and use of frequently used locations.
The steps to modify Zenly positioning using AnyTo are as follows:
Step 1: After downloading and installing on the computer, remember to connect the mobile phone cable to the mobile phone and the computer.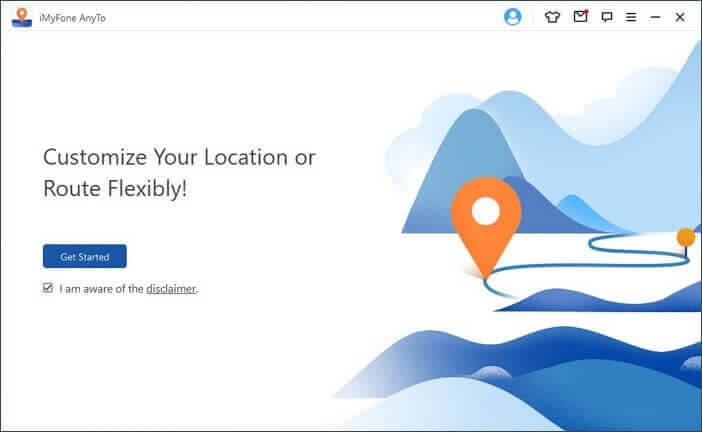 Step 2: After the connection is successful, your current location will be displayed first. If you only need to move with a single point, you only need to enter the desired location in the search bar on the upper left.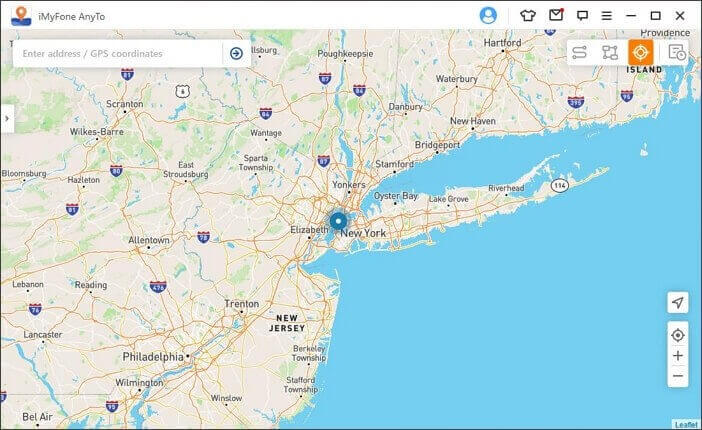 Step 3: Click "Move" to modify your location to where you want to go in less than a second.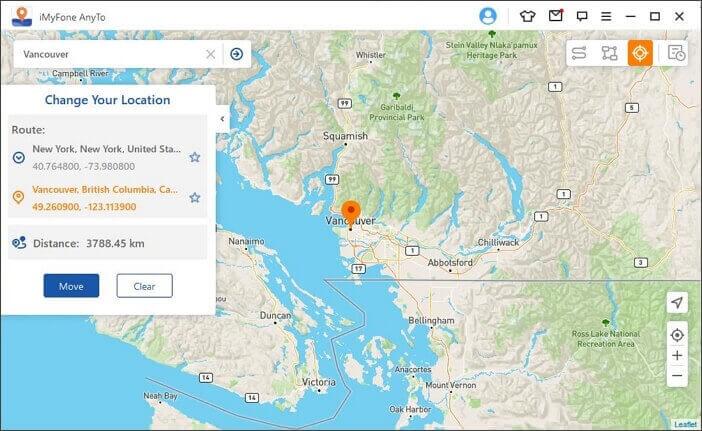 If you want a itinerary with a running point, let your virtual positioning move according to the itinerary. After selecting the multi-point mode function in the upper right, click the location directly on the map according to your itinerary or use the search bar to enter the exact location, set The speed of the movement, so that Zenly will not find the real position when it is moving!
Notice
When using the Zenly location changing artifact AnyTo to change the location of the popsicle, it is recommended to select the virtual location range within your city, and to modify the Zenly location and set the moving route within the same city.
4. Zenly super practical Tips
A few practical tips to get you started with Zenly!
Tips
Travel positioning - In addition to the daily interaction with family and friends, Zenly can also be used as a good tool to avoid people getting lost during travel. Whether it is a company travel or a group tour, it can be used as a one-time location tracking method. After the tour, you can Delete friends or freeze, and you won't be able to see your location.
Play with friends - During the epidemic, you can play time at home with friends, let more friends fight the epidemic together, stay at home and interact with friends in other ways.
Contact your friends at any time - When your friends are nearby, the map will display the flames, and after clicking, you can create a group to chat together.
Map Zoom - When you need to quickly zoom the map, just swipe up and down on the right side of the screen to adjust the size to your liking.
Account uniqueness - The same account can only be logged in to one device at a time, and can only track the location of the device currently in use.
Hide Zenly Location - Using frozen location, deleting friends, turning off phone location, and modifying Zenly location are all effective methods!
5. Frequently Asked Questions about Zenly Location
1. How can Zenly locate not to be found?
You can use the Zenly freeze location feature to keep your Zenly location from updating; or choose a Zenly plug-in tool (such as iMyFone AnyTo) to virtualize your Zenly location.
2. Can you hack Zenly who sees me?
At present, there is no way to check who has checked your location, but you can see the total number of people who have seen your Zenly location in the past day and the total number of times in Zenly's "Views".
3. How long does it take for a popsicle to be frozen?
After turning on Popsicle Freeze, you can no longer update your location within the set time, which is equivalent to staying at the last location for a period of time, and the other party will not receive any notification, but it is easier to be found if it stays for a long time and the location does not change.
Summarize:
Based on some personal safety protection, Zenly positioning can play a very good role in guarding the safe arrival of family and friends you care about. Sometimes when you want to keep privacy or joke with friends, you can also use virtual positioning software like iMyFone AnyTo to change your location so you can enjoy yourself without hurting your feelings.