In Which Situation Will iTunes Error 2324 Occur?
iTunes Error 2324 is a common error that many iOS users encounter from time to time when they are installing, updating, or uninstalling iTunes. The error is quite annoying because any attempts to prevent it tend to fail instantly, resulting in the same issue again and again.
Following are some situations in which this error may occur:
1. Install: Error code 2324 may occur when you are installing iTunes on your Windows PC.
2. Update: The error may occur when you are downloading and updating a newer version of iTunes from its Update section.
3. Uninstall: Sometimes, error 2324 prevents iTunes from uninstalling.
How to Fix iTunes Error 2324
Try the following solutions:
1. Use iMyFone TunesFix
Using a professional iTunes repair tool is highly recommended when it comes to such errors and problems. iMyFone TunesFix is a reliable iTunes repairing software that will help you fix iTunes error 2324 so you can install, update, or uninstall iTunes without hassles. TunesFix features automatic iTunes scanning as well as several manual iTunes repairing modes which are highly useful in fixing virtually all kinds of iTunes issues. You will need to use Full Uninstall mode of TunesFix to get rid of error 2324.
Key Features:
Repair 100+ iTunes errors efficiently and quickly.
Several manual repair modes for fixing common iTunes issues.
Boost the performance of iTunes by cleaning up its junk/temporary files.
Two advanced iTunes cleaning modes i.e. Quick Clean and Deep Clean.
100% safe iTunes repairing. iMyFone TunesFix does not erase any data in the iTunes library when attempting repairs.
Follow these steps to fix the issue:
Step 1: Launch iMyFone TunesFix on your computer.
Step 2: When you are at the home interface of the software, click on Full Uninstall mode.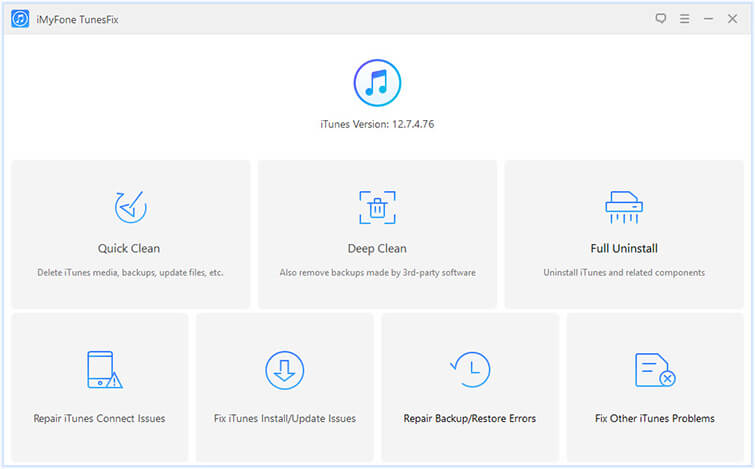 Step 3: Click on the Full Uninstall button on the next screen. If you also want to delete user data, junk files, updates, and other iTunes-related files, then tick the checkbox shown below the Uninstall button.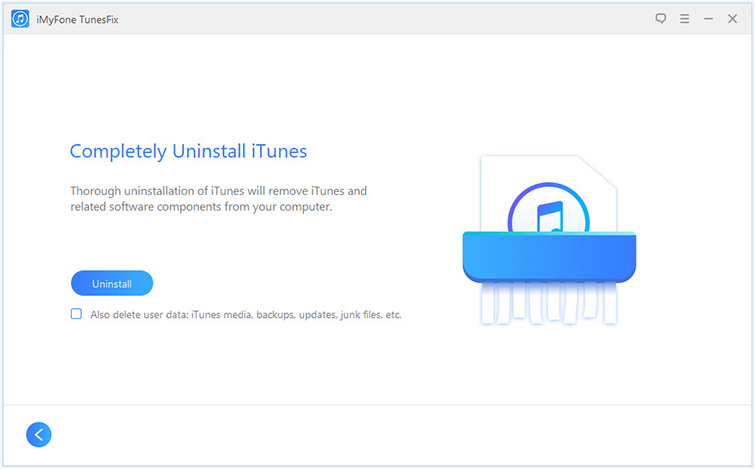 Step 4: Once you click the Uninstall button, TunesFix will start the uninstallation process. Once iTunes and all its related components are uninstalled, the software will notify you that the uninstallation was successful.
Step 5: Now download and install the latest version of iTunes. The error 2324 should be fixed now.
2. Other Solutions
Here are some other solutions you can try:
a.

Restart Your Computer

If you are encountering iTunes error 2324 when installing, updating, or uninstalling iTunes despite trying it again and again, then it would be a good idea to turn off your computer and restart it. Sometimes, this little trick is all that is needed to fix such issues.
b.

Uninstall and Reinstall iTunes

If you are only encountering iTunes error 2324 when trying to update iTunes, then it is recommended that you update iTunes manually (completely uninstall and then install the latest version). It is likely that the error will be fixed once you uninstall and reinstall iTunes.

Follow these instructions:

1. Close iTunes and then navigate to Control Panel > Program > Program and Features.
2. Now uninstall iTunes and these related components one by one: Bonjour, Apple Application Support, QuickTime Player. Alternatively, you can also use iMyFone TunesFix to completely uninstall iTunes and its related components with one click.
3. Next, download the latest version of iTunes from the official website and run the installation setup.
4. Complete the installation by following the on-screen instructions.
c.

Clean Corrupted iTunes Registry Files

Error 2324 may also occur due to corrupted registry files that are related to iTunes. To clean corrupted iTunes registry files, you will need to download Windows Troubleshooting Pack and then run it and follow the on-screen instructions. If error code 2324 is indeed occurring due to corrupted iTunes registry files, then it is likely that it will be fixed after the registry cleanup.
d.

Disable Your Antivirus Software

Antivirus programs sometimes conflict with iTunes' downloading and updating process. If you think that is the reason error 2324 is occurring, then it is recommended that you temporarily disable your antivirus software and then try to update iTunes. It is likely that error 2324 will not occur after disabling the antivirus software.
---
Conclusion
iTunes Error 2324 can be really annoying mainly because it occurs again and again despite your efforts to prevent it. Fortunately, there are certain ways to get rid of the error for good. It is recommended that you try to completely uninstall iTunes via iMyFone TunesFix first before moving on to other manual solutions.