This article was updated on July 17, 2019.
HEIC is the latest file format that allows iPhone users to store high-quality images with a small space on their device. This is good news for people that like to take lots of pictures on mobile phones with limited storage. That is the reason Apple implemented this in iOS 13.
HEIF stands for High-Efficiency Image Format which helps to store image files. However, HEIC is not compatible as JGPs right now. How to take Jpg photos in iOS 13 become an urgent requirement as most people prefer JGPs because it works everywhere and it can open many apps.
How to Take Jpg Photos in iOS 13
Step 1: Open Settings from your home screen.
Step 2: Click the Camera. You will have to scroll down to find this option.
Step 3: Select the Formats.
Step 4: Tap the Most Compatible.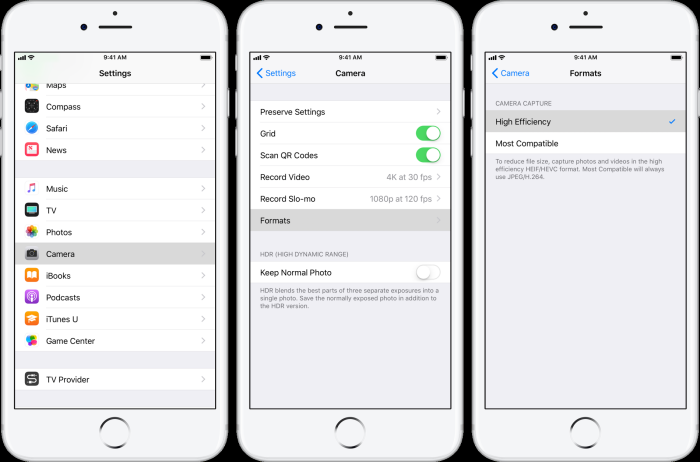 The steps above are the way of how to take JGPs photos in iOS 13.
How to Convert iPhone HEIC to Jpg
Although the way how to take Jpg photos in iOS 13 can help you get the Jpg photos in future, you may want to know how to convert your current HEIC photos to Jpg.
1

Use iMyFone HEIC Converter
iMyFone HEIC Converter is one of the best computer-basic HEIC to Jpg Converter, it can even convert your HEIC photos directly from your iPhone, no need to transfer them to computer.
Step 1: Download, install and launch the software. If the photos are in your iPhone, then connect your device.
Step 2: Choose "Convert Single Photo" or "Convert Photos in Batch" and click "Start".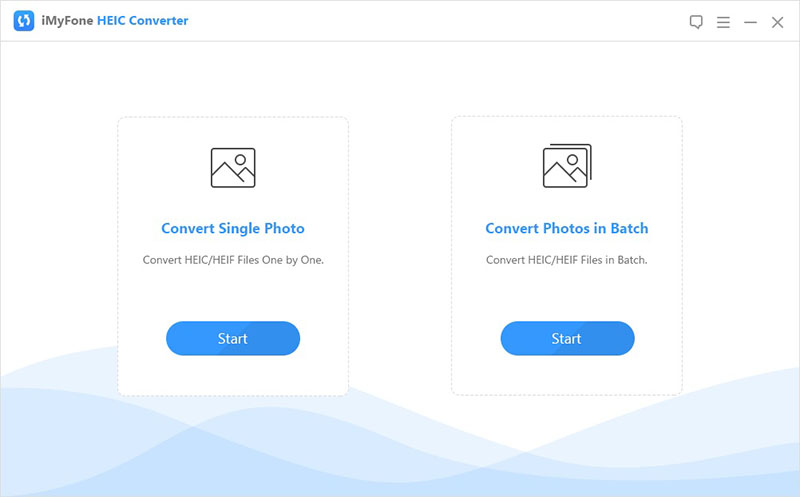 Step 3: Select the files you want to convert and then click "Convert" to start the process, it will convert your HEIC photos to Jpg in a few seconds.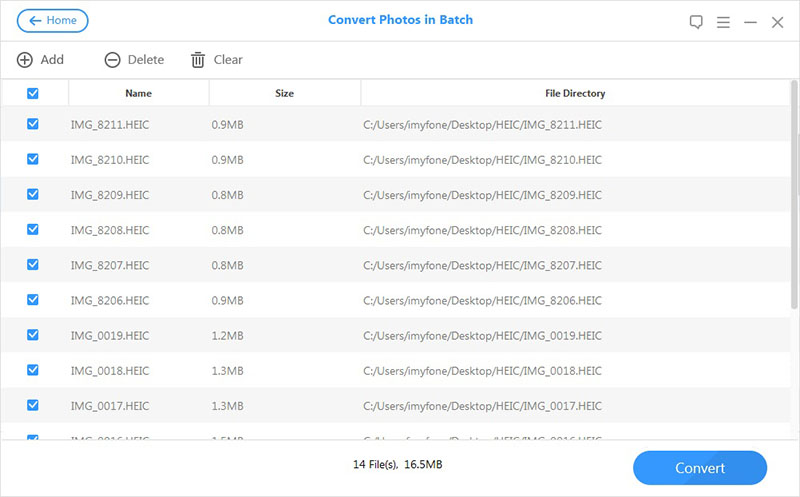 Note
The converter can be used offline, you are safe with your privacy.
It will do no harm to your photo quality as you can adjust them before converting.
2

Use iMazing HEIC Converter
You can use iMazing HEIC Converter to convert iPhone HEIC photos to jpg, but you have to transfer them to a computer first.
How to Transfer iPhone HEIC Photos to Computer
iMyFone TunesMate is an excellent app that allows you to move your iPhone pictures, with HEIC and other formats. It is simple to use, and it permits you to prevent many Apple's restrictions.
Key Features:
Manage HEIC pictures: View, move and remove iOS 13 HEIC photos on Mac and computer.
It allows you to back up your pictures from your gallery to the PC or external hard disk.
You can also back up your albums apart from photos from iPhone to computer.
The files are supported to transfer or manage videos, pictures, audiobooks, music, and podcasts.
Steps to Tansfer iPhone HEIC Photos to Computer
Step 1: Download and install iMyFone TunesMate on your computer. Open the iMyFone TunesMate, Use a USB cable to connect your device to the PC.
Step 2: Click on Backup photos from the TunesMate home interface on your computer.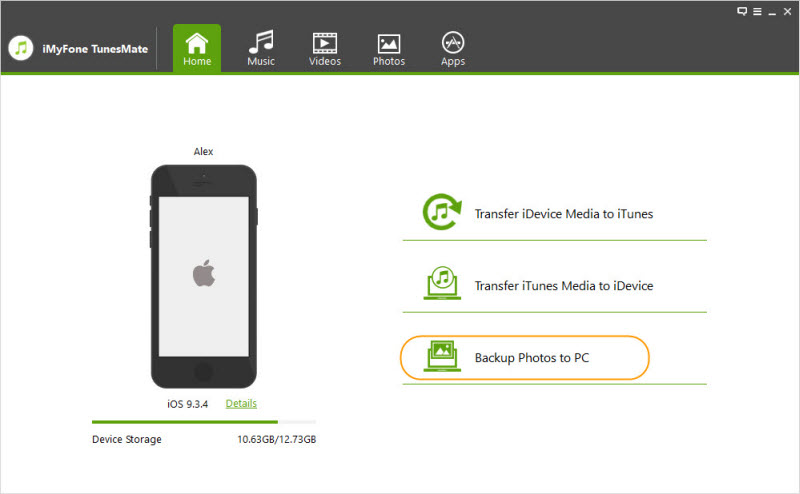 Step 3: Click on the folder where you would prefer to save the HEIC pictures on your PC. Select the folder to begin the backup process.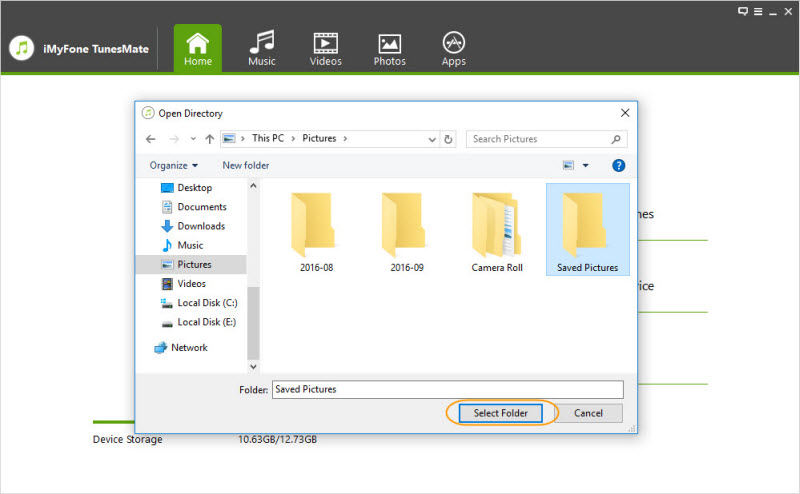 Step 4: When you see "Backup Successful" that means that the process of transferring your HEIC pictures from iPhone to the computer is complete.
Here are the steps to convert iPhone HEIC photos to Jpg
Step 1: Copy the app from its disk image and launch the iMazing HEIC Converter.
Step 2: Drag the files on the app's window. iMazing HEIC Converter Window, with files
Step 3: Select the Converter, and pick a target location to save the files.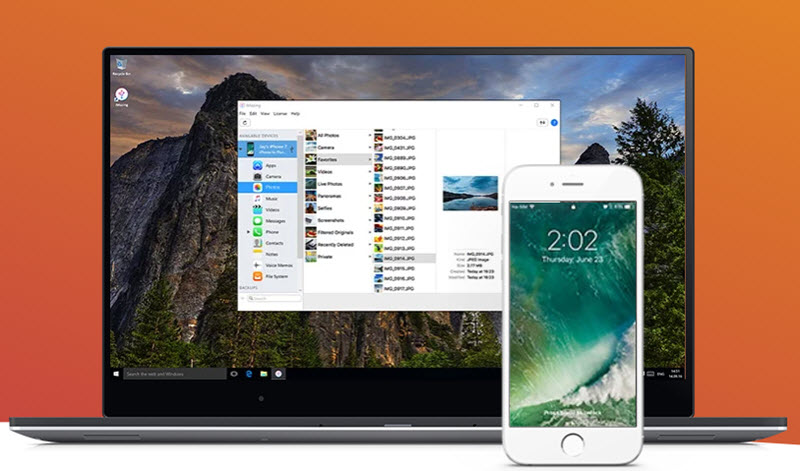 3

Use Email
With your email, you can easily save your images using your email. All you need to do is to email the pictures of yourself using your iPhone, and your email will automatically convert the HEIC to JPG.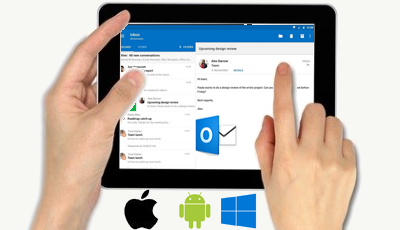 Advantages of Converting HEIC to JPG
High degree of compression. Users can independently select the file size and ratio quality of their choice.
Low storage files size.
The formats are compatible, images can be displayed on browsers correctly, and high-quality graphics programs.
It is good for full-color clear pictures with many colors and high contrast transitions.
High-quality images with a little degree of compression.
Disadvantages of Converting HEIC to JPG
Pictures may split into different squares. Images of about 8×8 pixel can be restricted when you squeeze it. This can happen as a result of compression algorithm that involves analysis of adjacent pixels due to smooth color. The transitions can be harsh or disappear.
JPG images are not suitable for working with text or colorless graphics with clear boundaries
The format does not support transparency. If you want to draw templates, buttons and logos are required.
Every next stage of compressing the pictures may affect the quality of the images.