The PDF was originally created by Adobe for the United States Government to safely store their legacy files. If a PDF file is altered in any way – without using one of the best apps to convert PDF to Word first – it is saved in the file's electronic footprint which can hold certain legal repercussions. That's definitely something you'll want to avoid! If you find an error in a document or need to update the way to get around the "read-only" feature is to use one of the best PDF to Word converters.
The best app to covert PDF to Word files will depend on what your goals are. Below are 8 programs that can be either be easily downloaded to your Mac or Windows computer or quickly accessed online. Now, without further ado... Here are 8 of the best PDF to Word converters for Mac, PC or online.
In this guide, you will acquaint yourself with all the leading PDF converters on the market; however, there's one PDF converter that's winning hearts all over the internet. Any guesses? Well, we're talking about iMyFone MintPDF The simplicity and ease of using this desktop-based PDF converter make it a top choice for PDF users. You can easily install the tool on your Windows PC. Let's look at a quick summary of the most compelling features of iMyFone MintPDF.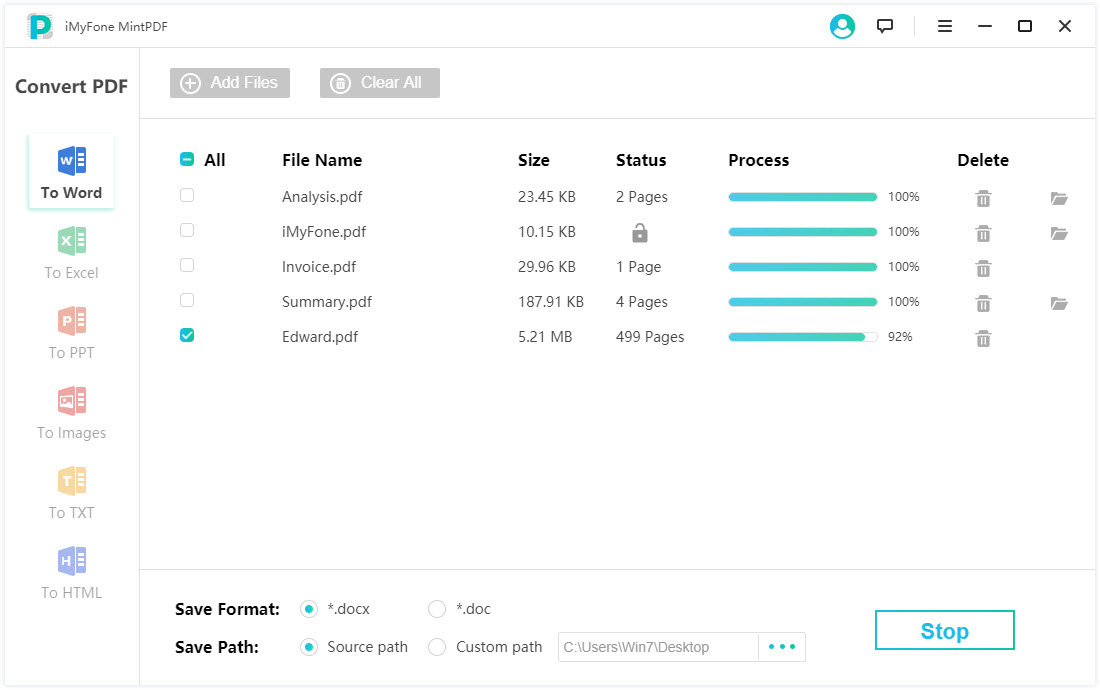 Pros:
Convert PDF files into a range of formats, such as Word, HTML, TXT, images, PPT and so on.
Convert a single file or several files in batches; high-speed conversion.
No tutorial required; convenient to use software with user-friendly interface.
Convert up to 3 pages for free as a part of the free trial.
100% safe and secure PDF converter.
Get bothered no more with encrypted and password-protected files; easily convert them into different file formats.
ShareiMyFone MintPDF's page on Facebook and get a 1-day license free.
Cons:
Only supports Windows version.
User Review:"5 Stars: It's a great PDF conversion program. The experience of using this program deserves five stars. I am satisfied that it can convert PDF files in bunch which saves me a lot of time!" -Jonny, iMyFone MintPDF user
Online converter is a PDF to word converter that can easily be accessed online. Aside from being one of the best PDF to Word converters, it can also convert your document to HTML, RTF, PPT, etc. In addition to using Online Converter directly on their website, Google Chrome and Firefox users may download the Online-Convert extension to quickly and easily access all the services that Online Converter offers.

Pros:
Users can covert many different types of files into a variety of formats.
Good customer service.
Cons:
Requires users to register an account for it.
Its free version limits 10 pages of conversion and ads are displayed.
Doesn't translate tables into Word format well.
May need a high-quality PDF in order to work.
User Review:"3 Stars: It's management of PDF to WORD (all that I've used) really depends on the quality of the scan you start with. It does not like tables very much but does a pretty good job with paragraphs. Make sure you click the OCR button!" -Guido, Online Converter user
This is another website that offers a free trial to use on any computer. Like Online Converter, it can also translate a PDF file into a variety of different formats. Unlike Online Converter, this website only deals with PDF conversions. This website is one of the best apps to covert PDF to Word because PDF documents are their specialty!

Pros:
User-friendly.
Plenty of tools for splitting, joining, compressing, etc.
Allows you to select only certain parts from a PDF to covert to Word.
Cons:
Must upgrade to Premium or Pro for files over 15 MB.
Bugs when uploading many files (20+).
Ads cannot be disabled without upgrading your account.
No digital signature feature.
Complete access requires a paid subscription.
User Review:"4 Stars: It will not give you a funny document, which you would find letters, and formats fly everywhere across the document after conversion. There are no watermarks or hidden brandings in out puts, unlike other websites." - Malith Madhawa I., ILovePDF user
SmallPDF is one of the best PDF to word converters because it consists of 18 PDF tools in 24 languages! Over 100,000 companies and 500 million people around the world are already using this platform to convert PDF to Word. You must create an account after 14 days of using SmallPDF which starts at $12/month.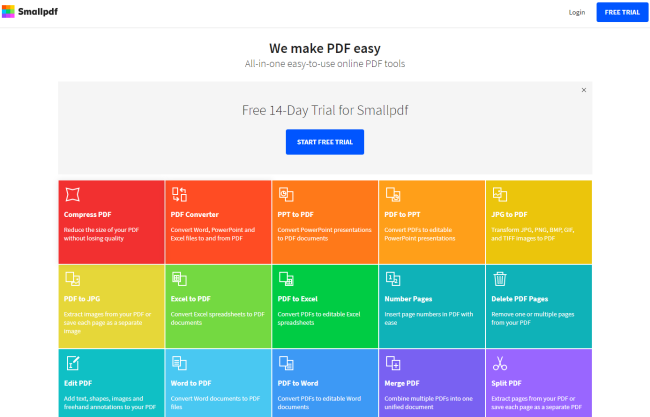 Pros:
Clear and simple to use.
Converts documents into 24 languages.
Wide range of conversion, compression and editing capabilities.
Cons:
Free version only allows 2 conversions per hour.
PDF to Word conversions may require proofreading or editing.
User Review:"4 Stars: I cannot say enough good things about this tool. What I love the most is the versatility of formats into which I can convert PDS (excel, word, powerpoint), more than other similar programs." -Angela C., SmallPDF user
Adobe Acrobat Pro has all the features you could want to edit your PDF files. This is one of the most popular PDF management apps as it has been downloaded over 300 million times! When you purchase Adobe Acrobat Pro, you can download it on as many computers as you like for $14.99/month (Mac or Windows) although only 2 users on the same account may access it at once.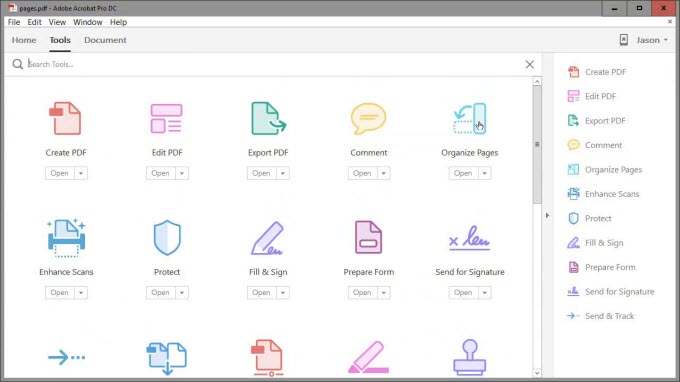 Pros:
Tons of features: edit, convert, annotate, sign, etc..
Sharing feature allows documents to be easily distributed.
Creates workable and searchable documents.
Cons:
May be overwhelming for new users.
Pro version is needed to access all of the features.
Stability and update issues are sometimes present.
User Review:"5 Stars: It is mostly suited for most businesses who need to prepare documents and share documents, I would easily recommend Adobe Acrobat DC to any business. It is a must-have. I personally think every business needs to use Adobe Acrobat DC, you will certainly enjoy the features that allows you to convert from Word, Excel etc., to PDF, and vice-versa." -Chike Igwegbe, Adobe Acrobat Pro user
Foxit is one of the best apps for converting PDF to Word because it can be used on virtually any platform, including smartphones. The program can be downloaded for free to use for a brief trial period. After that, you will have to purchase one of the plans that Foxit has to offer for converting PDF to Word. Options are Standard for $139.00 or Business for $179.00.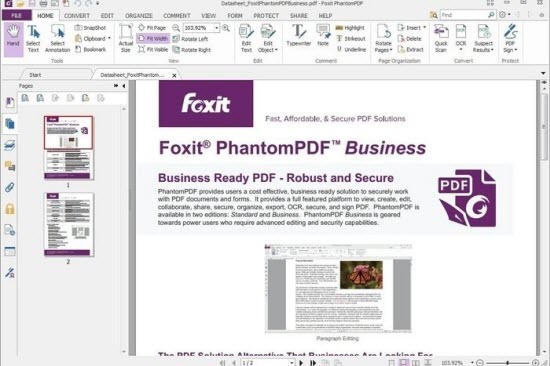 Pros:
Create, edit, convert and sign PDF documents.
Includes a cloud-based editor.
Redaction capabilities.
User-friendly.
Cons:
Some features aren't available in the Standard package.
User Review:"5 Stars: Foxit Phantom is an affordable alternative that still does the job. In fact, it's actually easier to use than many of the big packages because of its small size and simplicity, which also make it fast--up to three times faster than the competition, according to the developer. It does most of what Acrobat and the other high-priced packages do, and just as well, but with less sticker shock." -Foxit Phantom user
Nitro Pro 7 can be downloaded on a Windows computer for $159.00. However, this app for converting PDF to Word can be used for a 14-day free trial period before purchasing. After the 14-day period, you will have the option to continue using for free with limited features or upgrading to Pro.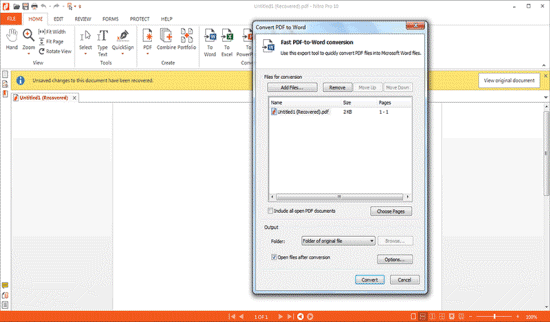 Pros:
Can be integrated with third-party apps like Box, Dropbox, Google Drive, OneDrive, and SharePoint.
Different packages for team and enterprise use.
Allows you to create, convert, view, edit and collaborate on PDF files.
Cons:
Not available for Mac users.
Converting PDF to Word is not available in the free version.
User Review:"5 Star: So I threw a pdf book with 297 pages and lots of pictures at it. It took about 25 minutes to convert to a Word document format. Again, the quality and graphics converted very nicely.Nitropdf offers a demo at several shareware sites. If you need a PDF creator PLUS a PDF converter, look no further." -Nitro Pro 7 use
In order to download this app to convert PDF to Word, You must first download Google Chome and create a Google account. However, there is an online version available that you can access from the download page. It is very user-friendly; you simply upload your PDF file to the app and it will generate a Word document based on the information it scans.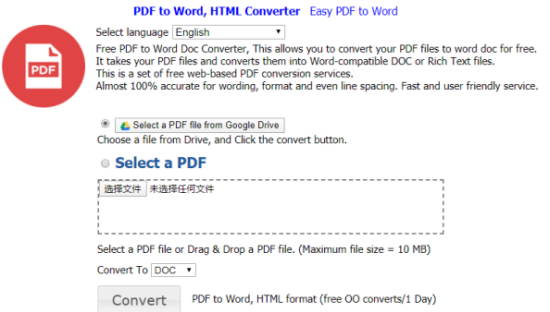 Pros:
Free.
Simple and easy to use.
Converts text with little to no errors.
Cons:
Not always accurate or functional. The PDF file frequently appears as an image in a Word Doc instead of as a workable document.
Requires you to disable AdBlock.
Doesn't translate images, tables or charts.
10 MB of maximum file size for conversion.
User Review:"3 Stars: Convert to a document, but cannot preserve the format of the document (headings, paragraph, font choice, as well as the lack of converting images)" -Keith Fiore, Google PDF to Word Doc Converter user
Comparison of the 8 Best PDF to Word Convetrers
Now, on to the comparison of the 8 best PDF to Word converters!
| PROGRAM | FEATURES | EASE OF USE | PRICE | VERSION | TECHNICAL SUPPORT |
| --- | --- | --- | --- | --- | --- |
| iMyFone MintPDF | -Convert PDF to Word, Excel, images,etc. | Extremely | -Free Trial-$4.95/month | App | Email support |
| Online Converter | -Convert PDF to many formats including Word | Extremely | -Free Trial-$7.99/month | Online | Email support |
| ILovePDF | -Split, join, compress and convert files-Encryption | Very | -Free Trial-$6.00/month | Online | -Business hours-Online |
| SmallPDF | -Collaboration tools-Convert PDF files | Very | -Free Trial-$12.00/month | Online | -Business hours-Online |
| Adobe Acrobat Pro | -Convert PDF files-E-signature-Edit text and images | Somewhat difficult | -$14.99/month | App | -Community forums-24/7 online support |
| Foxit Phantom PDF | -Collaborative-Create & convert PDF files-E-signature | Very | -Starts at $139.00 | App | -24/7 online support-Community forums |
| Nitro Pro 7 | -Convert PDF files-E-signature-Edit text and photos | Very | -Starts at $159.00 | App (Windows only) | -Community forums-Online material-Direct contact with VIP or Access |
| PDF to Word Doc Converter | -Convert PDF to Word | Extremely | Free for 10MB file | App or online | N/A |
All in all, there are a lot of PDF to word converters out there. If you just want to convert a few simple pages, you can use the free trial version of the above tools. But for 3+ or 5+ pages you may need to buy a tool. To choose the optimum PDF converter, you need to consider how frequent you do with PDF files, how long the PDFs are, and whether the PDF contains pictures or charts, as well as your budget for the PDF tool.