Without a doubt, many programs that convert PDF to Excel both online and offline. Many users are queasy and particularly unsure about uploading their documents to external servers controlled by other companies, which is why many users go with applications or software they download directly into their PC.
But there are still many people who don't want to download and install the app. Instead, they prefer to convert PDF to Excel online which is quick and convenient. It's really a good choice when you just want to convert a few PDFs and the content in the files is not so private or confidential. In this article, we will find out the best PDF to Excel converters online for you.
Part 1. Convert PDF to Excel with iMyFone MintPDF
For batch of files or private files, a desk top style PDF converter will be a great choice. iMyFone MintPDF is stable and reliable with a user-friendly interface. You can convert several PDF files to excel at a time, which can save your time and improve your efficiency. Many formats are supported.
Have a quick look at some of the amazing features:
File Support for Word, Excel, PPT, TXT, and HTML as well as image files
Exceptional Output File Quality
Batch conversion support for high volume conversion
NO LIMIT on file quantity or file size
Free version - convert up to 3 pages of file
Sharing Bonus - Share on Facebook, Twitter, Pinterest and you get 1-day free full license
Steps for converting a PDF to Excel using iMyFone MintPDF:
Step 1. Download iMyFone MintPDF on your PC.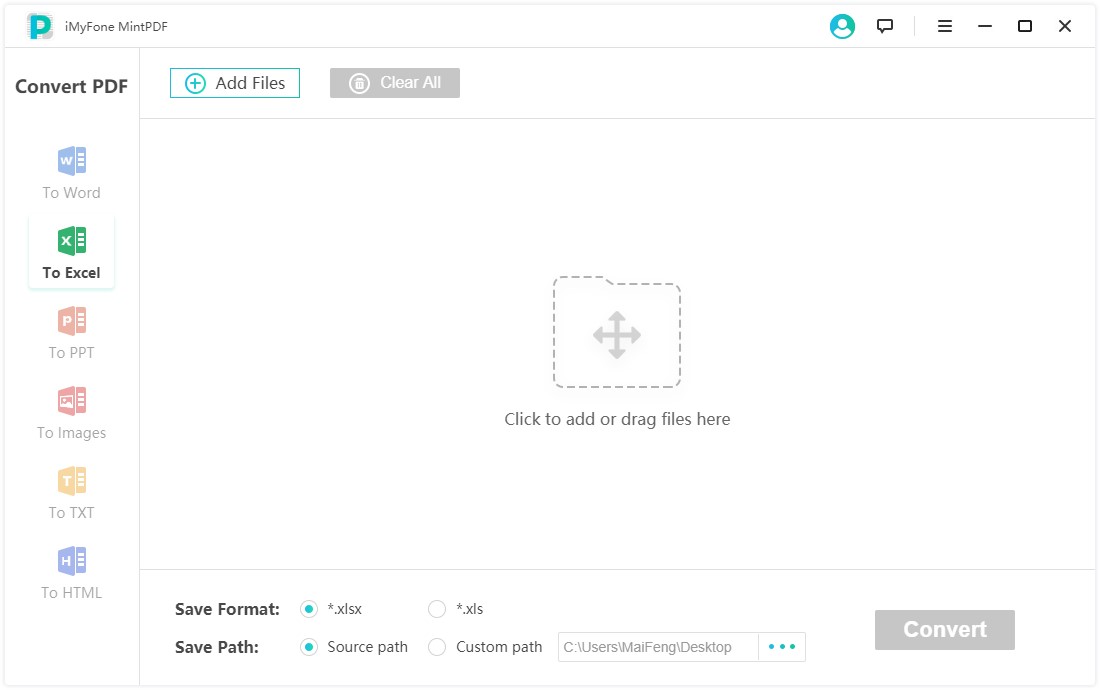 Step 2. Seclect the "To format". Click "Add Files" or drag and drop the PDF file(s) you want to convert to Excel.
Step 3. Click "Convert" to start the conversion process and wait seconds till they done!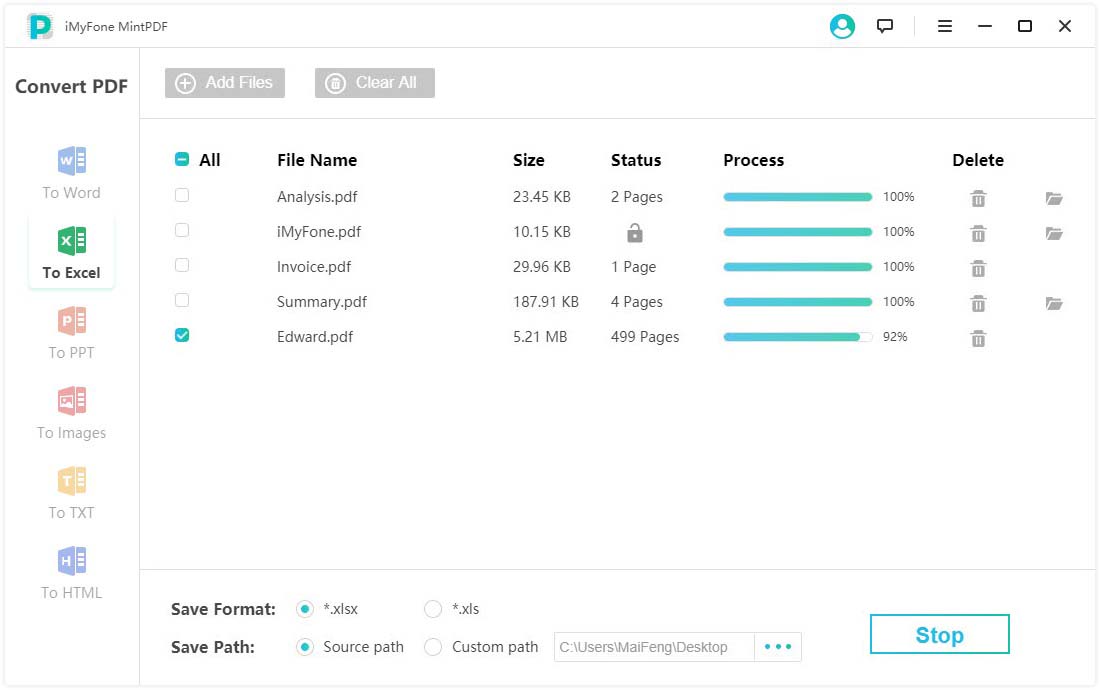 Extra Bonus: Now you can get a 1-day free license if you share iMyFone MintPDF page to your social account. Simply find this activity on the floating right sidebar.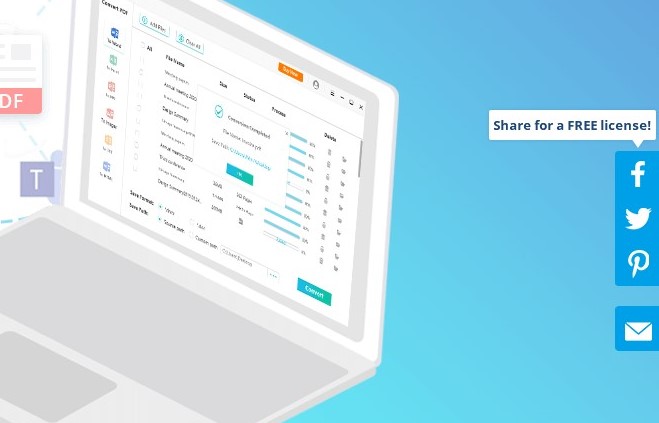 Part 2. Top 5 PDF to Excel Converters Online Free!
Currently, you can find numerous PDF to Excel converters online that can help you convert a PDF file accurately and flawlessly, but it will take hours to find the one that is most reliable for the task at hand. If you're torn on whether to use one of the other or to pay for the one that may best work for you, we'll share both online and desktop-based PDF to Excel converters for you. So we've made it easier for you.
1. Smallpdf, Online PDF to Excel Converter
Smallpdf is a very popular tool when it converts PDF to excel online. It does not require any registration or fee processes to convert your PDF documents into Excel spreadsheets. It is a very fast process in which you simply load the PDF file and convert it to the format you need; it even has a bulk option!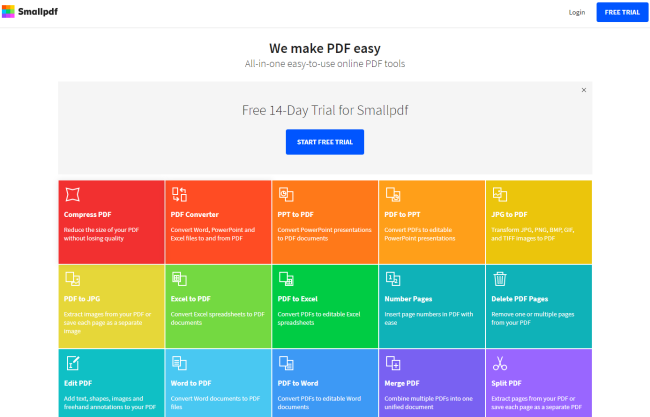 Pros:
One of the best PDF to Excel converters online for free.
Quick and smooth converting.
It works well with heavy images and converts them in good quality.
It can integrate with Windows.
It's "drag and drop" option makes it easy to use.
Its built-in functions and unique options make it sturdy suitable for both beginners and professionals.
Cons:
Security is not very clear, so you don't exactly know how your data is being stored.
The free version only allows two conversions per hour.
User Review: "A useful but limited option"
As an online free PDF to Excel converter, Smallpdf is extremely comprehensive. Drag & Drop functionality and intuitive user interface. Its online-first design avoids typical problems of depending on one specific computer for specific tasks. But working with big files will be slowed down due to network performance. And the Chrome Extension seems useful but requiring read and write access to all websites is a security nightmare.
2. iLovePDF
This is an option that has extended to all platforms. With mobile and a PC option to go along with its online version, this software intends to be a one-stop shop for everything PDF.

Pros:
It has a free version, and the paid option is one of the cheapest in the market.
User interface supports several languages.
Quality of PDF files converted to Excel files.
Needs absolutely no experience with similar products and promises to be an asset in terms of space and number of items processed. 
Security outlined, as every uploaded file will be eliminated within 2 hours.
Cons:
Files of more than 40MB can't be processed.
Uploading can be laggy and show errors.
It takes a lot longer than some other software to process documents.
User Review: "Easy pdf tool for compressing large files"
Overall: It saves my time so I highly recommend it. Compressing pdf files doesn't take anytime and very easy to use.

Pros: Free pdf tool that helps me to combine and merge different pdf documents and convert pdf into word document or JPEG by one click. Also, I use it to compress large pdf files without reducing the quality of my documents

Cons: More privacy and security are needed to make sure that my documents are secured."
3. Online2PDF
Online2PDF is a type of free PDF conversion software that allows you to transform your PDF documents into several formats, which can be easily opened with MS Excel. You don't need to be any sort of expert and it can make the job of converting with no hassle. It promises a step-by-step guide and several options available, including compressing, merging files, splitting files, rotating pages and even document protection.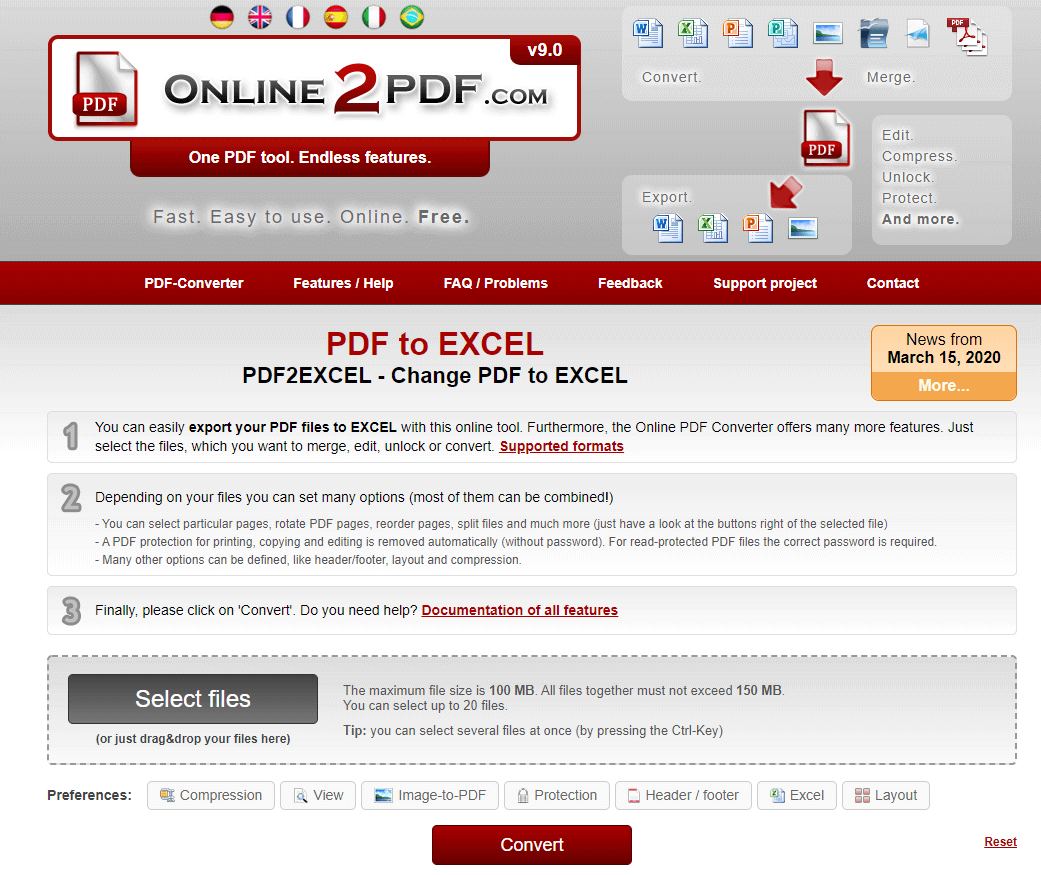 Pros:
It has the basic functions necessary to convert jobs without having to invest a lot of time or effort in the process.
Multiple conversion processes are available with a fast conversion facility.
Free for everyone.
Files are deleted immediately.
Cons:
Files can end up being heavier than the original file.
Fonts on characters may be translated incorrectly, requesting for extra tools.
User Review: "Easy online pdf conversion"
I have used them a few times now converting PDFs to excel. Easy to use the conversion is very near to original, sometimes will need a tweak but overall the final product is very good.
4. Nitro Pro
Nitro Pro is easy to use and adapts to all business sizes. With a full range of features to support all PDF related functions, it is one of the best alternative solutions for online PDF to Excel converter (and other formats) at a price. Nitro is one of the sturdiest looking tools and is very popular because of its clean-cut interface.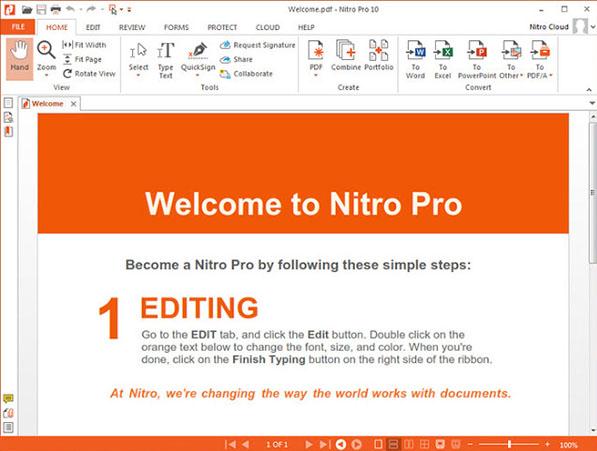 Pros:
Affordable rate.
Supports most file formats.
Simple to understand and navigate.
Cons:
There is no option to embed audio and video files.
Large files are not read by OCR.
It does not support the latest file formats like EPUB.
Only five conversions per month for Free.
Does not support indexing.
Some images may get lost.
User Review: "Easy to use but not free"
I take Nitro as my online PDF to Word/Excel converter online but its capabilities are not limited to converting PDF to/from other formats. It is a very intuitive and easy-to-use tool to handle PDF documents but not completely free. You can only compress 2 PDFs in an hour unless you pay good money per month.
Part 3. Why Choose Converter Instead of Convert PDF to Excel Online?
Many people would argue that this is the easiest way to convert your files, not to mention the fastest. And sure, you get a lot of very valuable tools with a converter online, whether it is a paid or a free one. But do you really know how your data is handled, and how exactly your conversion is going to be?
With online PDF to Excel converters, you do not have the certainty that you are getting a safe space for all of your files, as you do when you are in an offline software directly on your Pc, giving you full control.
Conclusion
Several PDF to Excel converters online have been shown in this article. Just pick up the one you like. Then let it solve the problem for you and make your work easier and more efficient. If you want to convert a batch of files and keep your files save enough, the desktop-based converter iMyFone MintPDF is highly recommended by many users. 3 pages free for every PDF file conversion. You can check the free trial version first before purchase.