Converting a PDF to JPG file is very easy. There is a multitude of ways to do so by using websites, third-party applications, apps, etc. The downside is the reliability and accuracy of these platforms, and whether they are malware-free. Thus, in this article, we will break down 5 of the most effective PDF to JPG converter tools on Windows you can adopt.
Method 1: Adobe Acrobat DC – Professional But Paid

This is the most used method because of the convenience of using Adobe. However, although there is a trial version, this program is not free. Ff your Adobe license has expired, you will not be able to use this method without paying a subscription fee, and hence we introduce other methods that are free for all on the Windows 10 platform.
Here is how to use Adobe Acrobat DC to convert PDF to JPG on Windows 10.
Step 1: Open the PDF in Acrobat.
Step 2: Click the Export PDF tool in the right pane.
Step 3: Choose Image as your export format, and then choose JPEG.
Step 4: Click Export. The Save As dialog box is displayed.
Step 5: Select a location where you want to save the file, and then click Save.
Step 6: Each page in the PDF will be saved as separate JPEG files.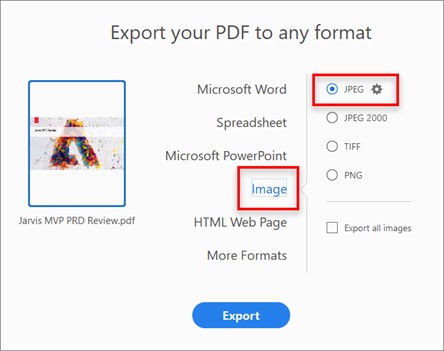 Pros:
Allows you to convert entire documents compared to converting it one page at a time.
Easy to navigate and user-friendly interface.
Clean formatting, stable and reliable program.
Cons:
Video Tutorials and Manuals don't provide much help.
You might need to purchase this software if it doesn't come free with your laptop/desktop.
Cannot merge files in the unpaid version.
Method 2: iMyFone MintPDF – Balanced And Effective

This software is a great replacement for Adobe since the Adobe license expires very quickly and is costly. MintPDF on the other hand, is a free for all software if you are using Windows 10 and supports various file formats with a clear and easy to use interface.
This method is highly recommended for all who is looking for an all-in-one solution for all your file conversion woes. It even allows batch conversion which makes it very quick and convenient even when converting multiple large files. Furthermore, you can also merge all PDF pages into on single JPG image file, which is a function that is very rare in the market.
Key Features:
Copy PDF to Word with original formatting.
Select any part of the document to copy.
Supports Word(docx, doc), Excel(xlsx, xls), images(jpg, png, bmp, gif, tif), PPT(pptx, ppt), txt and html
High converting speed and solid output quality.
Get 1-day free license by sharing MintPDF on social media.
Here is a simple guide on how to use MintPDF to convert PDF to JPG on Windows.
Step 1: Download, install and launch the software.
Step 2: Import your source PDF file by dragging and dropping it on the program interface or clicking "Add Files". Under the "Convert PDF" bar, select the file type you would like. To convert PDF to JPG, select "To Images", then select "JPG" as the output format.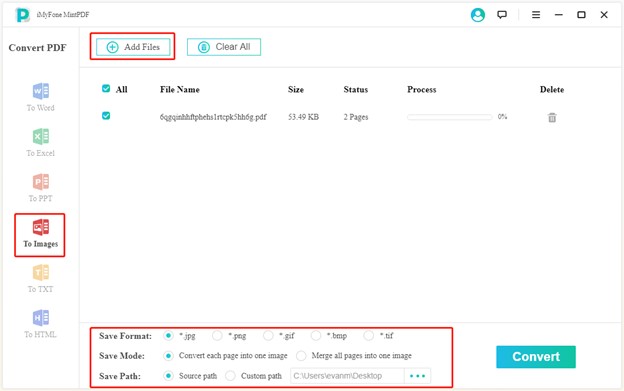 Step 3: Select files and click the blue "Convert" button at the bottom right to start. Wait for your files to finish and then you can open the folder to check the images.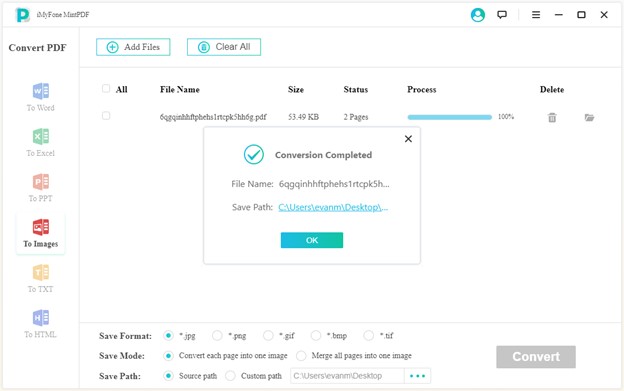 Pros
Don't have to worry about file compatibility issues.
Easy to navigate with high output quality.
Allows batch conversion with no size limits.
Cons
Need to download (Free) beforehand.
If your desktop is slow, conversion process will take a longer time to complete.
Method 3: PDF to JPEG app in the Windows Store – Small and Simple

This simple looking app with bare minimum graphics and icons make it easy for everyone to convert a PDF to a JPEG file. However, it is troublesome if you need to download multiple apps like these to convert various file formats.
Steps to convert PDF to JPG with "PDF to JPEG":
Step 1: Locate your Windows Store and look for the App "PDF to JPEG".
Step 2: Download and Launch the App.
Step 3: Select file by clicking on the "Select File" button in the upper left of the window.
Step 4: After selecting the file, select a save location.
Step 5: Convert once you're done with the selection.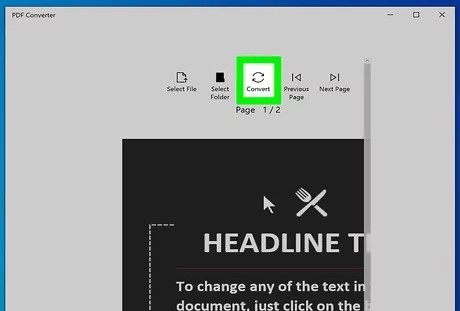 Pros
Simple and plain interface to navigate around.
Easy to figure out how to use even without instructions.
Cons
Needs to be downloaded beforehand.
Not the most appealing interface.
Only does conversion of PDF to JPEG. Need to find other converters for other file formats.
This method is relatively quick since you only need to access the site whenever you need to make a conversion. If you need to convert long term or in an area where you have no internet, this might not be the best option.
Here is a simple guide for your reference.
Step 1: Go to the website.
Step 2: Drag and drop your PDF file into the converter or click "Choose File".
Step 3: Select "Convert entire pages" or "Extract single images".
Step 4: Click on "Choose option" and wait for the process to complete.
Step 5: Download the converted files as single JPG files, or collectively in a ZIP file.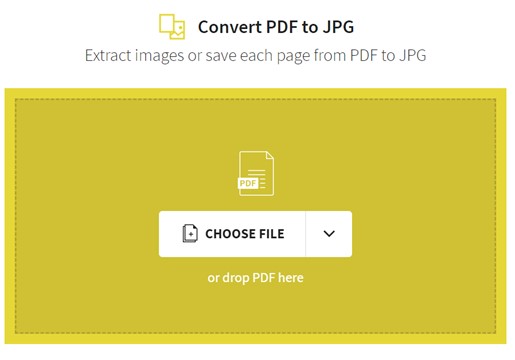 Pros
Does not need to be downloaded.
No file size limit of registration required.
Image quality and resolution remains.
Cons
Need to keep revisiting the site whenever you want to convert a file.
Site relies on the internet for operation and is not accessible offline.
Files are uploaded and shared online, so security may be an issue.
Method 5: Ice Cream PDF Converter – A Versatile Tool

This is another easy-to-use desktop PDF converter program that can be used to convert PDF to Image on Windows. The program provides the function to either convert from PDF, or to PDF, and the process is simple either way.
Now let's have a look at how to use Ice Cream PDF Converter to convert your PDF files to PDF
Step 1: Download, set up and launch the program.
Step 2: Drag and drop or add PDF files manually under the "From PDF" tab.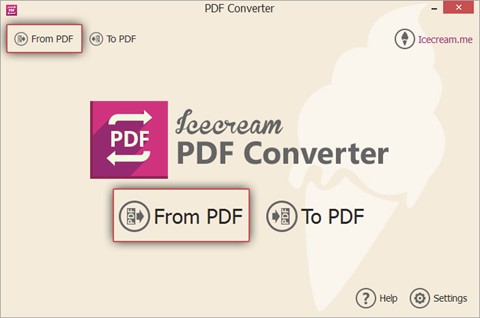 Step 3: Configure your settings after selecting the file to convert (Choose whether to split pages or whole file after conversion).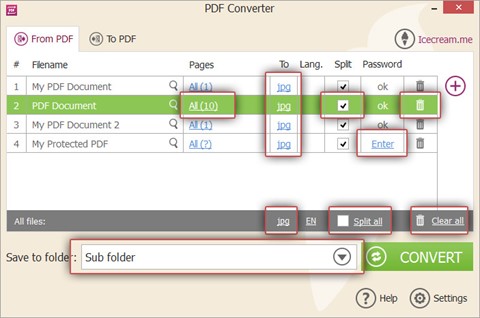 Step 4: Once done, click the green "CONVERT" button at the bottom right corner.
Pros
Intuitive and easy to use.
Quality of conversion is similar to in original PDF.
Quick conversion and downloading of converted file.
Cons
Has lots of limitations in the free version.
Needs to be downloaded.
Maximum conversion limit is 3 files at once in the free version.
Conclusion
All in all, there are many ways to convert a PDF to JPEG file. Our recommendation is to adopt the MintPDF option as it allows the conversion of various file formats without the need to worry about security issues. The installation process is easy, your converted images come out looking crisp, and it takes care of all your PDF related needs.