While working, you may have found yourself in a situation where you need to freely use the content of a PDF file in PowerPoint. No doubt, retyping everything will be tedious and time-consuming. You can avoid the stress if you use the right tool to convert PDF to PPT.
Part 1. Top 7 Tools to Convert PDF to PPT
1. Adobe Acrobat (30 Days Free Trial)
Adobe Acrobat is a standard document management system used to convert PDF to PowerPoint. The supported OS for the software includes Windows 7, 8, 8.1 and 10. This converter allows you to export PDF to PowerPoint and start new projects without necessarily starting afresh. When the converter turns PDF to PPT, users can edit, share, sign, search, protect and save without difficulty.  New users get free 30days trial but will have to put in their payment details before access is given.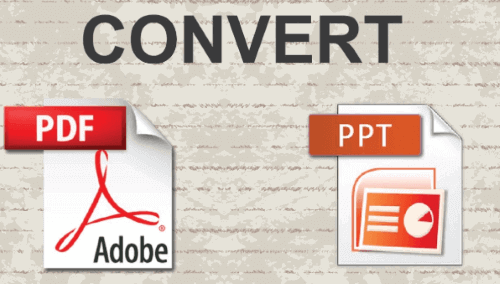 Features:

Export pdf to PowerPoint on windows or android phone.
Important files can be starred.
Sends and tracks documents online.
Pros:

It gives great security settings.
It makes files more readable and manageable.
Gives users the ability to export PDF in many formats e.g. PDF to PPT.
Cons:

Looks quite cumbersome, users have to learn to use it.
It takes time to open large files.
2. SmallPDF (14 Days Free Trial)
SmallPDF is a conversion tool that makes it easier and faster to turn PDF to PowerPoint at no cost. Users get a 14days trial but will be required to subscribe afterwards to gain full access. This PDF converter requires a good internet connection when used on the web. Users have to upload to convert and download after conversion. This converter enables a high-end level of privacy by deleting converted files from the servers after one hour.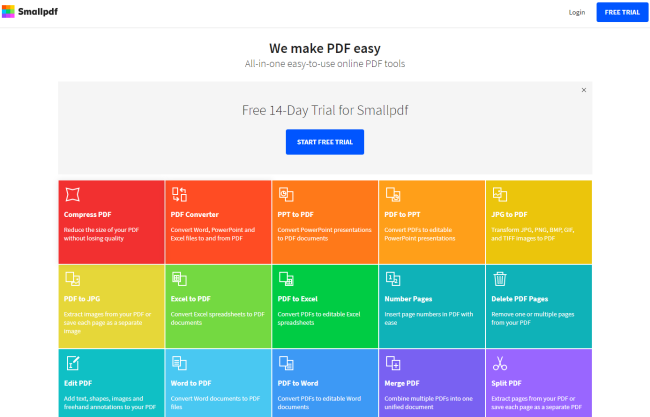 Features:

PDF files conversion to 4 different formats – Word, Excel, PowerPoint and JPG.
18 different tools to convert, compress, split, merge, edit and extract files.
Pros:

It is very fast.
Functions are inclusive.
Users can convert PDF to PPT without encountering any loss of information.
Cons:

Poor internet connection affects the conversion of large files.
The desktop software version lacks some of the website functionalities.
Has no mobile application.
3. TalkHelper PDF Converter (Full Version)
TalkHelper PDF Converter has been identified as one of the best offline software used to convert PDF to PPT and other formats. Users do not need to upload their files online before converting which ensures the total privacy of all files. This full-version converter has a unique interface and features that allow users to remove passwords, split, compress, combine, extract and rotate. Operating systems supported include Windows 7, 8, 8.1 and 10.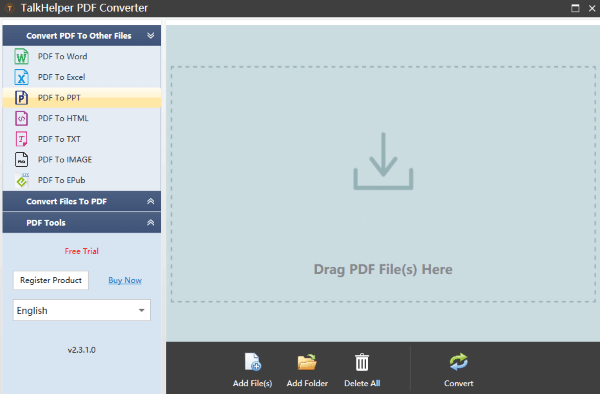 Features:

Multi-format conversion support.
Robust security features.
Split and merge features.
Quality and originality are maintained after conversion.
Pros:

Batch conversion of files.
Interactive user interface.
Cons:

Storage is limited.
4. PDFConverter (Free Online)
PDFConverter is one of the online, free and easy to use tools that you can use to convert files from PDF to PPT. Users can merge, organize, convert and edit several files at the same time. Upon conversion from PDF to PPT, users can download the converted file and delete every traces of the file from the server. If users do not delete their files afterwards, the server will automatically delete the file after 3 hours to secure information. PDF converters can be used to change PDF to PowerPoint on any operating system, including Mac, Linux and Windows.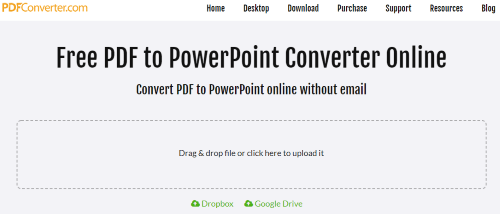 Features:

Conversion from PDF to PPT and other formats.
Revamp of paper documents.
Pros:

Files can be reviewed before conversion.
Cons:

Files are not recoverable after deletion.
5. Online2PDF (Free Online)
This is another excellent tool that can be used to export PDF to PowerPoint and other formats. Online2PDF has several options that can be used for free based on the file type. Just by uploading the file online, users can compress, merge, split, remove passwords, rotate pages, define headers and also unlock files. Once the user downloads the new file, the server deletes the file immediately. This tool converts PDF to PPT without requesting basic or premium fees from users. It' free and also performs limitless conversions.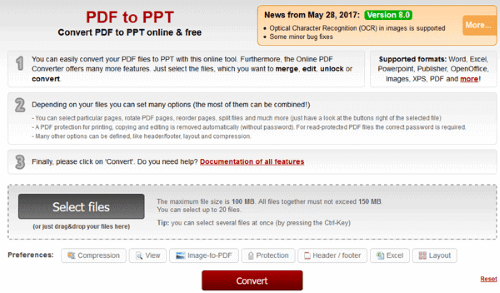 Features:

Converts PDF to PowerPoint, Word and Excel.
Split and merge files, extract pages, and rotate pages.
Compresses files to reduce size.
Unlocks and removes password set on files.
Pros:

Easy to use. 
Bulk file conversion.
Multi-language support.
Cons:

The user interface not very neat.
Interference of Ads.
6. Zamzar (Free Online)
As one of the best free online converters, Zamzar has the features that everyone needs to easily export PDF to PPT. Users who do not want extra plugins on their PCs can use this alternative tool that lives online. You can use Zamzar on PCs or mobile devices at any time. Zamzar can specifically be used on windows 7, 8 and 10. Uploaded or converted files will be automatically deleted from the server after 24hours.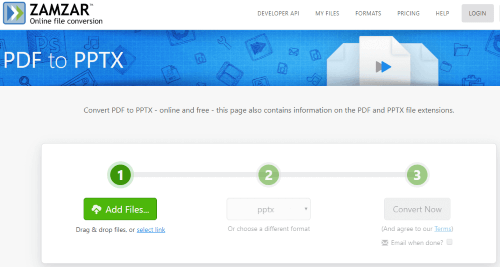 Features:

Fast file conversion.
Multiple files can be dragged and dropped.
Sends an email when the conversion is done.
There is nothing to install.
Free to use.
Pros:

Helps to manage files.
High traffic on the website can delay conversion.
Cons:

The basic version has a longer waiting time.
24hours file availability.
No bulk conversions. The free version requires users to convert one file at a time.
7. LightPDF (Free Online)
With LightPDF, users can turn PDF to PPT and other formats with ease. This converter's content editing options allow users to modify content and adjust images. Its online OCR service helps users to extract text from images and convert to docx, TXT, PPT and other formats. Upon conversion, users can download watermark-free and high-quality files.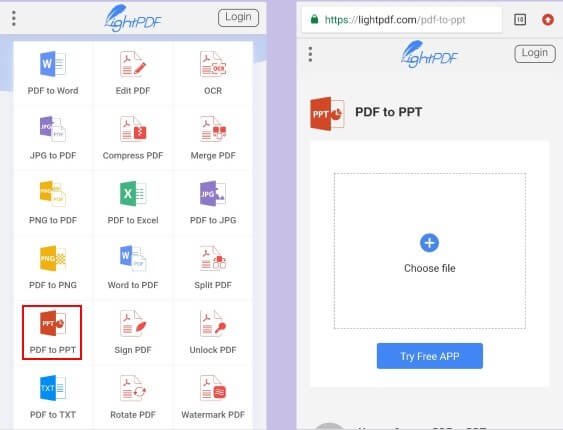 Features:

Installation is not required.
Guaranteed privacy to keep user information safe.
Pros:

Fast and stable processing speed.
Effortless conversion.
Supports multilingual languages.
Simple user interface.
It can be used on both mobile devices and computers.
It doesn't contain ads.    
Cons:

Large files may affect the normal loading time.
Part 2. Comparison of the 7 PDF to PPT Converters
There are various converters, but each converter has its own unique properties and gives its own unique result. So, it's important to make the right choice when considering the type of PDF converter to use. We hope the table below helps.
PROGRAM

FEATURES

PRICE

VERSION

Adobe Acrobat

-Well secured and dynamic PDF to PPT conversions

30 days free trial

App or online

SmallPDF

-All inclusive
-Easy to use

14 days free trial

App or online

TalkHelper PDF Converter

-User friendly
-Support batch conversion

$29.95 pro version

App

PDFConverter

-Support to merge, organize, convert and edit

Free

Online

Online2PDF

-Support to merge, organize, convert and edit
-Delete files immediately after use

Free

Online

Zamzar

-Support PCs and mobile devices
-Delete files after 24h

Free

Online

LightPDF

-Watermark free

Free

Online
Conclusion
There you have it; things just got easier for you. Now you know what options you've got if the need to convert PDF to PPT ever arises. Whether you go free or premium, online or PC based, you can't go wrong with any of the tools listed above. Just do well to select one that best suits the demands of whatever task you have at hand.