When choosing the best PDF to word converter online, users take into consideration several aspects before settling on one. For starters, the process of converting PDF to Word online can be tedious and time-intensive, particularly if you are using the wrong tool. You should look for a converter with specific features that address all your PDF needs perfectly. The fact that most conversions involve either Word or Excel or both means that you have to choose a PDF tool that offers both functionalities. Additionally, the price and the number of files and size supported should be taken into consideration.
1. iLovePDF
In the past few years, iLovePDF has transformed to become one of the best PDF to Word converter online popularly used across the world. Unlike other brands, the company has introduced several features making the converter different and better than previous versions. For one, it has enhanced the accessibility and quality of the service. Additionally, they have ensured that the tool is one of the most effective PDF to Word converter online for free. Currently, it is regarded as one of the easiest to use online to convert PDF to Word quickly and effectively.

Pros:
It has a user-friendly interface and features that run automatically, making it very easy to use even for first-timers.
iLovePDF supports 25 languages, including French, Chinese, English, Dutch, and Italian.
It supports the batch-processing of multiple PDF files.
It is easy to manage files using this converter.
The platform supports Google Drive and Dropbox as well as mobile using iOS and Android, allowing users to access it via PC and smartphone.
Cons:
Does not support some of the most popular tools, such as TXT to PDF, PDF to TXT, PDF to EPUB, EPUB to PDF, PDF to RTF, RTF to PDF, and so on.
OCR is not supported in free version.
A limited number of files and the size allowed per task.
Even though it has a desktop version, it doesn't support Mac OS and Windows, 32 bit.
2. PDF Online
PDF Online comes with a wide range of manipulation features for merging, splitting, rotating, deleting, extracting, and optimizing. Users can extract, insert, and update data in PDF before converting. The company recently upgraded the system and now supports Unicode. It is designed to preserve the fonts, paragraphs, lists, tables, and columns of the PDF file in the Word output. Most importantly, users are not required to register, login, or supply personal contact information.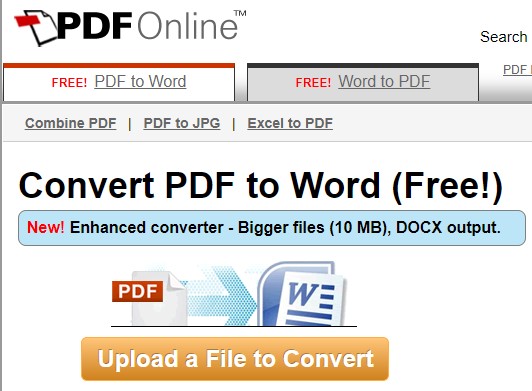 Pros:
Users can download the converted file directly and instantly since it does not require an email address.
PDF Online supports RTF and HTML.
It takes less than a minute to convert a simple and small PDF file.
It is secure since the company automatically deletes all your files within a few hours.
Cons:
There are too many ads on the site and hard to complete the converting process.
Pricing can be expensive for users, and it does not provide a free limited version.
PDF Online limits the file size to 2 MB.
It does not support OCR function.
3. Smallpdf
Smallpdf is a lightweight PDF to Word converter online that is equipped with all the basic functionalities needed to execute conversion tasks. Users can exploit all benefits offered by this PDF solution directly from their web browser, eliminating the need to download and install the software in their PCs. From converting to merging to compressing and splitting PDF files, users can execute several tasks effectively using this platform. Being a lightweight converter, Smallpdf does not have all the robust capabilities possessed by other full-scale desktop solutions. Even though this can be a disadvantage for megaprojects, it is ideal for users who only need specific functionalities to execute their tasks without all the other complex features. Currently, Smallpdf is used over 15 million times every month.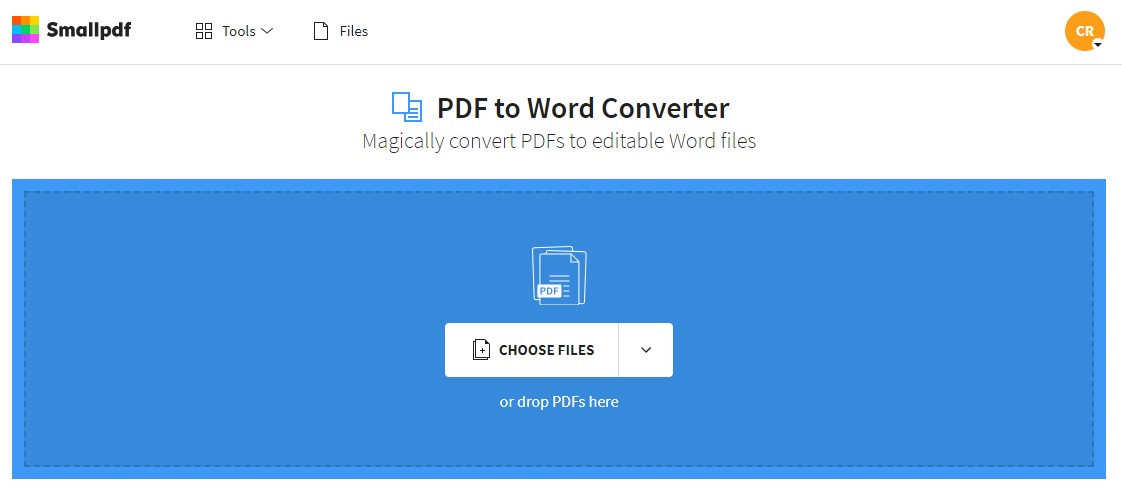 Pros:
When it comes to editing and converting PDF's to different formats, Smallpdf is super flexible.
It is highly versatile when converting Excel, Word, and PowerPoint.
It offers a wide range of functionalities for conversion and compression.
Smallpdf provides users with a fast but effective solution.
Cons:
Smallpdf have too many ads, which can irritate and frustrate users.
Even though it is fast, the process can take longer when converting heavy PDF files.
It has only limited features, making it unsuitable for mega and complex conversion tasks.
It does not support batch processing for free version.
4. PDF2Doc
PDF2Doc is regarded as one of the most user-friendly online converters for a reason. For one, its website's interface is pretty simple and easy-to-use, which can be used by anyone to convert PDFs online quickly and effectively. It is designed to ensure that the original PDF text, fonts, layout, and bitmap images are maintained in the generated Word document. Additionally, PDF2Doc offers its services not only for free but also via mobile devices. Having a functional mobile version enhances the accessibility of the tool to users anywhere at any time. With PDF2Doc, users can convert up to 20 files at a time, with the option to download all the files at once as a ZIP file or download each file one by one. It is professional allowing users to convert Word Doc to PDF as well as merging, unlocking, and editing of PDF files.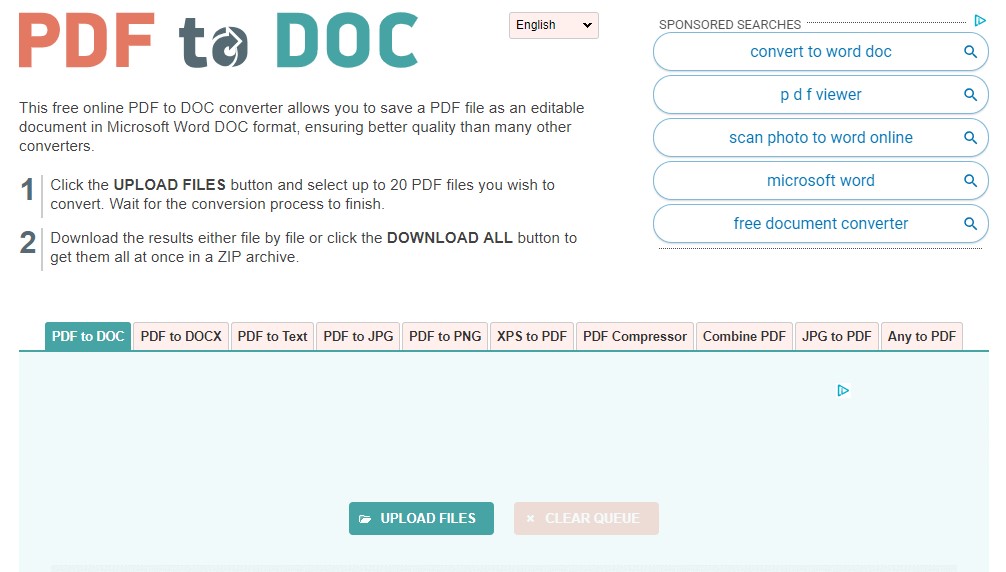 Pros:
Users can convert up to 20 files.
PDF2Doc is a free online web-application.
It is available and functional both on desktops and mobile devices.
The converter allows for both single and batch file upload and download.
It yields an impressive output, particularly for PDF to doc conversion.
Cons:
Users can only download files that are less than 50 MB in size.
The platform has a lot of ads.
It has a relatively rudimentary interface.
5. AltoConvert
AltoConvert is a PDF to Word converter online for free. It has several features that allow splitting, merging, extracting, combining, compressing, and rotating files. As a free service, users are not required to register, which ensures that the identity of users remains anonymous. AltoConvert has a simple interface and cross-platform abilities, making it one of the best PDF to Word converter online for free.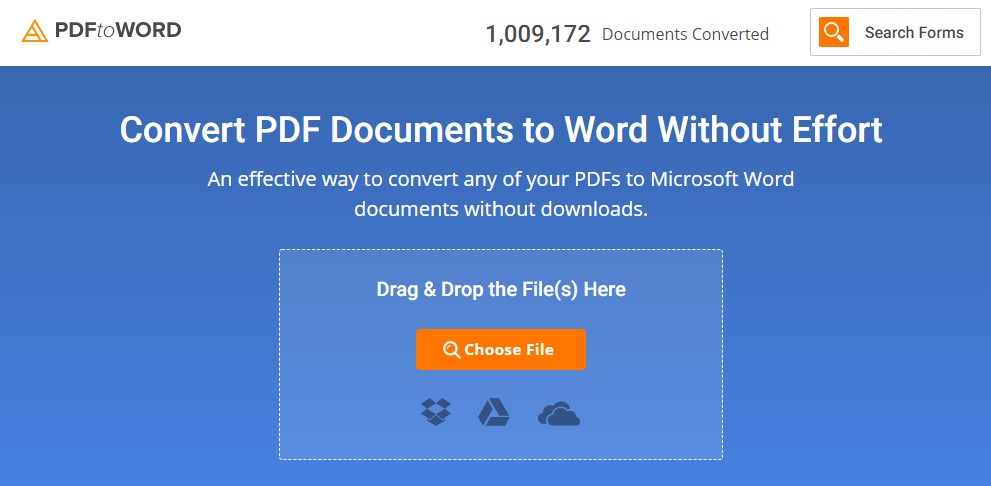 Pros:
It offers its services for free.
It does not have limitations on the number of files per hour or day.
The platform's interface is intuitive and user-friendly.
It does not require downloading and installing the software since it is web-based.
It supports several operating systems.
Cons:
It does not offer the highest level of security.
Its features offer limited functionality, particularly for big projects with over 100 tasks.
AltoConvert can be difficult to use.
The platform displays ads that can be distracting and irritating while working.
6. An alternative to PDF Converter Online:iMyFone MintPDF
Even though there is a wide range of online converters in the market, each solution has several limitations that can undermine your operation. If you worry about the safety of processing your files online. This is whereiMyFone MintPDF comes in handy.
With iMyFone MintPDF software, you are assured that all your needs will be addressed beyond your expectations. This robust software is a desktop version that is advantageous over most of the other alternatives and delivers in more ways than one. The most important aspect of assessing when choosing a converter is functionality.
Have a quick look at some of the amazing features:
File Support for Word, Excel, PPT, TXT, and HTML as well as image files
Exceptional Output File Quality
Batch conversion support for high volume conversion
NO LIMIT on file quantity or file size
Free version - convert up to 3 pages of file
Sharing Bonus - Share on Facebook, Twitter, Pinterest and you get 1-day free full license
Final Words:
Although the fastest and effortless option to change a document's format is to use pdf to word converter online, each of the top PDF to Word converters has several limitations. From iLovePDF to PDFOnline to SmallPDF, PDF2Doc, and AltoConvert, the benefits of using these solutions are undermined by their limitations. For those seeking software that addresses all their conversion needs, iMyFone MintPDF has emerged as the best alternative. Based on the assessment, iMyFone MintPDF offers more than the other alternatives for much less.