Flash technology is widely applied to transfer data from computers or store files, photos, videos, etc. in a portable way. Removable storage devices like memory stick, Pen Drive, and USB flash drive all adopt this technology. However, there are instances where data gets lost from a USB Flash Drive due to accidental deletion or you unplug the USB during transfer, which is a common situation for many people. Today, we've put together 3 easy ways on how to recover deleted files from flash drive, let's check them out.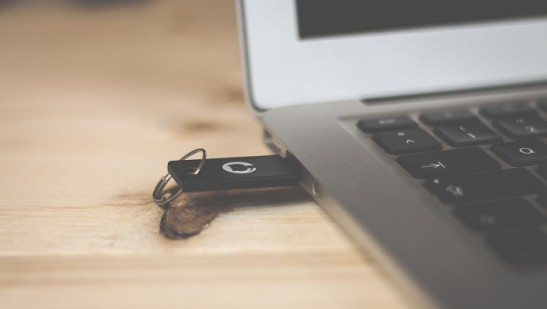 Solution 1: Undelete Files from Flash Drive Using a Recovery Tool
Using a professional data recovery software is the fisrt way we choose to recover deleted files from USB because it doesn't involve complicated procedures and is the most efficient way.
Note
Whatever the reasons that lead to USB data loss, to successfully undelete files from flash drive, stop using the flash drive immediately and keeping it in safe condition, then perform USB data recovery as soon as possible.
From a variety of data recovery tools, iMyFone AnyRecover undoubtedly stands out with its superb features. The software is suitable for both Windows and Mac users as it's compatible with Windows 10/8/8.1/7/XP and macOS 10.9 to macOS 10.15. Besides, AnyRecover integrates quick scan and deep scan to save time and ensure a high recovery rate.
Amazing Features of iMyFone AnyRecover:
Everything is Recoverable - Supports more than 1000 data formats, including images, documents, multimedia files, emails, archives, etc.
100% Safe Data Recovery – 100% safe to use and restore lost data on various devices without overwriting original data.
Recover from Anywhere – Recover not only from flash drives but also from computers, hard drives, memory cards, thumb drives, cameras, and camcorders etc.
Free Scan and Preview - Enjoy free scan and preview with AnyRecover, only retrieve the lost data you want.
Steps to Perform Usb Flash Drive Data Recovery with AnyRecover
Step 1: Connect your flash drive to the computer.
Step 2: Launch the AnyRecover data recovery software and select your USB flash drive from "External Removable Devices", then click Start.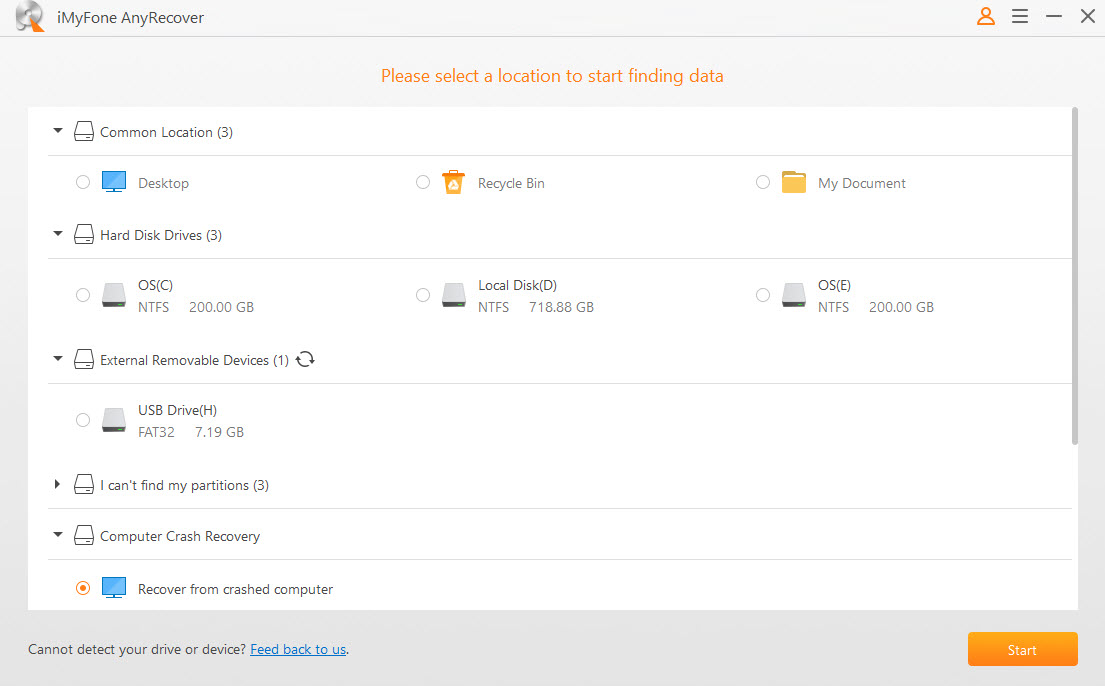 Step 3: AnyRecover will start scanning the flash drive and searching for lost files.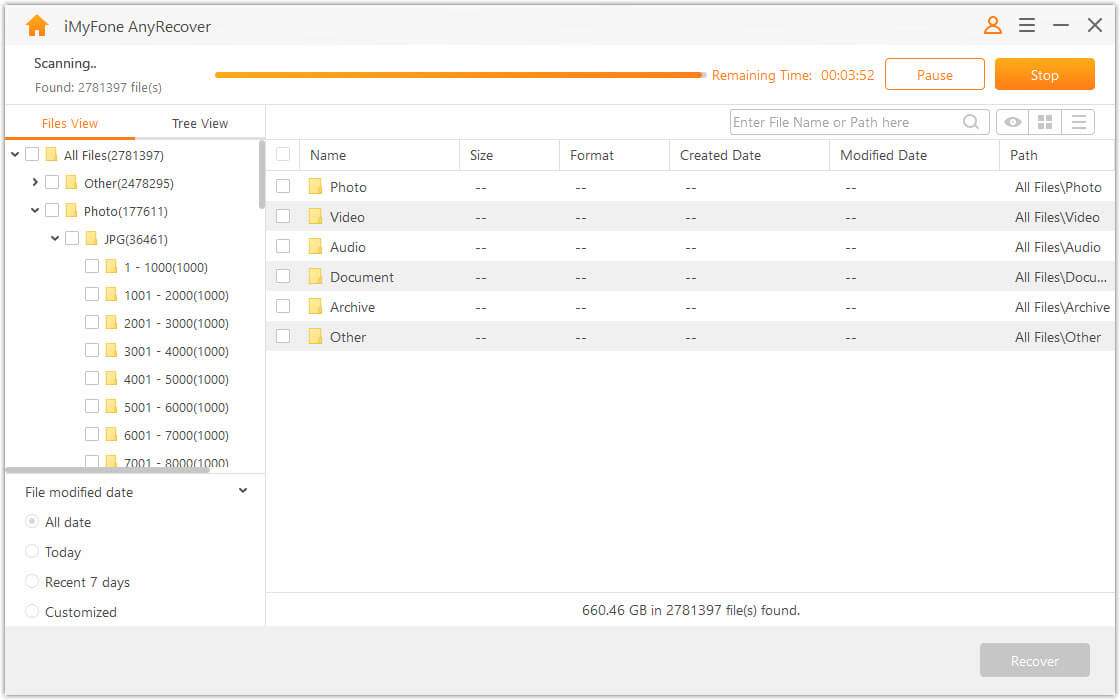 Step 4: After it finished scanning, all you lost files will be listed on the left side. You can choose to preview and then click "Recover". Now you have successfully retrieving deleted files from USB.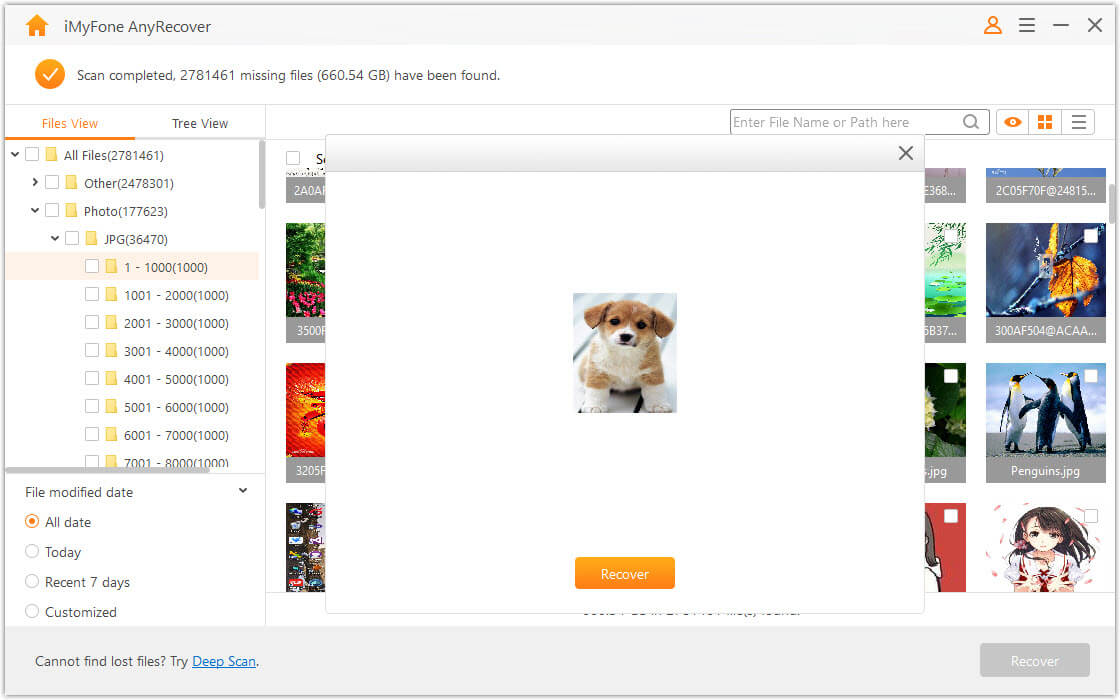 Solution 2: Recover Deleted Files from USB Drive Using CMD
Another way to recover deleted files in flash drive is using Command Prompt. However, Command Prompt is an application only available on Windows Operating System, and is not useful to recover deleted files from flash drive on mac.
Steps to Recover deleted files from USB Drive free using CMD:
Step 1: Insert USB Drive to your computer, then open Start and look for the "Search programs and files" option.
Step 2: Type "CMD" and press "Enter" to open the Command prompt window.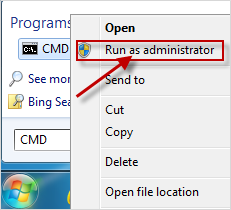 Step 3: While in the Command Prompt window, type chkdsk H: /f and press "Enter." (however, you can replace the H with the USB Flash Drive letter).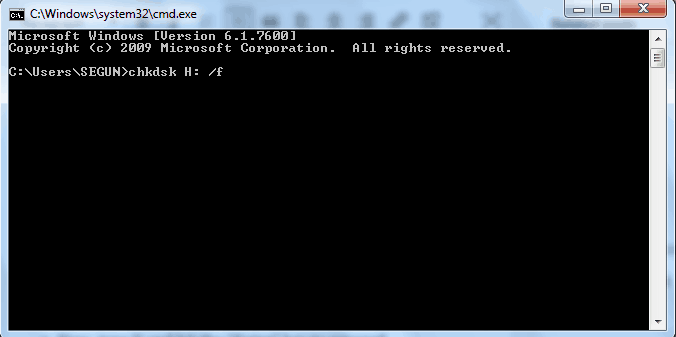 Step 4: Afterward, type Y and press "Enter" to proceed with the program.
Step 5: Type H or the USB Flash Drive letter and press "Enter" again.
Step 6: Lastly, type H and press the Enter key.
Step 7: In few seconds or minutes, wait for the process to be completed.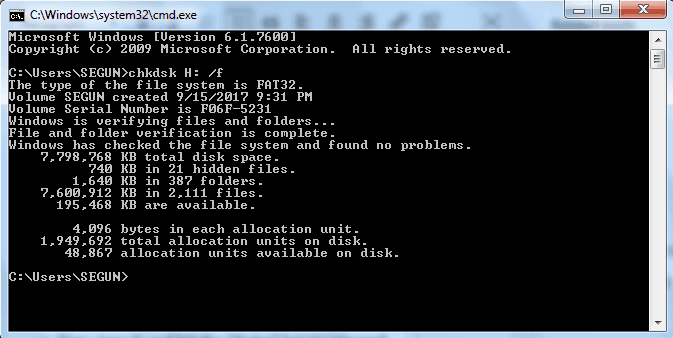 At the end of this program, all deleted files will be found on a new folder created on the USB drive, which can then be moved to a new, different location.
Solution 3: Recover Deleted Flash Drive Files from Previous Versions
To recover deleted files from USB without software, you can take advantage of previous versions. Previous versions are either copies of files and folders which have been created by Windows backup, or files and folders which Windows has automatically saved as a part of its restore point. Previous versions are often used to recover files that have been deleted or modified by accident, depending on the type of file or folder.
Steps to Undelete Flash Drive from Previous Versions:
Step 1: Right-click with your mouse on the file or folder, and then click on Restore Previous Versions.
Step 2: However, before restoring a previous version, select and review the previous version to be sure it is the right version.
Step 3: Restore the previous version, by selecting the previous version and click on Restore.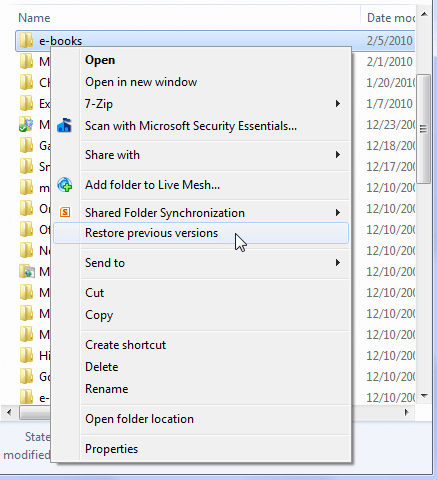 Tips: How to Prevent Data Loss from Flash Drive
It's annoying to lose or accidentally delete important files in your flash drive. Although there are several ways to undelete files from flash drive, it's better to avoid data loss. Here are a few tips to keep your flash drive safe:
Setting user permissions for your drive to prevent unauthorized users from messing up with data on your drive. Right-click on your drive, navigate to the Security tab and tap "Edit". Not set the suitable permissions.
Maintain a routine scanning of your device to keep your flash drive safe. Format your USB drive from time to time and keep up to date antivirus software.
Don't plug any unknown flash drives into your computer - this is one of the most important pieces of advice you need to know.
Don't use any random computer, because it may carry multiple viruses that would brake your flash drive in just a second.
Go offline while transferring data so chances for getting your flash drives infected are low, and don't unplug during transfer.
---
In conclusion, all the methods listed above as a solution to recover deleted files from flash drive are quite useful. However, we highly recommend iMyFone AnyRecover as it ensures the highest success rate, it has a free trial version.