If you can't find the videos of some of the most memorable events you captured on your sony digital camcorder, it's a heartbreaking moment. You're probably combing through many solutions to figure out how to recover deleted videos from the sony camcorder free. Were you doing the same?
At that time, you'll ask yourself, '' how to recover deleted pictures from a computer hard drive''?
That's what we will reveal today. Stay connected to the last of this article to know the most workable video recovery method!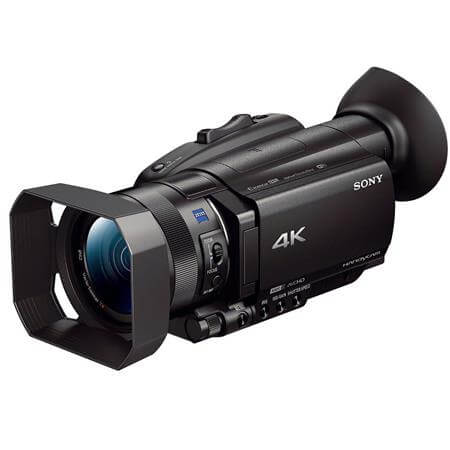 Part 1. How to Recover Deleted Videos from Sony Camcorder with Camcorder Video Recovery Software
It's a depressing moment of losing your precious videos from your sony camcorder. But wait, camcorder recovery software can give you significant relief. Want to know how to recover deleted videos from a camcorder for free, then the only answer to your question, how to recover deleted videos from a camcorder for free is hidden in the D-Back Hard Drive Recovery Expert.
Unlike other recovery tools that brag about the exclusive features, iMyFone D-back Hard Drive Recovery Expert have proven that they can do what they advertise. With the most powerful and accessible camcorder video recovery software, we recommend you try. We must say you'll never regret using it!
It has become harder to find a trustable and professional recovery tool as every other software claims to be the best. Then how can an iMyFone D-back Hard Drive Recovery Expert be the best to recover your data? Don't worry; its features will say all about its reliability. Let's take a look at them!
Main features of iMyFone D-back Hard Drive Recovery Expert:
It makes data recovery easier with its powerful and user-responsive interface.
You can recover more than 1000 file types with this excellent tool.
Whatever the data loss situation you're in, it can resolve all of them with its deep scan feature.
Preview your files before recovery to ensure that the file is responsive.
A filter option is introduced to filter out all the files and help you find out the one you want.
The file saving option enables users to save their recovered files on their respective devices.
Step 1: Install the tool by just clicking the install button. Then Connect the device to your computer from which you want to recover your video, whether it's an SD card or camcorder. Now, locate your external devices and hit it to start the scanning process.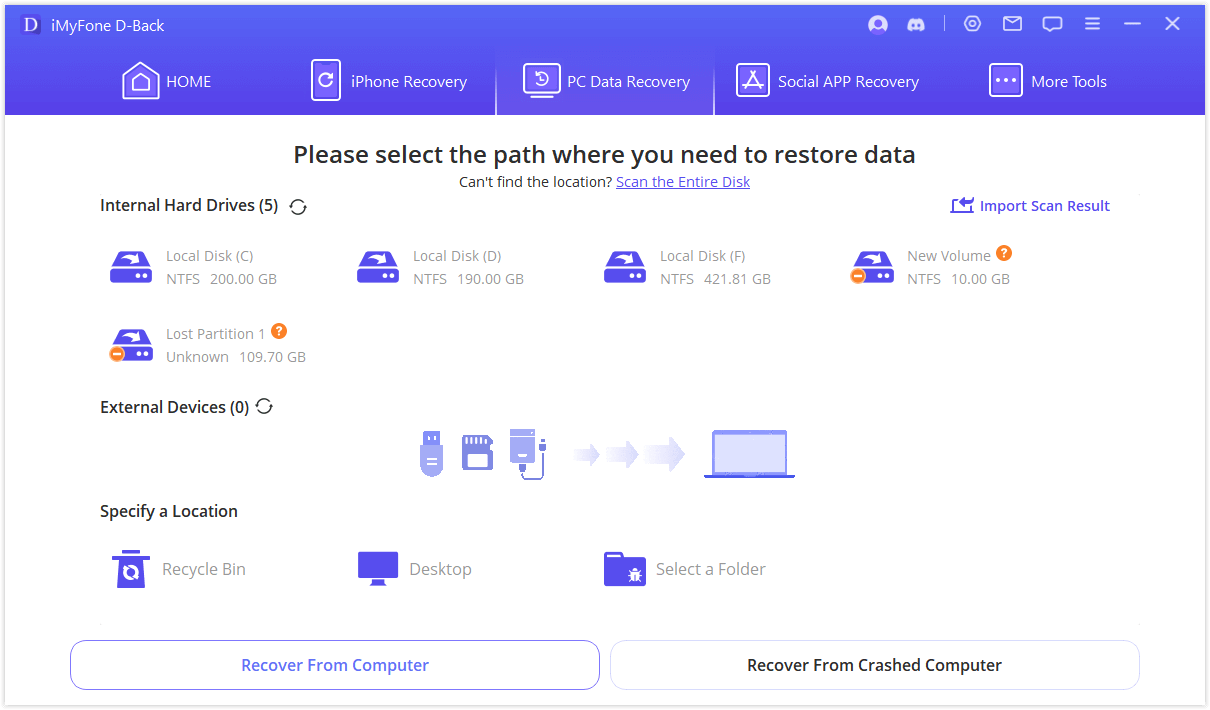 Step 2: The tool will start an all-around deep scan of your device as you've hit up the external device. You can stop or pause it anytime while scanning. After that, you can preview your files.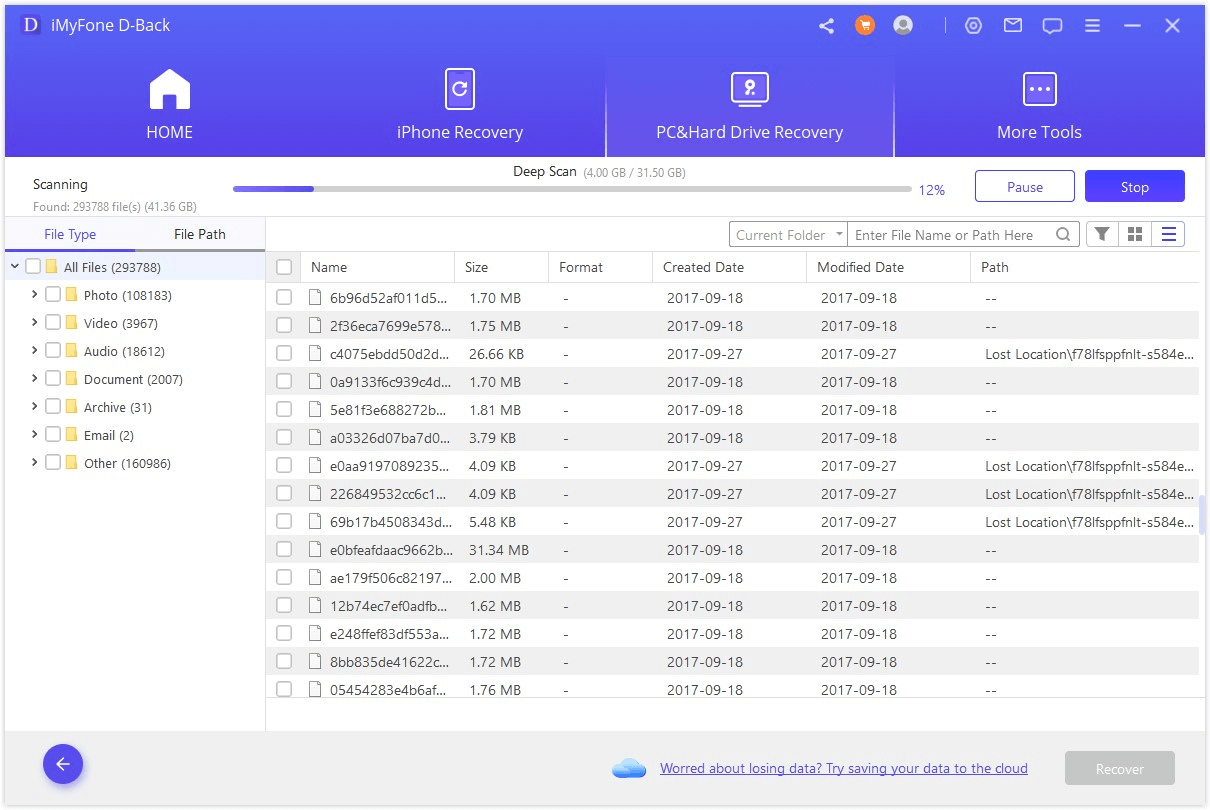 Step 3: As you're done with the scan and preview, now you can locate the individual file and click recover. Just after recovery, save it to your computer or any device.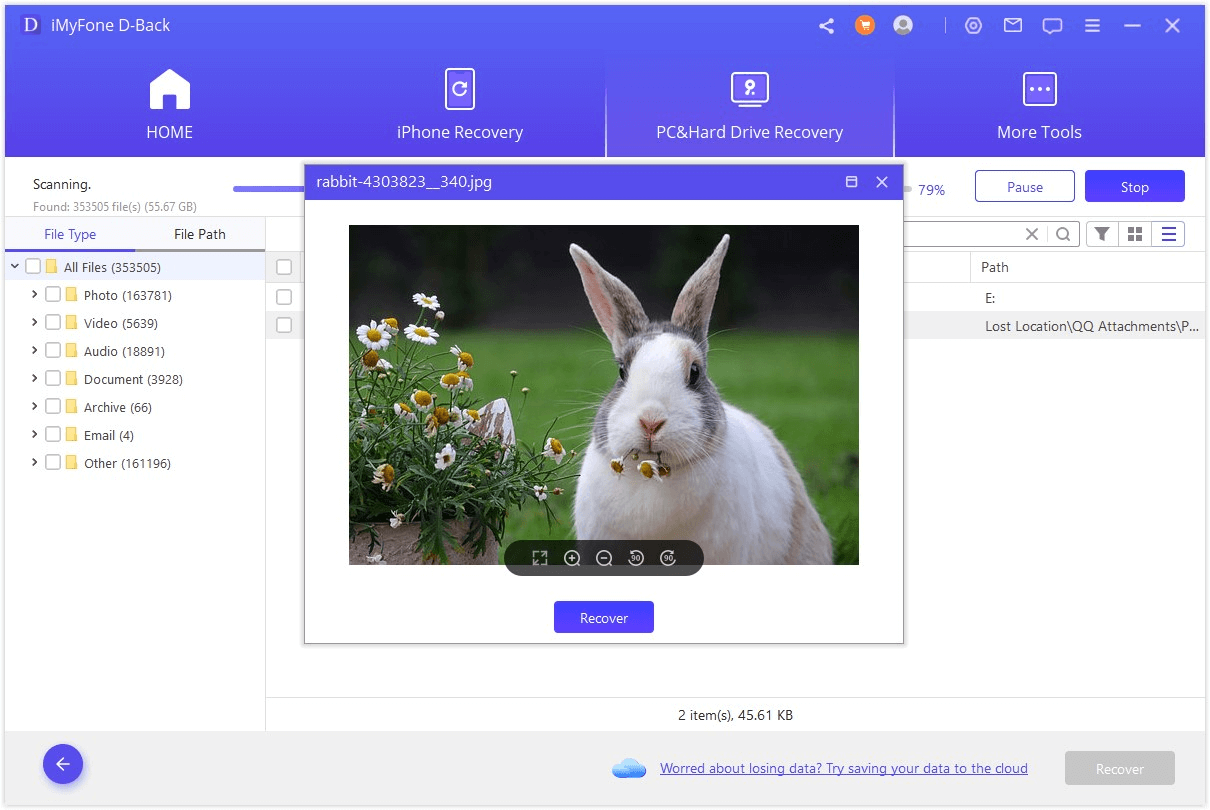 Part 2. Other Options to Recover Deleted Videos from Sony Camcorder Free for Both Mac/Windows
Do you want another solution for your sony camcorder video recovery rather than using any tool like the iMyFone D-back Hard Drive Recovery Expert? We've enlisted some of the simplest methods for MAC and Windows below.
2.1. Changing the Video File Extension (For Mac)
You have to use the VLC repair feature to repair your video file. In this method, you have to convert the extension of your camcorder video into.avi. To do it, you have to follow the given steps.
Step 1: You'll need to right-click your video file to proceed with the option. Now, click Get info for the drop-down menu.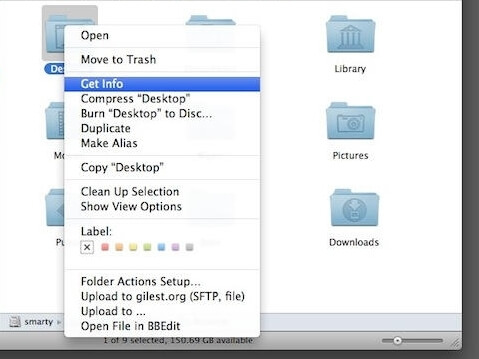 Step 2: Now, you'll need to search for the photos you've been looking to recover. If you don't find the photos, you've also cleared the Recycle Bin.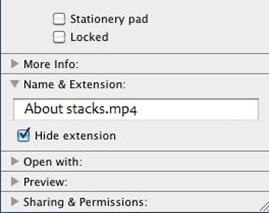 2.2. Reinstall the Driver on the SD Card of the Camcorder
You need to reinstall the driver on your computer if your camcorder's memory card gets corrupted. That's how you have to do it.
Step 1: Right-click on My Computer and select Manage.
Step 2: Now, open up the device manager and double-click on the Disk.
Step 3: Lastly, double-click the removable drive and hit up OK.
2.3. Using Time Machine on Mac
Apple's backup software, the time machine, is a life savior for all Mac users to recover their lost files. If you were searching for the best method for recovering deleted videos from a camcorder for free, this one would be the best to follow.
Step 1: Open the folder where your video file was last located with the finder. Then click the time machine icon and choose to enter the time machine. It will take you to the older version of the folder.
Step 2: As you enter the time machine, it will show the most recent version of the folder; you can set it up to your required version with the two buttons on the right. As you've found the older version of the folder and select the video file you are willing to recover from your camcorder. Now, click the restore button on the time machine, and it will restore your file to its original version.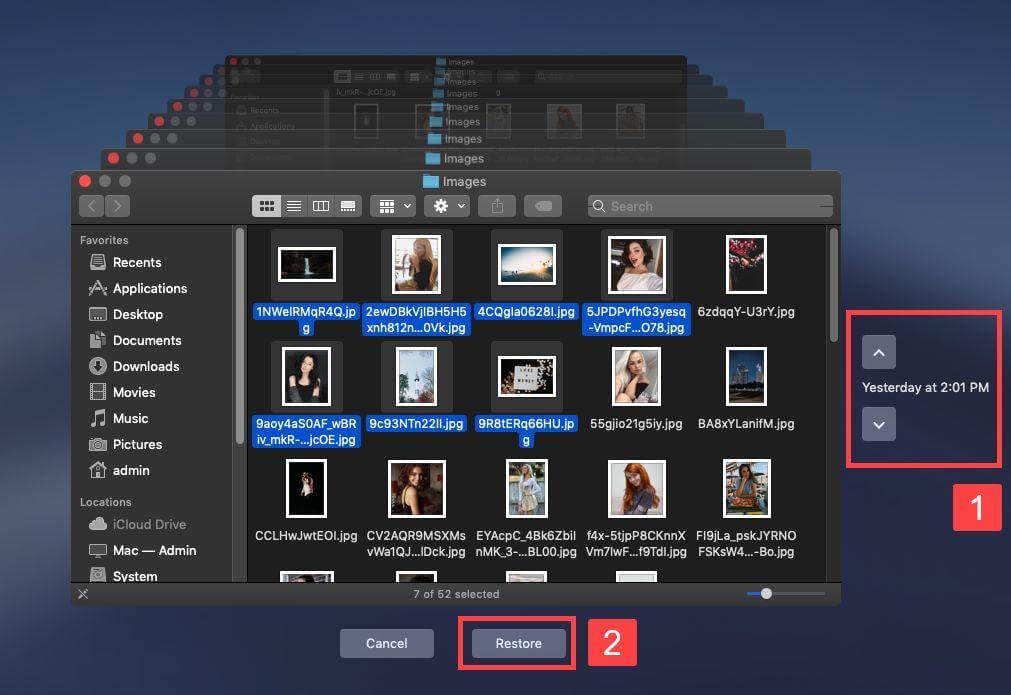 2.4. Using Command Prompt
Command prompt can help you solve all the minor corruption issues to fix your broken camcorder videos. To do so, follow the steps below.
Step 1: Click windows+R key to run the dialogue box. Search CMD and click Ok.
Step 2: As the command prompt was opened, Type sfc/scannow and click enter.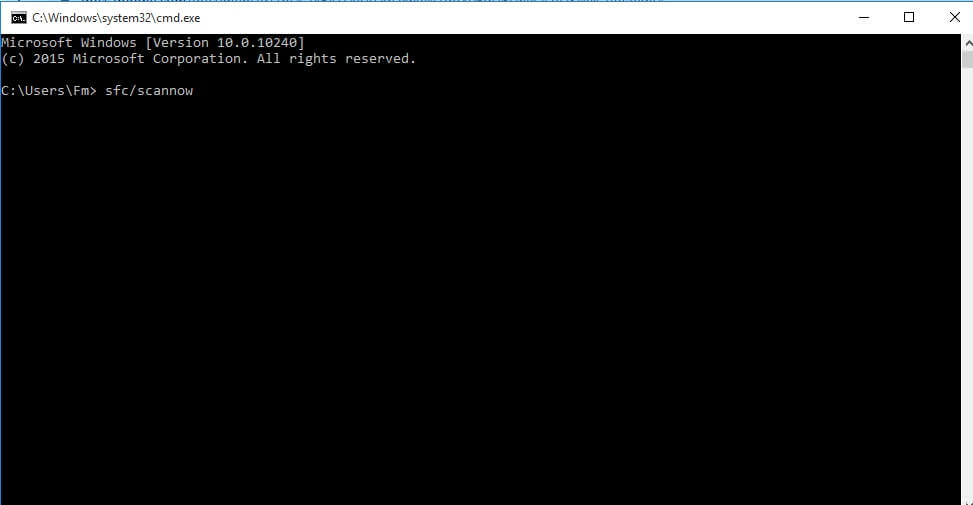 The scan will take some time and after that your corrupt photos or videos in the system will get repaired. After the process is done, restart the computer to see if the problem persists.
Pro Tip about Reasons for Videos Deleted from Sony Camcorder
It's annoying to lose your data, whether it's in videos, photos, audio, or other files. There might be several reasons that might end you with the data loss problem. It highly affects your files and makes that inaccessible or corrupted. You can follow these simple tips to avoid the need to find any methods to recover deleted videos from a sony camcorder.
If you've created a backup of your camcorder videos, you can avoid the risk of data loss. We recommend backing up all your data in more than one place, ensuring that your data is accessible even if your SD card is corrupted. Even if your data gets deleted from any of the back-ups, you have the second backup option ready to help you retrieve your data.
While formatting, keep an eye on the storage device
You have to be reassured that your device is empty before formatting and you've created a backup of them. Accidental deletion is one of the significant causes of video file loss. If you're using a camcorder for the first time, you should correctly understand the device navigation before formatting.
If your camcorder's battery is low, don't use it
If your camcorder is mistakenly turned off while capturing a video, you may lose all of your essential data. It also has a significant possibility of corrupting files stored on a flash hard drive. To avoid a situation like this, We recommend recording films or taking images when the battery is low.
When using an SD card, avoid ejecting it abruptly
The data on your SD card may be influenced by how you eject it. You must check that your SD card is not in use before removing it. To ensure that your video data is protected, remove the SD card using the proper procedure. Whatever the situation is, you can't remove the SD card abruptly.
Use trusted antivirus software
If you use your camcorder SD card on your phone, then the possibility is it might get prone to malware attack; it could be infected. You can use a good antivirus to protect the integrity of your video files in any situation.
Part 4. Faqs about Recovering Deleted Videos from Camcorder
1

Can I Recover Deleted Files from Panasonic/Sony/JVC everio/Canon Camcorder?
Were you wondering how to recover deleted files from Panasonic/Sony/JVC everio/Canon camcorder? The iMyFone D-back Hard Drive Recovery Expert has made it easier to recover files from any camcorder in seconds. You have to see part 1 of this article to recover your files.
2

Can I Recover Deleted Video from the Camera?
Yes. It is simple to retrieve videos from your Android phone that have been deleted. Because the data you've deleted from your phone won't disappear from your phone; instead, it is hidden deep down in the storage.
Therefore, you can quickly recover the video from your camcorder with the iMyFone D-back Hard Drive Recovery Expert. As we've mentioned above, it runs an all-rounded scan before recovery, helping you get your data back within a minute.
3

How to Transfer Videos from the JVC Camcorder to the Computer?
If you're sifting through searches to find how to transfer videos from jvc camcorder to computer, You can transfer your videos from your JVC camcorder to the computer by following these simple steps.
Connect your camcorder to your computer with a USB cable.
Open up the flip screen and click playback on your PC. (Same applies to Mac users)
Your computer will show the camcorder as a new hard drive to you.
Look for the SD-video folder. Now, copy and paste your video file on your computer.
Conclusion
It's frustrating not to find your videos in your camcorder SD card; they may be corrupted or lost. Finding the best method to recover your camcorder video file is more confusing.
But you don't need to get panicked, as the iMyFone D-back Hard Drive Recovery Expert is among the best tools to recover your video file from your sony camcorder. All in all, this tool will never let its user go wrong with their data recovery.