When you have a lot of pictures on your phone, sometimes you want to create a special way to showcase them, or you want to create a presentation. That's when you want to find the best free slideshow maker. The good news is that there are many ways that you can create slideshows for free. We're going to look at the best free slideshow maker options for your computer, for online and for your phone.
Part 1. 5 Best Free slideshow Makers for PC
If you are looking for the best free slideshow maker for your PC, we have a few options to choose from. The first thing we'll look at is the best free slideshow maker options for your PC. We have reviewed four slideshow makers and we think each of them could be labeled the best free slideshow maker.
Want to make a slideshow from your photos or video? Want to make a video with music easily? Then you should try iMyFone Filme. This is an video editing software that can help make a slideshow with only a few clicks. Isn't it amazing that all you need to do is to import your photos, then a beautiful video will be done? Let's see what it got for you and how it works.
Benefits:

20+ different styles and themes of templates with music.
Easy to use and user-friendly layout.
Support almost all common formats of photos and video.
No limit on the numbers of media files.
Editable slideshow duration.
Drawbacks:

Only available on Windows for now.
This is how you can make a fast slideshow using Filme:
Step 1. After you download and isntall Filme on your computer, launch it.
Step 2. Select the Fast Video mode on the program, then you will see this page. Choose one templates from these themes.
Step 3. Add your photos or videos now. You can click the button here or use the import option to import files or file folder.
Step 4. After you import your files, click Preview to see how will it show your photos.
Step 5. When everything is OK, you can export your slideshow now.
This software is made for Mac PCs/iPhone/iPad. Developed for Apple's customers as part of iWork, it's compatible with iPods, iPads, iPhones and all of the Mac machines.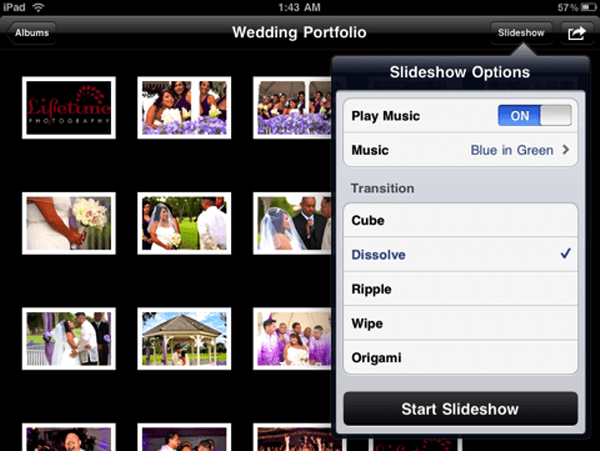 Benefits:
Easy to transfer between the devices thanks to iCloud.
Lots of options for customizing the presentation.
Various themes, design tools and animations.
Has an export feature.
Drawbacks:
Tricky to learn by yourself.
Not very comprehensive.
It can only be accessed on Apple devices.
This software makes it easy to create professional looking slideshows. They're totally customizable to meet your demands.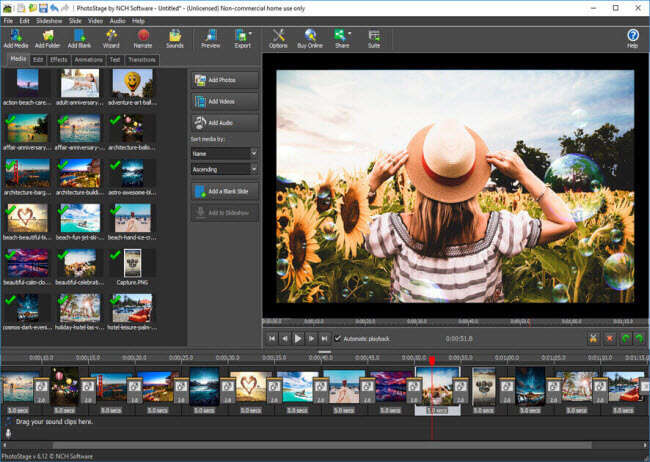 Benefits:
A lot of great output options.
Fast.
Good features.
Simple to use.
Drawbacks:
Has an outdated design.
It is only a free trial. Its Home Editiion costs $50.
This is not a free slideshow maker. Focusky provides you with a way to create professional looking offline and online presentations that you can share on Windows apps and online.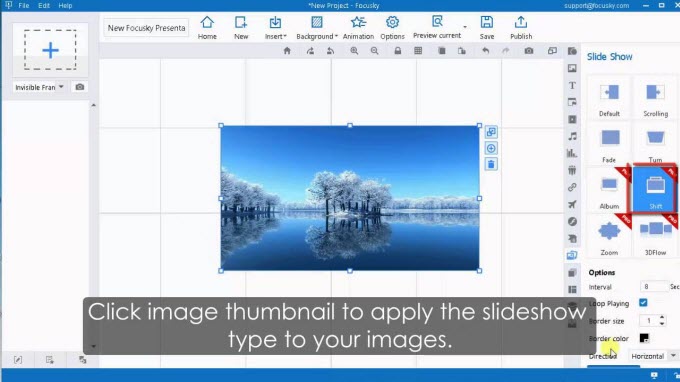 Benefits:
Customizable presentations are simple to create.
There are a lot of templates to choose from.
It can be used novice users as well as professionals thanks to clear guides and video tutorials.
User interface is easy-to-use and simple.
Add animation and flash content to your presentation.
Send your presentations to sites for video sharing and social media.
Drawbacks:
The Smart Art graphic elements aren't grouped with one another. This makes it hard to remove one of them without deleting them all.
You can't undo just one smart art.
It doesn't have a free trial. Its price starts at $9.9 per month.
The free version of Microsfot's Photo Story comes with an in-store app with lots of effects that you can choose from. These are things like sunglasses, party balloons and bunny ears. These effects can be added to images and give you a new fun look for your slideshow. It lets you adjust the saturation, hue, contrast and brightness of your images. It also allows you to fade music out and in or record audio.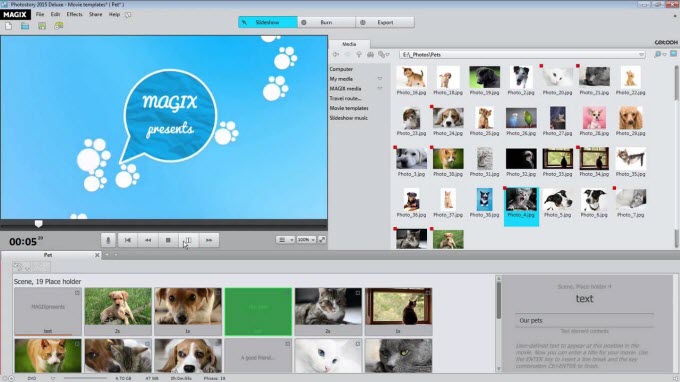 Benefits:
This video slideshow maker is backed by Microsoft.
The interface is simple to use.
It's compatible with common types of files.
You can burn it to both Blue-rays and DVDs.
Drawbacks:
Some support options aren't easy to use.
You can't post a slideshow right to Twitter.
Doesn't support burnning DVDs or VCDs with your slideshow.
Part 2. 3 Best Free slideshow Makers Online
If you don't have a lot of space, or you don't want to download a program on your computer or phone, one of the best options is through making a slideshow online. Below are the top 3 online slideshow options.
Kapwing is the first choice for online slideshow makers. It doesn't just support images – it also supports WebM, 3GPP and MP4 formats. You can upload YouTube videos as well.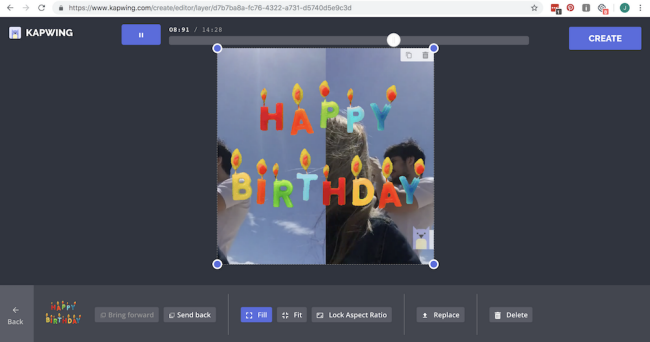 Benefits:
Intuitive software for making slideshows.
Has a lot of tools in a single place.
Drawbacks:
You can't cancel a file upload while it's uploading.
You can't rotate the slides that you added to the website.
The free version limits the video file to be smaller than 500 MB.
This online slideshow maker is very simple to use. It comes with a lot of information and tips to make its use even more simple for everyone. You can use a preset template, or you can create one of your own.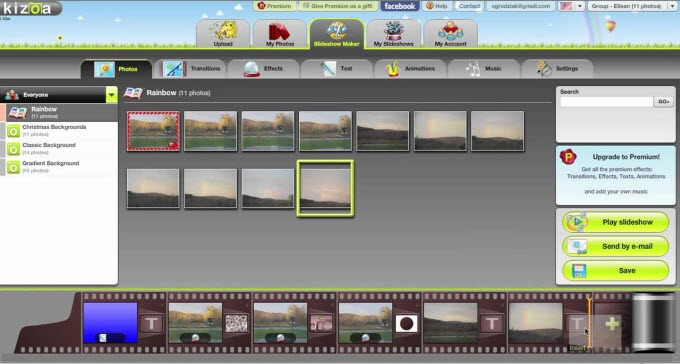 Benefits:
Interface is intuitive.
Provides you with advice and tips constantly.
Gives you effects, GIFs and templates to create cute slideshows.
Drawbacks:
You need to create an account in order to share your slideshow.
Some faetures like cutting, exporting sometimes fail.
Only free for the trial. For the membership you need to pay at least $29.99.
This is another online slideshow that you can use for free. It's highly intuitive and comes with your choice of 26 great templates to choose from. If you don't choose any templates that are preset, you can choose blank sides for adding videos, tables, charts, animations, lines, diagrams, shapes, text, special characters and images to.
Benefits:
An editting tool backed by Google.
Automatically saves to your Google drive.
Different objects and formats are addable.
Many different options for text formatting.
Changes can be made simultaneously in different parts of the same presentation.
Drawbacks:
Can only be used with a Google account.
Some users find the program features to be too basic. There are few choices for effects and themes.
You need to reformat the entire document for it to look good when importing.
Just free for the first 15GB of storage.
Part 3. 3 Best Free Slideshow Maker for Phone
If you are looking for an option that you can use on the go, a slideshow maker app for your phone is the one to choose. Below are our top four picks.
This software is made for Mac/iPhone/iPad. iMovie is Apple's video editing software, and it allows you to edit all of your videos in a single place. It has many great features that Apple customers love.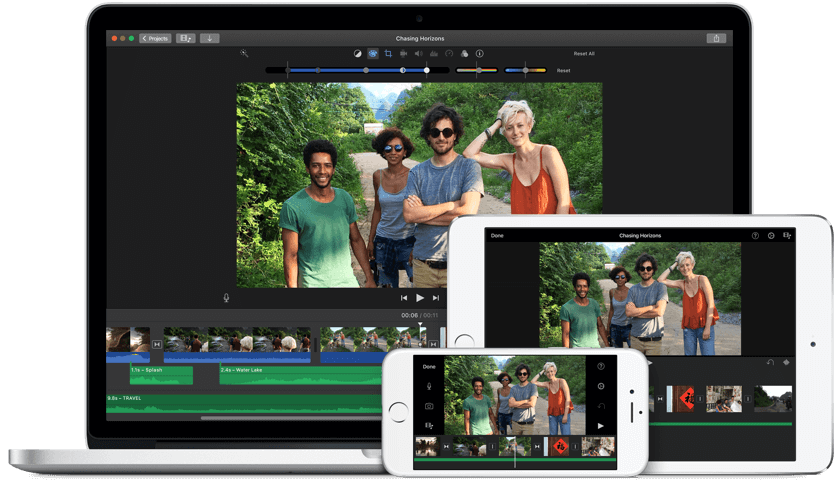 Benefits:
The interface is user friendly.
Great effects and enhancements.
You're able to add visual effects and background music.
Provides custom elements to create wonderful slideshows.
You can easily add text and create credits.
Drawbacks:
Limited export options, only one track of video, two tracks of audio and a title track, and lack of decent video filters/transitions.
When the movie is exported , it can no longer be changed.
Only comes for iOS & Mac.
Doesn't have everything full video editors have.
This app was highly rated for video editing on mobile and can be used both on Android and iOS devices. You can use it for importing video that you have on your device and enhancing it with tools and effects.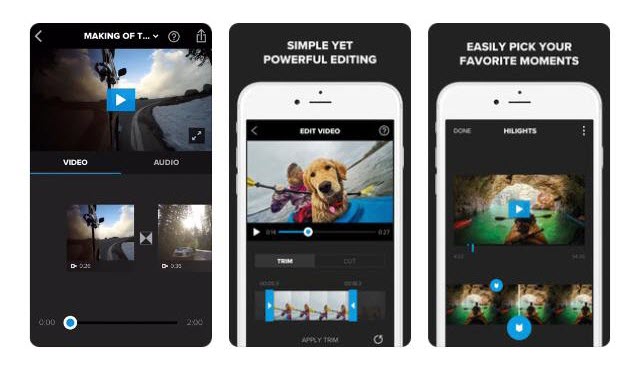 Benefits:
Simple to use – you can quickly pick it up.
Comes with a free library full of music and it integrates with iTunes.
Comes with a lot of basic features for editing, cutting and trimming. Effects, and transitions.
Quick and easy sharing options for social media.
Drawbacks:
May have trouble with copyright with the audio sources in the app.
There probably isn't enough storage space on your device.
There aren't a lot of effect and transition options.
Cutting and trimming aren't as precise as with desktop apps.
Possible copyright issues with in-app audio sources.
Your mobile device likely doesn't have the storage space for lots of video files.
There are fewer transition and effect options, and trimming and cutting are less precise than what's available with a desktop app.
Free only for the first month, and you need to pay at least $7.99 per month onwards.
This app is among the most popular video editing apps and it's ideal for beginner video editors.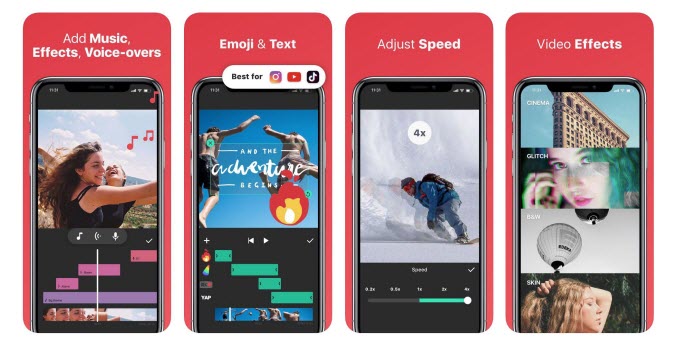 Benefits:
Comes with a basic collage and photo editor for free.
Has a good selection of free music.
Free text and stickers for video transitions.
Drawbacks:
There are always advertisements at the screen's top.
Less intuitive than iMovie or Splice.
Doesn't have a feature for pinching to zoom out and in.
Transitions are not intuitive.
There are watermarks on the free version.
There are great transitions, stickers and filters but the best are on the app's paid version.
The features of the free version are limited. If you updrade, you need to pay $3.49 per month.
Part 4. Advantages of Making Slideshows on PC over Online or on Phone
Now that you know what our picks are for the best free slideshow maker, you'll find that there are a number of advantages of creating a slideshow on your PC or laptop rather than online or on a mobile device.
Bigger Screen – No matter how large your phone or tablet screen is, you are going to have a larger screen when you do it on your laptop or PC. This means you can see what you're doing much more easily and make fewer mistakes.
Fewer Mistakes – As mentioned above, it's very easy to make mistakes on a phone or tablet. This is partly due to a small screen but also because the buttons are so much closer together on a phone or tablet.
Better Privacy – This is more for doing it on your computer rather than doing it online. You never know who can see it when you are doing it on a site. You also might have someone break in while you're doing it on your phone.
When you are looking for a way to create professional looking slideshows, there are plenty of options out there. Whether you want the best free slideshow maker, the best slideshow maker period or the best free slideshow app, there are many to choose from.
Please keep checking back for more posts and ask us any questions that you have. We are always ready to help you and give you advice.