"My client is complaining about her Outlook drag and drop not working. It works fine for files and PDFs, but when she try it from Outlook, there's a black no symbol that stops her from dropping it."
If you go to a technician to complain about your Outlook drag and drop not working, they usually suspect two main factors. We will go over them here, as they are the most common causes of the challenge you are experiencing.
Possible Reason for Outlook Drag and Dropping Not Working

1. Pressing ESC Continuously
In the next section, you will learn how to repair the issue of Outlook drag and drop not working using the ESC key. The root of this problem is uncertain, but restarting Outlook also does the trick.
2. You are Running Outlook As an Administrator
Some features do not work when you run outlook with elevated permissions. So, be sure not to open or launch Outlook while pressing CTRL and SHIFT, or right-clicking and running as an administrator. With those, the drag and drop feature will malfunction.
5 Quick Fixes to "Outlook Drag and Dropping Not Working" Issue

When you notice Outlook drag and drop not working, the most likely cause is a bug in the software, and this can affect any Outlook version. Here, we will explore some quick fixes for resolving this problem.
1

Make Sure You are Moving Items of the Same Type
Outlook's drag and drop feature allows you to move or copy only items of the same type between the folders. Hence, if you attempt to copy calendar and emails to a folder, it won't work.
2

Press ESC Button Again and Again
If you attempt to use the drag and drop feature and it fails, a solution is to press the ESC key repeatedly. Do that and try again. If it doesn't work, then continue to fix 3.
3

Make Use of Folder List View
MS Outlook may show different behaviors, depending on the type of view set. Try changing to items view to "Folders" and retry the drag and drop.
4

Reset Outlook Folders
Other times, the issue may be none of the above, but that the Outlook files are corrupted, and this is a common problem that affects the drag and drop feature. A solution here is to restore the missing folders with the help of a command-line switch.
Step 1: Close MS Outlook.
Step 2: Press the Windows key + R to start the "Run" utility.
Step 3: Enter the following command: "outlook.exe /resetfolders" and hit "OK" to run it.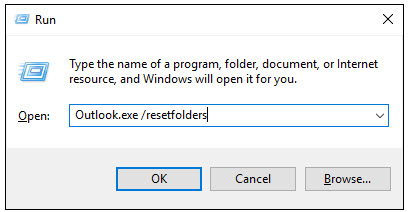 5

Exit and Relaunch Outlook
One other working fix that you can try is to relaunch Outlook. Follow the steps below if you are not sure of how to do this.
Step 1: Close MS Outlook.
Step 2: Find the Outlook icon on your computer desktop or any location you placed the shortcut. Right-click it and click "Run as administrator."
Step 3: Next, close MS Outlook again.
Step 4: Finally, launch Outlook but this time, not as an administrator.
Ultimate Solution to "Outlook Drag and Dropping Not Working" Issue

The five fixes above should repair your Outlook and resolve all challenges. However, sometimes, the cause of the problem could be deeper than those. If the PST/OST file is corrupted or damaged, Outlook will malfunction. You can solve all MS Outlook issues using the robust tool called iMyFone ScanOutlook. It works on all versions of Outlook and repairs Outlook problems fast. Learn more about ScanOutlook below. 
Key Features of iMyFone ScanOutlook:
Repairs Outlook drag and drop not working, no matter the cause.
It can repair or recover both OST and PST files.
You will not experience any data loss in the course of the repairing.
Your Outlook data remains 100% secure with ScanOutlook.
You can also use ScanOutlook to recover lost Outlook items like emails and contacts, calendar, journals, etc.
How to Drag Files from Outlook with ScanOutlook?
Step 1. Select the Outlook files to repair.
Step 2. Click the "Repair" button to start the operation.
Step 3. After the scanning is completed, you can preview the files found.
Step 4. After previewing the items, select the ones you wish to repair and click "Export Selected".
Step 5. Next, select a format and directory you want to save the items. Finally, click "Export" to start.
Bonus: ScanOutlook Coupon Code

ScanOutlook is a great tool; a must have for anyone who uses Microsoft Outlook. Do you know what makes it even better? You can get it at a discount with the following coupon code: "4SN-UBM-XT3".
How to Apply?
Navigate to ScanOutlook's purchase page.
There are three licenses - 1 Year license, Business license, and Lifetime licenses. So, choose one by hitting "Proceed to Checkout".

Find and check the "check to enter coupon code" box and enter the coupon code in the field below it.

Finally, click "Apply".
Conclusion

MS Outlooks drag and drop feature makes copying or moving Outlook items easy and quick. What mostly causes Outlook drag and drop not working in a software bug. If you have read to this point, you no longer need to worry if this issue comes up.