"I cannot access my OST file, and worse is that Outlook no longer reconnects with the Microsoft Exchange Server. The OST file may be corrupt, I suspect. What do I do now?"
Outlook data files can get corrupt due to several reasons. Outlook is probably the most used email client for many computers, and so if your data file gets corrupted, it can slow down business. But you're in luck as by the time you finish reading this page, you will understand how to repair Outlook profile by yourself."
How to Repair/Recover Outlook Profile (PST & OST)

ScanOutlook is a must-have tool if you use Outlook regularly, because Outlook does not warn you before acting up. Whenever this happens, there is no better program to use than ScanOutlook. This tool keeps the entire operation smooth and tidy. Learn more about ScanOutlook in the sections that follow.
Key Features of iMyFone ScanOutlook:
Repair Outlook OST/PST files and get back your data lost in any scenario.
Recovers every data from Outlook, including deleted or lost emails, notes, tasks, and calendars.
After you repair Outlook profile, you can export the data in PST, EML, RTF, PDF, MSG, or HTML formats.
Compatible with all the versions of Outlook, from Outlook 2003 to Outlook 2019.
How to Repair PST/OST Outlook Profile with ScanOutlook
Step 1.
Launch ScanOutlook. On startup, it loads all the Outlook data files from the default location. Select the file you want to repair.
If you know the location of the file, hit "Browse" to find and open it.
Alternatively, you can click "Search" if you do not know the file location. Then, hit "Browse" and choose a volume or folder and click "Search" again.
Step 2.
When you find the file, click "Repair" to commence the repair Outlook profile operation. Select "Quick Repair" to fix the files quickly or use "Deep Repair" if the PST/OST are corrupted or if you cannot find the files using the other mode.
Step 3.
Following the repair, you will find all the repaired or recovered Outlook data files in the left panel. To preview the files or download attachments from the Outlook file, click the specific folder.
Step 4.
Select the relevant file or folder and hit "Export Selected". Choose a format and a save location, then click "Export".
How to Repair Offline Outlook Profile (OST)?

No matter what you use; be it Office 365, Exchange, or Outlook.com, follow these steps to repair OST files.
Step 1: Launch Control Panel.
If you use only the default Outlook profile, "Outlook," then you can go directly to where the OST file is located by entering this path: %LOCALAPPDATA%MicrosoftOutlook. If you do this, you can jump to step 12.
Step 2: Click "User Accounts".
Step 3: Click "Mail".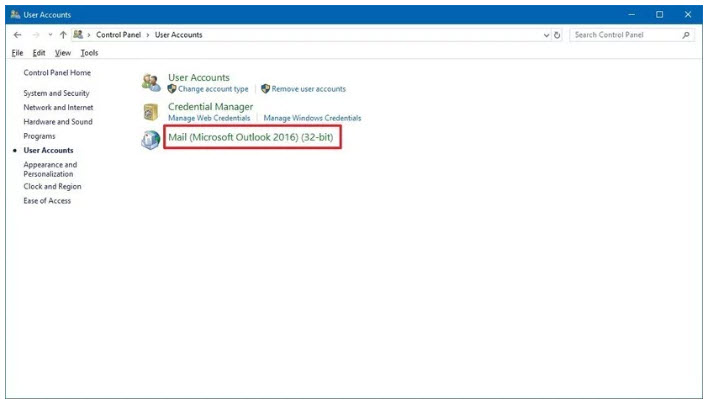 Step 4: On the "Mail Setup" screen, click "Show Profiles" under "Profiles".
Step 5: Click on the profile that needs fixing.
Step 6: Click "Properties".
Step 7: To the right of the first item on the page, click "Email Accounts".
Step 8: Next, select "Data Files".
Step 9: Choose the account.
Step 10: Click "Open File Location".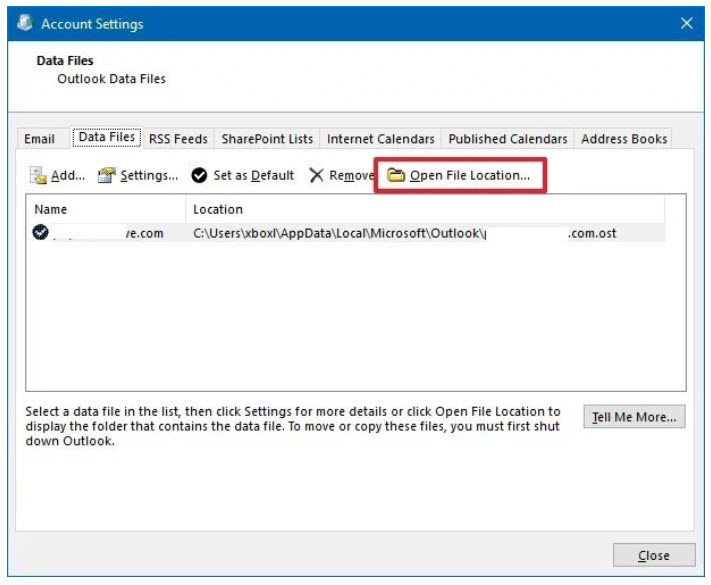 Step 11: Close the "Account Settings", "Mail Setup", and "Mail" screens.
Step 12: In Windows file explorer, right-click the OST file and click "Delete".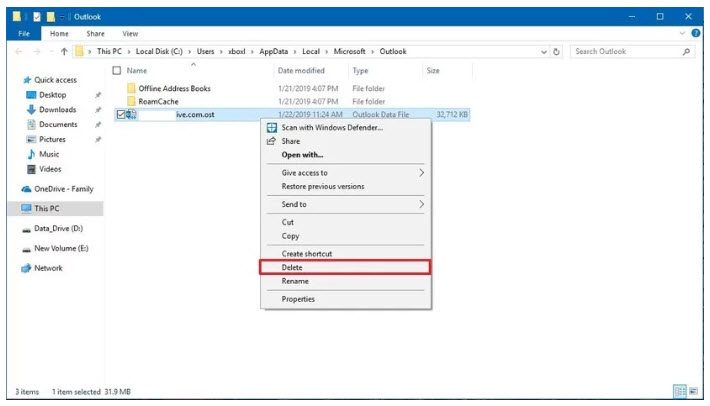 After these steps, to finalize, launch Outlook. This will repair Outlook profile by recreating the OST file for the account.
How to Repair Outlook Data File (PST)?

If your email account is use IMAP or POP settings, you can repair Outlook file by fixing issues with a PST file. To do this, close Outlook and follow the steps in the next section.
Step 1: Press the Windows key and "R" simultaneously to open the Run box.
Step 2: Enter the following path into Run and hit OK:
C:Program Files (x86)Microsoft Office ootOffice16
Note that the path above is correct for Office 2016, Office 2019, and Office 365. However, if you have Outlook 2013, use this path:
C:Program Files (x86)Microsoft OfficeOffice15
For even older versions, just change the "Office15" part to "Office14," "Office13," and so on.
Step 3: Double-click SCANPST.EXE and launch Microsoft Outlook Inbox Repair.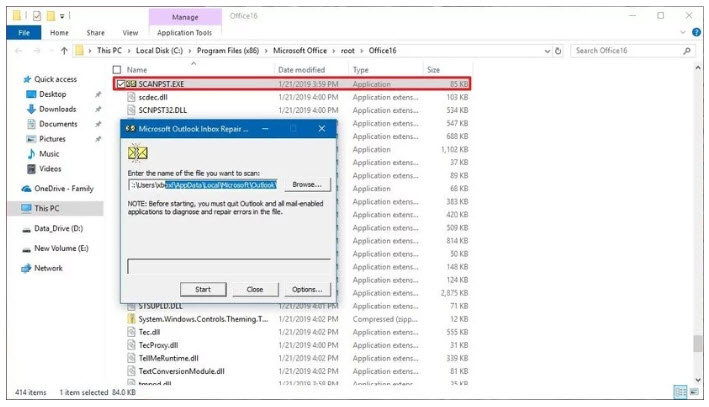 Step 4: Click "Browse".
Step 5: Find the PST file for repair.
Step 6: Click "Open".
Step 7: Hit "Start".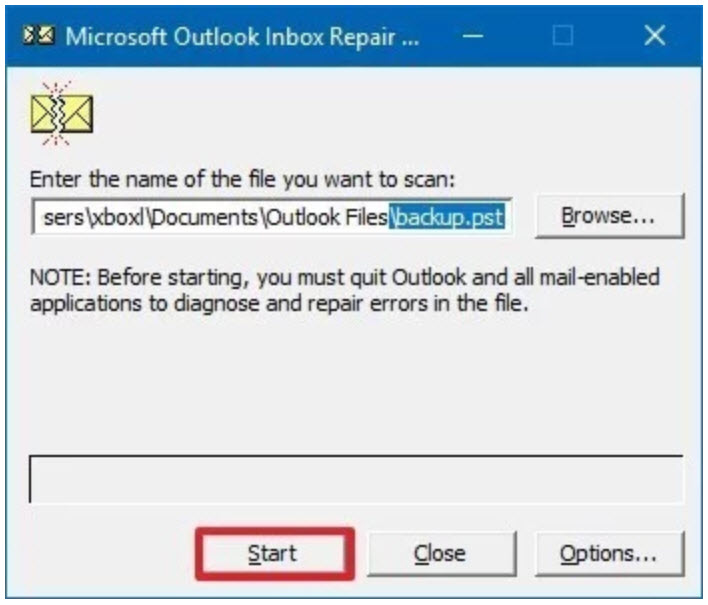 Step 8: Make sure the "Make a backup of scanned file before repairing" option is checked.
Step 9: Click "Repair".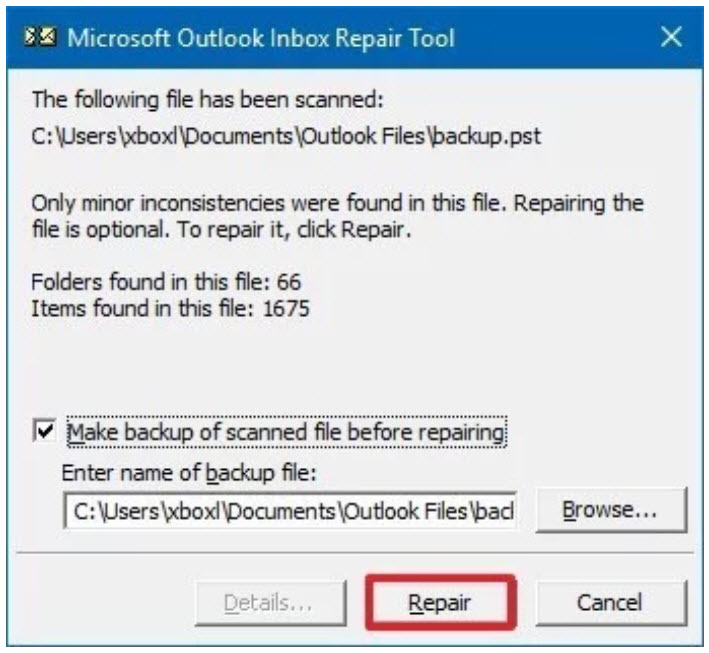 After completing these, Microsoft Outlook Inbox Repair Tool scans and fixes the PST file to repair Outlook profile.
Causes for Outlook Data Corruption

Working with Outlook, several error messages can ruin your experience. Most of those arise when you change the location of your machine and the Outlook PST file gets corrupted. Other things can damage your Outlook; continue reading to find out more.
Reasons for Outlook Data Corruption
Errors encountered when upgrading Outlook profile.
Unexpected computer shutdown or closing Outlook abruptly.
Oversized Outlook PST file.
Virus corrupted the PST file.
Outlook crashes.
Invalid login attempts.
Conclusion

If your Outlook profile gets corrupt and you need to repair Outlook profile, we hope that this short guide contained all you need to know about this situation - the causes, tips, and how to repair Outlook profile. Of all the tricks listed above, iMyFone ScanOutlook is highly recommended for its powerful functions.