There are always some insiders can get useful and attractive information before the release time of new iOS system. Are you interested in the iOS 13 system? This article gathers and reorganizes the useful information that helps you understand more about the upcoming iOS version 11.3.
---
One. Four New Features of iOS 13
Emoji Unicode

74 Unicode emoji characters will be newly added in iOS 13! According to Unicode protocol, some popular emoji characters among users, such as Drooling Face, Shallow Pan Of Food, Tumbler Glass, Shrimp, Squid and Face With Cowboy Hat will be added to the emoji list.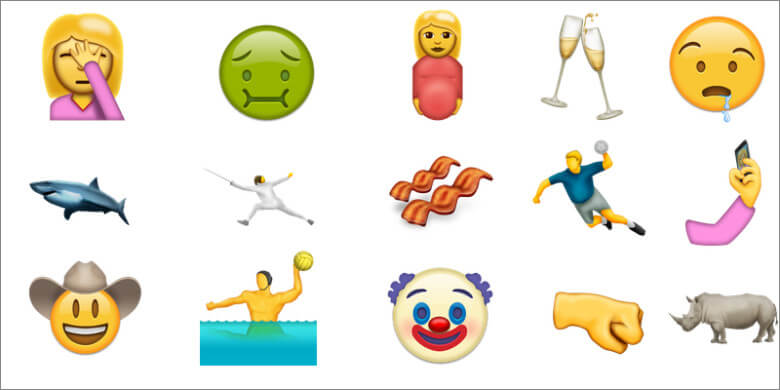 Built-in Apps

The rumors says that iOS 13 will have a fatal change on built-in apps. Apple will allows users to delete those built-in apps which they think useless on iOS system 11! For me, it is an great improvement that I can delete some built-in apps that I never use to save some space!

Want to save space for your current iOS system? The article will be helpful: How to Free Up Space on iOS 10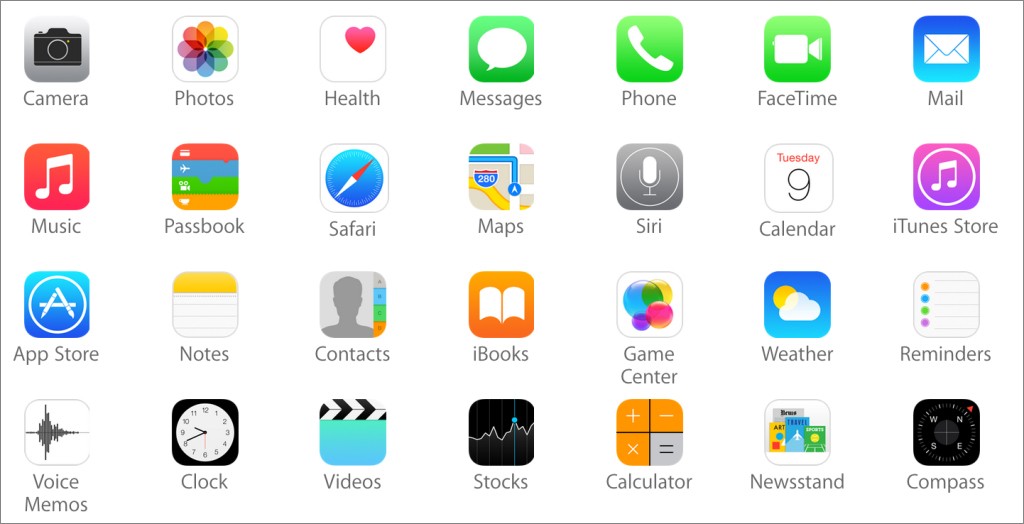 Siri

In iOS 13, Siri may have a big change and become your private voice assistant. It is said that Siri can tell you the reason why the called party cannot answer your call. And Siri can transfer the messages in voice mail to texts so that users can read them easily. And what's more, Siri in iOS 13 might recognize whether it is the owner talking with it.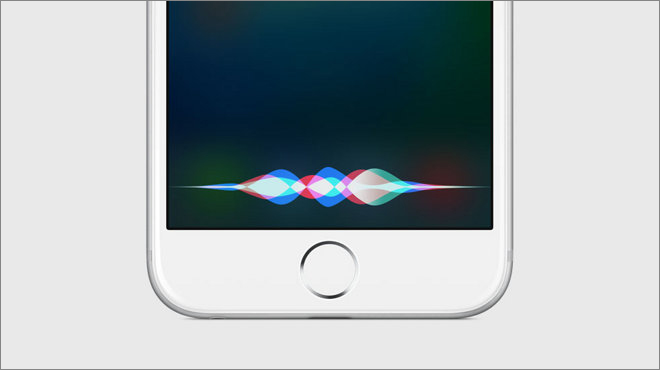 3D Touch

3D Touch on iPhone 6s and iPhone 6s Plus is acclaimed by users. And it is said that 3D Touch will be endowed with more functions. For example, the Control Center will be reformed. iOS 13 system will transfer the Slide mode of Control Center to Press mode to simplify the User Interface logic.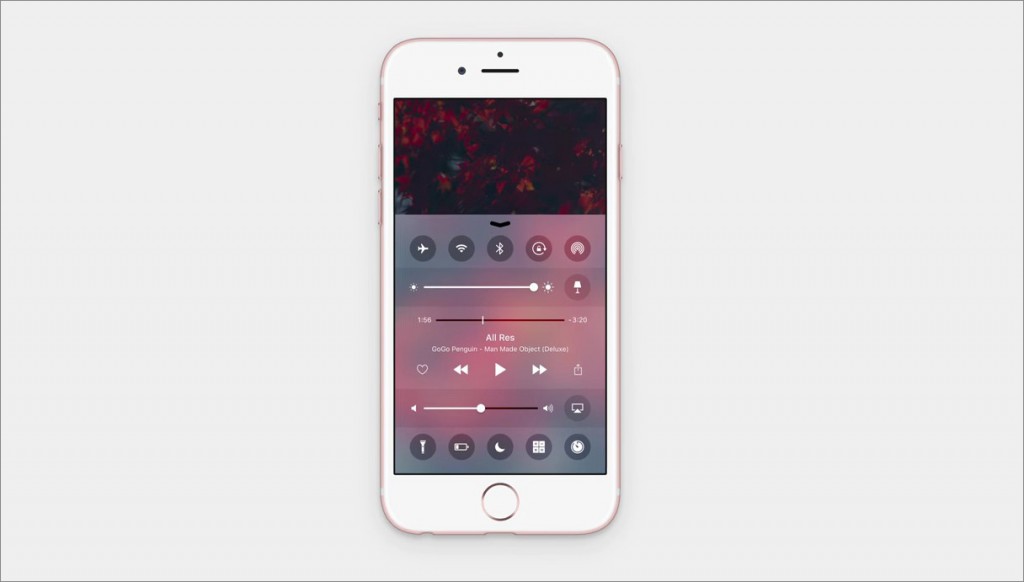 ---
Two. Compatibility of iOS 13
Just like the earlier iOS version, the rumors says that iOS version 11 will eliminate some iOS devices from upgrading. And iPhone 4s and iPad 2 will be the first to bear the brunt. They won't be allowed to upgrade to iOS 13.
But I didn't think it is a bad news. On my own experience, too old iOS devices might be stuck more if they upgrade to the latest iOS system. And iPhone 4s and iPad 2 are almost 5 years old. Apple is urging their users to change their iOS devices by this method.
---
Three.Release Time of iOS 13
When will iOS 13 be available? The insiders says that the beta version of iOS 13 will be released in the spring of 2018.
Wanna know more about iPhone 7? Please refer to iPhone 7 is coming: will you be attracted by it
So, would you like to update to iOS 13 according to the above description? Can those iOS 13 new features be the points you like? Well, even you don't see the meaning of these new features, I guess Apple will give more useful and innovative information of iOS 13 during the period before they release the official version. And what we can do is to figure out our true requirements and check whether iOS version 11.3 will satisfy us.
Four. Clean up iPhone to Have Enough Space for iOS 13 Upgrade
You may decide to upgrade your iOS to iOS 13, but it turns out that your iPhone does not have enough space for iOS 13 upgrade. In this situation, you might need to do a space clean for your iPhone. You are suggested to try iMyFone Umate Pro, not only an iPhone space cleaner but also an iPhone data eraser.
Key Features:
One-click to clean your iPhone, iPad, and iPod Touch to save you much space.
All data can be erased completely in an unrecoverable way.
Detect and completely erase deleted files to clean up your iOS device.
Allows you to preview and selectively mass delete all unwnated Apps.
Permanently erases personal data, such as sensitive WhatsApp messages, bank information, all kinds of accounts and passwords, personal photos and videos etc.
Your deleted files could residue on your iPhone for a period time, until they are overwritten by other files. Thus to clean iPhone to get enough space for iOS 13 upgrade, erasing deleted files from your iPhone seems to be an ideal way. Follow the step-by-step guide below to get enough space for your iPhone before upgrading to iOS 13.
Step 1: Launch iMyFone Umate, and connect iPhone with your computer.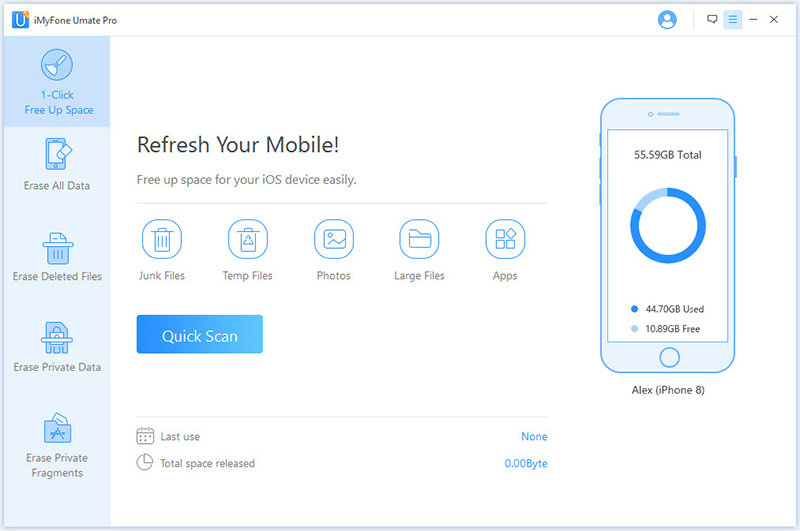 Step 2: Click "Erase Deleted Files" at the left side bar, and click "Scan" to scan deleted files on your iPhone.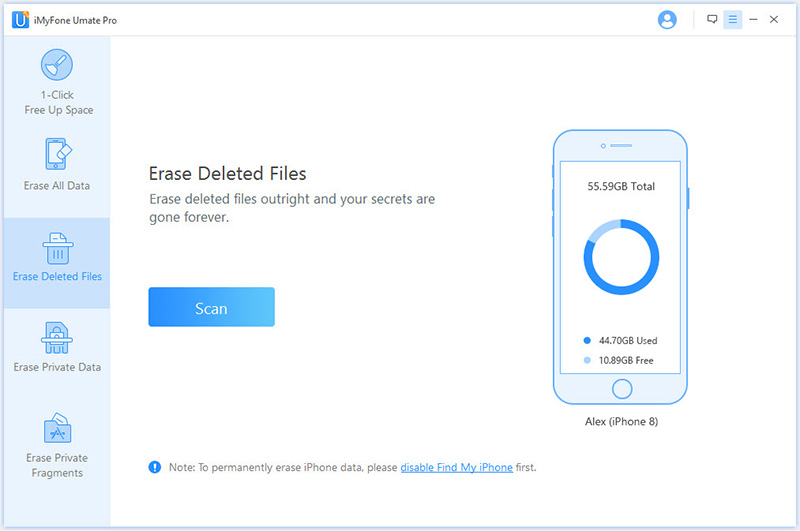 Step 3: When scanning process completes, all types of deleted files will be showed in a list. Choose and check some or all for deletion, and click "Erase Now" to start erasure process.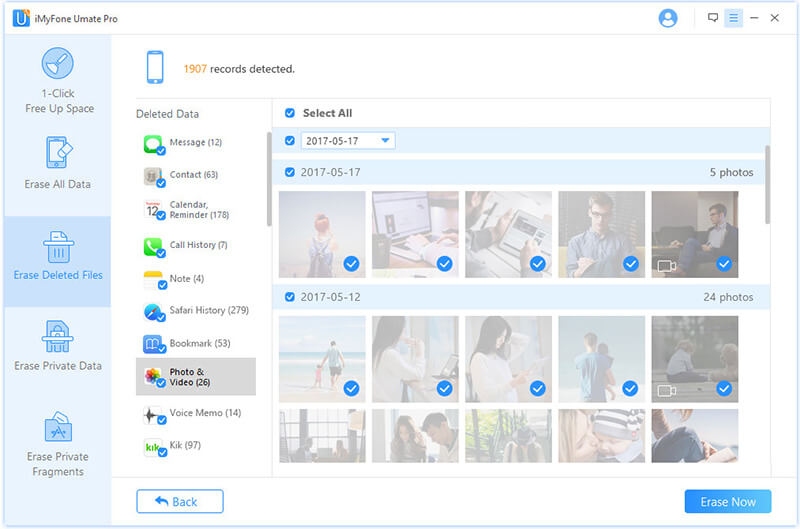 After getting enough space, you can start to upgrade your iPhone to iOS 13. Enjoy stunning features iOS 11 brings you.