While iPhone cannot be infected by virus or malware in the same way as computers, but these devices are still vulnerable to wide range of other threats. Whether its web trackers, annoying ads, or malicious websites, finding a reliable iPhone virus removal software is very important.
5 Best iPhone Virus Removal Softwares
Following are 5 best iPhone virus removal softwares:
iMyFone Umate Pro
While iMyFone Umate Pro is not really a virus removal software, it can be used to get rid of the viruses and malwares from any iPhone. It is a data removal tool that allows iOS users to scan and erase their iDevice's data permanently. Data removed by this software cannot be recovered, which means the virus or malware also get erased permanently.

As compared to the virus removal softwares, iMyFone Umate Pro provides an easier solution as you don't need to spend time scanning your iPhone. With iMyFone Umate Pro, you simply need to use its data erasing modes.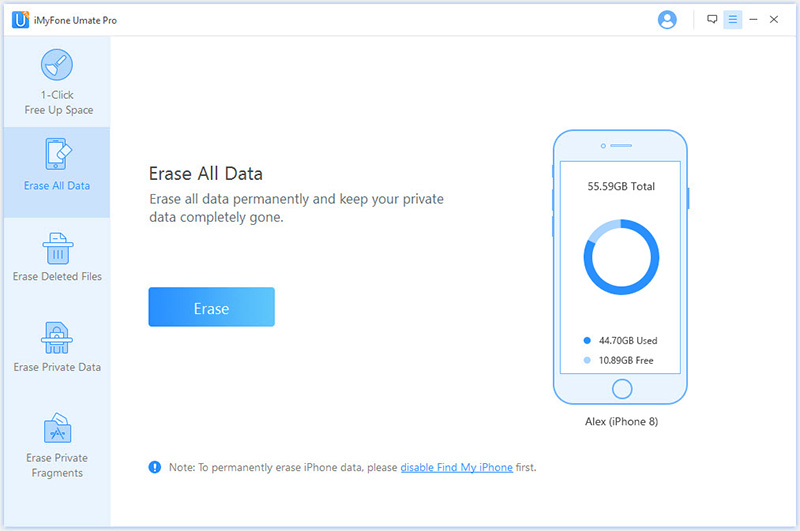 Its Erase All Data mode completely resets the iDevice, removing data along with any malware or virus. While the default factory reset does the same, it doesn't delete data permanently so the chances of virus reappearing are high. After an Erase All Data, there are no chances of data recovery, so you can rest easy knowing that the virus is removed from your iDevice for good.
Deletes all forms of data permanently including, messages, contacts, call history, safari data, system settings and more (Learn More >>).
Scan for deleted files on your iDevice and permanently erase them to make them 100% unrecoverable.
Preview data before you erase it. It also allows you to erase data selectively.
Wipe third-party apps' data permanently: Whatsapp, Kik, Viber, Facebook, Snapchat and 10 more.
A great amount of professional software review sites recommend iMyFone Umate Pro to protect privacy, including MacWorld, iPhoneinCanada, APPKED, etc.
Norton
Norton is one of the oldest and most popular antivirus softwares that has been offering great security solutions since the time of its launch. Norton Security 2018 is the latest version of this popular antivirus. Overall, this antivirus has received many positive reviews from users
Compatible with Windows and Mac OS X, you can use this antivirus software to scan and remove viruses or malwares from your iDevice. Norton Security 2018 is equipped with lots of advanced features.
Features
A powerful antivirus module that protects your computer in real-time.
You can perform deep scan of your computer or iPhone and remove any malware or virus that is detected.
Norton Security 2018 is also equipped with a powerful firewall for protection against online threats.
Anti-spam filter feature is great when it comes to filtering unwanted emails or ads.
Overall interface of the software is well-designed and easy to use. You can access all the features of the antivirus directly from the main screen.
TotalAV
TotalAV (also known as Total Antivirus) is a fully-featured antivirus program that offers lots of features. TotalAV is compatible with Windows, Mac, iOS, and Android. By using this antivirus software, you can scan your iPhone for viruses and malwares and remove them conveniently. Once installed, TotalAV silently runs in the background in the system tray. It is light on the system resources.
Features
User-friendly and intuitive interface. It covers all the basic protection areas.
Quick scanning and in-depth scanning modes can be accessed from the main interface. Both scanning modes can be used to scan for viruses in a connected iDevice.
Boost the performance of the system and also free up space with disk cleaning.
Uninstall applications directly from TotalAV's interface.
Web security features are also available. These include a personal firewall as well as an integrated version of Ad Block Pro.
McAfee
McAfee is one of the most popular antivirus softwares that is available for a variety of platforms. Whether you need a virus protection for your personal computer, iDevice, or for your business computers, McAfee offers several options. Excellent customer support, easy to use interface, and money back guarantee are some of the things many users love about this antivirus software.
Features
A robust antivirus that is ideal for removing virus or malware from computers as well as iDevices.
High efficiency anti-spam filer.
Great Parental Control options.
Powerful firewall.
Excellent web protection feature that can detect malware-infected websites as well as phishing sites.
AVG
AVG antivirus is a top-rated and highly customizable antivirus that is capable of protecting your computer and your iDevice from viruses, malware, trojans, adware, and many other threats. Apart from this, this antivirus software is also a great tool to protect you against webcam spying and ransomware. There is a version of this program dedicated specially to personal and family use.
Features
Scan and remove viruses, malwares, ransomware, spyware, and other threats from your computer as well as your iDevice.
Keep your identity, data, and files safe with powerful identity protection features.
Advanced email shield technology.
Advanced remote management, anti-theft, and smart scanning features.