Normally, you can delete iCloud backups easily from an iOS device by tapping on "Settings > iCloud > Storage > Manage Storage. However, sometimes you may see an error message stating "cannot delete backup" when you try to delete your old iCloud backups.
Part 1: How to Fix "Cannot Delete Backup" iCloud Error
First, you have to restart your device by pressing and holding the Sleep/Wake button until the red slider shows. Simply swipe the slide to turn off the device. To turn the device back on, press and hold the Sleep/Wake button until you see the Apple Logo. After that, follow the steps below to resolve your issue.
Step 1: Go the Settings and then tap on iCloud, Backup, and then turn off "iCloud Backup.
Step 2: Go to settings again, iCloud > Storage >Manage Storage and then select your device backup that you cannot delete.
Step 3: You will see a spinning wheel (backup options) that shows that iCloud is busy performing an operation.
Step 4: Wait for some time say a few seconds until this wait cursor is gone.
Step 5: Now, try again to delete your backup.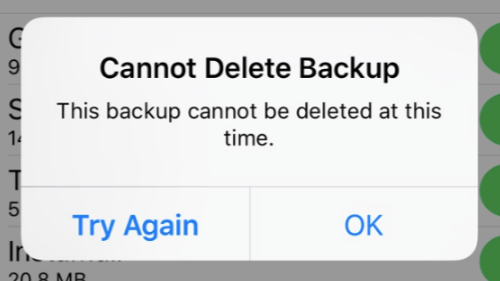 Disadvantages of Old iCloud Backup on iPhone
Cannot delete iCloud Backup may lead to many inconvenient:
Privacy: unauthorized persons can have access to your files since you are storing them with a third party.
Storage: you have 5GB of free iCloud storage to store files. When you start having too many old iCloud backups, you may

need more space

and you will have to pay if you want more storage space.
Slow transfer of large files: when you have too many old iCloud backups, you can start noticing that transferring large files will become slow.
Part 2: All in One Solution for iPhone & iCloud Storage Issues
iMyFone Umate Pro or iMyFone Umate Pro for Mac is one of the most advanced iOS data erasers. It makes it impossible to recover deleted data.
If you want to create some free space on your iPhone or you want to make sure that all the private information and files are completely removed, then iMyFone Umate Pro will do that for you.
1- click free up space: This feature lets you delete all unwanted files from your device like hidden temporary & junks files, caches, large media files, Apps etc.
Permanently erase iPhone data: It can conveniently destroy every data you need to be destroyed permanently, no data recovery tool can recovery these destroyed messages, call histories, contacts, photos, videos, WhatsApp messages & attachments etc.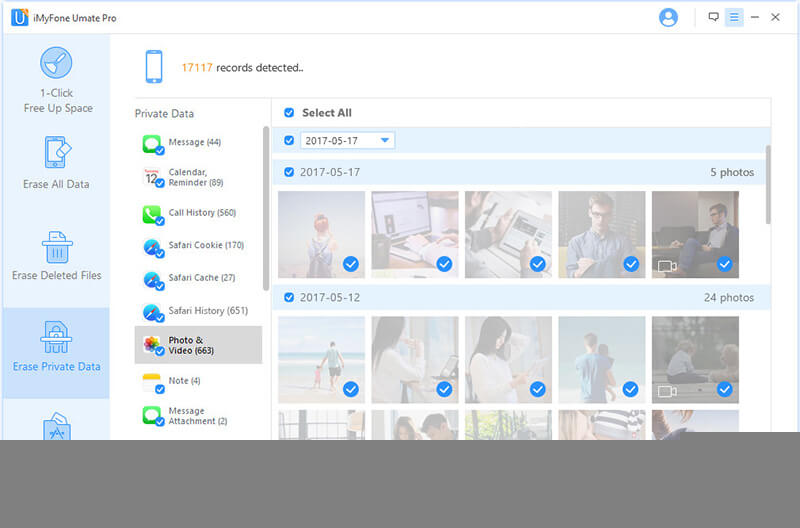 How to Free up & Speed up iPhone using iMyFone Umate Pro?
Step 1: Download iMyFone Umate Pro on your personal computer and run it. After that, connect your iPhone to the computer.
Step 2: Choose the "junk files" option from the "1-Clock Free up Space" tab. Then click on the "Scan" button.
Step 3: After the scan is finished, you will see all the junk files that you need to delete. At this point, all you need to do is to click on the "Clean" button to start the cleanup.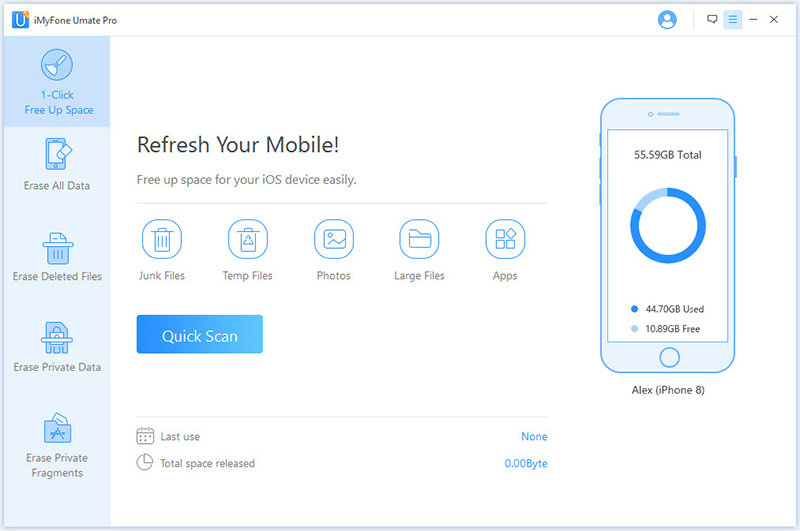 As a powerful iPhone data eraser, iMyFone Umate Pro can do much more for your iPhone/iPad/iPod Touch:
Decrease photo storage: compress, export or mass delete multiple photos, with original photos be backed up on your PC.
Deal with large files: export or mass delete all large files over 5MB on your iPhone.
Manage Apps: list all apps installed for bulk deletion.
Erase previously deleted files: erase deleted files to make them 100% unrecoverable, even with recovery software.
Erase third-party App data: erase private data stored in WhatsApp, WeChat, Kik, Viber, Snapchat, Skype, etc.