So, you just bought the new iPhone X and you want to sell your old iPhone 6, but in order to prevent the personal information from getting to the wrong hands, you will need to delete everything or even erase deleted files on iPhone, and I mean permanently. Question is how do you really do that? If what you want to do is permanently delete the files, this article will be of help.
Part 1. What Happens When You Delete Files on Your iPhone?
As an iPhone user, you will want to know what happens when you delete files on your iPhone. Well, what really happens when you delete folders or files, the data will be sent to the deleted files folder. Ultimately, this will remove them (the deleted file or folder) from any devices to which they are been synced in, but this doesn't mean in any way that it can't be recovered. Unless you use a tool to erase deleted files on iPhone, hackers and other third parties can still lay their hands on these files.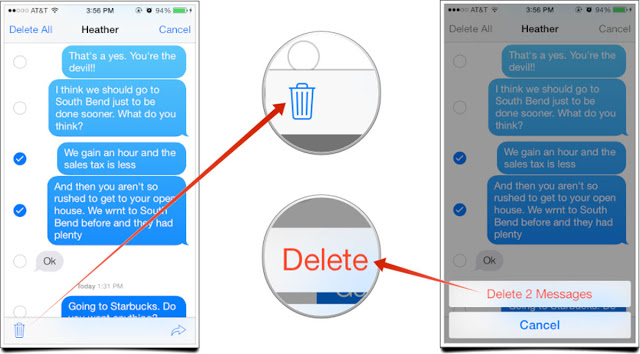 Without trying to sound like a broken record, the importance of protecting your files can never be overly emphasized. When you sell your iPhone without permanently deleting the files, you will have a third party going through your phone and getting sensitive information like your bank account details, social media passwords, sensitive videos, and important messages.
That is why it is necessary that you delete these sensitive files and erase deleted files on iPhone when you are about to either give out your phone or when you are about to sell it. in short, immediately you are given off that phone, you need to get those files deleted, permanently.
Part 2. How Do You Erase Deleted Files on iPhone
There are few ways to which one can permanently erase deleted files on iPhone, but the sure way to get these files deleted is by making use of the iMyFone Umate Pro for Windows or iMyFone Umate Pro for Mac this tool will surely get those files permanently deleted.
If you need to protect your important/personal information, the iMyFone Umate Pro will help you do just that. There are thousands of information such as call history, messages, photos, accounts, browsing history, account details, etc. that needs to be protected.
The iMyFone Umate Pro is capable of protecting you from identity fraud or theft. If you need a tool that will delete those sensitive files, iOS data, this tool will do just that. It so powerful that once used to delete files, it's gone, it can never be recovered, that's why I always advise that you back up those important files before deleting them because they can never be recovered once you delete them.
Key Features:
Erase all data, this includes real and deleted files.
With the iMyFone Umate Pro - iPhone Eraser you can scan and at the same time preview your private data.
The tool helps to clear hidden junk files for free.
It helps to erase all or selectively erase files as you wish.
Speeds up iPhone/iPad/iPod touch, basically, any iDevice that you own.
How to erase deleted files on iPhone using iMyFone Umate Pro:
Before we go into using the iMyFone Umate Pro it's important to state clearly that to erase in any mode, you will need to turn off "Find My iPhone" feature on your iDevice. Now that that's cleared, let's go into steps to take while to erase deleted files on your iPhone using iMyFone Umate Pro.
Step 1 The first step to take is to connect your iDevice to your PC using a cable.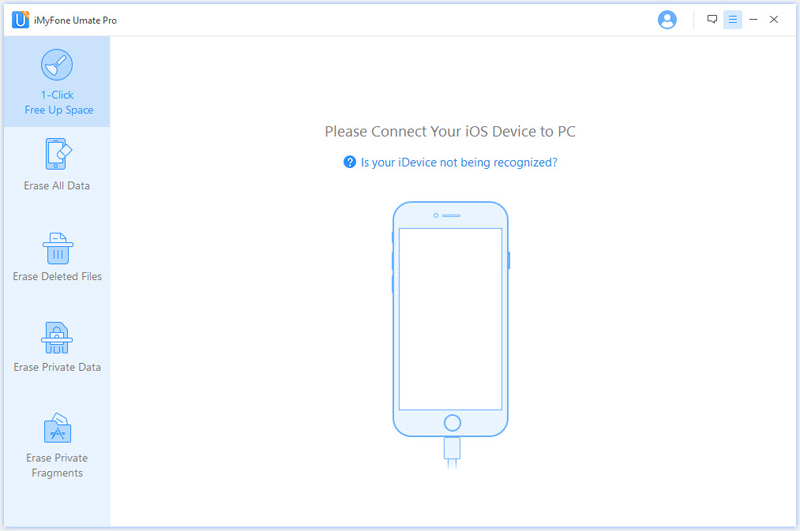 Step 2 Choose the Erase Deleted Files tab, next, click "Scan" and then the tool will start to scan your iPhone and list all deleted files. This process usually takes several minutes.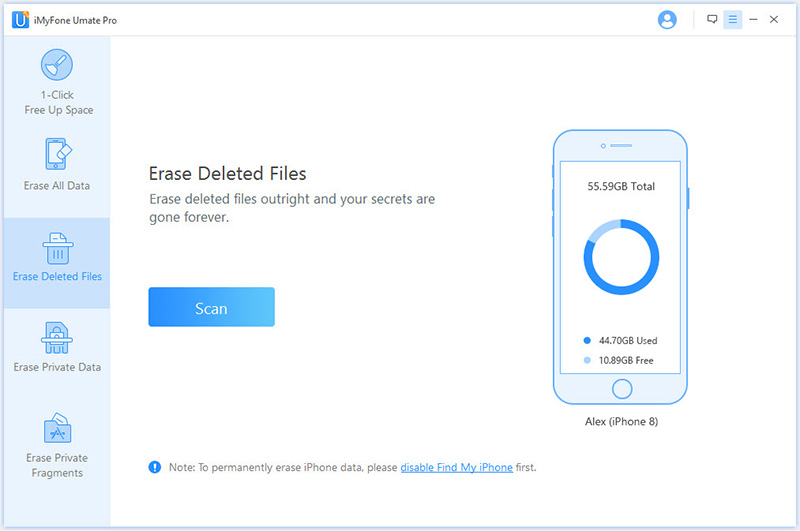 Step 3 Once you are through with the scanning process is finished. You can now click them one after the other to preview and tick the file types which you want to permanently erase in the box. You can then click the "Erase Now" button to erase the select deleted files.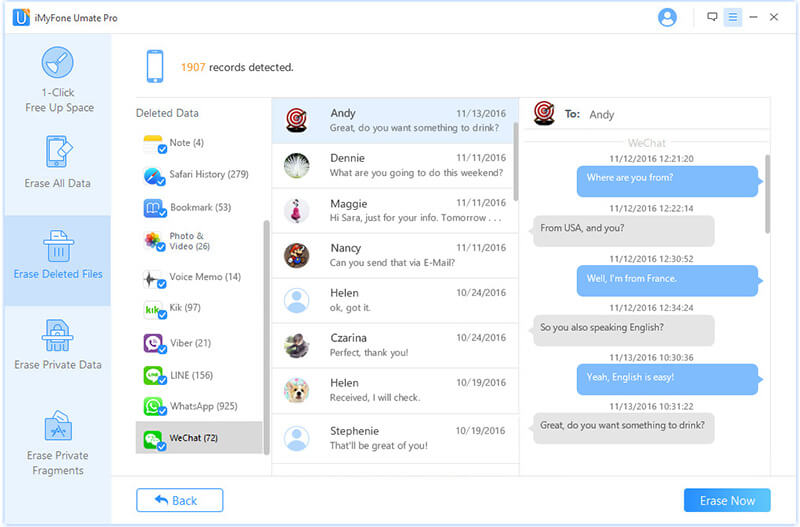 Step 4 The second to the last step at this juncture is to type "delete" into the box to confirm.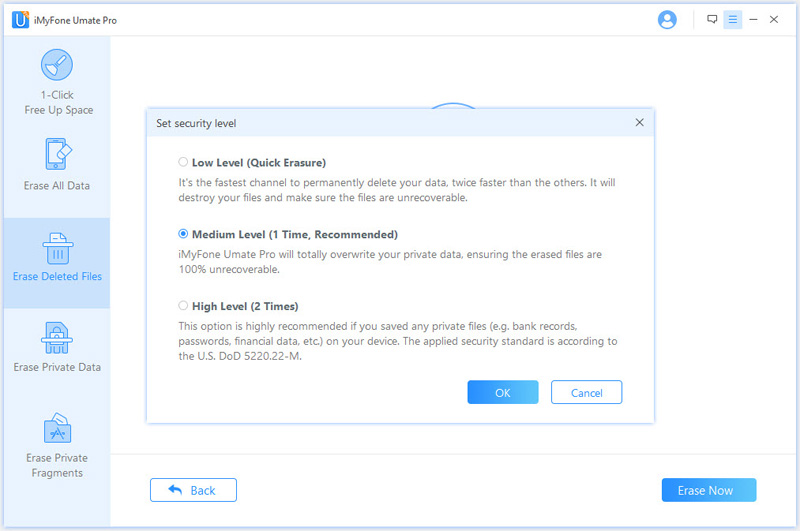 Step 5 Once you've manually typed in "delete" into the box to confirm your action, click the "Erase Now" button to erase all data that's on your iPhone.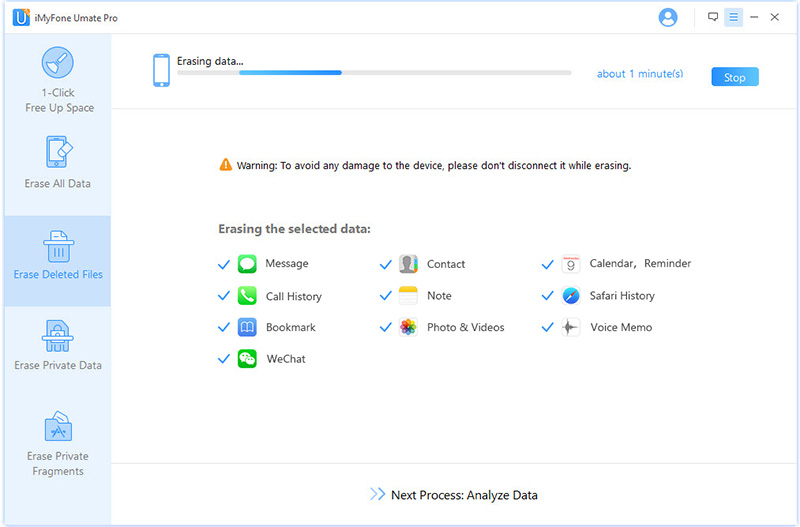 What Else Can iMyFone Umate Pro Do for Your iPhone?
1 Erase All Data
With the Erase All Data mode, you can delete all your stored file permanently, doing this will wipe off your data. It would be helpful when you need to start fresh with your iPhone or when you need to resell or give away your phone.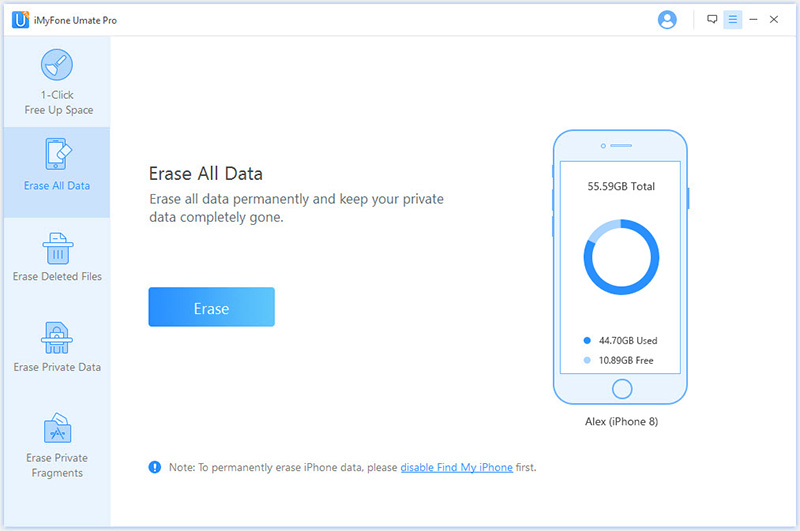 2 Erase Private Data
This mode helps you delete all residual information completely, I'm talking about calls, browsing history, and private photos.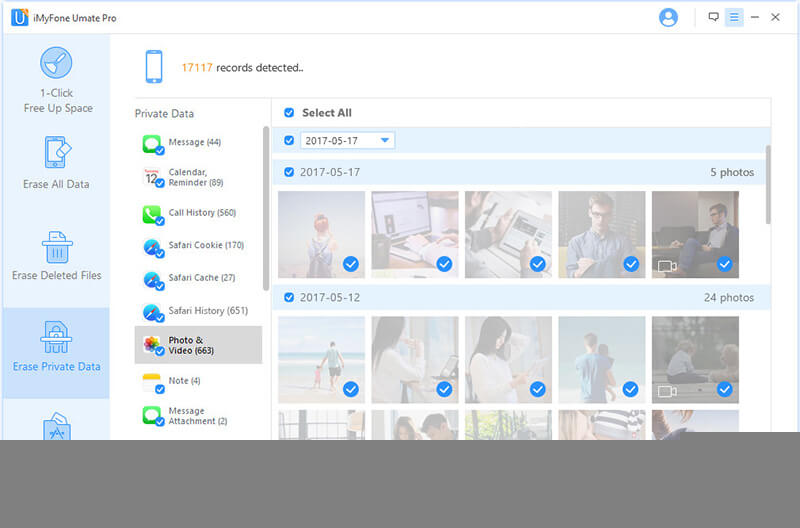 3 Clean Incomplete Private Fragments
This mode allows you to delete and clean up private fragments that found in all private traces which I produced by third-party apps.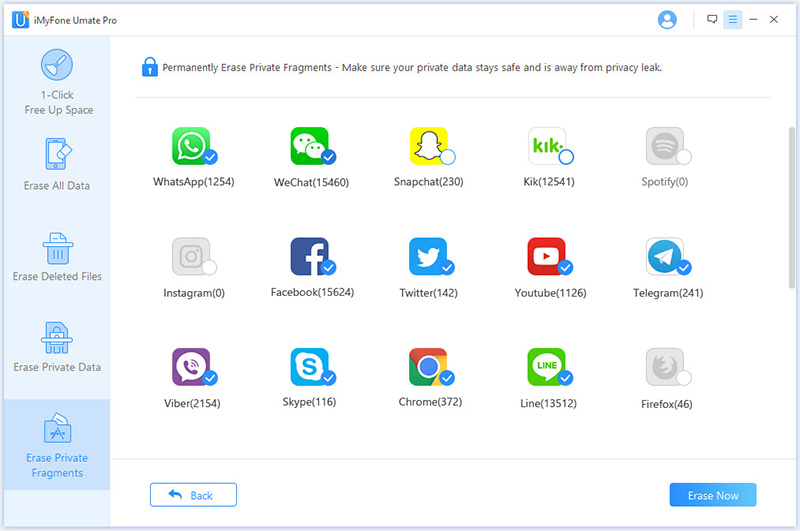 4 Speed up Your iPhone
This mode allows you to free up some space on your iPhone. This mode has over 5 powerful functions. It helps to clean up your junk files, compress photos, backup photos, delete them, and erase temporary files.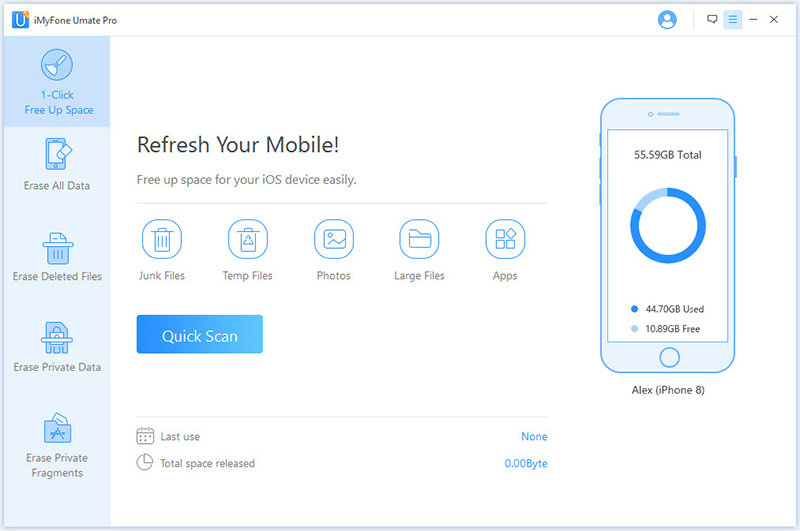 ---
You've finally found a tool that will help you delete unwanted files and erase deleted files on iPhone, especially the one you want to be cleaned up permanently. The iMyFone Umate pro will do that perfectly for you. So, before you hand over that iPhone, have you deleted the files permanently.