iPhone and Apple devices never fail to amaze users with catchy and useful updates. So is the case with the iOS 14 update. It has many advanced features, customization options, and widgets. But with these updates comes a drawback, which is large other storage on iOS 14. But don't worry because we have a detailed guideline for you, which will help you fix this problem and empty other storage on iOS 14 iPhone.
What is Other Storage on My iPhone?
All devices, including iPhone, feature an "other storage" option where all caches, voice memos, messages, etc. are stored. Most of the files stored here are created by mail app, safari, or iOS itself. People often neglect this option because they are not bothered by it or have plenty of enough space on their device. However, when you update to iOS 14, it will take a lot of space, and you might feel the need to delete stuff from your phone and create extra space for iOS 14 update.
People Also Ask - Other Storage Related Questions
Q1. How do I check other storage on iPhone?
First of all, you will need to check your iPhone's other storage space. To do so, go to general settings and then click on iPhone storage. A color-coded bar will appear, showing you the storage of your phone. The Grey portion of the bar represents "other storage." You can scan and analyze it to find out how much space is occupied.
Q2. Why is my other storage so high on iOS 14 iPhone?
Most users complain about large other storage after iOS 14 update like below. The possible reason for the iOS 14 large other storage bug is that iOS is counting some third-party apps as part of Other Storage on your iPhone. However, the exact reason for that has not been confirmed.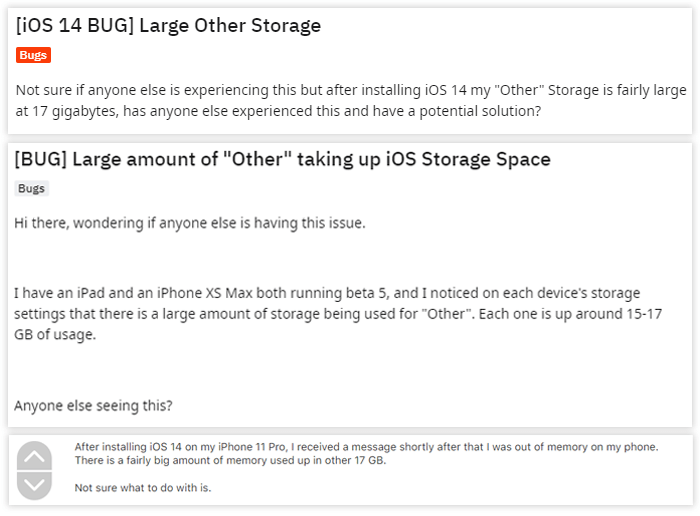 Q3. How do I reduce the other storage on my iPhone?
If you are also wondering how to remove other storage after iOS 14 updates or the best apps and methods to clear storage, here is a complete guideline.
Method 1: Delete iOS 14 Profile
One of the many reasons for large other storage after the iOS 14 update is a firmware file that leaves behind undeleted from the device. This problem mostly occurs during the update to iOS' beta version. Here is how to delete the iOS 14 profile.
Go to your iPhone's Settings, then General.
Choose the Profile option.
Open the existing software profile and click Delete Profile button to delete it.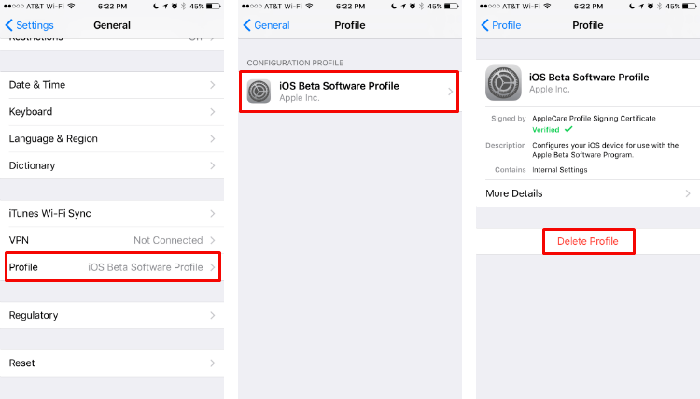 Method 2: Offload Apps
Many apps on your iPhone remain unused because of no apparent reason, and you don't bother to delete them because, according to you, they are just lying around and doing no harm. But in reality, they capture a lot of space on your phone and use data. If you want to delete an app but don't want to remove all its data at the same, you can choose to offload it instead. You can always offload apps by following a simple procedure and get rid of large other storage on iOS 14.
Go to Settings -> General -> iPhone Storage.
Then you will see a small dialog box shows "Offload Unused Apps". Tap Enable next to offload the apps you selected. You can also offload an app individually by dragging down the app page and confirming your offload app option.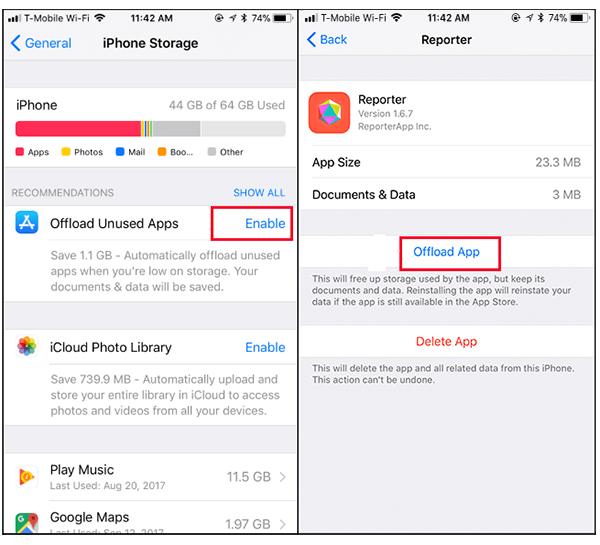 Method 3: Clear Browser Caches
Browser caches unknowingly occupy a considerable space in our iPhone devices. So, keep your phone clutter-free and delete the browsing data. Below is how to do it.
Select the Safari option from your iPhone Settings.
Then choose Clear History and Website Data (for iOS 13 or earlier) or Website Data (for iOS 14).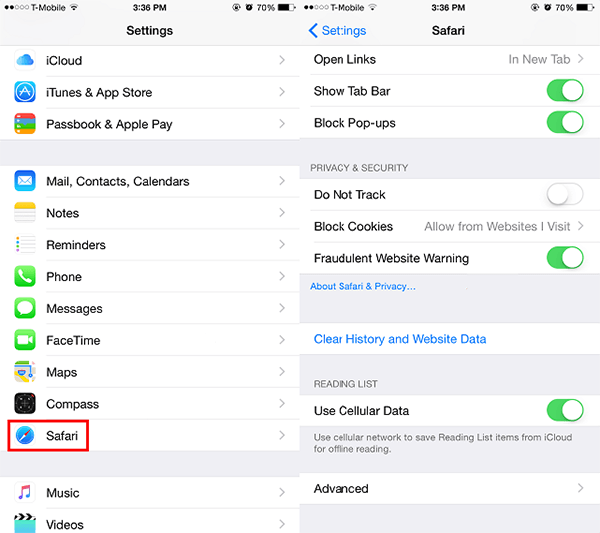 If you're using Chrome on your phone, you can also clear its cache, too. Just open Chrome and go to Settings, and then Privacy, and choose Clear Browsing Data.
Method 4: Delete Unwanted Mails
Emails are a great source of communication, and we don't want to miss any because it is the only thing that keeps us updated about our work life, promotional offers, and a lot more. However, if all these mails are stored on your iPhone directly, they can cause a storage problem, especially after the iOS 14 update. You can delete them by going to mail, selecting unwanted emails, and trashing them.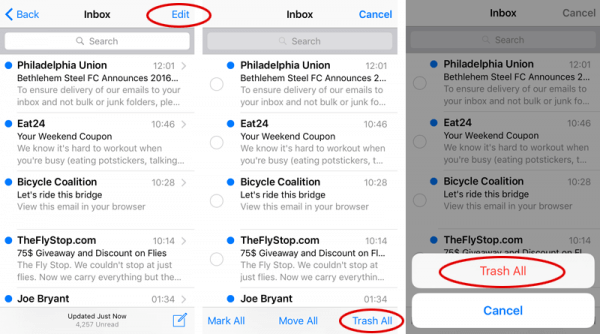 Method 5: Delete Old Messages
What's the point of keeping unnecessary messages that bring no value to you and occupy a lot of free space on your phone? Delete these messages and create space for valuable content.
Go to your iPhone's Settings and select the "Messages" category.
Scroll down and click on Message History and replace the option to keep messages forever with 30 days or one year.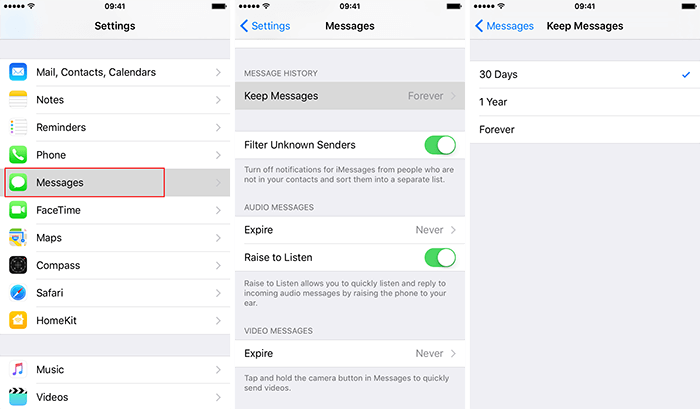 Method 6: Delete Photo Library
iPhones are pretty well known for the cameras, and this is why the photo gallery captures the most space. If your phone is running out of space after the iOS 14 update, consider deleting the photo library. You can delete individual images or delete the entire album at once - the choice is yours. Go to your photo library, select the photos or folders, and delete them.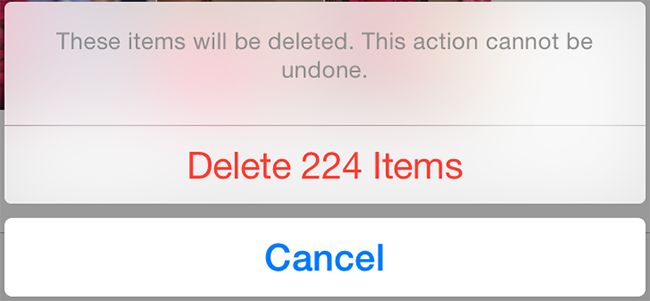 Method 7: Disable iCloud Drive
The iCloud Drive is the specialty of apple devices. But, it is not of any help if it causes storage problems. Large other storage after iOS 14 update is a pretty common problem, but you can fix it by disabling your iCloud Drive.
Go to the menu bar and click on the Apple icon, and then System Preferences.
From there, select the Setting and tap iCloud. Then uncheck the box second to iCloud Drive to turn off the features.
Note
If you disable iCloud Drive on your iPhone, that means you will need to manage your files locally. And the files on your phone will not be synced or updated automatically.
Method 8: Factory Reset Your iPhone
If none of the above options works to clear large other storage after iOS 14 update or you want to get rid of all existing data including other storage and start using it from scratch, consider the factory resetting the phone option.
Go to the General -> Settings -> Reset and then select Erase All Content and Settings.
Confirm your move by entering your passcode, and you'll have a phone as if brand new with no unnecessary data and plenty of free space.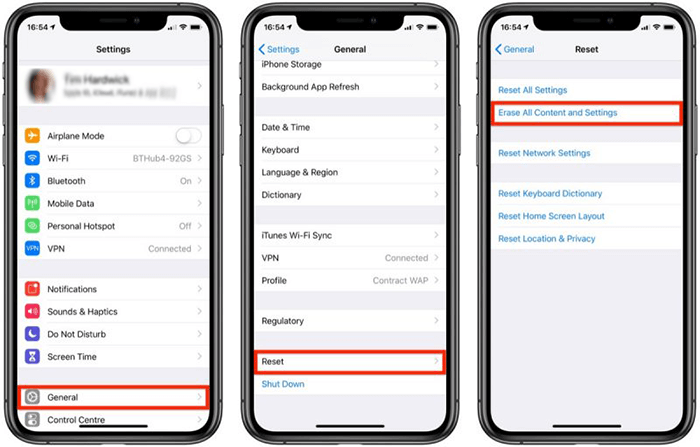 Method 9: Use iPhone Cleaner to Clear Other Storage
If all of the above methods are too time-consuming for you, you can check out another alternative to clear large other storage on iOS 14 iPhone. Third-party apps are reliable and authentic for clearing your phone's storage, and they also save you time and the long process.
You can use Umate Pro to delete unwanted files and erase large other storage after the iOS 14 update.
Key Features:
Offload unused apps in a single click.
Remove third-party apps fragments like Whatsapp, Facebook, Instagram, Skype, etc.
Clean up all the hidden and junk files.
Clear Safari data, search histories, caches, photo libraries, and cookies.
Factory reset your iPhone and delete unwanted data, etc.
Preview files before deletion to prevent accidental data removal.
Ensure that the selected files are permanently deleted and are unrecoverable.
How to use Umate Pro
Using Umate pro is easy to use and reliable. If you want to know how to remove other storage after iOS 14 update, using Umate Pro, follow the steps below.
Step 1. Connect your iPhone device to a laptop or computer and launch Umate Pro.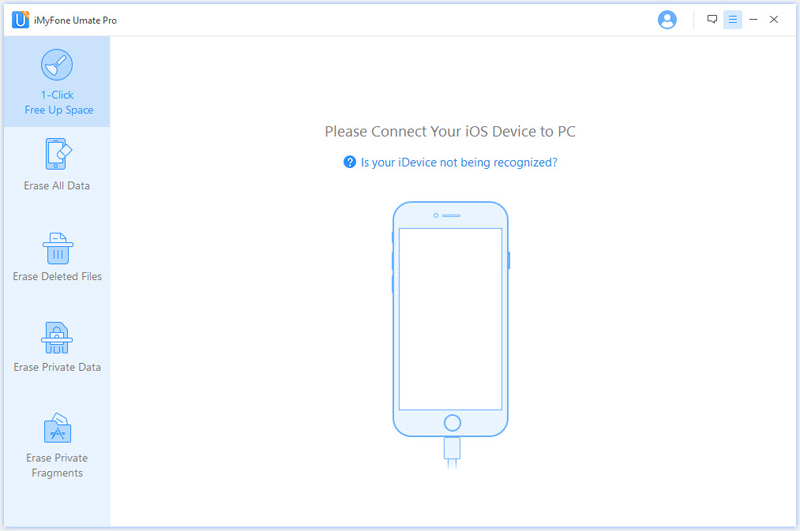 Step 2. Once launched, select the 1-Click Free Up Space option and press on the Quick Scan button- your phone will start scanning within a few seconds.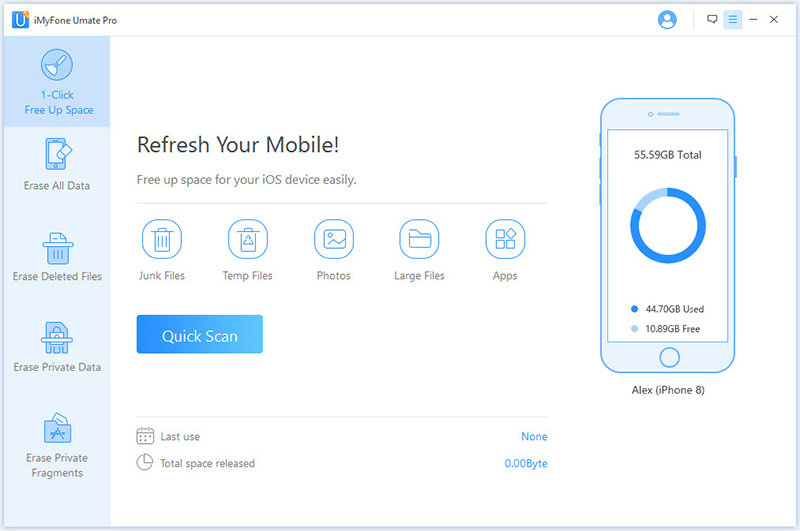 Step 3. After scanning, the app will show you how much space you can release. Most of the space will be occupied by junk files, messages, caches, large files, and various other things. To delete them all, just select all and click on the Clean button.
Conclusion
iOS 14 is one of the iPhone's best updates as it has a lot of new features, themes, widgets, and customization options. One of the drawbacks is large other storage on iOS 14. And you can easily fix the problem by using the effective methods we offered in this guide. The most recommended one is using Umate Pro to get rid of other storage on your iPhone. It can do more compared to other manual ways. After using it, you will get a few GBs for your iPhone, making it more efficient to run iOS 14.
Other iOS 14 Related Tips