Not all videos are meant to be shared. If you are one of those individuals who have private videos on their iPhone and don't want anyone else to see them, then it is recommended that you find a reliable way to hide videos on iPhone so that they are protected from the eyes of others. Fortunately, there are plenty of ways to achieve this.
Top 3 Ways to Hide Videos on iPhone
1

Best App to Hide Videos on iPhone
While there are many apps that you can use to hide your iPhone videos, it is not a reliable way because you can easily find those 'hidden' videos with a computer software (e.g. iMyFone Umate Pro). So, the best way to truly hide your private videos from others is to permanently erase them. In this way, no one will be able to recover your deleted videos using a data recovery software. iMyFone Umate Pro is an amazing iPhone data erasing tool that will help you protect your private data by permanently erasing it.
Following are some features of Umate Pro:
Key Features:
Scan and find all videos on your iPhone, even the ones that are hidden by iOS apps.
Erase your iPhone videos permanently so that they are 100% unrecoverable.
You can erase your camera videos as well as videos recorded/produced by third-party apps with this tool.
You can also erase your deleted iPhone videos with iMyFone Umate Pro and make sure that no one can recover them.
1-Click Cleanup feature to quickly get rid of junk files as well as compress large size photos to free up plenty of storage space on your iPhone.
iMyFone Umate Pro is fully compatible with iOS 14/13 and receive lots of positive reviews from macworld.co.uk, Makeuseof.com, Cultofmac.com etc.
Steps to Permanently Hide Videos on iPhone
Follow these instructions:
Step 1: Click on Erase Private Data tab on iMyFone Umate Pro and then click Scan to start the device scanning process.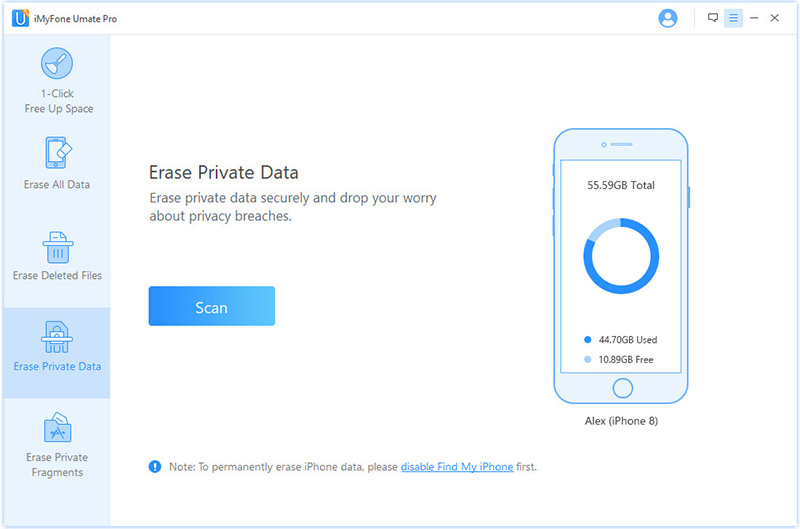 Step 2: Once the scan is completed, you will see a list of your private data such as notes, photos, messages, call history, etc. Select the Photo & Videos from the list that you wish to permanently erase and click Erase Now button.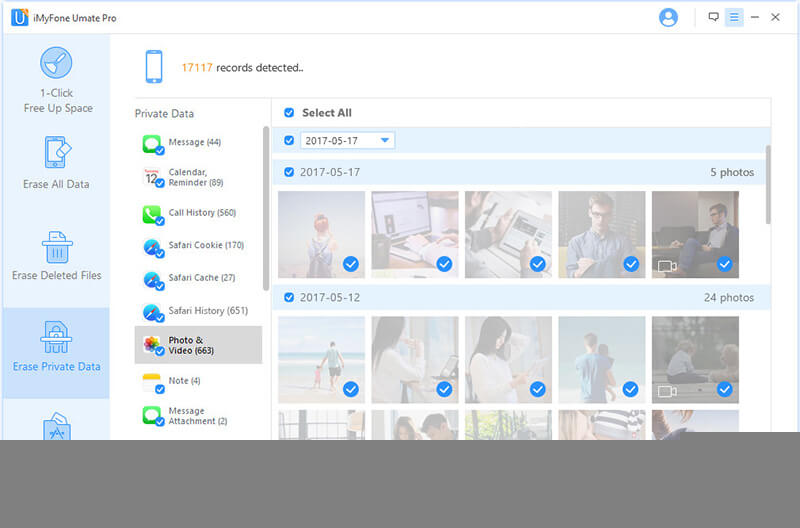 Step 3: On the next screen, select the security level of deletion (from low, medium, and high) and then type 'delete' in the provided textbox. Then click Erase Now button to confirm your action. The deletion process will start.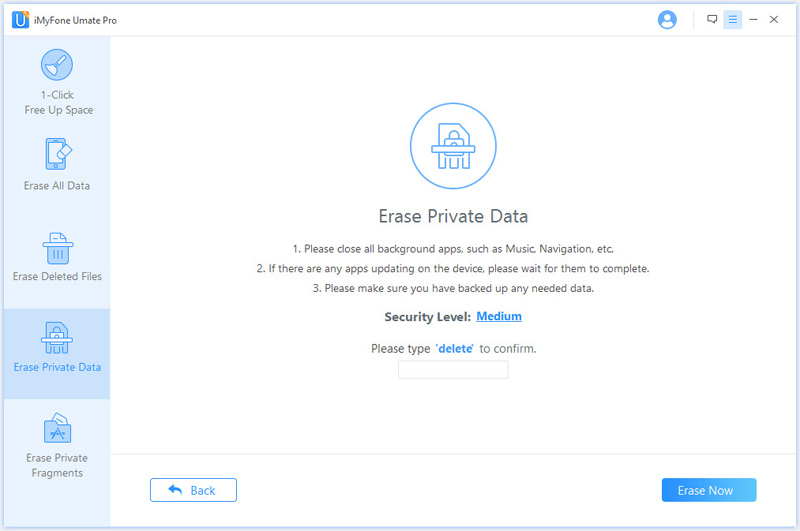 2

3 iOS Apps to Hide Videos on iPhone
Following are 3 apps that you can use to hide videos on your iPhone.
Con
As mentioned before, videos hidden via iOS apps can be easily found by the scanning process of iMyFone Umate Pro.
---
CoverMe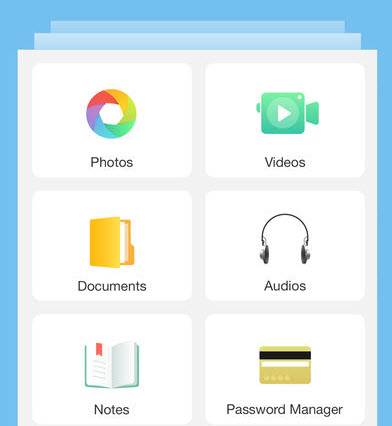 CoverMe is a multi-feature app that allows you to store your personal messages, contacts, notes, call logs, private videos, photos, etc. in its impenetrable vault.
This vault is secured with a password and if you ever need to give someone access to your iPhone.
You can use its decoy password which will only display non-sensitive data in the vault which you don't mind people seeing.
Keeply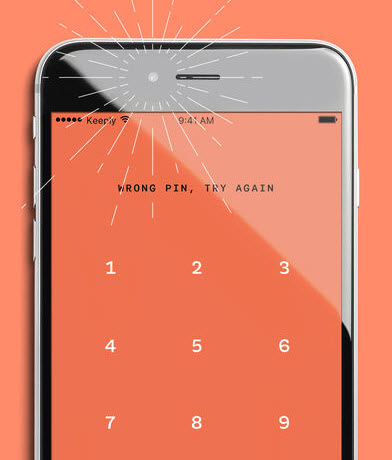 Keeply is another app that can lock and hide your iPhone videos and photos. This app has a user-friendly interface and it is also very secure.
You can hide your private videos conveniently using Keeply, it will protect them with your defined PIN code.
You can either backup Keeply data online or keep your videos only on your phone, without connecting to the cloud.
You can also lock credit card info, passwords, as well as other important information in Keeply.
Furthermore, you can use a Fake Pin when someone is watching in order to display an empty vault.
iDiscrete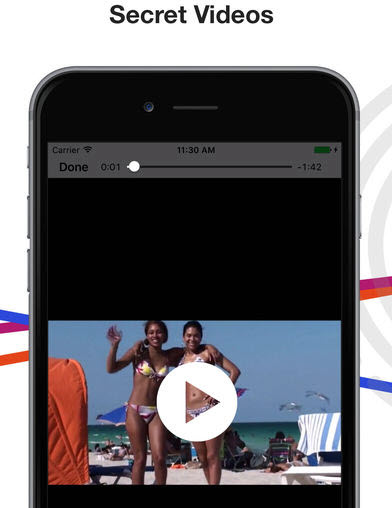 iDiscrete is a popular privacy app that offers a secure storage box, allowing you to hide your private videos, photos, messages, etc. so that no one can access them.
iDiscrete uses Touch Sequence Protection security mechanism which shows a fake loading screen when an unauthorized person opens the app.
You have to tap the correct places of the screen in order to enter password, which obviously no one else will know because only you would have recorded that tap sequence.
3

Hide Videos on iPhone Without Using a Third-Party App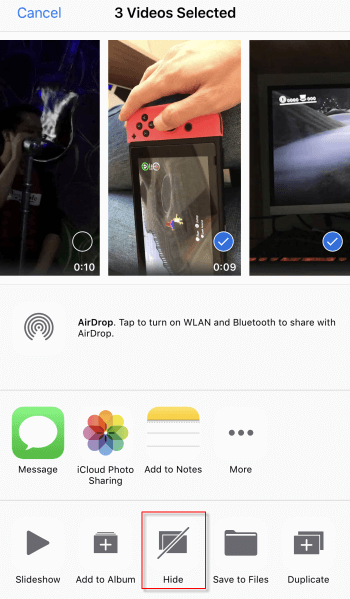 You can hide your iPhone videos without using any third-party app. You will need to use Photos app of your iPhone to achieve this.
Follow these instructions to hide your videos via Photos app:
Launch Photos app on your iPhone and navigate to the album which contains the videos that you want to hide.
Now use Select option and then choose the videos you want to hide.
After selecting the videos, tap Hide and then select Hide Video option. Your selected videos will now be hidden.
Note
Note that when you hide your videos via this method, they will still be available in an album named Hidden.