Autofill is online form filler which works automatically when filling forms and it is available in apps and web browsers. The essence of the autofill is to eliminate the time required for users to keep typing every detail when filling a form as autofill fills out the details automatically.
However, the problem with autofill is that multiple individuals can use the same device and use the same web pages which could expose the user and lead to fraud. This is the reason why we should clear autofill on iPhone so that the possibility of identity theft leading to fraud can be eliminated.
How to Clear Autofill on iPhone
Clearing autofill data on your iPhone is the best way to avoid the risk of fraud and the following are the steps on how it can be done.
Step 1: Go to "Settings" on the home screen of your device and open it
Step 2: Then go to "Safari"
Step 3: Tap on the "Autofill" button in the safari settings
Step 4: Then tap "Saved Credit cards" or "Saved passwords" to erase the data
Step 5: For credit card option for example, go to "Edit" and select the data you would like to delete, and then tap "Delete". You can find "Edit" at the top right and "Delete" at the top left
Importance of Privacy Protection on iPhone
There is no doubt that privacy protection on your iPhone is very important. The absence of privacy protection will lead to a higher risk of fraud as a result of identity theft. For example, a situation where your iPhone is sold or ownership transferred to another user can lead to recovery of your private information. For this reason, privacy protection is important to prevent these issues from happening and ensure that your information is well secured and protected.
How to Permanently Delete Sensitive Data from iPhone
It is important to understand that deleting sensitive data from your iPhone in a casual way is dangerous as these sensitive data can be retrieved by using some data recovery tools. The retrieval of these sensitive data could lead to identity theft and fraudulent activities which is dangerous.
However, with iMyFone iPhone Data Eraser, you can delete these sensitive data permanently without any chance of recovery from anyone. This program is designed to protect your privacy by erasing permanently sensitive data that may get into the wrong hands if nothing is done.
It is important to note that the Umate pro is equipped with different erase modes designed to safely and permanently erase data. The choice of the erase mode to use will be left for the user as it suits their needs. The following are the Umate Pro erase modes that are capable of erasing both current and deleted files.
Erase All Data: If all the data on your iPhone is very sensitive, then this erase mode is the best solution for it. This mode can erase all sensitive data on your iPhone permanently in such a way that they cannot be recovered again. Erasing all data on your iPhone can be done using factory reset but the reality is that this is not enough. Factory reset cannot delete data permanently because it can be recovered with recovery tools.
Erase Deleted Files: If you have deleted your sensitive data previously by a casual means, then those sensitive data stand the risk of being recovered. This mode is capable of showing all the previously deleted sensitive data. Then, you can now erase them using the umate pro to ensure that there is no chance of recovery even with the latest recovery tools.
Erase Private Files: This mode can help you erase sensitive files selectively so that there is no chance of recovery. In doing so, your privacy is protected and your personal information will remain secured.
Steps of Erasing Sensitive Data on iPhone Permanently
Step 1: Connect your iPhone device.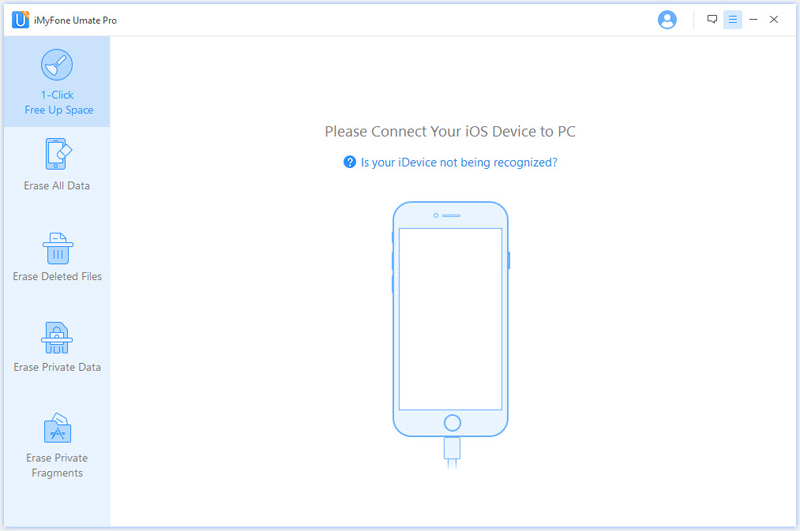 Step 2: Select any of the erase modes. This will be according to your needs.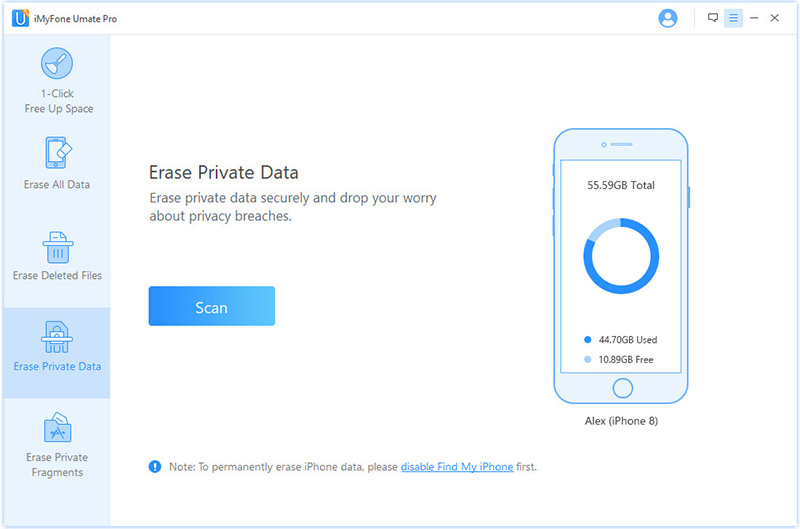 Step 3: Begin erasing the sensitive data permanently from your iPhone.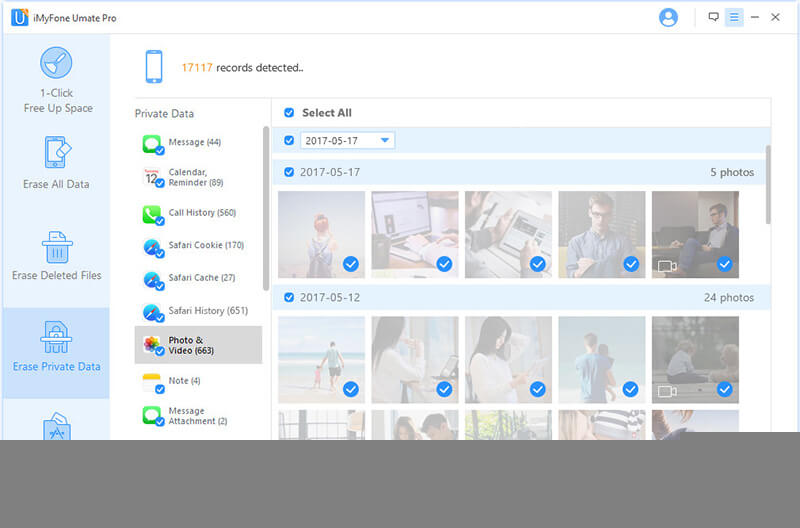 ---
Other Functions of Umate Pro
The iMyFone Umate Pro is one of the best iOS Space saving software everyone should have.
It can clean all iOS files like messages, videos, photos and even account passwords
It possess a 1-Click cleanup mode for managing apps, compressing photos and deleting in bulk all photos and videos
It supports many files types and it is compatible with iOS 15 and the new iPhone 12
Finds and erase previously hidden deleted files
Help iPhone perform better and faster by removing all junk and temporary files.