Your iPad offers the program "Safari" as a web browser. One of the cool features Safari offers is the reading list. This allows you to save articles or websites you wish to read on a temporary basis. Unlike bookmarks, a reading list is able to be deleted as soon as you are finished with the material. Therefore, these reading lists are temporary files taking up valuable space on your iPad, and sometimes even reveal your privacy. As a result, it is important to clear iPad reading list as often as possible, to allow your iPad to run at its maximum capacity and protect your privacy.
How to Edit Reading List on iPad
Safari offers two options when working to clear reading lists from your iPad. First you can choose to clear only the content you have read, and its associated content. More often than not, most people wait until they have read numerous items from the reading lists before clearing anything. At this point, it is best to just clear the whole reading list or all of your reading lists and start fresh. This is very easy to accomplish and built right into your iPad settings. There are also two options to accomplish this.
Clear Reading List iPad from Safari Directly
Step 1: Go to settings.
Step 2: Click on Safari
Step 3: Click on "Clear History and Website Data."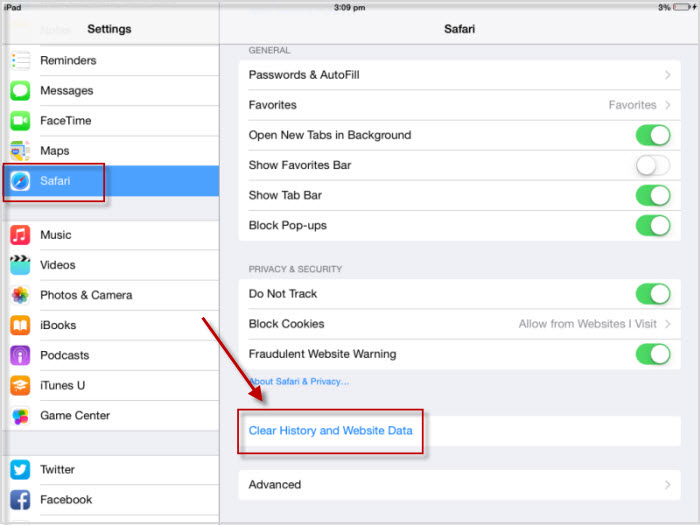 Three simple steps and all of your browsing history and your reading lists are cleared to help your iPad run much more efficiently.
Clear Reading list iPad by Using the iCloud
This allows you to clear all Safari history as well.
Step 1: Go to settings.
Step 2: Click on General.
Step 3: Click on Storage and iCloud Usage.
Step 4: Select Manage Storage.
Step 5: Select Safari.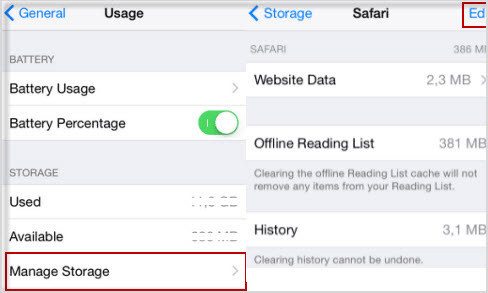 This is the best used to clear all of your browsing history on Safari from your iPad completely.
Why People Want to Clear iPad Reading List
In genera cases, there are two main reasons why people want to clear reading list on iPad. The first one is to protect their private data. As the reading list are private data, such as safari history and website data. Even you have deleted them from safari or by using iCloud, there are much recovery software can retrieve them back. The other one is to free up space. Too much reading lists will eat up a lot of storage, and make your iPad running slower and slower. Thus, it is very important to find methods to deal with these kinds of problem.
Also Read:
How to Clear Reading List on Your iPhone/iPad for More Space >>
How to Permanently Clear iPad Reading List & Achieving Free Space
Permanently Clear iPad Reading List on iPad
To permanently clear your reading list, iMyFone Umate Pro or iMyFone Umate Pro for Mac provide an efficient way to do this. Using "Erase All Data" function can permanently erase all the data on your iPad include the reading list and can never be recovered. Here are the steps:
Download iMyFone Umate Pro on your computer, install it and then connect your iPad.

After the software recognize your iPad, select "Erase All Data" mode.

Click the "Erase" button and then type "delete" into the box to confirm.
Kindly note that as this function aims to protect your privacy, it will not only erase the reading list, but also all of your data. No matter they are useful or useless.
Achieving Free Space
iPad memory is a very precious commodity. Therefore, finding ways to effectively clear space on your iPad is essential knowledge to every iPad owner. Besides iPad clear reading list, iMyFone Umate Pro offers this service of effectively for free up space.
How to Free up Space by 1-Click Free Up Space Option
The 1-Click Free Up Space option is easy to understand and even easier to use.
First, connect your iPad to your home computer using the USB connector cable that came with the iPad. Make sure you open the iMyFone Umate Pro software on your computer.
Second, allow iMyFone Umate Pro to scan your device for any and all files and information which can be removed.
Third, select the information you want removed and allow the iMyFone Umate Pro software to complete the task. This allows you to free up space without any remnants of information left behind.
The option offers several space saving functions:
First, it allows to you compress and transfer all photos and videos from your iPad to your computer. By compressing the photos, you save storage on your computer and your iPad.
Then, transferring the photos through a secured transfer program protects your data and allows you to store it safely and easily.
Additionally, this software allows for large data files and unused apps to be deleted securely, ensuring them not using any valuable space.
In addition to deleting and managing files and apps, this software will allow for personal, private data to be removed efficiently, protecting your privacy and keeping your family safe from hackers and other criminals. It also offers proprietary technology that wipes your iPad clean of any traces of you or your family. It allows for secure backup to your PC or MAC, prior to removing it from your iPad forever. Once you have used this program to erase your iPad, no data will be able to be restored and any new user will never know you existed.