You can also read this guide in Français.

As this user submit the question on the Apple community, many people have the same doubt about "can you delete Apps from iCloud". There are two main reasons why people want to do this:
1.Have a bad experience of this App before, but seeing a cloud-with-downwards-arrow icon next to it in App Store. And they want to get rid of it permanently.
2.Since there are only 5GB free iCloud storage provided, they want to delete the App data from iCloud to free space.
According to these two intensions, this article will give you the most detailed solutions with step by step tutorials.
Part 1. How to Remove the Cloud Icon in App Store?
Actually, you can't remove the cloud icon in App Store because they are not really stored there or taking up your iCloud storage. It is the historical record showing that you have downloaded or purchased this App before, and you don't need to pay again. After you figure out what this cloud icon stands for, you can ignore it or choose to hide the icon if it does bother you. This seems like the only method you can delete the Apps from iCloud.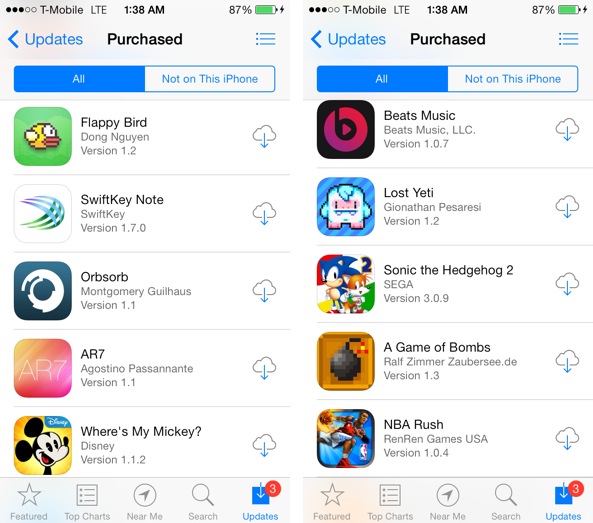 Here are the steps to hide the Apps cloud icon:
Step 1.Open the App Store app, then tap Today at the bottom of the screen.
Step 2.Tap the Account button or your photo at the top of the screen.
Step 3.Tap Purchased. If you use Family Sharing, tap My Purchases.
Step 4. Find the app that you want, then swipe left on it and tap Hide, then you are done.
Part 2. How to Delete Apps Data from iCloud? (iOS 14 Support)
When you turn on Apps data synchronization, these data will back up in iCloud and squeeze your iCloud storage with time going by. Then you can choose to delete some Apps data from iCloud, which is workable to manage your storage.
2.1 Delete Apps Data from iCloud through iPhone
You can follow the below steps:
Step 1.Get your iPhone, go to Settings and tap your name.
Step 2.Then tap iCloud > Storage > Manage Storage, and this will show you a list of Apps using iCloud storage space with data.
Step 3.Select an App and tap Delete Data.

Step 4.A confirmation message will appear, and if you confirm it will delete all of the data and documents the selected an App has stored on your iCloud account.

If you want to stop sync and prevent the Apps from backing up to iCloud in the future, you can continue as these extra 3 steps:

Step 5.Return to the iCloud Storage page, and some of the Apps will be listed Here. Click Show All Apps to see all the Apps.
Step 6.Go to the App that you want to delete data from iCloud, scroll it to the left.

Step 7.Confirm the action by tapping on Turn Off & Delete.
This will turn off the backup of this App and also delete the Apps data from iCloud. It won't delete the Apps from your iPhone.
2.2 Delete Apps Data from iCloud through Computer
For Windows users, you can operate by following steps:
Step 1.If you haven't download iCloud, launch one and login with your ID and password. You may also be asked to enter a verification code that was sent to one of your other devices.
Step 2.On the iCloud interface, select the Storage button which towards the lower right-hand corner of the window.

Step 3.Manage Storage screen will now appear, and choose the Apps you desired then click the Delete Documents and Data button, removing all files. A warning message may appear at this point. If so, select Delete to complete the whole process.
For Mac users, you can operate by following steps:
Step 1.Click the Apple icon, then click System Preferences and choose the iCloud icon.
Step 2.Click the Manage button, and locate the desired app in the left menu pane, then click it once to select it.

Step 3.Click Delete Documents and Data, removing all files from your iCloud Backup associated with the app in question. A warning message may appear at this point. If so, click Delete to complete the process.
The methods above should help you to delete the Apps data from iCloud, no matter which kind of device you operate. But these unwanted data will keep generating by this App and if you also stop syncing to iCloud, it will finally turns to be a storage burden for your devices. Thus, it is suggested that you can remove those unused Apps for good.
Bonus Tip:How to Permanently Delete an App?
Note
Of course, the simplest way is to press down the App icon and delete it. But with the icon disappear doesn't mean that your data in this App is permanently gone. All the trace marks and auto-downloaded photos are still in your device. It can pose a security risk and take up a lot of space as far as overall storage is concerned.
There is a very useful tool iMyFone Umate Pro – App Data Eraser to recommend. You can get rid of the unwanted Apps for good without privacy leak concern, and as easy as one-click deletion.
Advantages:
100% Permanently Delete: Any data erased by iMyFone is no longer recoverable with any tool.
One click solution: It can find and delete all the App media files in just one click, no need to take much time.
Wipe Deleted App Files: Previously deleted App files which are still recoverable will be scanned and erased, leaving no traces.
Various Data: It support to wipe texts, photos, videos, links, docs, group medias, etc from third-part Apps, and any other private data from iPhone.
Conclusion
There is no way to delete the redownload cloud icon but it is optional to hide them from your view. Also, you are able to directly delete the Apps data from iCloud, and you can operate through iPhone or computer. Even you can delete the whole App without any traces left with the help of a cleaning software, all above these methods can free up the space for your devices. With the increasing need of information nowadays, do you need more storage to give space for your data?