Instagram is one of the most popular social media websites nowadays. We all love the design, content shared and the whole concept. However, we all know that having an Instagram account can also lose a precious free time. Additionally, it also exposes our life to the public. There are a lot of stalkers that can easily see what you are sharing. There are numerous reasons on why it is not safe or good to use Instagram. If you have a strong one and you finally want to sell your iPhone and delete all private data related to it so you'll never have any privacy issues ever again, you may be interested in how to delete Instagram account.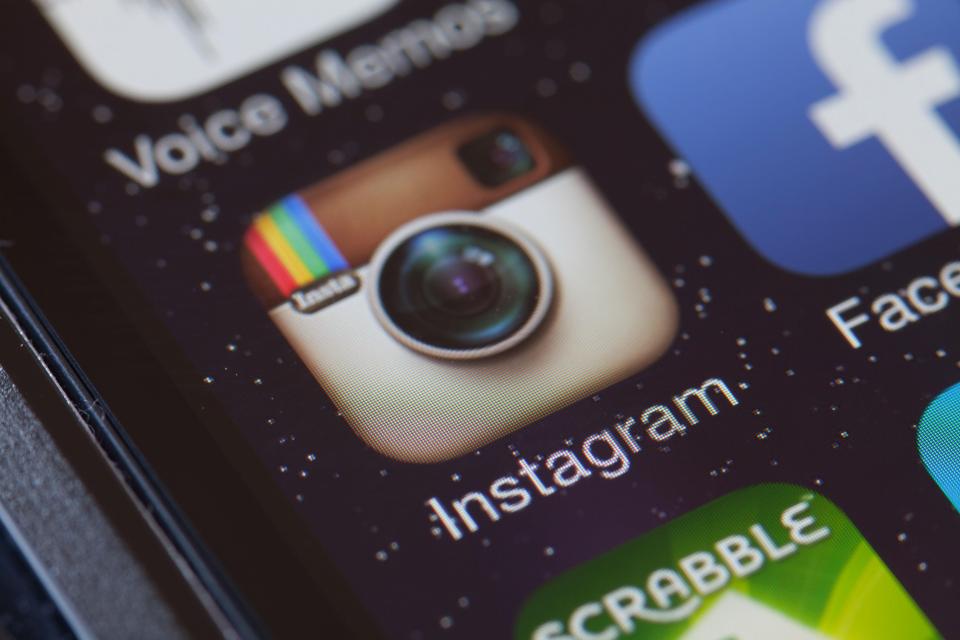 How to Delete Instagram Account
There are two types of deleting your Instagram account. You can choose the suitable one to delete your Instagram account.
How to Delete Instagram Account Temporarily
The first one is deleting it temporarily,this is just in case you want to come back again to this social network. It is also great if you want to get rid of it while you want to do something productive. That is it, when you want to return simply login and do it again.
Step 1: Log into your Instagram profile.
Step 2: Go to edit profile and find the tab for temporarily disabling your account.
Step 3: Tap it.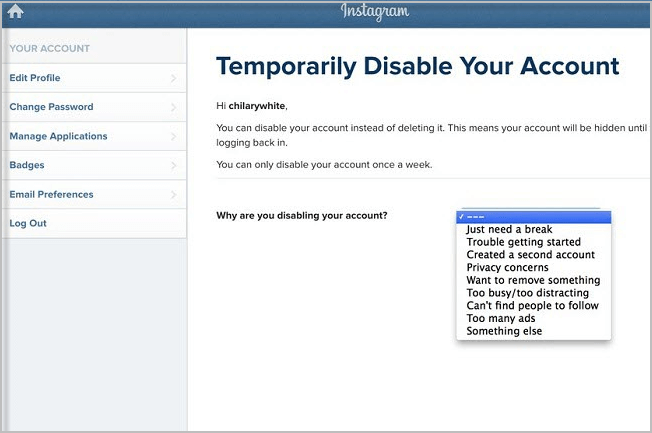 How to Permanently Delete Instagram Account
The second type is deleting it permanently, it means you can't log into it anymore and just like you never own an account.
Step 1: Go to official website, log into your account on your computer.
Step 2: Find the section that is marked Delete your Instagram Account, so head there.
Step 3: Choose an option to tell them why you are deleting it.
Step 4: Re-enter your password and then hit Permanently Delete My Account to get rid of it for good.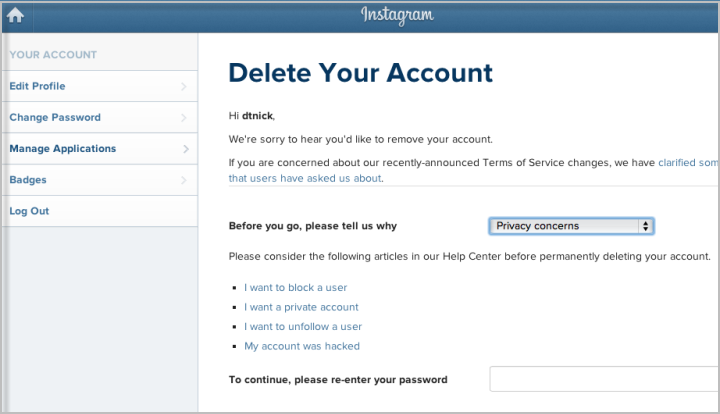 What Happens When You Permanently Delete Instagram Account?
After you permanently delete the Instagram account none of your posted photos will be available for viewing. All of your comments and likes will disappear. You will no longer have a profile where you can login. Simply, it will be like you've never owned an Instagram account. Thus, be sure that you really want to do it, because all of your important data will be forever gone! However, this is great if you really want to delete it and want people to never know that you had an account.
How to Permanently Delete Instagram Data/Fragments on iPhone
If you don't want to permanently remove Instagram account, but just want to erase the data on your iPhone to protect your privacy. You'll need external software that can also help you delete all Instagram data or just fragments.
We are talking about iMyFone Umate Pro or iMyFone Umate Pro for Mac which is a well-known data eraser for iPhone and iOS device. The software is used to permanently delete iPhone data, so it also can be used to permanently delete Instagram data on iPhone by "Erase All Data".
The Special Erase Modes and Features
These 4 features are especially useful if you plan to sell your iPhone. You just need to select the one feature you need in a particular situation.
Erase All Data will delete everything with a one tap from scratch and after that no one will be able to recover that data.
Erase Deleted files will make sure the ones deleted files to never be available for recovery i.e. it deletes them forever.
Erase Private Data will erase all photos, thumbnails, passwords, cookies, text files and almost everything related to the use of particular apps.
Erase Private Fragments will erase all the fragments produced by some third-party apps include Snapchat, WeChat, WhatsApp, Kik, Instagram etc.
How to Erase Instagram Data Using iMyFone Umate Pro

First – Download the software, install and connect it with the iPhone where you have Instagram installed.

Second – Select "Erase All Data" mode.

Third – Click "Erase" button, then enter the DELETE code into the box, and let it work its magic.
This function will delete everything related to Instagram and you will never find any data of it on your iPhone, just like you haven't ever installed it. However, if you don't want to lose all of your data, "Erase Private Fragments" function will be a good choice. This function can scan out all the fragments produced by third-party apps and erase them to protect your privacy.
Importance of Permanent Deletion of Instagram Data
Why do it? The reason is just the same as why people want to deactivate Instagram account, as there are hackers, and people that can use recovery software to retrieve your Instagram data back and to use it in their own behalf. The permanent erase will stop them to harries or use the private data against you when you give your iPhone away or just sell them.