There are many reasons why someone might want to delete large videos from their camera roll. The first and most obvious reason is that videos can take up a lot of room. If you've run out of storage, videos are often the most obvious files to delete first. Second of all, you may also want to delete private videos that you don't want to get into the wrong hands.
How to Manually Delete Videos from Camera Roll iPhone/iPad
Manually deleting both photos and videos from your iOS 13 camera roll is relatively easy. Simply do this:
Go to the Photos app on your phone.
Tap "Albums" at the top, find the "Videos" album.
Tap "Select" at the upper right corner and check the video you want to delete.
When the little trash can icon appears, tap it to delete the video.
Note
After you do this, your video will end up in the Recently Deleted folder. This means that you basically have to delete the video twice. To remove it form this folder, go into your Photos app and "Albums" tab again and choose the Recently Deleted folder. Find the video that you just deleted in there, and delete it following the same steps as above.
Are the Deleted iOS 13 Videos Gone Forever?
Now, keep in mind that when you follow these steps, you are manually deleting the video. This means that it will still hang around in your storage until it is overwritten by iOS. This is simply how deletion usually works. The problem with that is that someone could recover your video using special recovery software very easily.
Since the data is still technically in your storage, anyone with the right software could see your private videos. That's the risk of manually deleting them without permanently deleting them.
Permanently Delete Videos from iPhone/iPad Camera Roll [iOS 15 Support]
3 Simple Steps to Permanently Delete Videos from Your iPhone iOS 15 Camera Roll:
Step 1: Download and install iMyFone iPhone Data Eraser, then plug your iPhone into your computer.
Step 2: Open Umate Pro and click where it says Erase Private Data. Click Scan.
Step 3: When the software is done scanning, you will see various files that the software detected. Select the videos that you want to delete from "Photos & Videos" list and click Erase Now. Then confirm to make it done.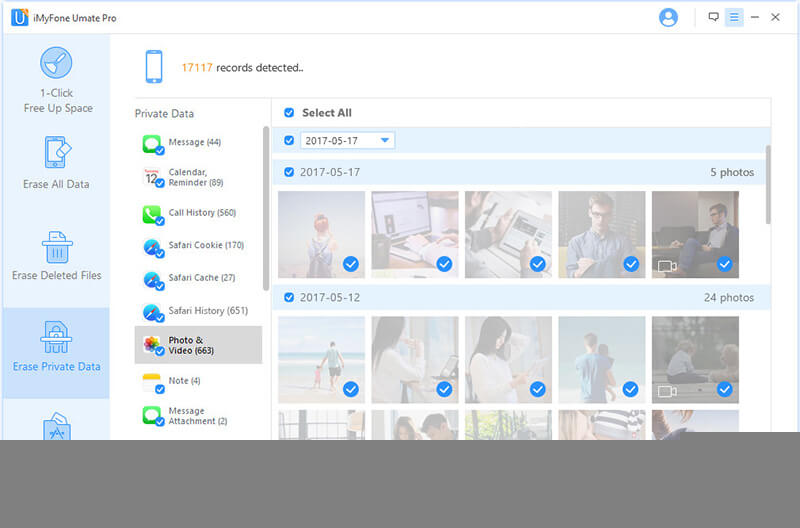 After that, the videos are permanently deleted from your Camera Roll, you don't need to remove them from "Recently Deleted" folder.
iMyFone iPhone Data Eraser received lots of reviews from professional software review sites, like
getintopc.com
,
MacWorld
,
pocket-lint
, etc.
"iMyFone Umate Pro is one of the most advanced data erasers for iPhone, making recovery next to impossible. It not only recovers a great deal of space on your iPhone, but also removes private data from your iPad and iPod touch with no possibility of its recovery." -- by AppKed
Final Words
As you can see, deleting your videos is not hard, but it can be risky if you delete them manually. If you have private videos that you don't want anyone to ever see, then it makes sense to use a tool like iMyFone Umate Pro to permanently delete them beyond recovery.