From time to time, it becomes necessary to remove software from your devices. There are many reasons to do so, such as reclaiming storage space, lack of use, or even security concerns. In recent months, many users have been removing Pokémon Go from their phones and PCs. For some users, this is just the regular use and removal of a piece of software that no longer entertains, but for others, it is a security concern that has them reaching for the uninstall buttons.
Part 1: Should I Delete My Pokémon Go Account?
Pokémon Go, the augmented reality hit from Niantic, was a smash hit in 2016 and has had a long-lasting life span, with countless additions over the years. However, security concerns grew that same year when it was noticed that running the game required that a user gave full access to their google account. All Android players and many iOS users gave Niantic access to their private data. Niantic released a statement advising that they do not receive more than basic account details, but this has left many users wondering how to delete their Pokémon Go account.
Part 2: How to Delete my Pokémon Go Account?
Uninstalling the app from your phone or PC will not remove your account but will prevent your access to it. Instead, the steps below will show you how to delete your Pokémon go account.
Note
Deleting your Pokémon Go account is
permanent
. Your data will be gone, and in addition, you will not be able to sign up from the same email address, should you ever wish to go back.
1

How to Delete Your Pokémon Go Account from A PC
Given the security concerns around the permissions required, the use of cookies, and even the lack of age restriction, it's no surprise that many users have opted to request their accounts are deleted. Here's how to request that Niantic removes your data:
Step 1: Visit the Niantic support website .
Step 2: Fill in your details and select Delete My Account, located in the dropdown menu under Issue category.
Step 3: Complete the Captcha box and click Submit.
Step 4: Check your email and confirm the deletion request. Deletion should occur within 14 days, usually sooner.
2

How to Delete Your Account from A Mobile Device
By its very nature, your mobile device and Pokémon Go work hand in hand to track your location. The intent is to make the game fun, which it does well, but it is wise to have the connection severed and your data removed when you finish playing. Here's how to use the Pokémon Go app to delete your account.
Step 1: Launch the Pokémon GO app on your mobile device
Step 2: Enter the main menu via the Pokéball icon.
Step 3: Click Settings.
Step 4: Scroll down to the bottom of the page and select Get Help.
Step 5: On iOS devices, select Contact Us.
Step 6: On Android, select the message icon in the top-right corner.
Step 7: Type out the phrase Delete My Account.
Step 8: Select How do I delete my account?
Step 9: Locate the link to Help Center.
Step 10:Answer the questions, then select Delete My Account.
Note
Remember, once your data is gone, you will no longer have access to anything you've collected or spent money on within that account. It is impossible to sign up again with the same account.
Part 3: Why do We Need to Know How to Reset A Pokémon Go Account?
The truth is that Pokémon Go isn't alone in leaving its users open to security risks, and it is essential to know what they may be and how to deal with them. Having too much access to your data does not mean that a company will do anything underhanded. Still, there is always the risk that they may do so or that a third party, such as hackers, may gain access to information that shouldn't have been available in the first place. With that in mind, it is good practice to delete accounts and then the apps of any software you no longer use.
Part 4: How to Erase Data from An iOS Device?
We've covered a need to reclaim space and security at times on your devices. For iOS users, we recommend iMyFone Umate Pro, a handy tool designed to erase private data and free up valuable space, which is particularly handy if you are worried about what all your old apps may be storing and sharing about you.
Features
Variable Security Levels.
Erase previously deleted files.
Erase private fragments produced by third-party apps.
Erase all data – Complete data destruction and resets the device.
Each of these features has a simple process. Select the process that you want to complete and do the following:
Step 1: Click Scan.
Step 2: After scanning, all relevant files will be listed to you.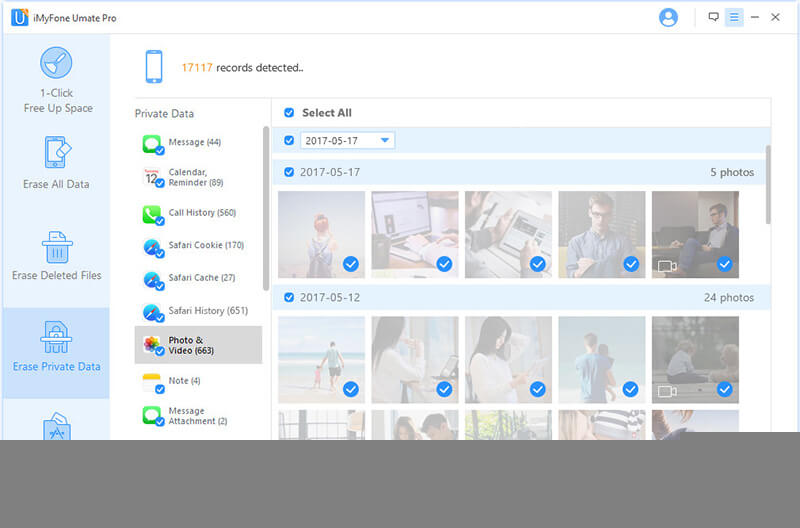 Step 3: Select which files/fragments you wish to delete.
Step 4: Click the Erase now button.
Step 5: Select the security level. The highest level will scrub the data selected twice to ensure it is unrecoverable.
Step 6: Type out the word Delete in the box.
Step 7: Click Erase Now.
---
Conclusion
Umate Pro is a great tool to regularly clear out private fragments, the files created by apps to report back to headquarters. It is convenient should you wish to perform a complete device wipe. The software can use a double erasure to ensure no part of your files is recoverable, which is handy if you want to sell or give away your phone, but are concerned about security implications.