On several occasions, you may have suspected that someone is spying on your iPhone and could be worried if this is possible or not. This may be true after all if you see some warning signs. However, there are ways on how to tell if someone is spying on your iPhone.
Each one of them will be treated carefully and you will found out the perfect way to protect privacy.
Part 1. Know about How Can They Spy First
If you have to protect yourself from hackers or trackers, the first thing you should make yourself familiar with is how they work. You must understand how your hackers work before you make necessary defense against them. A little or no understanding puts your device on great risk.
However, there are two ways in which hackers can spy on your iPhone, they are:
Spy while having it in their hands.
Spy remotely with the use of malware or spyware applications.
These two are common methods devised by hackers and it needs to be understood properly before any action is taken.
Part 2. How to Tell If Someone Is Spying on Your iPhone
There are several warning signs on how to know if someone is spying on your iPhone, some include:
1. Abnormally High Data Usage
If you suddenly notice you consume more data than you used to, even when what you do is equivalent to what you previously used to, then you need to check your privacy. Someone out there could be sharing your iPhone with you.
2. Unexpected Reboot
If you have been experiencing this lately, while your iPhone is still in good shape, then you face a privacy risk. There is high probability you are not the only person using your device and this looks so bad already.
3. Deteriorating Battery Life
Deteriorating battery life is inevitable; however, there is always a limit. If the deterioration is beyond normal, then ensure privacy check. Sometimes, it may not be as result of privacy risk, it is still advisable to check.
4. Increasing Battery Temperature
A deteriorating battery life comes with an increasing battery temperature. There is always a maximum battery temperature for personal use; if it exceeds that, something could be wrong.
5. Settings or Passcode Changed
Sometime you may find out that your settings or passcode were changed for no reason. It's the most obvious action that you can be sure there is definitely some malware on your iPhone already, watch out your privacy!
Now you know how to tell if someone is spying on your iPhone, it's high time to take action and to protect your personal privacy well.
Part 3. How to Protect Your Privacy from Spying
People talk about safer ways to ensure privacy leak is avoided; however, there is the safest way that could be used. In order to protect your privacy on the maximum, iMyFone Umate Pro was designed to suit this purpose effectively. This tool has done a lot in recent years and no doubt, it would do even better when faced problem like: how to know if someone is spying on your iPhone?
An incredible feature of iMyFone Umate Pro is that it erases the important or sensitive data completely without accessing to anyone or ensuring recoverability. The mechanism of operation is quite topnotch and it is by far, one of the leading erase tools in the world. There are several things that come with using this tool and they have all been classified and listed under the features and steps on usage respectively.
Features of iMyFone Umate Pro
Completely erases all kinds of data (including private data) without recoverability.
Removes even all previously deleted files and data from device..
Permanent removal of private fragments as a result of third-party apps from device.
Instant delete of junk files, caches, temp. files from device via the 1-Click clean-up.
How to use iMyFone Umate Pro to protect privacy from spying:
Step 1: Make a connection between your device and PC via a USB cable.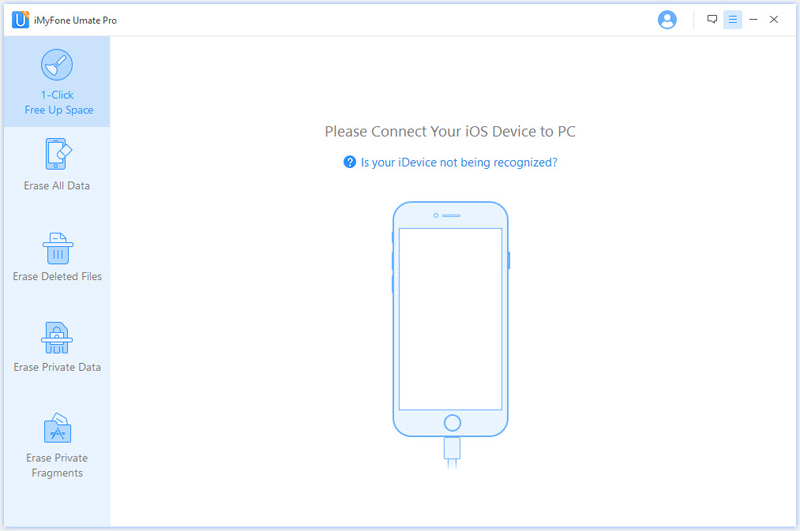 Step 2: Select an erase mode i.e. "Erase Private Data" and Scan.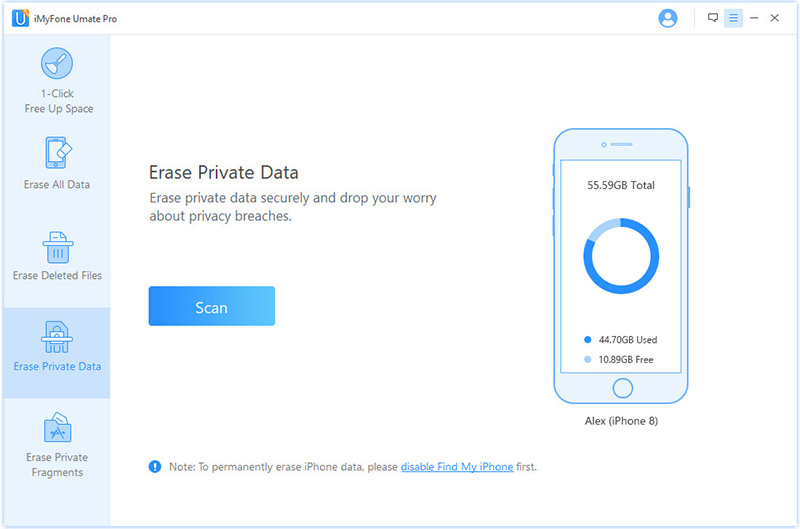 Step 3: Preview and carefully select private data to be erased.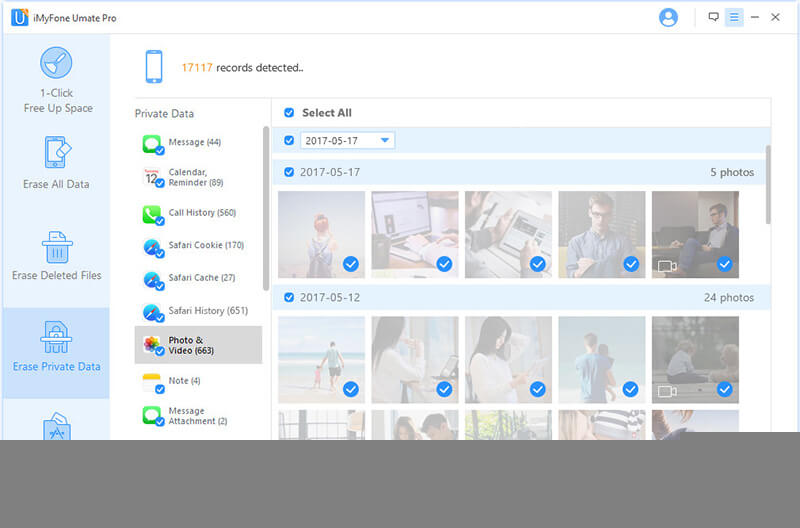 Step 4: Pass through the Security Level protocol.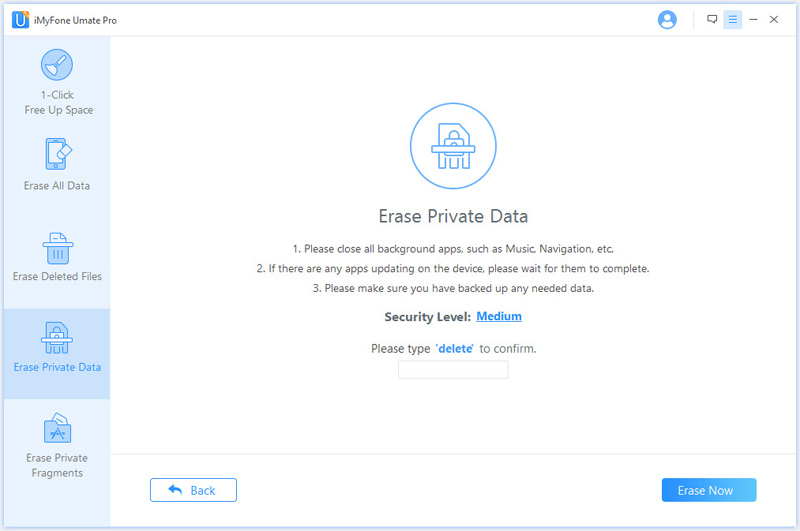 Step 5: Begin to erase and wait for it to finish.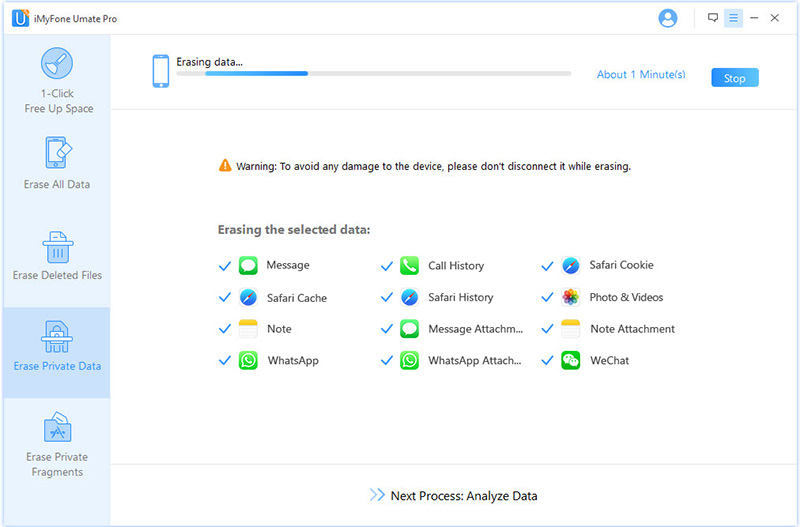 Once you remove all private data or sensitive ones, you have limited the possible chances at which the hacker gains access to your device. Hence, spying becomes impossible and you are safe.
Part 4. Other Useful Tips to Prevent Spying
Most of the privacy leaks through spying are as a result of nonchalant attitudes toward contents of a device. Several things have been discussed above on how to know if someone is spying on your iPhone, therefore, it is consequential that you are provided with useful tips on how to prevent spying. They include:
Password Changing: Ensure you set strong passwords but easy to be remembered by you for safety.
Factory Reset: Once you notice changes on how your device works, factory reset will do few tricks.
Version Update: Old versions of iOS poses more risk than anything
Manual Removal Untrusted Apps: Third-party applications are also one of the best-known sources of releasing sensitive data to the public.
---
In conclusion, you have an idea on how to know if someone is spying on your iPhone, so, if you having an issue or another check through and see if you are safe. The safety of your device goes a long way of protecting you and your personality i.e. there are some information that should never be revealed to the third-party. And don't keep the most private data on iPhone, or get help from iMyFone Umate Pro, eliminate the possibilities of leaking data.