Since the invention of Apple's mobile device operating system, Apple's iOS development engineers have had their focus fixed on making iOS devices do more, rather than improving on the efficiency and quality of what is done. However, with the invention of iOS 13, Apple is approaching development from the angle of speed and performance rather than bringing more features to iOS.
Therefore, if Apple claims that iOS 13 should not be judged based on features but on performance, then let's compare it with iOS 12 to see how well it will perform.
iOS 13 VS iOS 12
What features will Apple iOS 13 come with as it's launched this summer? We've made a list of these features, and what makes them better in iOS 13 than iOS 12.
#1. iOS 13 VS iOS 12: Home Screen
The new iOS 13 Home Screen Feature will be cleaner than that of iOS 12. The Home Screen will include apps with only icons and no names written below them. Don't forget that iOS 13 will be coming with new and finer wallpaper, which is more preferable to the one in iOS 12.
#2. iOS 13 VS iOS 12: Sound Bar
iOS 13 will come with a new soundbar that would be located at the top of the iOS Home Screen in order to allow quick access to volume control while using your iOS device.
This is not the same with iOS 12 soundbar which hidden below the home screen, and you have to flip up your iPhone screen to see.
#3. iOS 13 VS iOS 12: Face ID Update
Facial Recognition is going beyond opening the iPhone lock screen to even locking and unlocking iOS apps. With the invention of iOS 13, you can now lock and unlock certain apps in your device using Face ID technology, but this feature is only for those using iPhone X.
#4. iOS 13 VS iOS 12: Guest Mode
The all-new guest mode in iOS 13 will allow anyone who needs to use your iOS device some certain permission to access some apps and features in your iPhone or iPad in the face of an emergency.
#5. iOS 13 VS iOS 12: Multiple Timers
iOS 13 users will be able to set multiple countdown clocks on their iPhones.
This feature is not available in iOS 12, and you can only enjoy multiple timers in iOS 13.
#6. iOS 13 VS iOS 12: Safari
The latest iOS News and More is suggesting to iOS users that iOS 13 will be coming with fast links at the top of the Safari screen and the Search bar will be moved to the bottom of the window.
#7. iOS 13 VS iOS 12: FaceTime
Many iOS users have been clamoring for more features in FaceTime such as conference calls. Now, iOS 13 is bringing conference style calls to iPhone and iPads users who are also using FaceTime app on their device.
#8. iOS 13 VS iOS 12: Notification Dots
iOS 13 will come with a new feature called notification dots. Whenever you receive a text message, mentioned in a tweet, have a Facebook notification, or get an alert from an app, two color-changing dots will appear at the top of your screen.
Should I Run iOS 13?
Yes, I believe iOS 13 is worth giving a shot. The public beta is available now for you to review and see what iOS 13 will look like. You download it now and install it on your older and newer iPhones as it supports both.
What If I Don't Have Enough Space to Install iOS 13
Are you concerned that your iPhone 5s may not have enough memory storage space for installing iOS 13? There is no cause for alarm for there is a good solution for you. iMyFone Umate Pro can help you maximize your iOS storage space so that you can have enough space to install the update when it's available.
iMyFone Umate Pro for Win or for Mac has the capacity to scan your iPhone in order to fetch out all useless files, data, and apps that are occupying your iOS device storage space. Such files may include deleted app fragments, old and unused apps, large files, photos, videos, multiple copies of a particular media file, cookies, browser caches, etc. Umate Pro can erase them permanently to recover your iOS space and make such that they don't enter the wrong hands.
Key Features:
iMyFone Umate Pro can erase deleted iPhone data to free up space and protect privacy.
Umate Pro can wipe third-party apps and their fragments to recover your iPhone storage space.
It can help you compress photos losslessly, but first backup original copies of such photos on your PC to ensure no photo is lost.
It can scan for unused and rarely used files and help you back up and erase them from your iPhone to recover your storage space.
Steps to erase deleted iPhone data to free up space and protect privacy:
Step 1: Download and install iMyFone Umate Pro on your PC. Connect your iPhone to your PC using a USB cable, and launch Umate Pro.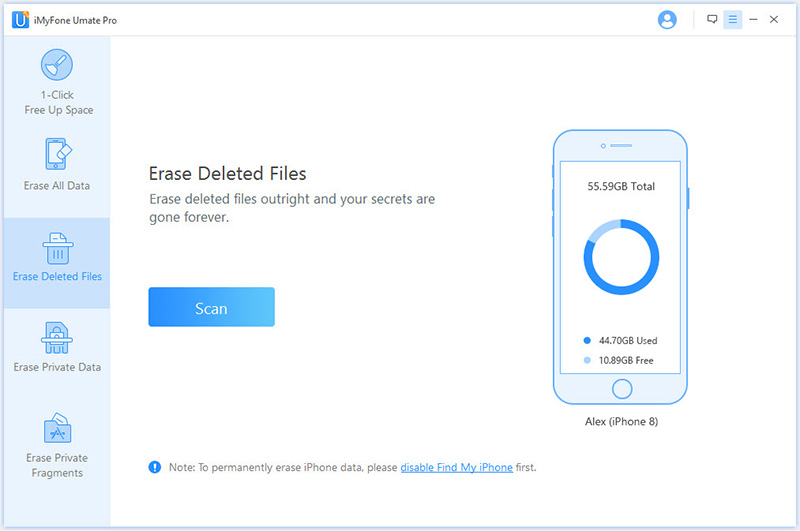 Step 2: Choose "Erase Deleted Files" as your erase mode and click "Scan" afterward.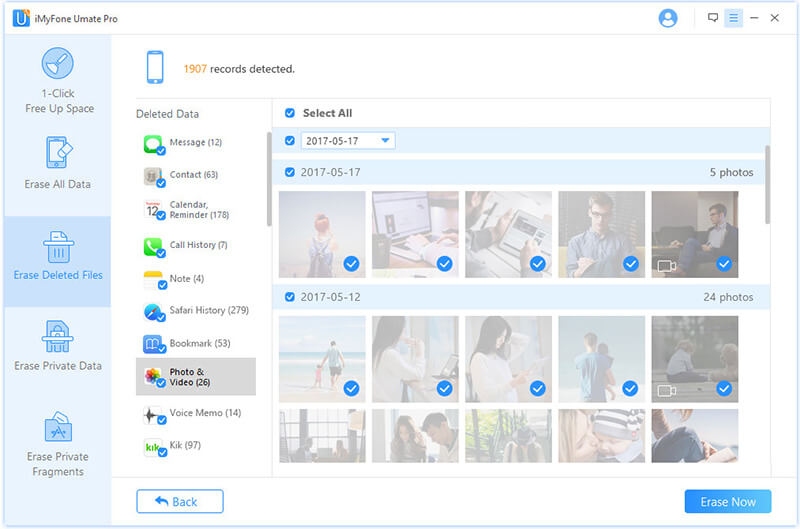 Step 3: Preview through the deleted files listed. Then click the "Erase Now", select your security level and type "delete" into the box.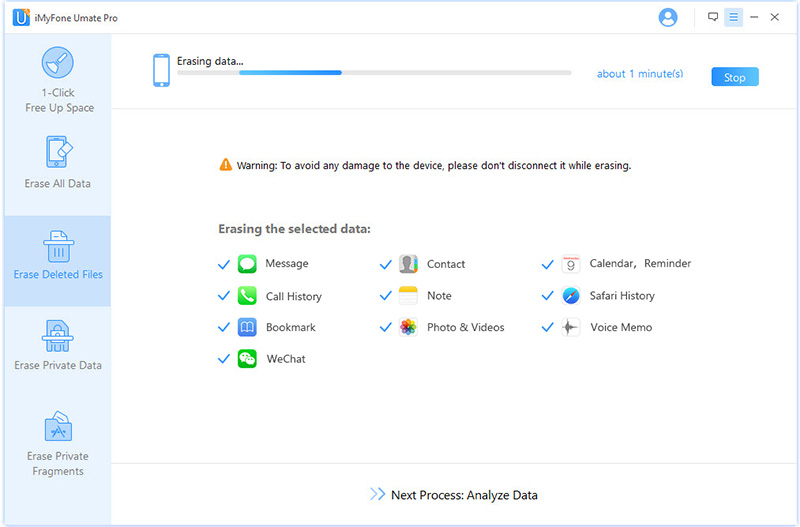 Step 4: Click "Erase Now" button again to start erasing deleted files that are still lurking in your iPhone memory. After this, you will discover that you've free up lots of iPhone memory.