iPhone privacy setting is that feature what makes the iPhone stand out from all of other similar smartphones. We all know the recent drama between Apple and FBI about the iPhone of the terrorist that was one of the main suspects in the terroist attacks. iPhone privacy settings were all over the news, because Apple and its CEO forbid the FBI to be able to enter the phone of the "terrorist". Now let's talk more about these settings and let's see what they mean and how you can make use of them! Every user should be aware about iPhone privacy settings because they may protect you against many harmful situations.
iPhone Privacy Settings: What Should We Know?
iPhone Privacy settings is where actually your data is controlled. Not only the data and situations when your iPhone gets stolen and you need to protect that data, but also other important settings like permissions. If you want to know to access it, it is very simple. Go to "Settings", then tap "Privacy" and you are all set. There you will find all sorts of different Privacy Settings features.
(1) Basic Privacy Settings
Privacy settings on iPhone help differently when they are turned on and off. When all of the basic privacy settings are turned on, your iPhone is protected against theft, losing and your GPS/location can be used by some of the apps. To put it simple, when the privacy is on for most of the cases the iPhone will block any app that is trying to get some information from your iPhone. Contrary when Privacy Settings are off, the apps can drain battery, get data and do actions that you didn't approve. So, be sure to frequently visit this and manage your basic privacy setting apps. Just leave the important settings on and let the unnecessary ones off.
(2) Location Services
Location services are the GPS features of your iPhone that let you find out where exactly you are, find nearby services, get directions, etc. They brings great convenience sometimes, but they also makes you suffer the risk of being tracked. When you visit the privacy settings tab you will most likely notice the location services as well. Location service are ON by default.
Location Services: Turn off this one would not give any permission for other items below to be turned on. You can turn it ON.
Share My Location: With it ON, you can send your GPS location to family members who you have added into your Family Sharing.
Apps: For each app listed there, you have two choice, "Never" and "While Using the App". Not all apps need your location and you don't want all apps to know where you are. Choosing "Never" for those apps which you do not want them knowing where you are at all.
(3) System Services
Cell Network Search: It helps you to find 3G or 4G cellular network to connect.
Compass Calibration: It focuses on using of built-in compass for location.
Find My iPhone: It allows Find My iPhone to use GPS to find the location of your lost iDevice.
HomeKit: It allows you to turn 3rd party accessories on or off when you at home or not.
Location-Based alerts: It allows your iPhone to receive alerts and notification based on where you are.
Location-Based iAds: It allows apps to use your location for delivering ads.
Motion Calibration & Distance: It will allows your device tracking your fitness activities.
Safari & Spotlight Suggestion: It allows Safari and Spotlight to provide you with relevant information based on where you are.
Settings Time Zone: It allows your iPhone's time zone to be updated automatically.
Share My Location: It is helpful when one needs the directions to another.
Wi-Fi Networking: It will send information about nearby Wi-Fi networks to Apple, which would help Apple to improve its features.
Frequent Locations: It allows your iPhone to learn placed you frequently visit in order to provide useful location-related information.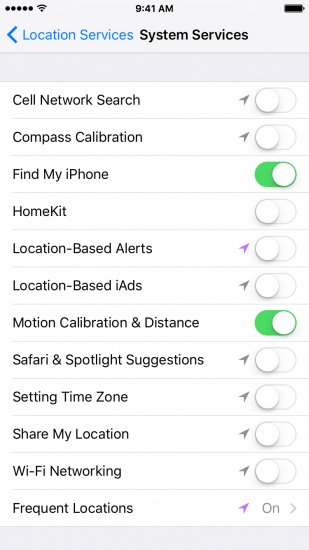 Note
Using iPhone privacy settings would bring you much convenience for your life, but would also make you suffer the risk of privacy leak. Your iPhone data may be tracked. But when you turn iPhone privacy settings off, lots of useful iPhone features cannot be used. So please keep some settings you need on and turn others off. Besides, you can also completely delete your unneeded personal data from your iPhone.
How to Completely Delete Your Private Info from iPhone
However, besides turning off privacy settings to protect your private info, you'll need other ways to protect it. Try to completely delete some unwanted data from your iPhone to avoid privacy leak. This is especially important when you want to sell or give your iPhone as gift. In such cases you'll need a software that will erase all of your privacy data, settings and apps. Users need to be sure that the privacy info they will delete will be permanently deleted and that is why a high-quality software is always needed to accompany such process.
One of the very best privacy data permanent erasers for iPhone is iMyFone Umate Pro or iMyFone Umate Pro for Mac. Not only it can help with iPhone privacy settings, but also with all the iPhone models after that. It is a versatile software with excellent erasers options. Among the iOS users this popular software is known as all-In-One solution not only to erase everything, but also as a privacy protection tool. On top of that it can erase everything without the possibility someone to restore it! The permanent deletion feature will guarantee no one will ever have even part of your data. Your personal information will be permanently secured.
To permanently erase everything, including your privacy settings and private data, all you need is install iMyfone Umate Pro and connect it with your iPhone.
Then choose the erase modes:
Erase All Data: Everything on your iPhone will be permanently erased, including iPhone privacy settings and all data. No one or no app can access them again.
Erase Deleted Files: You may delete something from your iPhone before. The deleted data can be found out here and you have the choice to make them completely gone, 100% unrecoverable. Even your deleted SnapChat data will be completely destroyed as well.
Erase Private Data: You should store your personal data like photos, notes, messages and more on your iPhone. If you want to delete it, you'd best run this mode to permanently delete them. It also supports third party apps, like WhatsApp, WeChat and Viber.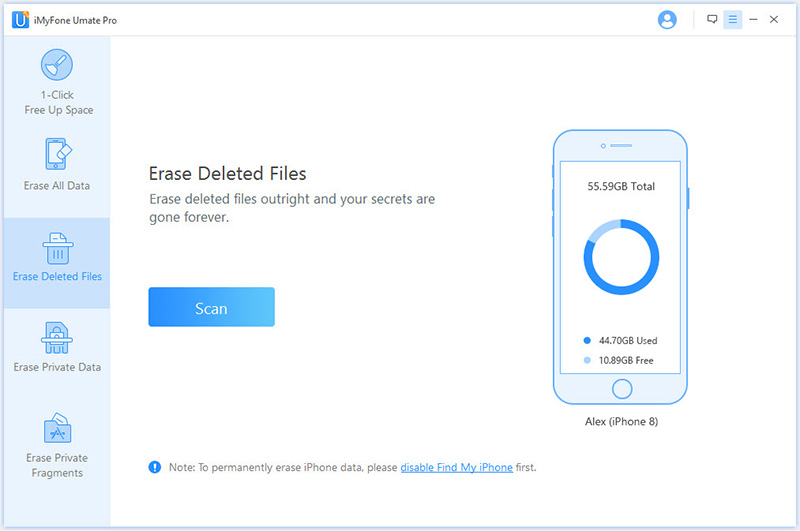 Hit "Scan" button for a full analysis and select the data to erase.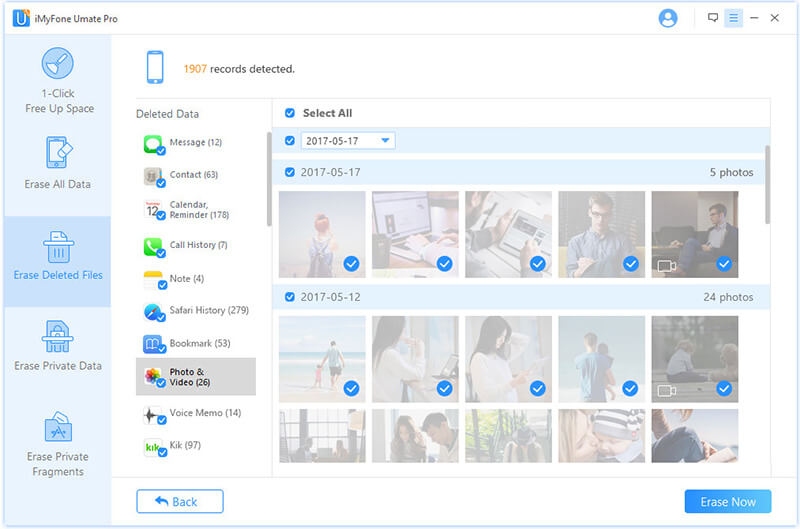 Type "delete" into the box to confirm. Tap "Erase Now" button to start.