iCloud is a place for Apple storage, which helps secure all your information, photos, documents, notes, and emails at one place. It constantly updates the changing information while connecting different iCloud logged in devices at one place.
Most Apple users always keep their iCloud logged in at all times. But a question always mingles in our mind, is iCloud safe? After recent scandals of famous Hollywood celebrities getting their iCloud information leaked online, most people worry about how truly safe is iCould account. Like most celebrities news, this too spread like wild fire.
Now most people are too scared to completely rely on the trusted privacy and security guidelines of Apple's iCloud account. Although with time Apple has relentlessly worked to improve on their mistakes, but some Apple users are still not convinced as yet.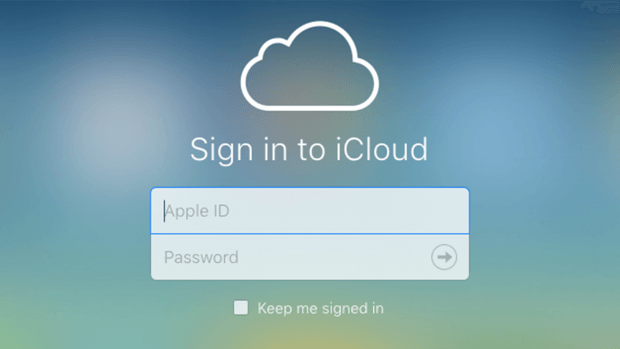 Part 1: Is iCloud Secure?
1

What Protection Does Apple Take to Protect iCloud Privacy?
Apple has taken some serious steps in order to rectify the security problems users have complained about before. The answer to this question, how safe is iCloud has been a consant concern for millions of iOS users.
Apple has enabled a two-step verification in order to protect the user and their private information. This extra protection helps you keep yourself safe from any unknown person who might try to access your data through illegal means. If another device does try to log in to you iCloud account, you get a verification message on your other devices. You have to grant access before proceeding. This extra layer of protection helps your iCloud information stay protected and safe. This two factor authentication ensures only user enabled access to personal account and data.

Since most people back-up their old data on iCloud storage, most of their previously deleted information is also present on their account. Apple has taken serious steps in order to protect this mass data from perpetrators and frauds. Unfortunately apple only has user-end encryption as compared to end-to-end encryption which enables a backfired intrusion of privacy as seen certain scandals before. Apple's CEO Tim Crook has raised awareness about the two-step verification in order to assist the users in to a safer security option.
2

What's Potential Risk of iCloud Privacy?
iClould security and privacy is still standing on thin ice. Apple's Find My iPhone app is the loophole for invaders. Hackers usually brute force the user's Apple ID and exploit their way in to the iCloud stored data. The Find My iPhone bug allows the intruder to have unlimited password attempts. With manipulative tools like Elcomsoft Phone Password Breaker they can easily break the password code. The hackers can have piles of updated and deleted data as well. This bug is a potential threat to all iCloud users on Apple products.
---
Part 2: Worried about iCloud Security? Top 4 Tips to Keep Your iCloud Safe
If you are still wondering if iCould is secure, you can take the necessary steps to prevent any mishap.
1

Create Strong iCloud Password
The first precaution you can take is making sure you have a secure password. Easy relatable texts in passwords give an easy passage. Combine capital letters and numbers together to form a completely secure password. Birth dates, anniversary, names of your children, your maiden name are all too easy to guess, so avoid using them. Strictly avoid any favorite band, your birth place or any other relatable guess as your iCloud password.
2

Use Two-Step Verification to Sign in iCloud
Apple has especially designed this full proof system to secure their user's personal data and information. iCloud two-step authentication is a standard approach to securing data. When you log in your account using a new device, iCloud would ask you for your password and a 4-digit verification code. This verification would be displayed almost instantly on your trusted device, so only you can log in. Only your trusted devices you would only require to log in using the assigned password. This is the answer to all those who were wondering how secure iCloud is.
How to set up two-step verification on Computer:
Step 1. Go to Apple ID official page and sign in: https://appleid.apple.com/#!&page=signin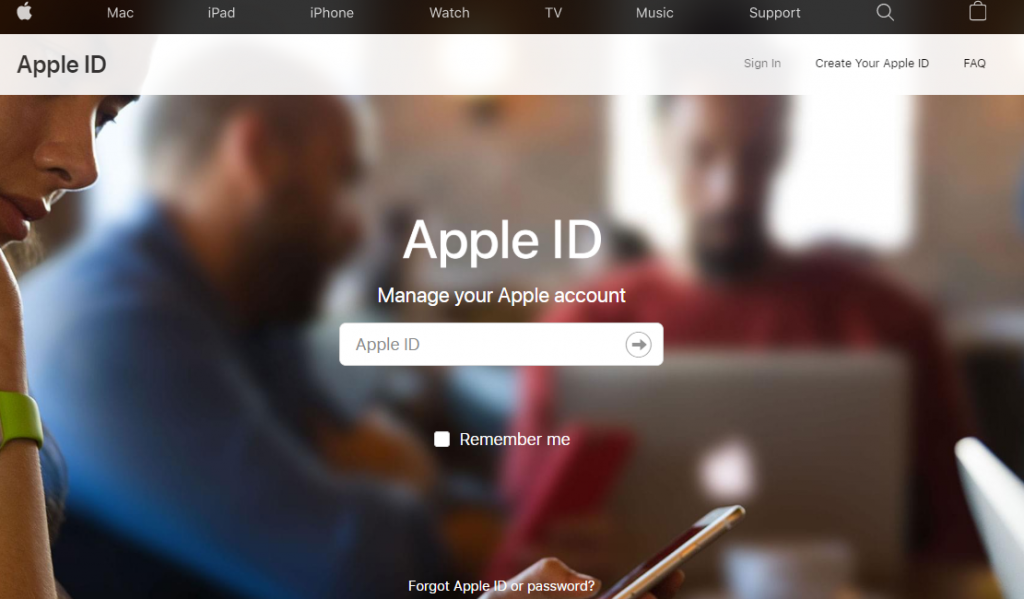 Step 2. In the security section, you can see that the two-step verification option. Click on "Get Started".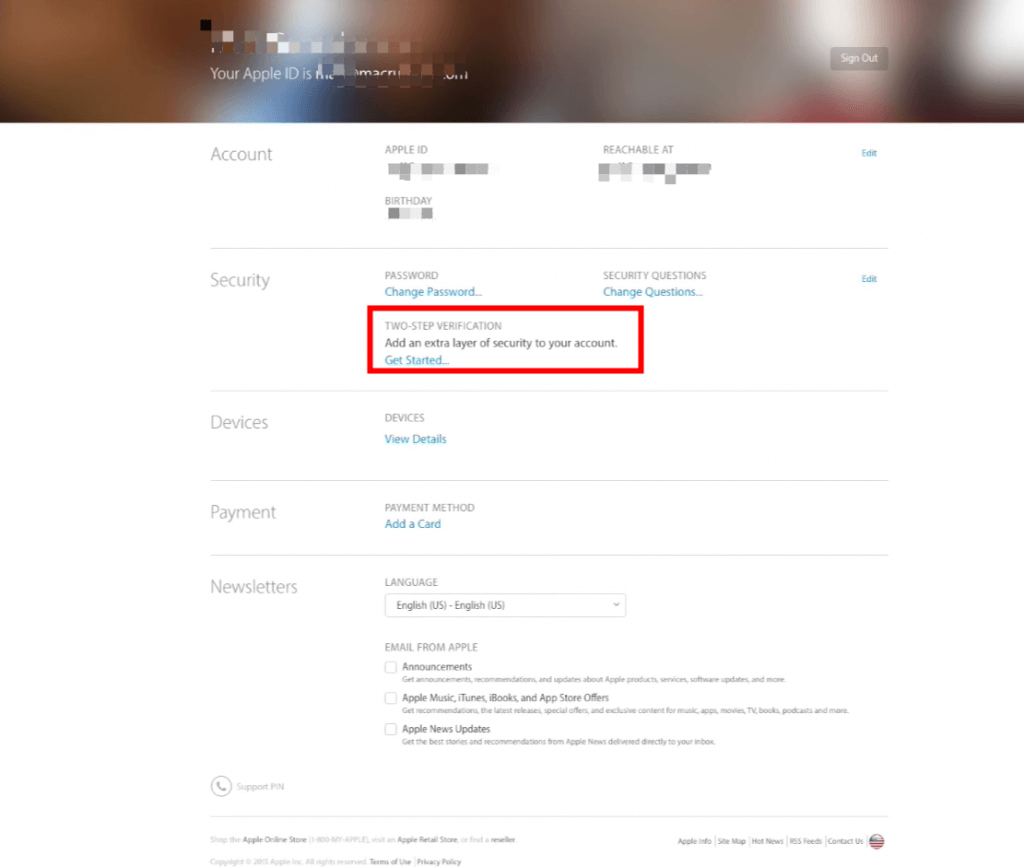 Step 3. Then Apple may require you answer your security questions, add a trusted phone number and to verify your trusted device.

Step 4. After that, you also need to print your recovery key.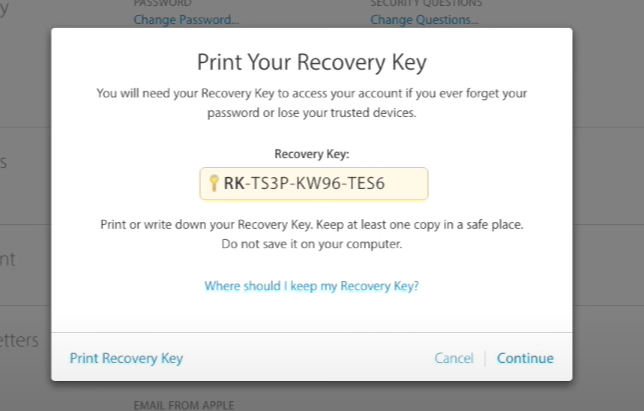 Step 5. Tick "I understand the condition above" and click on "Enable Two-Step Verification", then you will successfully turn on two-step verification for your iCloud.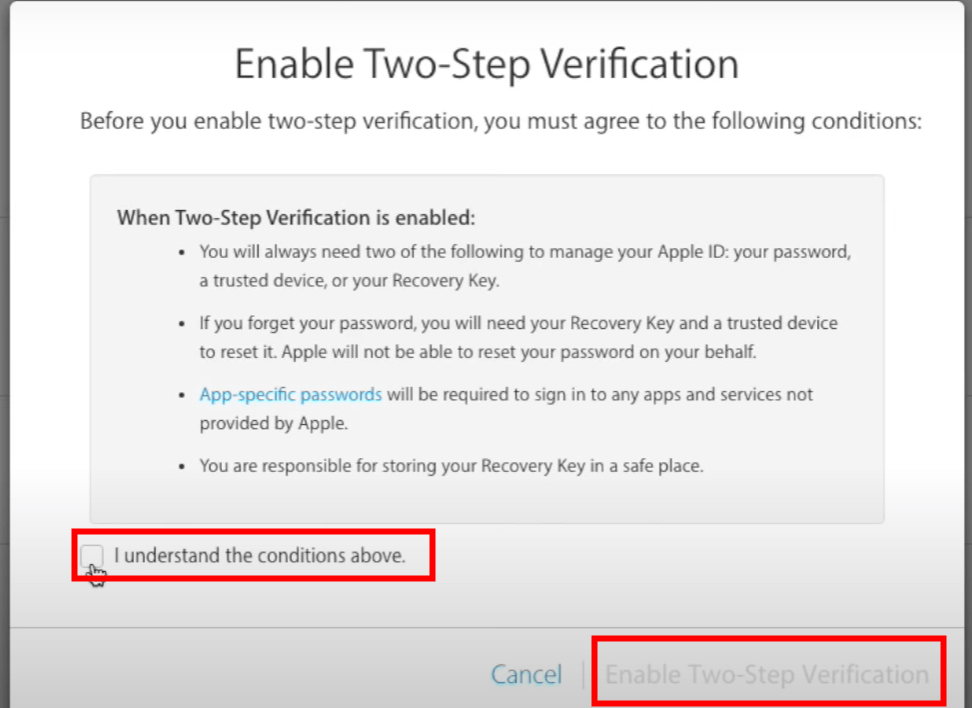 3

Use Two-Factor Authentication to Sign in iCloud
In addition to two-step verification, Apple also applies a newer security method to protect your iCloud account, two-factor authentication, which is designed to make sure you are the only person who can get access your iCloud. With two-factor authentication, the password alone can't enable you to sign in your account. What makes two-factor authentication more security-reliable is that when you try to sign in your account, it requires you to provide not only what you know (password), but also something you have (trusted device) or who you are (fingerprint or face ID).
How to set up two-factor authentication on iPhone:
Step 1. For those using iOS 10.3 or later, you can go to Settings > [Your Name] > Password & Security > Two-Factor Authentication; for those using iOS 10.2 or earlier, go to Settings > iCloud > Password & Security > Two-Factor Authentication.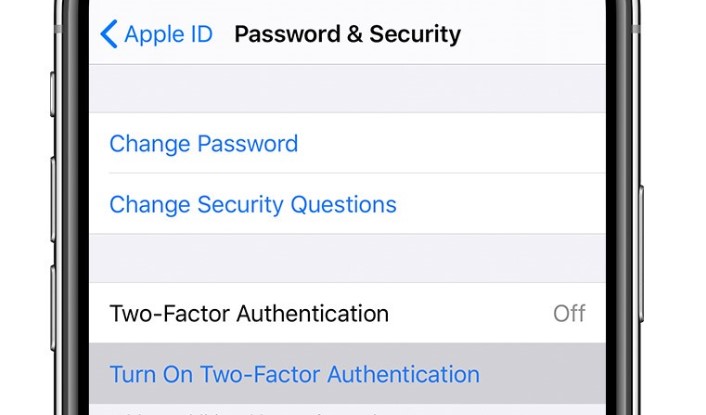 Step 2. Enter the phone number where you want to receive verification codes (text message or automated phone call) when you sign in. Tap "Next" and enter the verification code sent by Apple to the phone number. Then the two-factor authentication is successfully turned on.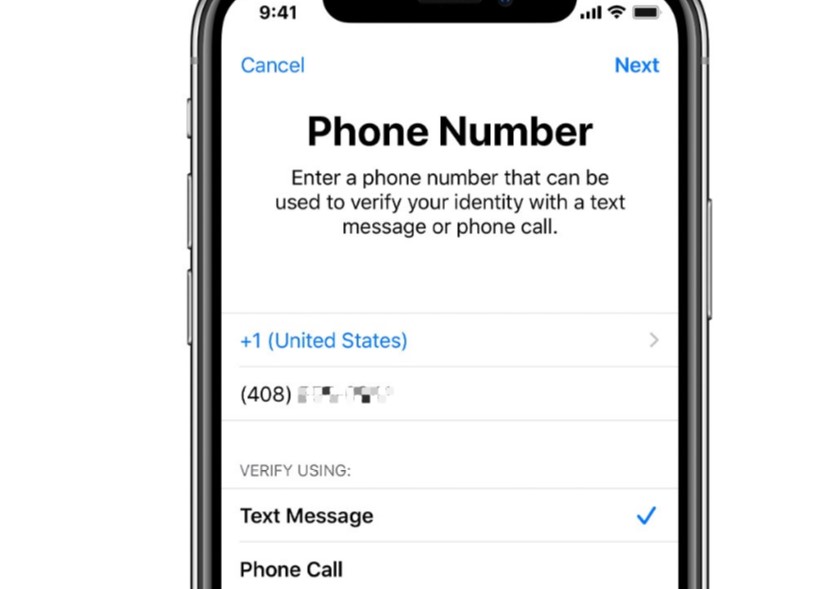 4

Turn off "Find My iPhone"
Since Find My iPhone seems to be the culprit in this case, it is advisable that to turn this application off. Find My iPhone gives a direct access to hackers to guess your password with unlimited attempts.
If you want to turn off "Find My iPhone", you can check on this post for detailed steps: :How Do I Turn off "Find My iPhone" >>