Plan to sell the iPhone or transfer ownership to someone else? Then you should delete contacts on iPhone firstly. By default, iPhone only lets you delete contacts one at a time and without being told, this exercise is a laborious task. In fact, imaging having over 100 names to delete from your iPhone, it could just become a tedious process. So, can I mass delete contacts on iPhone?
How to delete all my contacts on iPhone?
Like mentioned earlier, while it is easy to delete contacts from iPhone using the traditional way, it works only for deleting few contacts. To mass delete contacts on your iPhone, you will require the help of some external apps.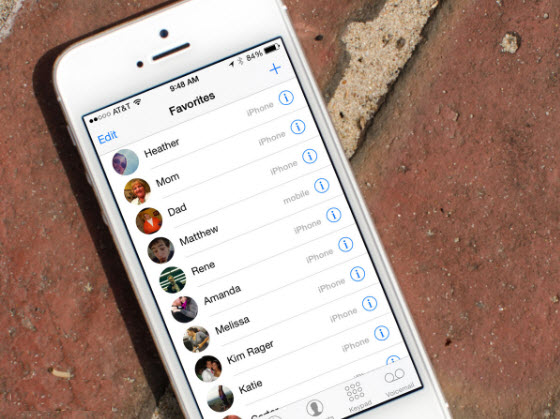 iMyFone Umate Pro - mass delete contacts on iPhone permanently
iMyFone Umate Pro or iMyFone Umate Pro for Mac is capable of deleting your all contacts permanently. The implication of this is that any deleted contact using the Umate pro cannot be recovered by any recovery software. That means even if you decide to sell or transfer the ownership of your iPhone, iMyFone Umate pro can help you erase sensitive contacts and data permanently.
Option 1

Erase Deleted Files

When you delete files, there are high chances that it would be recoverable by some software. For this reason, iMyFone Umate Pro is the best choice because it can find out all your previously deleted files, then erased them, and any file erased by Umate Pro will not be recovered forever by any recovery software.

This will come in handy especially if the iPhone is to be sold to another user and you want to mass delete contacts on iPhone permanently, so that your data or contacts will not be recovered due to privacy and sensitivity. You can preview the files and select some or all files to erase.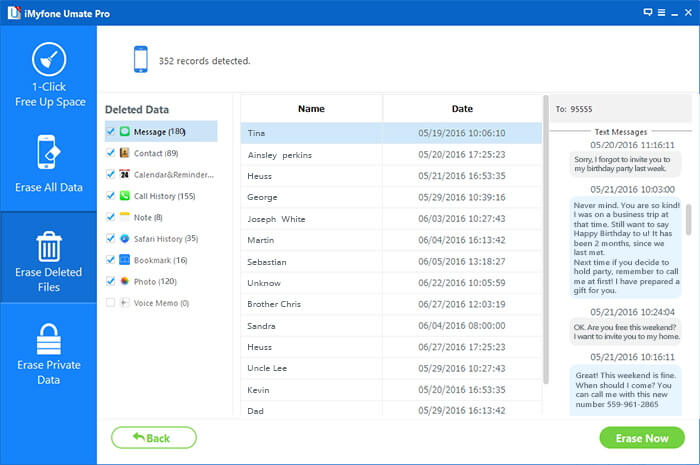 Option 2

Erase Private Files

Private files are very sensitive and should not be viewed by an unauthorized person. The iMyFone Umate Pro can help you scan and find all existing private info and contacts in your iPhone. The implication is that you can select any of these files or mass delete all contacts on iPhone as you wish and remember this will be 100% unrecoverable by any recovery software.
---
Other Key Features of iMyFone Umate Pro
Apart from erasing deleted files as well as private files, iMyFone Umate Pro has other wonderful features that compliment others in the iPhone.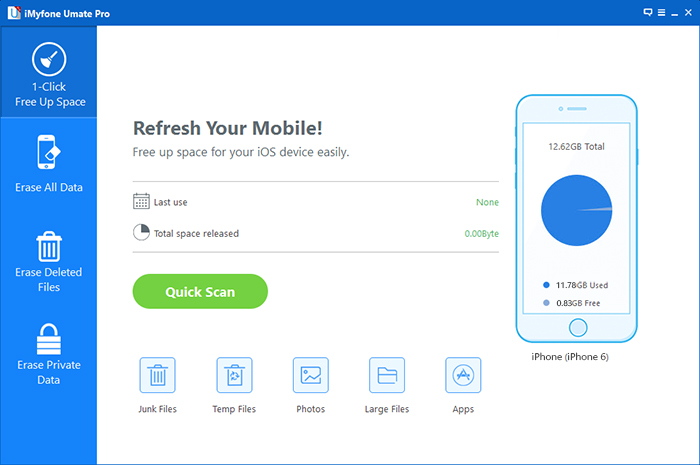 1-Click to Free Up space: Do you want to clear up junk files on your iPhone? Selectively erase unwanted photos, apps and videos etc or do you want to free up storage so that your device can run faster? Then iMyFone Umate Pro offers you a 1 click feature that helps you free up space on your iPhone. The implication of this is that all unwanted apps, photos or videos that end up eating up space on your device is taken out without hassles. This can release a huge amount of space and make your iPhone device run faster ensuring it becomes much more efficient. However, it is important to note that any data deleted through this mode can be recovered, therefore it is suitable if privacy is not important.
Erase All Data: This is important especially for those who would like to sell their old iPhones, you will need to erase all your data. The iMyFone Umate Pro will erase all the data on your phone. However, one of the benefits is that it erases all data without leaving a trace, which means any data erased will not be recovered again.