You can also read this guide in Français.
Today, most people are beginning to appreciate the existence of text messaging. It has been a norm of the day to many for the fact that it's very cheap and convenient way of communication. Many iPhone users channel nearly all their information through text messaging.
Anything about private life, friends or families can virtually be done through simple text messaging thus it has be safeguarded in essence. How do you safeguard your text messaging? How do you delete text from iPhone?
How to Delete Texts from iPhone Individual Messages
In order to delete individual messages:
First go to the message icon from the iPhone screen session to open the message app.
Next, tap the message thread to open a targeted individual message.
Then, go to the edit option to open the message in the edit mode. Select a single message in the thread to open the message.
Finally, go to the delete option and then tap delete message to confirm.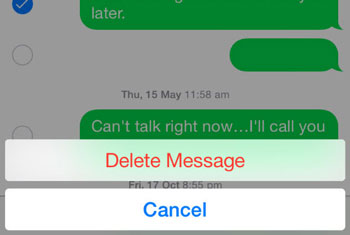 How to Delete Message Thread/Multiple Messages from iPhone
Deleting multiple messages from iPhone, requires no special trend as compared to individual message deletion.
First off, tap on the message icon in the phone home screen.
Next go edit option to open the messages listed in the edit mode.
After this, tap "__" next hit the message thread to delete.
A confirmation dialog box pops up. Tap delete to erase the entire conversation from the message list.
Now so many messages which are very important to you when deleted mistakenly may be restored by data recovery tools. However, in order to erase these deleted messages permanently there are effective ways to ensure that the message files you have deleted are completely unrecoverable.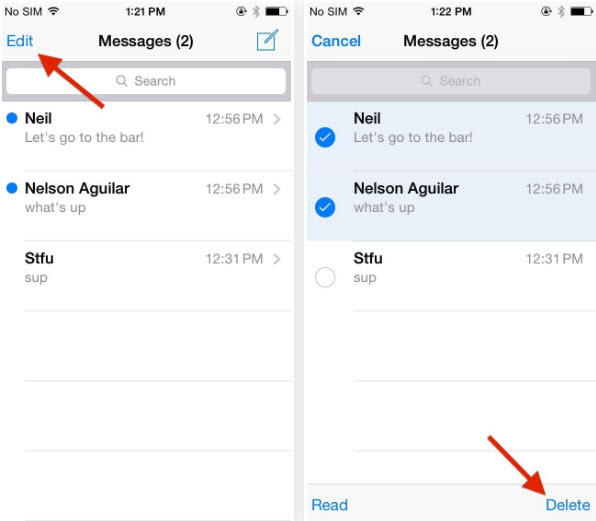 Permanently Delete Text from iPhone with iMyFone Umate Pro
Deleting text messages manually from your iPhone leaves messages recovered when the need arise. iMyFone Umate Pro or iMyFone Umate Pro for Mac is an iOS data eraser tool which can securely delete your iMessage texts in order to keep them completely unrecoverable.
This powerful erasing tool employs the use of top-notch analytical technologies to detect and select all personal information stored in your iPhone, completely and permanently erase all kinds of personal files on your iPhone.
When Should You Use iMyFone Umate Pro?
Case 1

Selling your iPhone

One of the predominant reasons most iPhone users want to erase all data from their phone is obviously they want to sell their iPhone. In selling your iPhone you must learn to secure relevant information, this can be done with the use of iMyFone Umate Pro. In order to ensure, a complete data deletion use the Erase All Data option.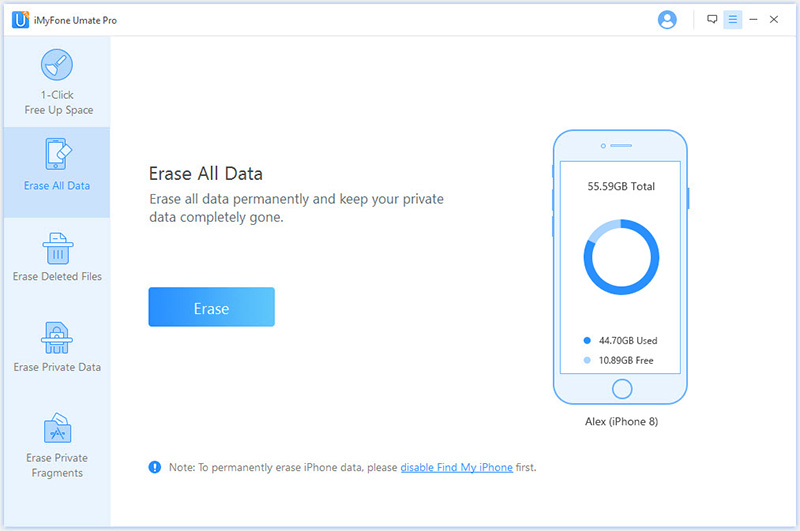 Case 2

Securing Personal information

With iMyFone Umate Pro, your personal information, browser history, sensitive business information, emails and embarrassing messages on your used iPhone is completely secured. Using iMyFone Umate Pro comes with the benefit of displaying all your already deleted files and current files.

In order to erase your iPhone privacy data, residual data, and every other file that is still stored in your used iPhone first go to Erase Deleted Files. Then go to Erase Private Data to delete entirely your personal information.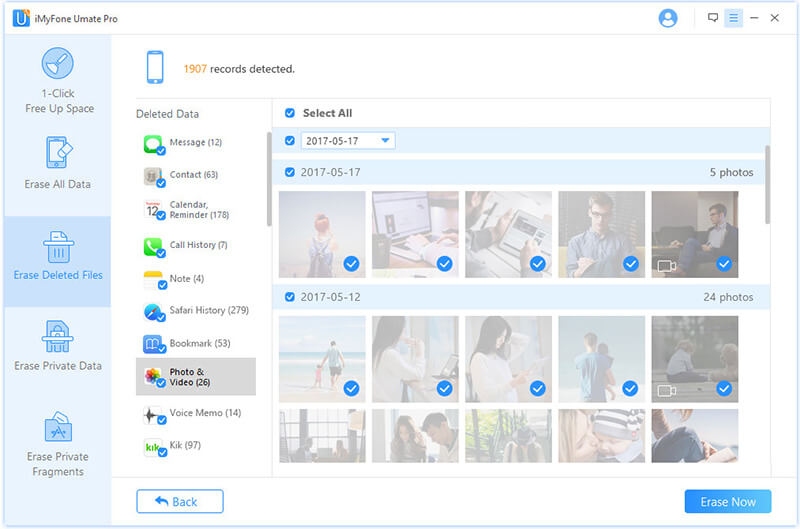 What Can iMyFone Umate Pro Do for You?
One-click Free Up Space - iMyFone Umate Pro easily helps you to remove all junk files and temporary files, compress and backup photos or delete and backup photos, delete and backup large files, manage apps. For over 25 analysis technology, you can free a number of space and boost up your iPhone with touch in one click.
Erase All Data - Erase all data allow you to remove completely all data content on your iPhone. Here, the data will be erased permanently and everything stored on the device will be lost. It is always advisable, you better backup any information before finally erasing data.
Erase Deleted Files - For some reasons, you would want to ensure that previous deleted data is unrecoverable choose the erase deleted files mode. It can easily identify the deleted files which still exist on your iPhone. Besides, it can permanently delete files are no longer accessible even with the help of any 7 data recovery software.
Erase Private Data - iMyFone Umate Pro ensures a complete and permanent delete all your private data, so that you your iPhone privacy is protected . It can make sure the private data will be unrecoverable, keep your personal information safe.
---
Reasons for Deleting Texts from iPhone
First of all, important information stored in the iPhones can be made known to another person in case you misplace the iPhone. What we must understand, is iPhone is a device and can be misplaced at any point in time.
Another obvious reason has to do with the fact when one opt to sell his/her old iPhone. In recent times, many users has resort to slightly used iPhones. Reasons been that it is far cheaper than the brand new ones and more durable in terms of handling. It's therefore imperative that messages containing personal information are wiped before selling it out to other users.
Again, many would delete text messages from iPhones because they don't want friends or relatives to know certain secrets.