You can also read this guide in Français.
Skype may seem like a great way to keep in touch with your friends and family—and it certainly is. Like many apps of its kind, however, it poses potential security problems. Specifically, Skype may keep a lot of a user's data, making, even if you attempt to delete it.
Permanents of your conversations may be stored on your iPhone after manual deletion, and someone could go through your iPhone and find your private messages. Because of this, you may have to consider erasing iPhone 7 Skype tracks due to following two reasons:
1. Erase iPhone Skype Media Files to Get Storage Back
File transfer is very easy and convenient on Skype. It is very easy to receive a business proposal, wedding invitation cards, or business files through Skype.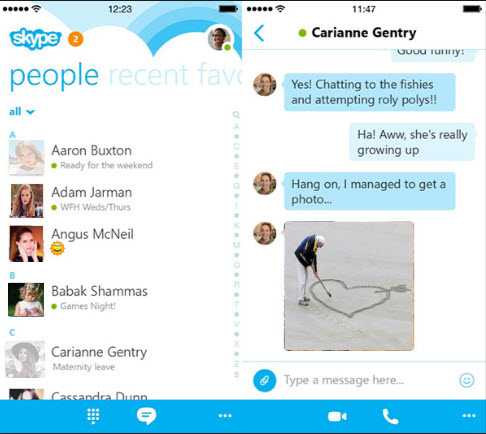 Most of these files will be automatically stored in your iPhone 7 storage and would occupy a huge storage space if they are not deleted from your device.
2. Erase iPhone Skype Texts which Contain Private Information
As communication between iOS devices gets easier, Skype is not left out. You can start a chat on your Mac while in your bedroom, continue with the chat on your iPhone 7 while in your living room, and end it on your iPad Air will working in your office.
This is to say that when you login to your Skype account on all your iOS devices, the chat history will automatically synchronize on all the devices. This may lead to embarrassment or privacy leaks if you do not delete such chats.
---
How to Erase Skype Tracks on iPhone Manually (Recoverable)
You can delete all traces of Skype instant message, voice messages, history, contacts, call history, photos, cached files, text messages, and other files on iPhone 7 Skype App by following the tips below:
Step 1: Launch the Skype application and click on "recent" to view your conversation list.
Step 2: Click and hold the conversation you intent to delete.
Step 3: Click on "Delete" from the pop-up menu to confirm your actions and delete such conversations from your chat history.
You will have to repeat step 2 and 3 for other conversations that you would like to erase.
Note
Manually deleting your conversations as in the above steps is probably not the greatest idea, however. This data is ultimately recoverable, and someone could go through your iPhone and find it if they have a data recovery tool. If you're worried about your private data possibly leaking out into the world, then you're going to need to take more steps to protect your information.
How to Permanently Erase All iPhone Skype Tracks (100% Unrecoverable)
iMyFone Umate Pro or iMyFone Umate Pro for Mac is a PC-based data destroyer, that has the capacity to erase all Skype files to avoid any privacy leaks. Apart from deleting Skype messages, this app can delete other message files and data, compress photos losslessly to recover over 70% of photo space, analyze iPhone 7 data to discover needless files, useless files and unused apps, and then it deletes them to create more storage space on your iPhone.
Lots of famous media recommend iMyFone Umate Pro as a great data eraser, like MacWorld, iPhoneinCanada, APPKED, etc.
Why Should You Use iMyFone Umate Pro?
1. Permanently Erase All Skype Fragmenst on iPhone
It can erase all the fragments that third party applications leave behind and permanently deletes them. You may not realize it, but even if you delete an app on your iPhone, it will leave fragments of private information behind for others to find. With this mode, you can delete private fragments from Skype, WhatsApp, Viber, and other similar apps.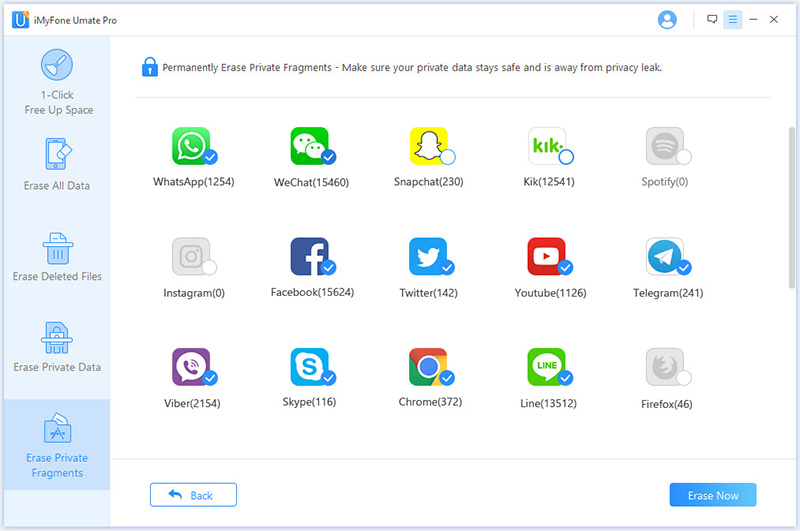 2. Four Distinctive Erasing Modes to Choose
The second reason to consider using a cleaning app is to evaluate the cleaning options available at your disposal. iMyFone Umate Pro offer users four distinctive erasing modes to choose from depending on your purpose and the files you want to erase from your iDevice.
One Click to Free Up Space: With iMyFone Umate Pro one-click option, you can delete junk files, temp files, compress photos, remove large files and delete unused apps. Hence, it can free-up tons of iPhone storage space just in one click. Skype cache can be cleaned as well.
Erase All Data: iMyFone Umate data eraser can be used to make your iPhone 7 good as new. This option can remove everything in your iDevice just in one click. Even the previously deleted data will be completely deleted as well.
Erase Deleted Files: This option gives the assurance that your deleted files are beyond the reach of any recovery tool. Hence, your privacy is protected.
Erase Private Data: This erasing mode removes the fear that your private files can be recovered and used against you. It totally erases all WhatsApp data, WeChat data, messages, chats, residual files, personal, business and confidential information on your iPhone.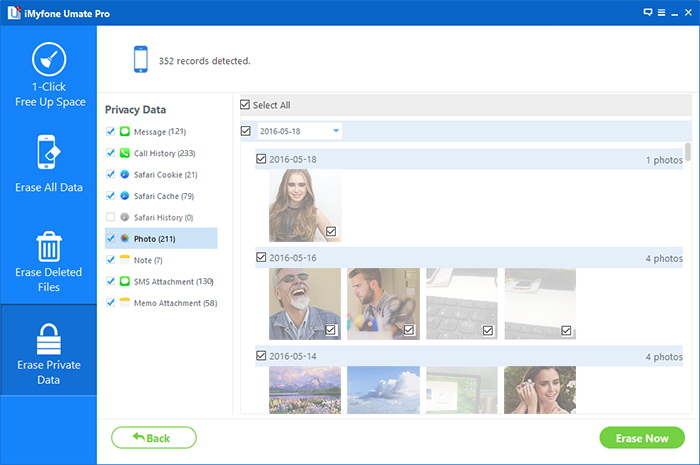 3. Easy to Use
iMyFone Umate Pro has an user-friendly interface, which makes it very easy and convenient to use. Everybody can easily use it even if the person has little knowledge of how to use Windows or OSX.

With iMyFone Umate Pro, you can erase all iPhone 7 Skype tracks and fragments using the following steps:
Step 1: Connect your iPhone to your PC using your cable, and launch the iMyFone Umate Pro.
Step 2: Choose "Erase Private Fragments" as your erase mode, and scan your iPhone.
Step 3: You will see how many fragments can be found out and hit "Erase Now" button to continue. Then type "delete" into the box to confirm.
I suggest you can download and run iMyFone Umate Pro to freely scan how many fragments produced by your Skype app.
Note
If you want to clear up or delete music on your iPhone, please try this iPhone music transfer, which can freely transfer iPhone music between iPhone and iTunes/PC, as well as delete and export iPhone music.