With every upgrade, iPhone users are treated to new and easier to navigate features. When it comes to iPhone recent contacts, there is a faster way to access them in iOS 8/9/10/11.
1. Permanently Delete Recent Contacts on iPhone(100% Unrecoverable)
It can be quite a hassle to clear old or unwanted contacts that are no longer in use from the recent list in iOS. This is where iMyFone Umate Pro or iMyFone Umate Pro for Mac comes in. The data eraser can help iPhone users erase their data permanently without any chance of recovery.
Steps to Permanently Delete Recent Contacts on iPhone
Step 1: Run the program, iMyFone Umate Pro, and connect your iPhone to it.
Step 2: Select the mode of "Erase Deleted Files" to scan for deleted contacts on your iPhone.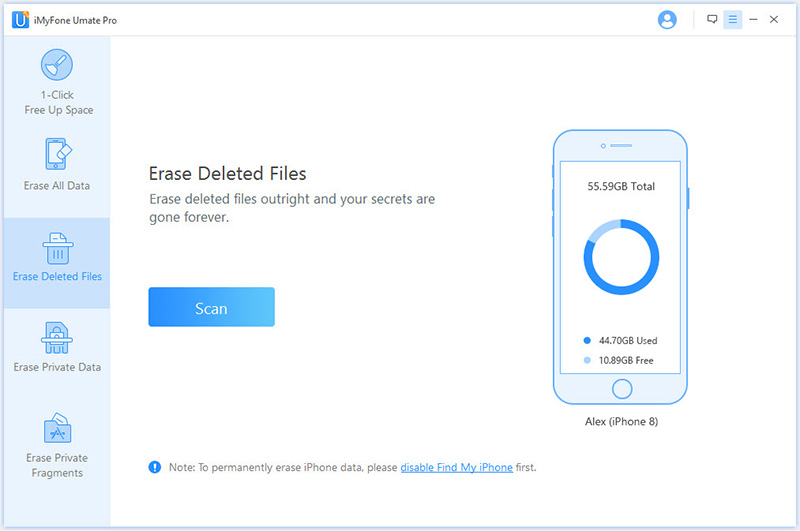 Step 3: Select the contacts that's you want to permanently erase, and click on "Erase Now". After the data erasing is complete, every deleted contact will be beyond reach.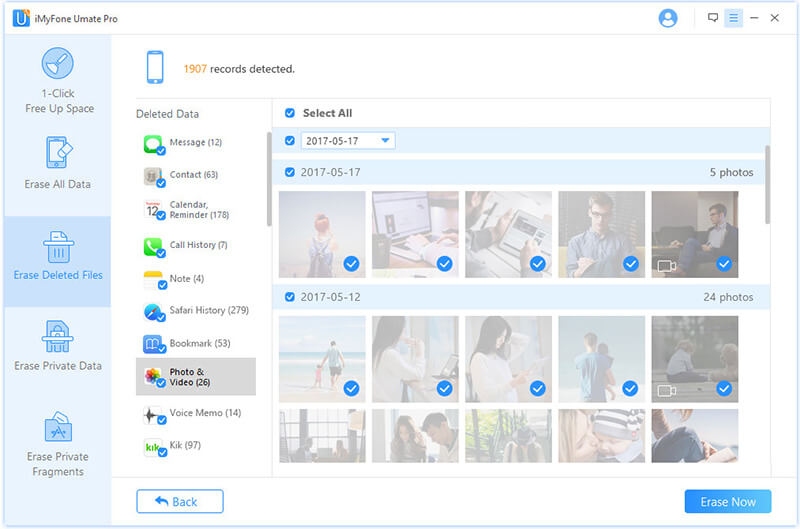 The chosen contacts will be wiped off from memory with impossible recovery through any known method.
Key-features of iMyFone Umate Pro
By selecting an erasing mode, one can ensure that photos, videos, text messages and all other private information is removed on a permanent basis. It will not be recovered via any software.
It's also efficient when it comes to erasing third party app data. Usually residual files from apps such as Whatsapp, Viber or Kik clog memory app and hinder the phone from working at optimum speed.
The modes consist of various data cleaning levels that allow users to choose the method they want to apply for deleting off data.
The 1-click cleanup mode can clear up memory space, removing temporary files and caches, manage iPhone photos, videos and music.
A Few Bonus Tips
Users can also delete recent contacts iPhone individually. Just press on the contact name and then click on Edit. Tap on 'Delete Contact' to remove it from messaging or Facetime options. In order to delete contacts iPhone from mail app, you will have to launch the app and type in the name. Once it appears, tap on info and press remove.
Note
But, note that these deleted contacts can still be recovered by data recovery tool.
2. How to Enable iPhone Recent Contacts in Settings
Those who are unable to find the option to view it in the switcher app will have to enable it via Settings:
Step 1: Tap on Settings and press on the mail, calendar and contacts option.
Step 2: Move your finger down and find 'Show in App Switcher'.
Step 3: Enable the toggle for Phone Favorites and Recents by swiping it on.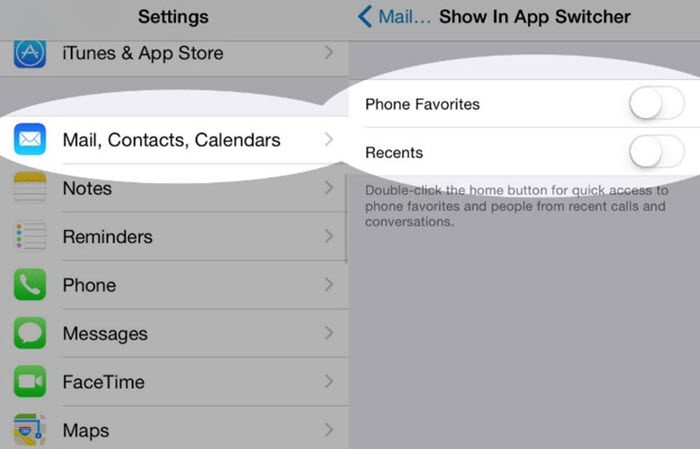 3. How to Hide iPhone Recents and Favorite on The App Switcher Screen
Some people may not be in favor of viewing their iPhone favorites or recent on the main screen due to privacy. The option can always be turned off and the iPhone recent contacts can be immediately hidden. Just like there is a way of making it appear in the switcher off, it can also be removed from view. If you are wondering how to go about it, the process is quite simple.
Step 1: Launch Settings and scroll towards mail, contacts and calendar.
Step 2: Tap on it
Step 3: Go further downwards and press on 'Show in Switcher App'.
Step 4: Disable the on/off toggle for both recents and phone favorites.
4. How to Access iPhone Recent Contacts and Favorites Faster in iOS 8/9/10/11
All you have to do press twice on the home buttons, and your phone favorites and recent contacts will appear on the screen. The recent contacts show up by default after the double tap on the home button, however, for the favorites, users will have to scroll towards the right.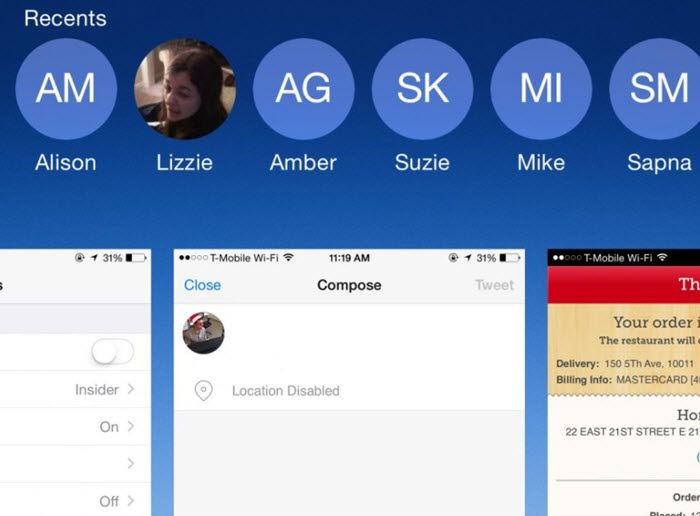 One of the best aspects of this upgrade is that you don't have any limit or restriction to the number of favorites shown. The app switcher makes it infinitely easy to swipe through a list of up to 8 contacts at a time. Users can immediately access their iPhone favorites and recent contacts, even those which are from Facetime or currently ongoing conversations.